The Scosche RHYTHM+ sensor is neither a new product nor a novelty in the category. In fact, it has been on the market for two years now, more than enough time for optical measurement to be introduced more and more among us, even directly into the watches themselves.
So why am I analyzing it now? Well, because until now it wasn't directly available in Spain. But if the Mio Link Between us, which works very well and is also compatible with ANT+ and Bluetooth devices, why do I bother to analyze this other option? Is it better than Mio Link? Well, it's not better or worse, it's the same... but different, as you will discover throughout the article. And obviously because I know first hand another different sensor, manufactured in this case by Valencell.
This Scosche RHYTHM+ has not been ceded by the manufacturer, but I bought it directly from Amazon So, as I always remind you, if you want to collaborate with the site and help to keep new product tests going, buy your Scosche through the links I provide (it doesn't have to be the RHYTHM+ Scosche, you can also buy a toaster or some socks, whatever you need). It won't cost you anything, but you will return a small amount that supports both the site and the work I do on it.
And without further ado, we're going to debug this optical sensor. Is it better or worse than the Mio Link? Well, you'll know in a little while.
Unpacking

The Scosche RHYTHM+ is a very simple device, it is simply a pulse sensor and does not go beyond sending heart rate data to another device, so you will not find much inside the box.
In the "window" of the box you can see the sensor with a strap. Apart podrás find an additional strap (longer than the one that comes already placed on the sensor), the charging cable and the instruction manual that, as I always tell you, you can totally skip (that's why you're reading this).

Here you can see the two straps. Both are exactly the same in terms of material and closure, the difference between the two is the length. So the small one you can use to put it on your wrist and the big one for your upper arm or really wherever you want. Yes, you can also measure your pulse HERE, if that's what you were thinking about...

The sensor itself is a plastic square and includes two pins where to fix the strap. Be careful with the knocks, because it is made of plastic and if any part of the two supports, the next option to fix it is with insulating tape.
The sensor is turned on by simply pressing the S at the top. There is a control LED that will indicate if it has found a pulse, if it is on, etc. And with an application (which is only available in iOS) it is also possible to select a working zone. If it flashes purple you are in zone, blue below the zone and red above it.

The back is like looking at a refrigerator from behind. It's ugly, but it's what makes it work. Surrounding the sensor are three LEDs. Two illuminate in green, and the central one (more rectangular in size) is yellow, in theory to improve reading in darker skin types. Above the light and sensor assembly you'll see two metal circles, simply where the charging connector is placed.
The body of the sensor also indicates that it is waterproof, according to characteristics provided by Scosche the resistance is IP67. Therefore, it is resistant to immersion at 1m depth for 30 minutes, although it is actually able to withstand more. But compared to Mio Link it can present a problem, since the latter is certified for 30m. It is true that neither of the two sensors provides reliable data in swimming, but if you think about this sensor to perform a triathlon is a detail to be taken into account.

That was quick, wasn't it? Well, next thing you know, you're gonna know what devices it's compatible with.
Supported devices
Scosche RHYTHM+ can be connected to devices that have ANT+ or Bluetooth Smart technology. And it will do so simultaneously, so you can have the sensor connected to devices that use both types of standard. These can be ANT+ devices like your Garmin watch. Or Bluetooth devices like your Suunto Ambit3 or Polar M400. Even gym machines if they use either of these two types of connection.
The only thing you need to keep in mind is that ANT+ allows for multi-connection between devices. They all talk to each other in an equal relationship, so five devices can be connected to a single sensor.
Bluetooth, on the other hand, does not work in the same way; it has a master-slave relationship. A slave accessory (in this case the Scosche sensor) can only be connected to one master device, but not to several masters. However, that master (in this case it would be the watch) will be able to connect to several slave accessories (pulse sensor, cadence sensor, power sensor, etc.).
In short, the Scosche RHYTHM+ sensor can be connected simultaneously to any number of devices via ANT+ and to a single device via Bluetooth.
Making the connection is very simple, you just have to do the search from your watch. For example in the case of Garmin you just have to go to the configuration options and do a new search of devices.
Of course in other devices the procedure is similar, as in Ambit3, where again you have to enter the configuration options to do the sensor search.
For example, you can connect the sensor to a cycling computer and a mobile phone (using ANT+ and Bluetooth, you don't have to choose one or the other). Or to two different watches; one that you wear and one that your trainer wears next to you. And as I indicated earlier, Bluetooth and ANT+ are simultaneous.
And so I could think of thousands of examples.
Where do I take this?
The sensor is exactly the same as any other optical pulse sensor. What a couple of years ago deserved to be explained in its operation, today it is almost universally known. A sensor that interprets changes in light absorption; green LEDs illuminate the capillaries, which together with each manufacturer's own algorithms - the most important part - allows the heart rate to be read. In the case of Scosche RHYTHM+ these green LEDs are assisted by another yellow LED which, in theory, serves to improve reading on different skin types.
If you want to know this type of measurement in more detail you can take a look at to what I published almost a year ago about itwhere I talk about technology in more detail.
The main advantage of the Scosche RHYTHM+ is that you can wear it in many different locations: on your arm, on your forearm, on your wrist... Depending on the sport you're doing, even on your leg as if it were a triathlon chip (but not for running, as wearing it in that place causes too much impact and incorrect readings).
What for me may be a comfortable place to wear the sensor, for you may not be the ideal option, and vice versa, you can wear it where it is most comfortable for you along the whole arm.
The Scosche attachment system (a simple fabric strap with Velcro) allows you to wear the pulse sensor on almost any part of your body, fully opening up the range of options to wear the sensor as you wish.
Comparing RHYTHM+ with other sensors
Of course, the most important thing about the Scosche RHYTHM+ is the reliability of the data. There's no point in making it very comfortable or using it on various parts of the body if the data obtained is then useless.
And there is nothing better for checking the reliability of the reading than to pit the Scosche sensor against other sensors; both optical to see how it stands against them, and traditional chest sensors, which will give us the benchmark against which to make the comparison.
To start this test battery, a short 20-minute workout at an easy and constant pace. This is a tremendously simple test for any sensor, both chest and optical. Remember that if you click on the image you can see it at a larger size.
In the next training all three sensors are perfectly aligned (second up, second down). There are only discrepancies at the beginning of the activity, but this is common to all sensors, regardless of their technology (cold can give wrong readings on both the chest and optical sensors).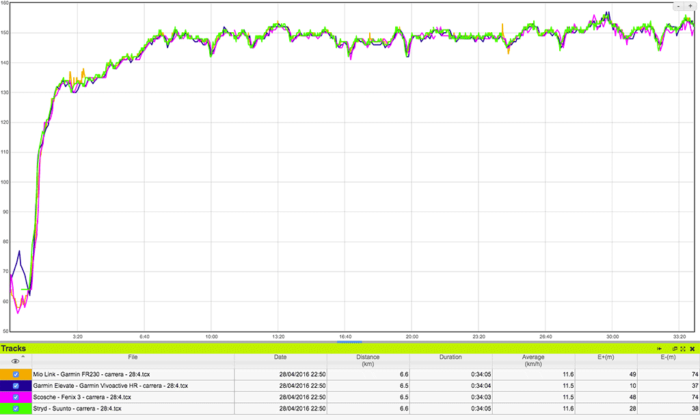 As usual, running at a constant pace presents no problems for the optical sensors, and it is the activity in which they perform best, so it comes as no surprise that the Scosche performs so well.
Where it is most common to find differences in behavior is in series training, caused by sudden changes in pace, rapid rises and falls in heart rate and higher cadence, which can cause the sensor to lock to the cadence "beats" instead of the heart rate, called "cadence lock" or "cadence lock".
In the case of the Scosche sensor, it presents no problem. This is a short workout with only two one kilometer intervals at sub 4:00 paces. I'm in the midst of recovering from calf and soleus problems, so for the moment these types of sessions are "limited" so I haven't podried to do longer set workouts.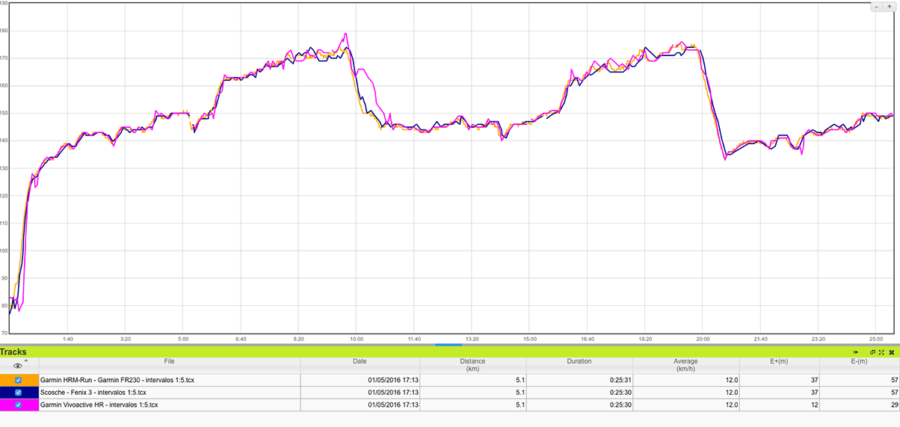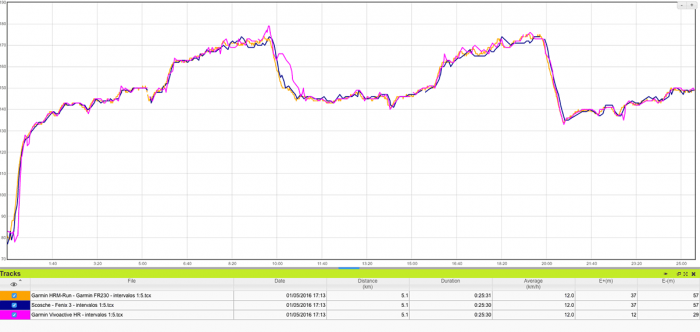 The result is perfect, coinciding at all times with the readings of the pulse sensor in the chest. The sensor of the Garmin Vivoactive HR suffers from a certain delay in the recovery times after the series, but this is not something that the Scosche RHYTHM+ does.
The following example is similar in concept to the previous one, a slightly progressive training ending in uphill acceleration.
All the tests carried out at a constant rate leave the Scosche sensor in good shape. By consulting the data while running on all three watches I could always see that all three sensors were fully in line at all times.
In the one you see below, besides running, at the end of it I had 20 squats and ended with short sprints of 50 meters at maximum intensity. The initial part up to the squats you will see that the three sensors coincide absolutely, but when we reach the final stretch we see discrepancies.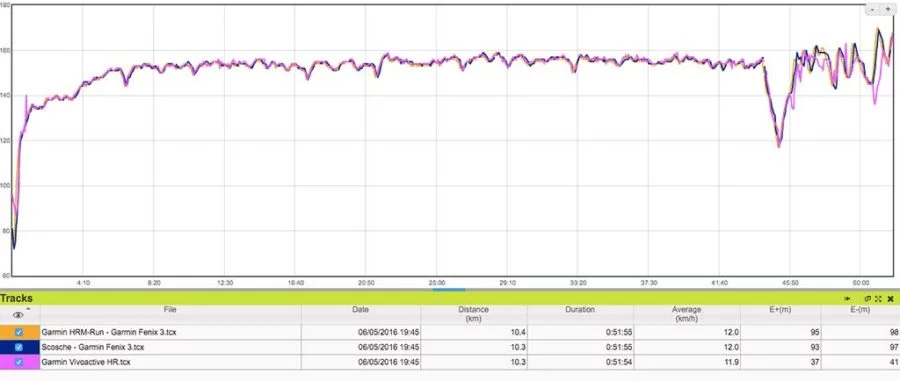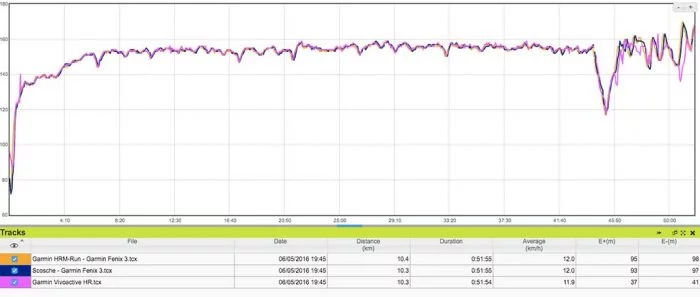 So I'm enlarging that fragment to see it in more detail, because with such a color curve it's difficult to appreciate what each one of them has recorded.
When you stop running and do the squats the drop in heart rate is perfectly detected by the sensors. And in the sprint section both the Garmin HRM-Run sensor and the Scosche RHYTHM+ take the same reading, although you can see a slight delay of a few seconds in the case of the Scosche. The Garmin Elevate of the Vivoactive HR suffers considerably more, as this type of training is where it gets the worst results.
Next I'll tell you about cycling, something that some sensors tend to choke on, especially the new integrated sensors from Garmin and TomTom (as you can see in the Forerunner 235 and TomTom Runner 2On the bike, due to wrist movements and the lack of typical race movement (the sensor uses an algorithm to eliminate the noise produced by that movement), they produce rather erroneous readings.
Here there are different sections that I want to highlight separately. First, I show you the whole activity where you can see two sections of exercise itself and two sections where the pulses fall due to being at rest.
First of all, you can check that all three sensors nail the graph when I'm pedalling. There's nothing to object to in any of the three (the Scosche RHYTHM+ and Mio Link optics, along with the Garmin chest sensor).
But when I'm at rest... not so much.
It's not easy to make a sensor that can correctly measure both resting and active heart rate. At the moment, there is no perfect optical sensor. Fitbit's has good resting performance, but slightly poorer data quality in intense exercise. Garmin and TomTom have good results in both activity and resting, but fail miserably in obtaining data in cycling. Mio and Scosche have no problems with any activity, but have a really hard time when they have to set their resting heart rate.
So, it's a matter of choosing what will best suit your usual use.
RHYTHM+ or Mio Link?
At this point you're pretty sure you want to replace your old chest strap pulse sensor with one of the new optical sensors, but you don't want to do without your reliable GPS watch or you don't have the budget to buy a new device with a built-in optical sensor.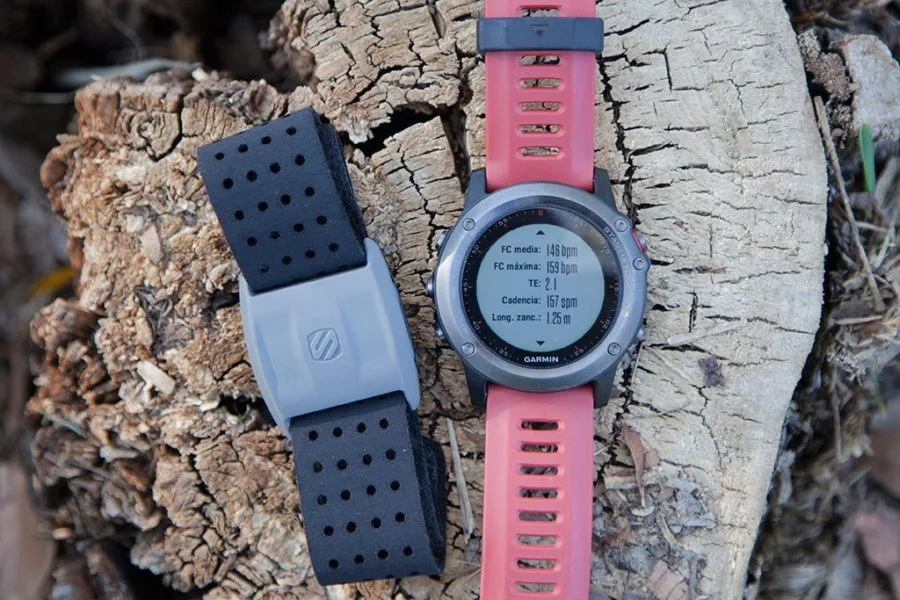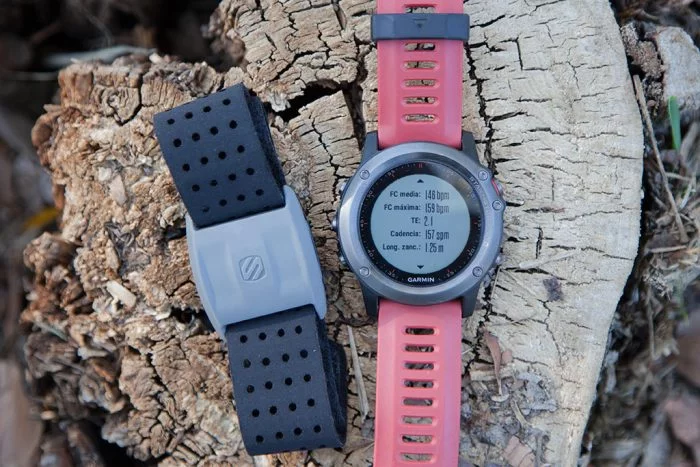 So, the only question left for you to answer is whether Mio Link As you have seen in the tests, the data of both are equally reliable; there are only some small differences that should make you decide between one or the other. These differences are the ones detailed below.
Mio Link I've used both sensors for swimming and haven't had any problems with either one. This, which could tip the scale to the Mio's side, doesn't really make much difference. Optical sensors are not designed to have reliable data when swimming. Some days will be better than others, and it should be placed a few inches away from the watch that records the activity, which, as of today, can only be a Suunto Ambit3, Garmin 920xt or Fenix 3 (in the case of Garmin for outdoor swimming, not in a pool).
Scosche RHYTHM+ I have even used it as a hare, placing the sensor on the person I was guiding in rhythm and wearing the watch myself to monitor their pulse. I have been able to stand about 8 meters away from the sensor and still receive a constant signal. This is unthinkable for Mio Link, as even wearing the watch on one wrist and Mio Link on the other can cause slight cuts in data reception.
Scosche RHYTHM+ If you're not convinced to wear two devices on the same wrist, the Scosche can be worn on the wrist as well as many other parts of your body, but it's much less limited than the Mio Link, which requires you to wear it on one of your two wrists.
Mio Link Its strap system is more reliable and ensures that it will not move in the most difficult conditions. The material is key (fabric in the case of the Scosche, rubber in the case of the Mio), and with sudden movements (running sprints or very intense series) it can happen that with sweat the Scosche RHYTHM+ slips. Swimming is also not easy to keep the Scosche sensor in place, even though it can open and fall out from wherever you take it. That while in the pool it wouldn't matter much, in open water it could mean saying goodbye to your sensor... forever. Although I return to point one, these are not really sensors designed for swimming, but I do like to think about a possible use in all three sectors of a triathlon.
Both have a control LED, but the Mio Link In addition to pointing out obvious values (power, pairing, etc.) the Scosche sensor will indicate by its LED colours whether you are above, below or in a marked area, and can only be configured from iOS. In contrast, Mio Link allows you to manually or automatically configure three to five zones, each with a colour, so you know exactly which one you are working on. And they also have an Android app.
Mio Link It's not that the Scosche sensor is large or uncomfortable, but it is true that Mio's is narrower.
Scosche RHYTHM+It's not a mathematical thing, but I do have to wait less time for the Scosche sensor to start punching out heart rate data, which is almost instantaneous. Mio Link usually takes a little longer and I sometimes have to reposition it on my arm (which I think is due to the hair).
My opinion
The Scosche RHYTHM+ sensor behaves perfectly in any situation or sport. Whether running, cycling or simply doing sport in the gym, the heart rate data obtained is totally reliable.
This type of sensor is no longer a novelty -many watches are integrating them directly- but if you want to make the leap to optical measurement and do not want to "spend the money" on a completely new watch, both Mio Link Both sensors are even more reliable than those found in new devices, at least those from Garmin, Life Q or Polar, but not those licensed by Mio or Valencell (as is the case with the Scosche in the test), which are just as reliable in the products sold with them as those that integrate their technology into the watch itself.
So, Mio Link or Scosche RHYTHM+? I wouldn't have a clear winner, I like both of them quite a lot although maybe the Scosche offers more versatility because of the different options it has to wear it. If you don't decide either my recommendation is simple: buy the one that's cheapest.
Buy Scosche RHYTHM+
Since a few weeks you can buy the Scosche RHYTHM+ in Spain, through Amazon. Before it was not officially distributed in our country and had to be imported in parallel. Below you can see its current price at Amazon Spain.
https://www.amazon.es/dp/B00LA1GW5K&tag=c1mes-21
Remember that if you make the purchase through the link you can see above you will be helping to support the page, and all without any cost to you. This way you save and I get back a small commission that will help the purchase of new devices to perform the following tests.
Don't forget to share the test in your social networks and with your friends, so that they can also be informed. And don't hesitate to comment and subscribe to the comments, many times you will find answers to questions that have not been dealt with in the text of the test. You can use the test comments as a forum and share not only your doubts, but also your opinions of the computer with the rest of the readers.