A last triathlon to complete the 2016 season, in this case in Malaga, corresponding to the Santander Triathlon Series (former Skoda Triathlon Series), in sprint distance.
It was not the only event I did to finish the season, because just a week before I participated in the Marbella Half Marathon, but in a non-competitive mode because my goal was to do a good triathlon. And days after this event I ran the local 5.5km race with good results. But for none of them I had done specific training.
El de Málaga era un triatlón al que le tenía ganas por el perfil de ciclismo. A diferencia del resto de pruebas en las que he participado esta temporada, en esta ocasión era un circuito totalmente llano. No es que no pueda subir puertos o me desagrade, simplemente mis características físicas no son de «escalador». Y es en este tipo de segmento llano donde tengo mejor rendimiento, una vez rodando puedo ser como el Talgo.
Swimming
I am clear about which aspect of the race I perform the worst, and it's not DURING, it's BEFORE. There is never a way to get to the start in plenty of time, something that for this occasion I improved a lot since I opted to pick up the bib on Saturday. So on Sunday I simply had to prepare the box and I could warm up quietly, although as always happens the queue at the entrance to the transition area always takes longer than expected.
After I put everything in place I have five minutes left to get into the water and test the temperature a little bit. Good morning, neoprene allowed by the hair and with the water as a dish.
I warn the triathletes to go to the call room and I get out of the water, looking for a hole where I can get comfortable. A mix between having a good line of swimming looking for the first buoy, where I don't disturb faster swimmers and calculating a starting line that goes well with my rhythm.
In short: don't take too many sticks and make the distance as short as possible.
The race starts without delay. Here you can see who had been able to warm up and who had arrived just in time. The first ones knew that we could do the first 15-20 meters running. Those who had not warmed up would immediately jump into the water and start swimming... in a point that was not yet covered. The result is that running while it was possible you ended up overtaking a lot of positions that you had given up at the start.
I look for some feet to follow and I don't have any trouble finding them, at least until the first buoy. I adjust my pace and after the first turn the sensations are good and I go quite calmly. The stretch parallel to the beach I always try to do it more relaxed, trying to recover the effort of the initial sprint and looking for a good navigation. It is here where I always lose feet to follow.
Second buoy and sailing away looking for the start, squeezing again as I get closer to the shore. I come out of the water with a time of 12:08 in the swim. Not good or bad, just what I usually take in this distance. The start narrows and we go in line looking for the long way to the transition.
So long that my official time until reaching T1 was 13:33, so almost a minute and a half until reaching the pits area that we have to add the long way through the transition area, because the bikes were placed in a single row. In the end between one thing and another you have got about 500-600 meters of race and also taking care in the turns, because with wet feet is a little dangerous.
The total transition time was 3:30, in which I have to include the fact that I forgot to put on my bib and had to stop before reaching the assembly line. Luckily I realized, otherwise I would be disqualified...
Bike
My swimming pace has never been outstanding, so when it comes to catching groups on the bike it's always more complicated. I envy those of us who get down to 10 minutes in the swim and find ourselves in a competitive group as soon as we get out. Those of us who take more time splashing around in the water have to look for the chestnuts.
I jumped on the bike and made a good start. I started fast, but not in a crazy way. The first objective was to find a group or triathlete with whom to collaborate. That first minute I did it at about 38km/h. Soon I was overtaken by another competitor, so I got on the wheel. I held behind for a few seconds and gave the relay, suggesting that if we understood each other well our collaboration would bear fruit.
Efectivamente, tras un relevo no muy largo me vuelve a adelantar, así que la colaboración «está cerrada». Comenzamos a avanzar a ritmo más elevado (42-45km/h) repartiéndonos el trabajo y adelantando a pequeños grupos de 2 o 3 corredores que no están por la labor de engancharse. De hecho la diferencia de velocidad es notable.
Damos caza a un grupo más numeroso y nos colocamos ambos a rueda. Bajamos ligeramente el ritmo y nos volvemos de nuevo a los 38km/h iniciales. Tras dos minutos mi «compañero» salta del grupo y yo lo hago también. El grupo no nos ha servido para marcar ritmo, pero al menos sí ha servido para recuperar el aliento y poder volver a tirar fuerte.
When I get to the athletics stadium I see a group of about 15-20 cyclists. We are about 30 seconds away. That was our next goal.
We complete the first lap by exchanging relays and we have the group much closer, a little more than 10 seconds separate us. I make a tight turn and take command again with a relay that should be the final one to catch up with them. I get on the wheel of the group and take advantage of it to drink.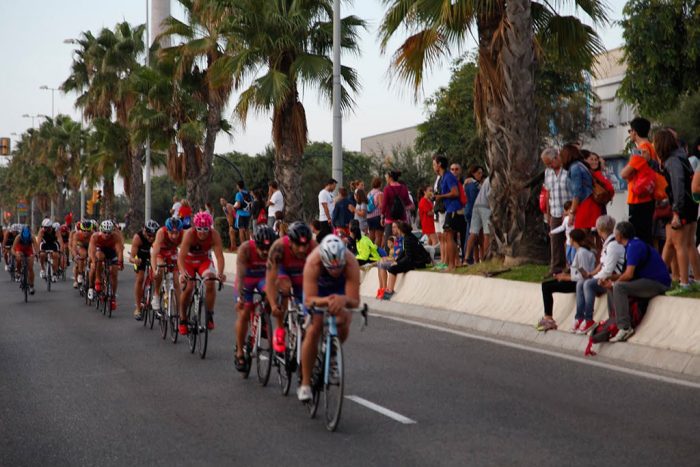 Second lap and with the forces recovered I go back to the head of the group and start to give relays again and try to pull the group, because we were working really well. Although as it usually happens in these cases, some of us work more than others, and there are always several who stay protected inside the group waiting for their chance in the race.
Moving forward in such a large group can be dangerous, especially when overtaking triathletes who are moving much slower than we are doing, so the first ones have to control not only their position in the group, but also warn those we are overtaking to be careful).
The end of the third lap and I arrive at T2 with a partial cycling time of 32:59, the 7th best time in the cycling sector in the whole classification. Not bad!
Career
A quick transition in T2 (within the long line of bikes to be ridden) and to look for the 5 km race.
After possible wear and tear on the bike as I had been pulling groups for quite some time, I decide not to leave T2 too fast. It is in the race where you win, but it is also possible to stop all the work done. I opt for a conservative pace of 4:30 min/km, at least until I evaluate the sensations in my legs. I see that I am not doing badly in the classification, and in fact the good cycling sector has allowed me to recover time from the head of the race.
But it's just a mirage, because obviously my race pace is lower than the leaders'. I complete the first lap quite comfortably. My heart rate is still low and I don't feel any fatigue, so I start to pick up my pace. The feeling is good and in fact what stops me from going faster is not the body, it's the head.
I recover some of the positions I had lost in that first lap due to my conservative pace and I face the end of the race with confidence, doing the last kilometer at 3:45 min/km.
Entro en meta con un tiempo final de 1:12:37, que supone ser el 31º de la categoría y 65º de la clasificación total (de un total de 550 participantes). Así que una carrera fantástica en la que lógicamente lo que más ha brillado ha sido el sector de bici. No sólo por ser totalmente llano permitiéndome lucir en aquello que más me favorece, sino por las buenas colaboraciones encontradas. Sin esos relevos no hubiese conseguido un buen resultado. Así que, triatletas, dar relevos «es bien».
I have the feeling that maybe I could have pushed a little bit more in the race, but in the overall result it would be practically indifferent. If I had lowered my time in the third segment by 30 seconds I wouldn't have moved up many positions either, so I can give the result as a very positive one. Besides I finish the season high in morale.
Now a period of rest (active rest, that there are many things to try for the analysis...) and start thinking about the 2017 season, in which I want to look for competitions without drafting to continue doing the locomotive.
And with that... thanks for reading!