Yesterday was the day I commented on what we can expect from Garmin in the next two months, it's now time to talk about Polar.
The Finns have added new products this 2017, but none of them have been particularly surprising. Their three main presentations (M430, M460 and A370) have not been range renewals, but rather upgrades of greater or lesser significance.
While the Polar M430 The case of the M460 has been different, being practically a "rehash" of the M450 with a software update for the Strava segments. In other words, an update that pod could have been performed on the same M450 instead of launching a new product.
But if there's one thing we're all looking forward to, it's undoubtedly the details of the replacement for the Polar V800... but I'll start with the imminent.
Polar OH1
Polar arrived somewhat later than the competition at optical pulse sensors, but did so with the wisdom and measurement expertise that has always characterized the company.
They have two different sensors, depending on the product range, to choose which one to equip. It is the only manufacturer that does this since all the others use the same sensor in all their devices. And it is not that one is worse than the other, both give good results, but the model that equips the M430 (and this OH1) is slightly superior.
The Polar OH1 is an external sensor that simply records the heart rate and sends it to another device. This sensor joins the one presented at the beginning of the year, the Polar H10Both are similar in concept, as their connectivity is exclusively Bluetooth to connect to compatible devices (either from Polar, another manufacturer or a smartphone) and they have memory.
Called for the time being Polar OH1 (Optical Heartrate 1), it sure reminds you a lot of the Scosche RHYTHM+.
You will be using the 6-LED sensor that works so well in the M430, and which corresponds to its top-of-the-range version. These are its specifications:
6-LED optical sensor
Possibility of recording data in its internal memory, up to 200 hours of training
Synchronisation and charging via USB connection
Compatible with iOS and Android
Bluetooth connectivity (unfortunately will not offer ANT+)
12-hour autonomy
Immersion resistant, 30 meters
This type of sensor requires accelerometers in order to eliminate noise caused by movement. Polar probably also uses them to record basic metrics that can be consulted after training, such as distance travelled or number of steps, all without the need to be connected to a device.
It will therefore allow you to record a workout and synchronize it later, all without a watch or other device. Perfect not only for running, but also for other sports such as football, basketball, tennis or any other sport that you do not need to keep track of rhythms or distances.
This memory can also be used, for example, in swimming; being able to synchronize the data at the end of the session with a compatible watch, like the Polar V800. The data download will be through an application in the mobile or connecting it to the computer through USB, placing it in a specific adapter.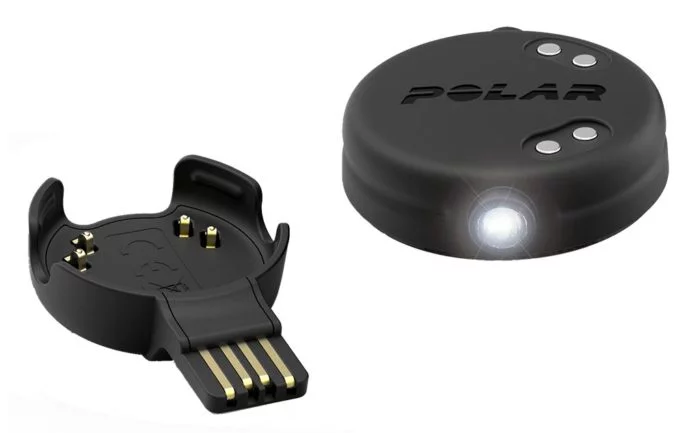 The Polar optical sensor already gives very good results when placed on the wrist, so it is to be expected that placed on the upper arm, where there is less movement and the area offers better possibilities to record the heart rate, is even better.
The new sensor will probably arrive between the end of August and the first weeks of September, and will do so at a price of 79 euros.
Polar V810/V830/V850/V900
Actually, nobody knows what the successor to the Polar V800 is going to be called. There's been speculation about a lot of names: V810, V830, V850, V900... If it was my money on the line, I'd bet on V830. It would be logical, after the move from M400 to M430.
Little is known about what Polar plans for its new model. The only thing that is confirmed is a date: spring 2018. This was confirmed by Stan Brajer, Vice President of Marketing and Sales for Polar USA, on the Babbitville podcast.
It probably refers to availability in stores rather than date of presentation. The triathlon season starts in April-May, so it is the perfect time to have your new watch available for purchase. Therefore, the presentation will most likely take place at CES 2018 which will be held in the second week of January.
As far as specifications go, nothing is known. It is clear that it will have an optical pulse sensor, but from there on anything will be mere supposition.
What is clear is that Polar is taking it easy, which I think is right. They already know what it's like to launch an unfinished product to the market (they already had the V800, so they received harsh criticism), and it's something they don't want to repeat under any circumstances.
Presumably the latest innovations that Polar has been flirting with in other products are available in the V830, as they are:
Heart rate measurement throughout the day
Sleep analysis, including pulse variability information to assess recovery status (thus enabling the optical sensor to record pulse variability)
Compatible with race power meters, such as Stryd
Remote control for GoPro cameras
Compatible with Strava segments
Of course, complete availability of ABC sensors: altimeter, barometer and magnetic compass
Compatible with Bluetooth sensors. And I'm afraid, unfortunately, it won't support ANT+ sensors
But none of this is surprising, these are things that Polar could achieve without having to create a new hardware platform.
So let's go back to the Polar H10 sensor presented at the beginning of the year and which I briefly told you about at the beginning. In addition to the most visible new features - smaller size, memory and, in theory, a better heart rate record - there is one detail not to be forgotten: it has an internal accelerometer.
This accelerometer can be used to improve pulse registration, just like the optical sensors, but I'm sure it goes much further. The sensor firmware is upgradeable, so what it does now may be different from what it does in the future.
In other words, with the Polar V830 we could be facing some kind of race dynamics or power measurement record, which would justify the delay in the arrival to the market of the new Polar model.
As I say, the presentation will almost certainly take place right at the beginning of 2018. There are four months left to wait.
Thanks for reading, and don't forget to share!