Last updated: 4 February 2019
First of all I want to clarify that this is an article based on rumors and leaks. You know that I am not very friendly to comment on rumors or leaks, mainly out of respect for the brand. At the moment I don't have any official information (in which case I couldn't comment on it until the announcement date), but there is some information and details that are clear enough to be able to affirm all the information that you can read below.
But since I don't have any direct information from the brand or devices being tested, I'm free to comment and provide all the details. So you know, all the information you can read below may be totally true... or mere speculation.
All in all, a little action for a 2017 that has been rather short on novelties.
Garmin Forerunner 245
Update 4 February 2019: We are still waiting for the Garmin Forerunner 245. The replacement for the well-known Garmin 235 is being awaited, probably due to the good sales it still has in the market.
Finally, we have the Garmin FR230/235, which is already due for a renewal and is approaching two years on the market, so its commercial life cycle is nearing its end.
And not only because of the product renewal cycle, but also to cope with the new proposals of Polar with the M430 or the newly introduced Suunto Spartan Trainer Wrist HRIf there is no early movement from Garmin, both models can make a good bite out of a busy market segment.
One thing is clear, Forerunner 230 will have no replacement. The trend towards optical pulse sensors is clear and even the most economical watches are not without this type of sensor. FR230 and FR235 will become one, which is probably called Forerunner 245.
What will be the selling point of the new Garmin mid-range race clock? Beyond the new Garmin Elevate sensor and compatibility with the latest version of Connect IQ (which is not supported by the current 230/235) there is not much more you can add. Not without stepping on other products in the Garmin range, of course.
There is one last possibility: adding memory that allows you to play music through Bluetooth headsets, a field that Garmin has not yet explored, all using the same hardware platform as the Vivoactive 3 you saw earlier, but replacing the touch screen with 5 buttons in the classic distribution of the brand.
In fact Garmin already has the Approach S60 on the market, making use of precisely that hardware, which as you can see is identical to the image of the Vivoactive 3 (with three buttons instead of one) and will not differ much from the image that Forerunner 245 will have.
When will it arrive? It will probably be announced in October and will arrive at the market, just like the Vivoactive 3, before the Christmas campaign.
Garmin Edge 1030
Update: The Garmin Edge 1030 was introduced on August 27, 2017, and you can read his proof now
I'll start the round of rumors for the most imminent of all products, the Garmin Edge 1030 (known internally as IPH-03164More than a rumor, it is a reality, since the leak comes from a store that published the product by mistake on its website.
Its official presentation will take place at the end of August, which is when the Eurobike is held. At the moment we do know some details.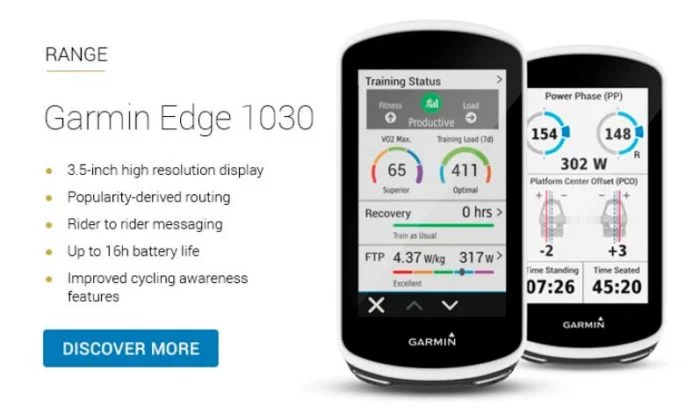 With respect to the Edge 1000 it replaces, it increases the screen size by half an inch, now reaching 3.5″. The frame is reduced, so the total size of the device will be very similar. It will be accompanied by new route-tracking options and greater Live Tracking options such as sending messages to other colleagues (for those who do not have the WhatsApp).
It also incorporates the performance metrics we have seen in Phoenix 5 and Forerunner 935And Garmin will probably synchronize all status and workout load data between different devices through Garmin Connect, allowing you to have this data synchronized between watches and cycling computers (and avoiding having to record two activities every time you go out to train if you want to track workout load while running and cycling).
Control will still be via touch screen, with two buttons at the bottom to start and pause an activity or to mark laps.
Personally I think it's still too big, but Garmin already has the rest of the Edge range to offer smaller sizes for those of us who don't want to carry such a large device on our handlebars.
Garmin Vector 3
Update: The Garmin Vector 3 pedals are presented 29 August 2017
The third version of the Vector saga finally loses the external pod and makes its initial installation and change between bikes much easier; similar to what Powertap offers on its P1 or the new Assioma de Favero (which I already have mounted on the goat).
Aesthetically they are very similar to Vector 2, but with the absence of the pods, which as I said complicated the installation and made a rather bulky set.
There will be new cycling dynamics metrics that, in principle, will only be compatible with the Edge 1030. I don't think the Edge 520 and 820 will take long to support these advanced metrics, although it will have to be through a firmware update.
Another new feature will be its compatibility with Bluetooth devices. If you look at the inscriptions on the bottom of the pedal, where the CE mark is located, you can see that in addition to the ANT+ logo, the Bluetooth logo also appears. Therefore, it will work as a power meter with Polar or Suunto units without any problem (although it will only show power data, not cycling dynamics, which is exclusive to Garmin).
But the key will be in the price. With the PowerTap P1 at 1,200 as a well-known and reliable option and the Assioma Duo in less than 800 (with much lower availability but just as reliable as PowerTaps); Garmin must be very careful in choosing a pricing strategy.
Even with the addition of cycling dynamics, it is the power measurement that is important here. It will be difficult to justify a high price despite this additional information, because as with racing dynamics, Garmin has never been able to explain how we can improve by taking advantage of all this data.
They will be presented together with the Edge 1030 so in a couple of weeks we will have all the details.
Garmin Vivoactive 3
Update: The Garmin Vivoactive 3 was released on August 31, 2017. Here's your complete test
Although the Garmin Vivoactive HR remains a fully featured device (including the latest version of Connect IQ), Garmin is already preparing a replacement. When? It will probably be introduced in September, so that it can be available in stores for the Christmas season. Information has been published by wareablewho have had access to the images.
The aesthetics change completely. The first two Vivoactive were distinguished by having a square case and display, while the new Vivoactive 3 changes to a round case and receives all the design concepts of the successful Fenix 5. It is clear that if the Fenix range sells so much it is not only for its performance as a sports watch, but also for being able to combine it as a watch for everyday use.
It features the new Garmin Elevate sensor that the Fenix 5 debuted, which provides increased battery performance and constant heart rate monitoring, and of course the new intelligent timing and charging connector, which is set to become standard across the Garmin range.
Like the Vivoactive HR, it will also have a barometric altimeter, allowing you to track the floors climbed as well as the meters climbed while you are training.
The control of the clock will be through a touch screen, counting only with a button on the right of it.
With the new proposal of the Vivoactive 3, Garmin wants to turn its product to the segment of smart watches or smartwatch. The new smart watch from Fitbit - after the purchase of Pebble - is also around the corner and Garmin is already preparing its weapons to fight not only this, but also the next Apple Watch that will arrive in September.
In terms of sports performance Apple still has hardly any weapons to competeThe third version of the Apple watch will have to be kept up to date with any new developments and if it is capable of improving its sporting performance.
A clear example of the intention to fight against smart clocks is the possibility of answering notifications from the clock, as you can see in this image and that until now was not possible.
But it is not yet known what these responses will look like - they may simply be predefined messages, some screen writing system or through voice recognition with a built-in microphone.
It will also almost certainly come with the 22mm QuickFit strap system that allows replacement in seconds and a 240×240 pixel color display. The key, as with any smart watch, will be in the applications and the work of the third-party developers. And it looks like Connect IQ has a few surprises up its sleeve...
And not just clocks, but platform improvements
The most obvious thing is the jump that will happen in Connect IQ with the arrival of the Vivoactive 3. Garmin is preparing something for the developers.
But there are other things, such as data synchronization between different devices. Garmin Connect is now able to synchronize activity data (steps, calories, etc.) between different devices. This allows you to wear an activity wristband during the day and later your training watch, which after synchronization will receive the activity data from the first one.
But that's just the first step. With the arrival of the Edge 1030, this synchronization will probably reach other aspects of the devices, with the recovery state being the clearest goal.
Athletes who practice several disciplines do not find it easy to keep a comfortable record if they use more than one device. For example, if you are a triathlete, you can use the watch for everything, but many of us prefer to use a cycling unit on our bike for many reasons. But if you want to have all the data on training status, recovery, etc. you should carry the watch and record the activity as well.
This involves having two activities recorded in Garmin Connect for the same exercise, which is not at all practical or useful.
We'll almost certainly see Garmin continue to move toward more extensive device synchronization. The way is already open with activity synchronization, so the groundwork is already in place.
All in all, interesting months are coming for Garmin, with quite a few promising products. There will be a lot of action between late August and mid-October, so you better watch out if you don't want to miss anything Garmin presents. They're not the only ones making moves, but I'll save that for another article.
Thanks for reading, and don't forget to share!