The virtual cycling simulator RGT (Road Grand Tour) has announced that as a response and aid to the COVID-19 pandemic, it begins to offer all its Premium services free of charge.
After launching the application in beta version where we could register for free to test it, they moved to a 14-day trial mode (and without access to all features), something very similar to what we can see with Zwift.
As you can see, the concept is very similar to what is offered at Zwift, although RGT is trying to offer the most realistic experience possible. To do this, in addition to virtual worlds they also offer 8 real roads that 1TP10We can ride from the "comfort" of our roller. We can ride the Stelvio pass, the Italian Tuscany, the Cap de Formentor in Majorca...
To access all RGT features free of charge, you'll need to sign up for the app with an email. Then, to enable Premium features, you'll need to send an empty email from that same email account to [email protected].
About RGT Cycling
As I said earlier, the concept is very similar to Zwift; although logically the level of detail, operation and above all number of users is very different. Although at RGT we are going to find other cyclists with whom we will be able to ride or benefit from draft, it is not like the tens of thousands that are in Zwift right now.
In fact Zwift has already suffered some downtime in the last few days, due to the collapse that is taking place on its servers, so RGT is a good alternative in that case, or also when you're bored of spinning around in Watopia.
There are some differences in we have to do it. We need two apps, one that is the proper application that you will need to install on your phone, and the other that simply acts as a screen to show the virtual world. In this sense it is somewhat uncomfortable because we need two battery-powered devices at the same time.
It is in the mobile app where you must sync your trainer and other sensors that you have (power, heart rate, etc.) and from where you will manage everything to start an activity, set up a workout or chat with other cyclists. You can also sync with TrainingPeaks and Strava to send your workouts to these platforms automatically. The app is available for iOS and Android.
The screen app is just that, a screen. But it does not allow you to perform control of any kind, connect sensors or anything else besides showing the image. That app can be installed in Windows, Mac, iPad or Apple TV.
Before starting the entire registration process we need to install both apps. Once done you have to open the mobile app and start the registration.
The screen code is the one that tells us that screen app.
When both apps are already linked, we will have access on the phone to the full menu.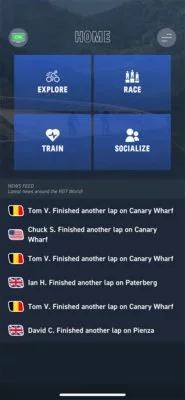 We can slightly customize both the kit of our avatar and the bike we will ride, although the options are not very extensive.
When choosing a road to travel (whether real or not) you can see the distance to travel, meters that we have to climb (with average slope) and the number of users that are at that time riding that road.
To test the app out I went for a walk around Mallorca to Cap de Formentor, starting at the port of Pollensa and reaching the lighthouse.
In the 1TP10 screen we can see all the data of our "departure". Also the remaining distance to reach the end of the course, which is a good detail to keep in mind to know when we will reach our destination. Once reached you can finish the training or simply turn around.
You also have a list of other cyclists, the distance that separate them from you and the power they are pushing (to see if you're going to be able to catch them or not).
I paired the app with the Tacx Neo trainer, without any other external sensor. The trainer itself is the one that sends data about power, cadence and speed, as well as being able to be controlled in terms of hardness by the app.
In case you have a non-intelligent trainer, you will need to have a potentiometer. Unlike Zwift it is not able to work only with cadence and speed sensor.
The connection is made via the Bluetooth connection of the phone. Personally I think this is a problem and I would prefer it to go through the screen app, because the way it's currently done forces us not only to have the screen turned on but we can't exit the app at all.
If you do so, the data is stopped being transmitted and the trainer will no longer receive information to adjust it's hardness to the hill we are climbing.
As for slope adjustment the feeling I get is that it is not too fine and does not correspond to what we see on the screen. Sometimes the 3% seems very hard and sometimes a 7% we have to lower gears to adjust the pedaling cadence. But at least the experience is positive because from time to time it is nice to be "riding" a real road instead of lava fields or glass bridges.
There are two aspects where we will notice differences from Zwift. The first of them is with respect to graphics. Obviously, RGT is not at the same level and does not have the same capacity for investment in development as Zwift, so the feeling of the images is somewhat more rough.
The second differential aspect is the number of users on both platforms, although that was more worrying in the past and which, unfortunately, is not so important right now. In fact it is perhaps even relaxing that RGT does not have so many people, because right now Zwift is a fair with several thousand riders in any of the different worlds that are open.
As in Zwift, RGT also offers races, trainings and group rides.
Bottom line
It is a very good option to try during these days, because not everything is going to be Zwift. We can get tired of everything and "go outside" from time to time being able to do classic routes such as the Stelvio, Formentor, Mount Ventoux...
Right now RGT are at the same point as Zwift was a few years ago, at the development level and at the user level. Although the orientation is different. Zwift is focused more like a game, while RGT has looked more for the simulator aspect.
And considering that it's free right now and you're spending a lot of time on the trainer lately, why not try something new?
And with that... thanks for reading!