The Casio G-Shock GBD-H1000 (we'll leave it at Casio H1000 for friends) is the first watch that Casio has created focused for use in sport, and more specifically to run with it. 
There are several reasons why it's an interesting watch: it integrates FirstBeat metrics, it has solar charging, and it's the first Casio watch to have an optical pulse sensor. And above all it's a G-Shock with everything that goes with it. It is prepared to withstand almost anything, so if you plan to do guerrilla warfare this Casio will be up to the task.
It has Bluetooth connectivity, barometric altimeter, magnetic compass... its business card deserves a thorough analysis.
Casio has sent me a unit of their H1000 and once the test is completed I will send it back to you. As I usually remember there is no compensation from any manufacturer so all my opinions are free and without pressure of any kind. If you find the review helpful, please use the purchase links you see on the page as they are what help maintain this site.
And with all this cleared up, get comfortable because you are going to get to know the Casio H1000 in detail.
Casio G-Shock GBD-H1000
Overall operation - 6.5
Training possibilities - 3.5
Platform and applications - 6
Autonomy - 7
Finishes and comfort - 8
Price/performance ratio - 6
6.2
TOTAL
The first Casio with optical pulse sensor. It is also the first Casio designed for running. All encapsulated within the Japanese manufacturer's classic G-Shock protection. But with software that's not up to par.
---
The good
It is a G-Shock, impossible to break. It can be used to break down a door
Solar charge
Generously sized buttons with good tactile feel
The bad
The software in general is quite frustrating
Language in English only
Inaccurate optical pulse sensor
Only career profile available
Slow to receive GPS signal
Casio H1000 Specifications
Find the best offer
Casio H1000
Before getting into the subject, I like to clarify the technical specifications of all the devices, so that we are all on the same page when I talk about something. It's the most basic thing to keep in mind and surely one of the sections you look for the most in each of the reviews I publish.
Size: 63x55x20,4mm. It is huge
Weight: 101 grams
Autonomy: 14 hours with use of GPS and optical pulse sensor
Solar charging to increase autonomy depending on how many hours of sunshine we have. In standby mode it can last up to 12 months.
Mineral glass
1″ screen 
GPS + GLONASS reception
Barometric altimeter
Magnetic compass
Integrated thermometer
Firstbeat metrics: VO2Max estimation, training status, training effect, training load, recovery time
Application training plans
Phone notifications via Bluetooth
Resistant to 20 bar immersion
However, there are some things it does not have that, depending on your usage profile, can be a major barrier.
Does not support external sensors
No route navigation
No training on the clock
Only one sport profile
Limited support for third-party applications (only Strava is supported)
It is not possible to obtain activity files from the watch or the application.
I want to talk about all of this a little later, but let's first look at the basics of the watch, as well as its operation.
Casio H1000 basics
I can guarantee that with this Casio H1000 on your wrist you will not go unnoticed. The design is eye-catching and will especially appeal to those who love Casio's G-Shock aesthetic. 
The watch crystal is mineral, and is fully protected by G-Shock inserts. Both the case and the strap are made of resin, with a good feel and durable look. 
With a minimum diameter of 55mm (due to the anchoring of the strap, in "vertical" the measure is greater), the Casio H1000 is a watch huge no matter where you look at it. But it's not something you wouldn't expect, all Casio G-Shock are like this. And they are because the body of the watch is "encapsulated" inside the protection itself, simulating four hooks that grip it.
Almost the entire watch is made of resin, except for the "inner" bezel which is steel, as is the back cover. The crystal is mineral, not a plastic lens.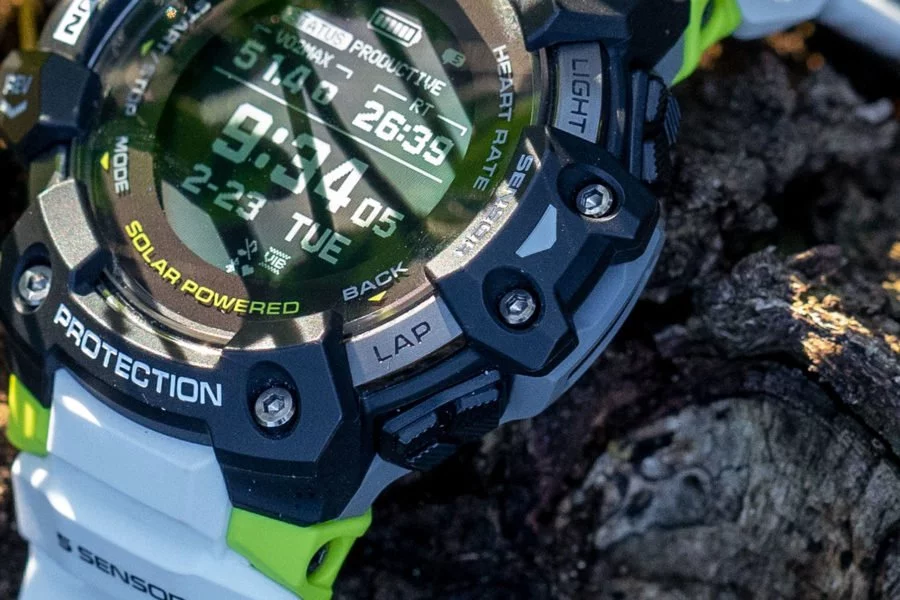 The control buttons are plastic, but of very good size. There are five in total, three on the left side and two on the right side. Thanks to this large size it is very easy to find and press them, even if you are wearing winter gloves.
Although almost everything is plastic, the presence and build quality is good. Everything is very solid and there is no looseness of any kind. It really is a watch that is made to be bombproof. At 101 grams it's not a light watch at all, but it doesn't feel uncomfortable on the wrist.
If the construction is very solid, we do not find the same solidity in the software of the watch that is somewhat chaotic and with some interface design decisions somewhat difficult to understand. The first thing to note is that the watch has only one language, English. Therefore all the menu options are in Shakespeare's language (the application is in Spanish).
We have several watch "dials" where, in addition to viewing the time, other relevant information such as daily steps, VO2Max data, recovery time, monthly target achieved, HR with maximum and minimum and a second time will be displayed.
To toggle the view between these dials we have to press the upper left button, marked "Disp" on the side of the solar bezel. On the other hand, the lower button, labeled Mode, allows us to switch between the different modes:
Time of day
Heart rate with graph
Timer
Stopwatch
ABC function (altimeter, barometer, compass)
Activity summary with the list of our training sessions
Training status, VO2Max and recovery time
Notifications
Within each of these modes also 1TP10We can change what we see by pressing the upper left button. For example in heart rate mode we toggle between a graph view or just the HR data.
In ABC mode, logically, we alternate between the altimeter, barometer and compass.
And in the training state, we alternate between the state itself, VO2Max estimation and recovery time.
Finally, by pressing and holding the upper left button we access the main menu of the clock configuration. 
In this menu we have the basic settings of time, alarm or profile, because later in the application is where we will find other more specific settings.
Remember I told you a moment ago that there are things in the menu that are less solid than the actual construction of the watch? Well let's go with some of my complaints, starting with the notifications.
The watch allows you to receive all the notifications you receive on the watch, like any half-smart watch worth its salt. When the phone rings, about four or five seconds later the watch will ring (and/or vibrate, this is configurable). On the 1TP10 screen you will see the name of the application that generates the notification and a brief detail of it.
What is the problem? That we do not podemos see the notification directly. The logical thing would be that by pressing the main button we enter the notification to see all the details, but by pressing that button all we do is return to the time screen.
What should we do if we want to read a notification? Enter the notification mode indicated above, for which it is necessary to press the mode button seven times.
Press the main button to access the list of notifications.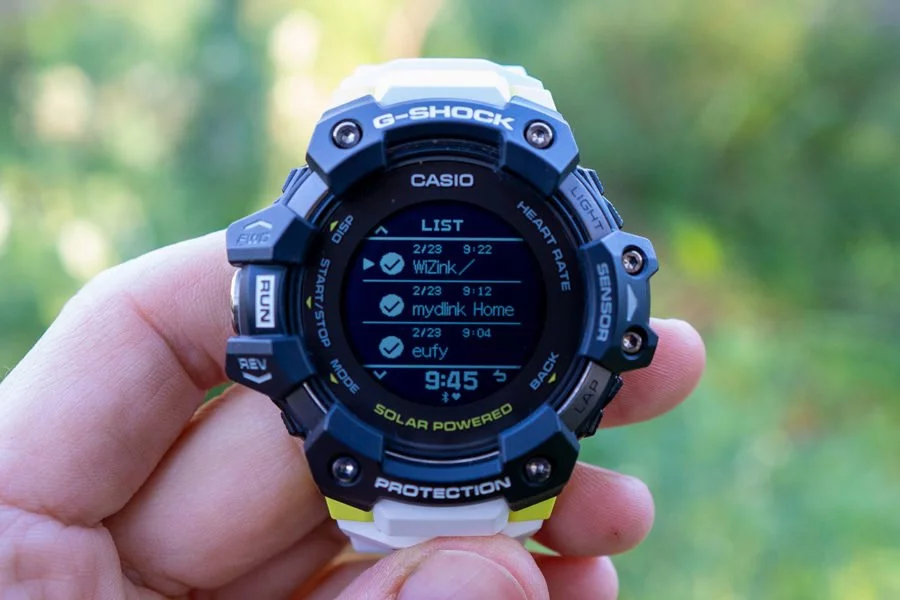 With the top and bottom buttons poder navigate through all the notifications received until you find the one you want to open. And once found, press the main button again to enter it and poder read it.
Therefore, to see that notification we just received we will have to press the buttons a minimum of nine times. Something totally absurd, especially since there was already a previous screen where, if we could enter the notification, we would save a lot of presses.
The result is that when your phone rings with a notification you eventually take it out of your pocket and check what has come in, which makes having a watch that displays notifications pointless.
There are still more incomprehensible decisions. And I have to talk about the use of screen lighting. In the application 1TP10We can choose to enable or disable the use of automatic light and its duration (1.5s or 3s). This is simply that the light turns on when the watch detects a turn of the wrist, something quite standard in all types of watches. In addition we have the top right button that allows us to turn on the screen whenever we want.
But if it is on, the light will turn off if there is a vibration, alarm tone or notification sound. So if you have activated tones or vibrations when pressing a button (very common), the light will turn off every time you press a button.
Which is great, because imagine you want to check notifications in a dimly lit place. Remember, it's 7 presses away from the mode button, so every press of the mode button you'll have to press the lighting button again. Mode - illumination - mode - illumination - mode - illumination...
Well, although I would prefer not to, I disable the tones and vibrations for the button press... Neither, because the only setting for the watch light is 1.5s or 3s, regardless of whether you're navigating the menus or not. So you'll still have to be activating the lighting constantly. 
No, it doesn't make any sense. Hasn't anyone at Casio really used the watch and found these things annoying?
Finally we have the RUN button, very large, to access the sport mode which is what we will see next. And here we have a number of other equally incomprehensible decisions.
Casio H1000 for running and sports
As the watch itself announces on its prominent main button, the Casio H1000 is a watch that the Japanese manufacturer has focused on racing. But towards the race and nothing else.
We have a single sport profile and it will be the one you have to use for when you go running. But also the one you have to use when you go hiking, or to the gym, or for cycling... for everything. And as we'll see below it's another one of the nonsensical decisions Casio has made with the H1000.
But before we get into those details, let's take a brief walk through the career mode and see what it allows in terms of configuration.
Casio allows us to configure three training screens, with three data in each one of them. These screens are configured through the mobile application, within one of the configuration options. The data that podemos select are fairly basic (rhythms, times and average distances, etc.). Perhaps the most notable may be the slope, elevation, ascent/descent distance or ascent/descent pace.
Other things that 1TP10 can configure are heart rate alerts with target zones, GPS with normal or 3D distance (for hilly workouts), auto pause and auto lap or choose between two auto lap displays.
Then we have a couple of options out of the ordinary, such as route navigation or training plans.
Route navigation is not such, because the watch does not show routes of any kind. The only thing 1TP10We can do is to create an activity with altitude check points.
That is, determine that the first control point is for example at 600m altitude and we are still at 500m, but without a route to follow or even an orientation to where we have to go by means of the compass.
So 1TP10We can be sailing 500 kilometers from our control point, and the only thing the watch will verify is that we are at the right altitude, even if that is not the location we are looking for. 
The training plans are exclusively by heart rate, and would allow sending the target heart rate to the watch. They are available for cardio or running. 
They are not lacking in inconsistencies... Let's prepare a training plan for a marathon, with a target time of 3:10, to see what we get. The application asks us for the different data to be entered in terms of our profile and goal. TAfter entering all the data, it will give us a final view of what we have selected.
And that results in a plan that we have to follow to achieve our goal. 
Naturally, the target heart rate will depend on the max HR you've selected in the app. But I think these types of training plans work best for maintaining or improving fitness, and not for aiming for a record over a given distance because there are so many variables to consider beyond just heart rate. In any case, the implementation that Casio allows is pretty basic.
But if there is one thing that stands out in the Casio H1000 software, it is the performance metrics. These are the same Firstbeat metrics that 1TP10We can find in models such as the Garmin Fenix 5 (among others). However, these metrics are going to be rather lackluster due to Casio's decision to have a single sport profile for absolutely everything.
And I will not tire of repeating it, not having an additional profile, even if it is generic, is a serious mistake that affects much of the operation of the watch. You have to go back many years to find other watches that only had a single sport profile and, of course, none was of the range of this Casio H1000.
These are the performance metrics available on the Casio H1000:
VO2Max estimation
Training effect
Training load
Training status
Recovery advisor
Let's go little by little with each of them. First we have the VO2Max estimation, which is the metric that will govern all the others because it is a data that is taken into account in absolutely all the other parameters.
This estimation will be made by the watch directly through the different running workouts we do. And to have a reliable data we need not only time, but also variety of intensity in the exercises. 
To get the VO2Max data, the watch compares your pace with your heart rate, so to start with the data from the optical pulse sensor must be accurate (since the Casio H1000 does not allow to add external sensors), something I will talk about in the next section. To have more reliable data I should spend more time training with the Casio, and in that case the VO2Max values should be very similar to what I have on other devices.
The problem we have with the Casio is that those VO2Max values are going to be "messed up" every time we do any activity other than running. Hiking, cycling, climbing, gym... you name it, everything is going to be revolving around a running pace and heart rate.
The next thing we find is the training effect, with which an assessment is made of how the intensity we have had during training will affect our body, assessing the aerobic and anaerobic effect. This data can be found in the watch, in the training summary.
Or in the application within each of the history activities.
For running activities, as long as the VO2Max values are correct (i.e., it would need more time) it is fine, but what if we have done any other activity? Well, we will have data that are not worth much, because we have recorded any sport as if it were a race.
Training load is the accumulation of EPOC (excess post-exercise oxygen consumption) values for the last seven days, with the goal of being within a suggested range that will increase or decrease as we go through our workouts. The idea behind this metric is to increase the load progressively to avoid overtraining.
Within the application we find this graph.
But back to the initial point. If we just run it's fine, but look what happens if I record a cycling activity.
56.88 kilometers run at an average pace of 2:24min/km and a tremendous increase in the training load. And of course the anaerobic improvement has been brutal, with that pace is not for less.
The training status varies and adjusts each time you perform an activity, assessing your VO2Max data and the training effect, due to the accumulation of the training effect of the different activities you perform.
But I won't repeat myself, I think it's already clear that all these metrics are useless as soon as you record any other sport than running.
As for the application and training analysis, it is basic and contains enough data for a simple training analysis, but no great detail. Average data, a small graph and the possibility to view the laps independently.
When it comes to using third party platforms, Casio has only added syncing with Strava. There is no other platform and no possibility to export the activity file (although it can be done after syncing to Strava, which is what I have done). Enough, but it wouldn't hurt if the app allowed direct export to FIT, TCX or GPX file.
GPS performance and pulse sensor
Like the optical sensor tests that we will see later, the GPS comparisons are done in the same way: with the watches accompanying me in my usual workouts. Wearing both the Casio G-Shock H1000 and other watches and checking where the problems appear.
I don't have a defined path to establish a score for the simple reason that there are other external factors that we should never forget. Things like clouds, leaves on the trees or simply the position of the satellite can alter the GPS results from one day to the next. 
Now that you know what my methodology is like, let's go through some examples of workouts I've done with the Casio H1000.
I will start with this route along the promenade. Easy reception because I'm running in areas without signal problems as I have total visibility of the sky, except for the rightmost area where I turn in Puerto Banus and run between buildings and areas with trees (which you can see without zooming that there is some incidence ...). Together with the Casio G-Shock I am accompanied by the Wahoo ELEMNT Rival and the Garmin Forerunner 935.
Overall, with good conditions, there is not too much to review. The Casio G-Shock H1000 has good GPS reception in these open areas and both on the way out and the way back all three watches are perfectly aligned. 
Even in these more complicated turns it is the Casio that performs better. I have circled those turns where the G-Shock H1000 performs better than the Garmin and Wahoo.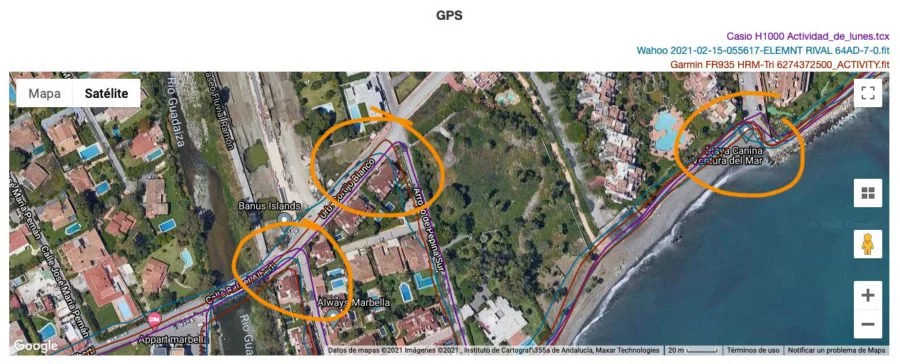 But we go to the port area, where we had already seen that there were incidents. And, indeed, it becomes a disaster. But a disaster for all three, it's not like there's none that had any behavior. In fact I've drawn an orange line so you can check what the actual route is and compare it with what the different watches have recorded.
The FR935 looks like a dizzy duck both going and coming back. Both Wahoo and Casio performed well in the lower pontoon area, but when making the left turn the Casio lost its way, while the Wahoo started well but ended up getting lost.
On the way back I run under a row of leafy trees, with buildings on either side, so that adds a point of difficulty to signal reception (and signal bounce).
Let's go with a different training. More turns and less coastline. This time the Garmin is left behind and I replace it with the Garmin. COROS APEX Pro.
Again we have a good performance by the three members of the comparison, with perfectly matched traces in areas with good signal reception. Even running on a street with low buildings on both sides (left side of the track).
Making turns in streets of urbanizations is the Wahoo Rival the one that has some small doubt and goes out of the correct route. But both COROS and Casio copy exactly the same route.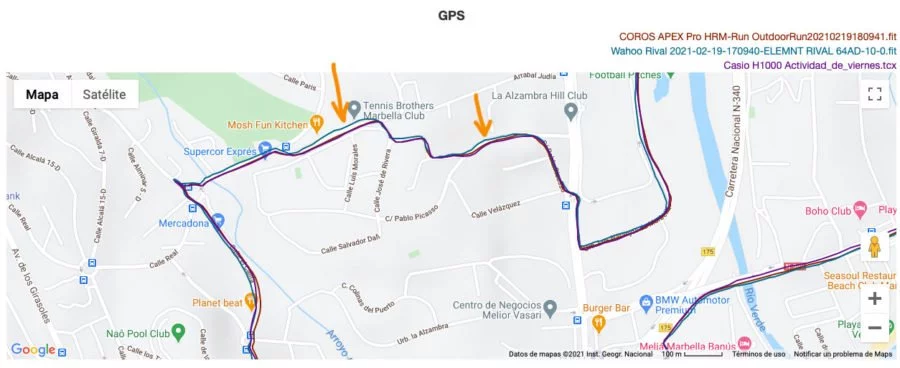 The area I have circled is the return after 50 minutes of running. It's not a complicated area, beyond running under a row of trees, but one that both the COROS and Wahoo are quite reasonably well behaved.
It is a rare error that can be seen more commonly at the beginning of a training session (because you have not yet triangulated the position well), but not at the end of the training session.
Overall the Casio G-Shock H1000 has good GPS reception. It's not perfect, but no watch is. Both in these workouts and in other workouts I have done I have podido see that it is very similar to what any other competing models can offer.
Let's go with the optical pulse sensor. The G-Shock H1000 is the first Casio watch to use this technology. The sensor design is very simple and will probably have nothing to do with Casio but will be purchased from a third party manufacturer.
It is simply composed of the optical sensor and a single green LED, thus far from more complex designs than 1TP10We can now see with a larger number of LEDs or using different color shades.
It is possible to activate the optical pulse sensor to track heart rate throughout the day, but the truth is that it is quite limited when it comes to displaying data. On the watch we have a constant heart rate graph, but it hardly allows us to see much information beyond trends.
But the information that is transmitted and stored in the application is quite rudimentary. That said, the records made by the sensor in 24/7 mode are not too reliable, I have usually seen how being at rest on the screen had records of more than 150 keystrokes as in the image above.
Beyond this what matters to us is the use during the practice of sport, because if you are reading here about this watch is that that is what interests you. But before showing you comparisons of different sensors, I would like to remind you of some basic aspects of optical sensors.
Keep in mind that a wrist heart rate monitor does not work the same way on all bodies. We're all different, and if we put things in the equation like skin tone, tattoos, body hair... the difference from person to person can be quite big.
In my tests it is not that the spectrum of users is very broad: it is me, myself and I. So what works well for me might not do it for someone else, or it might be better.
But the most important thing to keep in mind is that you have to follow some guidelines to wear the sensor. It should be tight (but not cut off your circulation), enough to keep the watch from moving freely on your wrist, leaving a separation of approximately one finger from the wrist bone. By following these details you will ensure that you get the best results that your conditions can offer.
It is also important that you understand that while a heart rate sensor on the chest performs effective measurement, the optical sensor estimates our pulsations. In this post I explain all this more broadly.
I start with this workout at a steady pace, finishing with some short intervals. In addition to the Casio G-Shock in the test I wear the Wahoo ELEMNT Rivala sensor Polar OH1+ recording independently and the Garmin FR935 paired to a sensor HRM-Tri.
This is the most basic example that any sensor must comply with perfectly, at least until the final part of the intervals, which, due to their short duration, I do not ask it to perform well.
As you can see, throughout the entire workout the Casio has recorded higher than actual heart rates. While the other three sensors were in agreement throughout, the H1000 is above the other graphs by 4 or 5 beats consistently. 
Added to that was the erratic start, with an overly high peak around minute two.
I expand the final part of the intervals, although there is not much clarity in the graphs.
Even so, if you look at the purple line that corresponds to the Casio, we see that it takes too long for the heart rate to drop and remains practically constant. This is well recorded by the chest pulse sensor and, to a lesser extent, by the Wahoo ELEMNT Rival. The OH1 on the other hand is strangely lost.
Next we go with a classic series training with the same patterns on the graph.

The result is exactly the same as we have seen in the previous example. All the sensors coincide in the recording, except for the Casio which is always superior by a small margin. And again, there are even larger point errors, such as the one in the last interval or the one around minutes 10 to 14.
And to confirm the trend of the Casio sensor, a third workout with variable intensity going up and down hills.
In addition to the tremendous error at the beginning in which he goes for a long time at 220 beats per minute, the rest of the training continues in the tone of showing a few beats above the real ones. 
All in all, a frankly poor result that is compounded by the fact that we don't 1TP10We can use external pulse sensors. I haven't seen such unstable performance from an optical pulse sensor in a long time.
And it's not just the fact that the training heart rate is not correct and we always have extra heart rates. Remember the performance metrics we talked about in the previous point? They are all based on heart rate data, so if the sensor records are not valid it is even worse. 
Want to help the web? Buy here your Casio H1000
I hope that this in-depth review has helped you to decide if it is a valid device for you or not. All the work I do you can consult it without any cost, but if you want to support the page and by doing so the work I do, the best way to do that is to buy your new device through the links I provide .
And if you don't buy it today, remember to stop by when you do! Through these links you will not only get a competitive price and the best customer care, but also I will receive a small percentage at no additional cost to you. That's what allows me to keep offering you reviews like the one on this page.
Find the best offer
Casio H1000
You are not going to buy it, you already have it or Amazon is not an option; but you like the reviews I perform and you want to show your support for the site? Then consider signing up for a VIP membership. Above all you will be helping to support the site, but you will also enjoy unique benefits.
If you have any questions, remember that you have the comments section at the bottom, where I will try to answer all your questions.
Casio G-Shock H1000 Review
The first thing to determine is for whom the Casio G-Shock H1000 might be a good choice. Throughout the test we have been seeing several aspects that undoubtedly need more TLC in terms of software development. But that's not to say that the G-Shock H1000 can't have its target audience.
It is clear that there is a large following for Casio G-Shock watches by the public. Whether for its proven toughness, for its particular aesthetics that may like or dislike but does not leave indifferent, or for its ABC functions or solar charging. To all of them I believe that this Casio G-Shock H1000 will not disappoint them, because what they are looking for are all those things and they put it before the specific functions of race or training.
However, if you are looking for a watch for training, Casio's proposal falls short. First and foremost, the most limiting factor is having a single sport profile that forces you to record any activity you are doing as a race. That causes all the advanced metrics that the watch has (and let's not forget, Casio pays a fee to include them) are receiving erroneous data.
The performance of its optical pulse sensor doesn't help either, with irregular results both during training and in daily mode. It is their first watch with an optical pulse sensor, but they should have opted for a supplier with a more capable sensor, as the one used is not up to the task. A way out would have been to allow the use of external sensors, but that's not possible either. 
All in all it is a watch that may satisfy those looking for a G-Shock with GPS, but will leave cold those who want a watch for training.
And with that... thanks for reading!