The Varia radar is one of a series of devices that Garmin introduced this summer, all within the new range of the same name. Among the devices presentedThe most interesting one is the one I'm talking about today. It's not really an original idea from Garmin, because the technology comes from the South African company iKubu, which launched a collective financing campaign that didn't come to fruition. Well, I've got it wrong. Although they didn't reach the necessary limit, the campaign was very positive, because Garmin looked at the Backtracker and bought the company to get the product.
When Garmin bought iKubu Backtracker it was almost finished, proof of which is that it took only seven months to launch it on the market, and its shape has not changed. During this time their main job has been to change the communication system from Bluetooth to ANT/ANT+.
The unit I used for the test I bought in the store, this time it was not loaned out by Garmin, but even if it had been, I always like to make it clear that this type of loan (as demonstration units are always returned) does not alter in any way the tests I perform. The tests are from a totally independent point of view, without pressure from the manufacturer and performed by someone like you, who simply runs, swims or rides a bike.
Remember that if you want to show your gratitude for the content I make and want to help support the site, you can buy your Garmin Varia radar through the links I provideThat way I get a small commission for each device (or any other item you buy), which is what allows the website to continue and covers some of the work I do.
Now that that's all clear, let's go with this review. All the information you need to know the Garmin Varia radar in depth. Is it really a device that will increase your security?
https://www.amazon.es/dp/B0116O10SY&tag=c1mes-21
Unpacking
Let's undress the Varia radar. From how it gets you home when you buy it to how you put it on your bike. The feeling will be a little pornographic, but you know that. The Internet is for porn.
The Garmin Varia test object is the one that only includes the back light. There is another version that includes the front screen, but honestly, I don't recommend buying the pack.
Looking at the box you can already get an idea of where your new radar is going to be placed. Behind the seat post, under the saddle, and facing the road.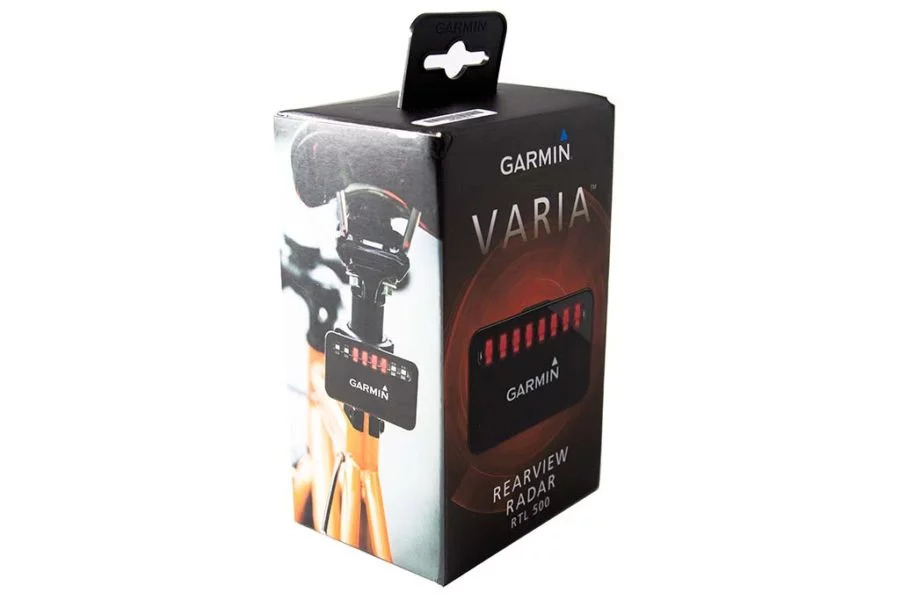 On the other side of the box it indicates the compatible devices, which I will tell you about in a moment.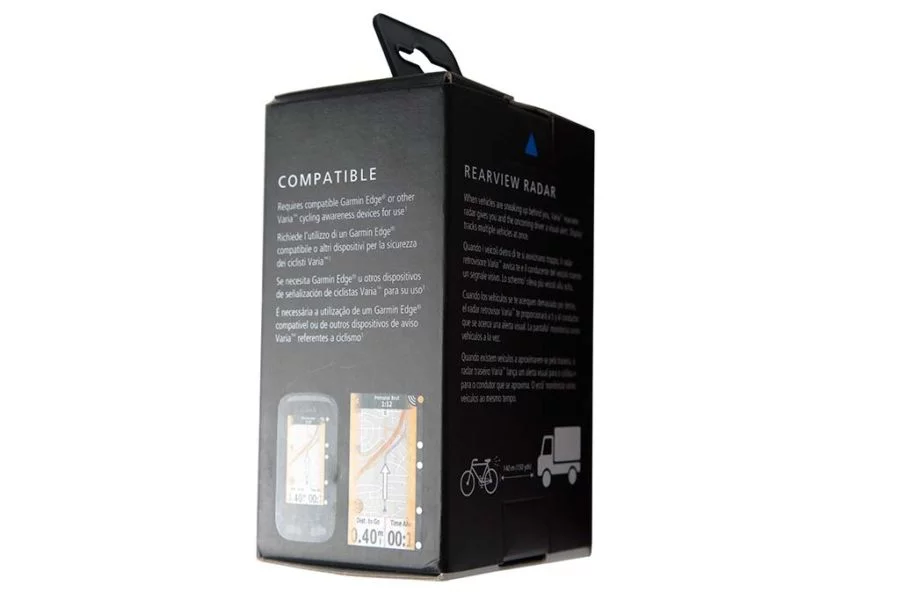 This is what you'll find inside the box. Besides the Varia radar itself, two sets of mounts, a micro USB cable that will allow you to charge the battery and update the radar software (because it allows you to update it) and a bunch of papers that look like an instruction manual. The truth is that the manual is totally useless, because it doesn't explain anything, so you can throw it away directly and I'll explain the whole operation now.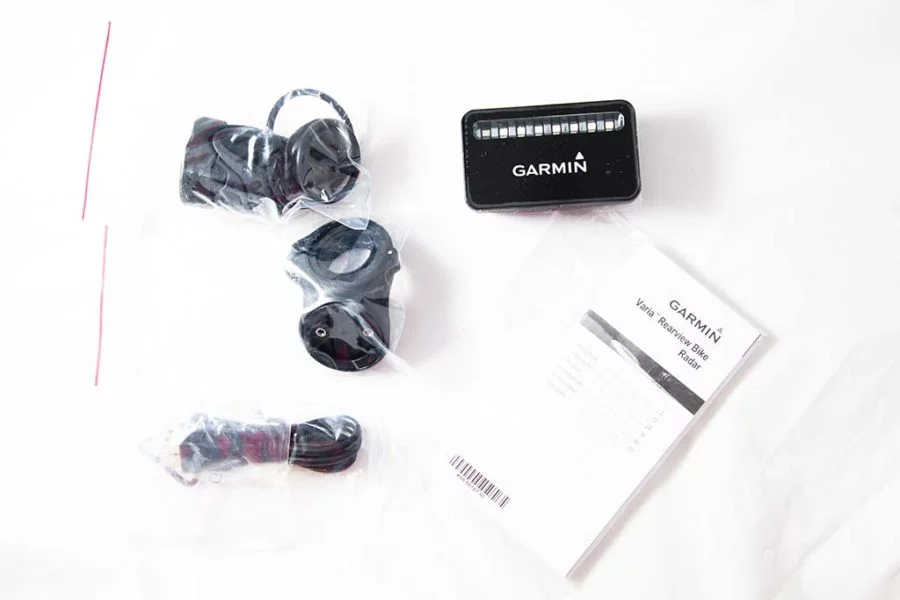 The size of the radar is quite small, a little bigger than a Garmin Edge 520Specifically, it measures 7.3×4.4×2.3cm and weighs 63.5 grams. That weight is only the unit, you will have to add the weight of the bracket. I'm saying this for you. If you only need to sand down the paint on the frame to get an even lighter bike, I'm sure you were looking forward to this.
Operating the radar is slightly simpler than controlling a space rocket - in fact, much simpler. It only has one button that you can use to turn it on and off and change the lighting mode (steady light or flashing).
In total there are eight rear LEDs, plus one more on each side, which will help with lateral visibility.
The anchorage system is the classic Garmin system, with its quarter-turn bracket. On the back of the unit you will also find the microUSB connector, protected by a rubber cap to prevent problems with moisture. The resistance rating is IPX7, so you don't have to worry if it starts raining halfway through your trip.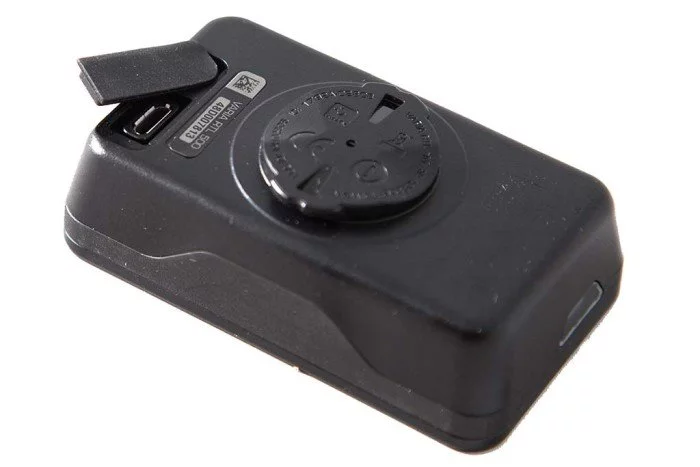 Where do you put this? Now I'll explain to you what mounts are included.
Accessories and mounts included
With the Garmin Varia, you'll find several types of mounts to fit almost any bike quickly. It uses the same attachment system as the rest of the Garmin Edge range, the quarter-turn.
There are two types of saddles, both of which can be fitted to the seat post. Firstly, there is the traditional round seat post holder.
If you have a standard round seat post, it is the safest support, as it is fully clamped to the seat post and fixed with an Allen screw. Different thickness rubbers are available to adapt to the size of the seat post and to ensure a stable fit and also not to scratch the part.
The second support is universal and supports more specific seatposts, such as the aerodynamic seatposts, although you can also mount it on a round seatposts with the adapter you see on the right.
It has to be assembled with several pieces. On the one hand, the quarter-turn support, which will be the common element to any type of installation (the one you see on the left and which is downwards). We have two rubber pieces to fit it on the seat post, one that is a semicircle (for traditional seat posts) and the other that is a wedge (for aerodynamic seat posts). Finally, both pieces will be fixed with one of the included rubbers, which you should choose depending on the thickness of your seat post.
If you have an aerodynamic seatpost it is the only option to mount the radar, and although it works relatively well, I am not convinced. Rolling on the cobble stones or in the potholes it is possible to turn it slightly. I hope that we will soon see more interesting options, even from third party manufacturers, and that it will allow to install it in a more stable way.
Installation
Installing the Garmin Varia radar couldn't be easier. After choosing the mount that fits your bike best, all you have to do is place it on the back of your bike.
The anchor is the classic Garmin quarter-turn, so you'll have to position the radar vertically and turn it 90 degrees until you feel the click.
Garmin recommends that you install the radar as high as possible in the seat post, with a direct view of the road (i.e. underneath hydration bags or supports on the seat) and parallel to the road. Both of the included supports are angled slightly to counteract the angle of the seat post, so that it is completely parallel to the road.
It can happen that you mount a hydration system behind the saddle and have visibility problems, because the "trunk" you're hanging on the saddle covers it. Because the mount it uses is the classic Garmin quarter-turn mount, you can always devise ways to place it in a different location (instead of the seatpost). I can confirm that with the Elite Skekane kit and a Garmin Edge handlebar bracket you have to spare, you can integrate it perfectly.
Once you've set it up, all you have to do is pair it up with your device by simply doing a new sensor search with your Edge and it will automatically find your new Varia radar, provided you have previously turned it on. But you don't have to do anything specific on the radar to put it into sync mode, you can connect to it at any time.
Supported devices
Today, the Garmin Varia radar is compatible with a number of Garmin devices. Of course, the first one to be compatible is the display that can be purchased along with the radar (although it is not mandatory), and it is mainly intended for city bikes where you are not going to mount a cycling computer.
The truth is that I wouldn't recommend it, I don't find it too interesting as a product, and if on top of that it's 100 euros different from the version that doesn't incorporate it then I directly discourage the purchase. Besides, unlike the Edge computers, it doesn't have a sound warning. Better to invest that money in a compatible cycling unit.
Garmin has been releasing updates to support some of its products, and these are the devices you can use with the radar for now:
Garmin Edge 25
Garmin Edge 510
Garmin Edge 520
Garmin Edge 810
Garmin Edge 1000
Garmin Edge Explore 1000
Garmin Varia Vision
Garmin Vivoactive HR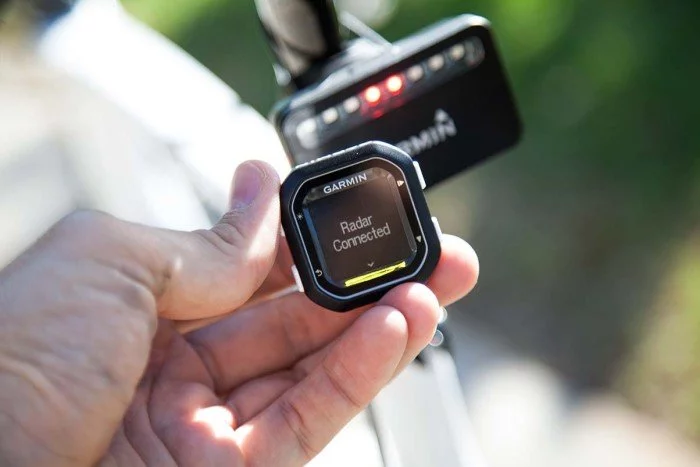 Basic use of the radar
I think this is one of the easiest of the Garmin products to use. You load it, put it in place, press the power button and you're done. It requires no further action on your part. And you only have to turn it on once, because as soon as you have it synchronized with your Edge computer the Varia radar will turn off when you turn off the computer. On the contrary, when you turn it on, it will send a signal to the radar to wake it up from standby mode.
The button will therefore be there almost in a testimonial way. You can use it to change the mode, although I recommend that you leave it in the fixed position, because although Spanish legislation only refers to "position light" without specifying whether fixed or flashing, in some European countries such as France or Germany the use of flashing light is prohibited.
—
Update: the change of legislation in Spain already allows the use of the light in blinking mode.
So the only thing the button can be practical for is to check the battery status quickly. When you turn the radar on, the lights indicate the battery status. If only four lights come on, from left to right, it means the battery is half full. The battery status can also be checked from the Edge unit, as well as changing the light mode from fixed to blinking.
And speaking of batteries, the autonomy is about 4 hours of continuous use. There is no way to give you a more accurate figure, because if you are driving in the city permanently and have more lights on, the battery will last less than if you are driving on a desert road with only two lights on at their minimum intensity.
You want the quick version? I'll explain all its operation on video.
The approach radar
There are two functions of the Varia radar. First and foremost, it detects vehicles behind us that intend to overtake us. That is, they are moving faster, and vehicles of all kinds, from small mopeds to trucks and tractors (although I hope you don't get overtaken by tractors. Your level as a cyclist would be in question).
This information detected by the radar is sent wirelessly to the device you have installed, usually on the handlebar. This may be the specific unit that can be purchased with the Varia radar, or one of the cycling computers listed in the previous section.
When a vehicle approaches your Edge unit will beep (the Vario screen has no sound) and a dot will appear on the screen. These dots will ascend as the vehicle approaches, so you can check the speed of the vehicle you are trying to overtake on your device's screen.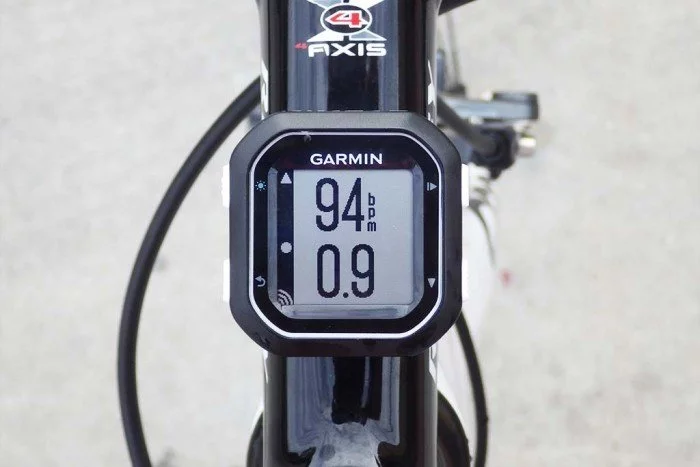 If there is no vehicle behind you, the bar will be empty.
On Edges with a color screen, the edges of the screen will light up in an orange tone, warning you of the alert, and if the vehicle is approaching at a high speed relative to yours, that tone will be directly red to alert you of that fact.
If there is more than one vehicle behind you, you will have a point for each of them, so you will know that even if one has overtaken you, it still has to overtake another one.
Once they have all passed you, the display will change to a green tone to indicate that you are safe again. This green indication will disappear if another vehicle does not appear within a short time.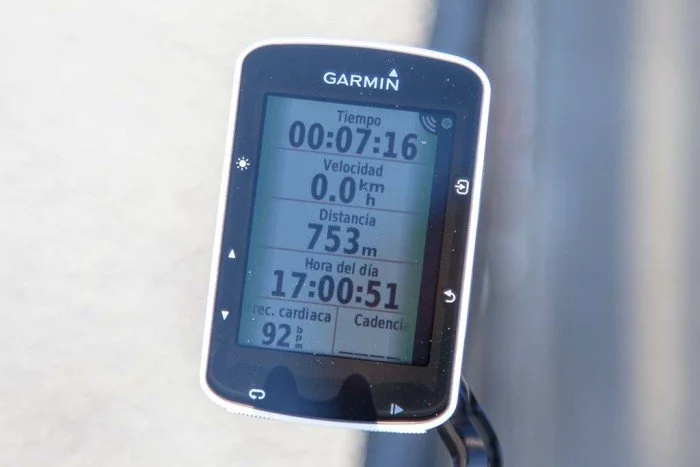 The vehicle detection is about 140 meters. It may not look like much, but keep in mind that both of you will be on the move. If you drive at 40km/h and the vehicle that is going to overtake you does it at 70km/h, it will appear on your radar with more than enough time for you to be alerted to its presence. And you will know its speed not only by the color tone mentioned before, but also by the speed at which these dots move on the screen.
The rear light
The second function of the Varia radar is the rear light. As you can see in the video, the light changes when a vehicle approaches from behind. The size of the light beam increases as the vehicle approaches (from two lit LEDs to four and eight), to give you presence and make the driver appreciate that you are sharing the road.
The intensity of the light is not blinding. It reaches only 15 lumens. While in daylight this intensity can be somewhat low, in the afternoon or evening it is more than enough, allowing you to be visible from any vehicle that wants to overtake you.
How does the technology work?
The radar uses the Doppler effect by using the return echoes to measure velocities. The unit sends microwaves that will be reflected back to the radar, which will be able to compare the received frequencies and make accurate measurements of the speed of the objects.
In other words, the radar emits a signal that bounces off other objects and returns to the radar. What the device does is to differentiate between all those received signals, and when one of them is returned with increasing frequency, the Varia device will know that there is "something" approaching you. That something will usually be a car, truck or bus (or meteorite), but it is also capable of detecting smaller vehicles, from motorcycles to even other bicycles.
The only condition for this vehicle to be detected is that it is travelling at a higher speed than you and with a difference of more than 10 km/h. Therefore, if you are riding in a group with other cyclists you will not be warned of the approach, but if one of them catches up with you at a much higher speed than you, then the warning will appear. In other words, the radar warns of the differential speed.
Of course the vehicles and other objects have to drive in your direction. If a car passes in the opposite direction, there is no differential speed because the distance between the radar and the object increases. And the same thing will happen with parked cars. So there are no false warnings in any of these cases.
The range of action is up to 140 meters in a straight line (sometimes I have detected cars even further away, depending on the type of road) and the speed of the vehicle should be between 10 and 160 km/h. If the vehicle is driven above or below that range, there will be no warning.
This range of use can present some usage problems, such as a car driving behind you at the same speed waiting to overtake you. After a certain time that vehicle, even if it is still there, will disappear from the radar, but it will appear again as soon as you start your overtaking manoeuvre. Just like if two vehicles are driving very close together only one point will be shown on the screen, although when one of them overtakes you the point will remain on the screen for the second place.
Are any of these cases problematic? Not usually. And anyway, that's the way the technology works, it can't be applied any other way. If the differential speed between your bike and the vehicle following you doesn't increase or decreases (the vehicle is travelling at a slower speed than you are) the warning will disappear, as the radar interprets that the vehicle is no longer there or that it doesn't present a risk. So if a warning appears on screen for a car that is approaching, but turns or stops before overtaking you, the point representing it will simply disappear from the screen.
Actual radar utility Varia
At this point and once you know how the radar works and what it offers, there is only one question left to answer. Is radar really useful?
I've been using it and trying it out in different conditions for several months now, and I've found it to be very useful on many occasions.
It is on low traffic roads where the speed is high enough that the aerodynamic noise does not allow us to hear if there is any vehicle approaching, I have been able to take more advantage of it. Downhills using the full lane to trace the curves or simply days of high wind. On these occasions the radar warns you well in advance and allows you to prepare for the overtaking maneuver with more than enough time.
It saves you from having to constantly look over your shoulder to know if there is a vehicle approaching. In this case the security contribution is extremely important, since what usually happens is that when we turn our head we move towards the side we are looking at. If at that moment there is a car overtaking you without respecting the security distance, nothing good can happen.
Also when you catch up with another cyclist you want to overtake, you can find out if you can start your overtaking manoeuvre or if you have to wait. Or when you have been pedalling for 4 hours and tiredness starts to take its toll. You stop paying attention to what is behind you and end up riding in the middle of the road. The radar will remind you that you are not riding alone and that you share the road with other vehicles.
Of course, if you're driving on busy streets or roads, the information it gives you isn't very relevant. You know you've got lots of cars trying to overtake you. It's in more isolated areas that the Garmin Varia radar can save you more than a few scares.
Frequently Asked Questions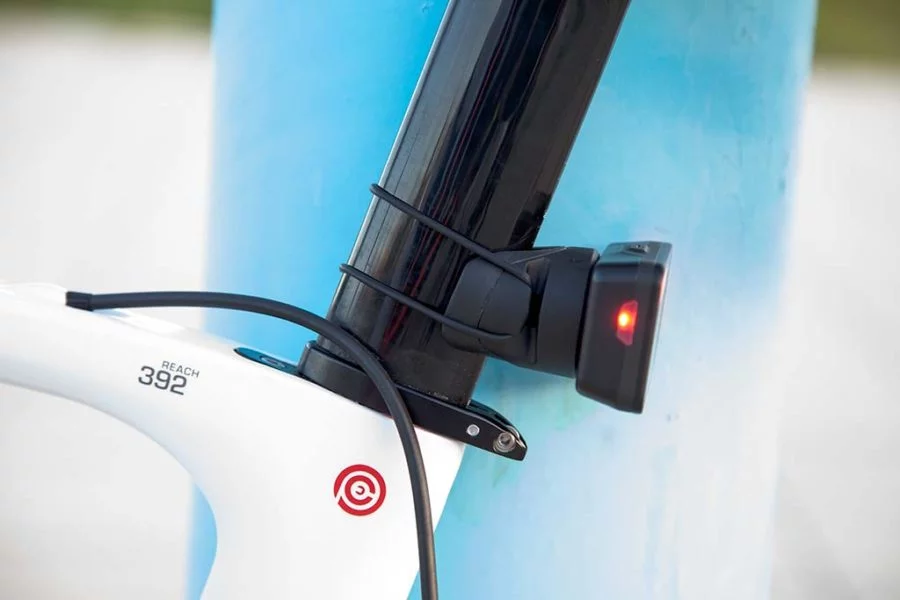 Do you detect parked cars or cars in the opposite direction?
You will not be notified of any kind, as we would understand that these vehicles have negative speed, i.e. they are moving away from you and therefore do not present a danger. The waves will bounce off them, but the radar identifies the differential speed, so the system understands that it is not a vehicle that is approaching you.
Do you detect bicycles riding behind me?
Yes and no. There is an explanation for this. If you are riding in a peloton with many bikes around you, it will not give you notice of them, mainly because you are riding at the same speed, so there will be no notice. But it will give you notice if you have a group approaching and there is a big difference in speed. For example, when I was stopped at a traffic light, I received the notice for two bikes approaching the traffic light. That is, if there is a difference in speed, it will give you notice.
At no time have I received any kind of warning if it has not been provoked by some vehicle with the intention of overtaking. It is possible that a car appears on the radar and disappears without overtaking you, but it will be because it has stopped or changed its path before overtaking you.
Can I use Varia simply as a light?
Of course, it doesn't have to be paired with another unit to work. Of course, you won't have any warnings of any kind, but the cars will be able to see your taillight.
Do you warn if there are groups of cars?
Yes, both on your device screen and on the Garmin Varia screen (if you buy it with this option) you will see a dot for each vehicle behind you and it will differentiate them. The only thing that will not differentiate is if these vehicles are driving together. And likewise, trucks or vehicles with trailers will identify them as one vehicle and not two.
Do you detect vehicles in my lane or in parallel lanes as well?
The radius of action is wide, so if you're driving on a multi-lane road or a multi-lane highway, you'll be warned of all vehicles coming toward you, whether in your own lane or the one next to it, and if you're driving in a parallel lane to a highway, you'll be warned of those vehicles, too, not just the ones in your lane.
Will you warn me about motorcycles or other small vehicles?
Yes, I have been overtaken by both motorcycles and mopeds, and in both cases I have received the notice correctly.
Can I connect Varia with several Edge units, or with an Edge unit and the Varia display? 
Of course, I have connected it simultaneously to Edge 25 and Edge 520 and receiving alerts on both devices simultaneously.
Does the Garmin Varia radar replace common sense? 
No. So before you make any lane changes or other risky manoeuvres, make absolutely sure there is no vehicle approaching. Radar warnings cannot and should not replace logic.
My opinion
Technically, the Varia radar is one of the simplest devices you can carry on your bike. It's something you simply turn on and it works. It does what it's supposed to do. You can ask it for something extra, like more light intensity for when you ride during the day or a longer range.
The usefulness of the Garmin Varia radar depends a lot on who's going to use it. If you're a mountain biker who spends his life between paths and swamps, you'll find it the most expensive bicycle light ever. Or if you only ride in the city to go to work; of course you know that there are cars that want to overtake you, they do it continuously, and in this case the light will always remain on at its maximum intensity. But if you're a road cyclist your case is very different. You share your training with other vehicles, and you're much more fragile.
One thing is clear, the radar won't stop a car from hitting you. It won't stop it, and it won't push it out of your way. But the Varia radar isn't just a light that alerts approaching vehicles to your presence, it warns you of it as well. When you're descending a mountain pass at over 30 mph and you don't hear anything because of the aerodynamic noise, you can tell if there's a car behind you that wants to overtake you. If you're driving on a lonely road with a car passing by every 20 minutes, chances are you'll end up focusing on your performance, not on whether a car is approaching, and you'll end up in the middle of the road. That's where the Varia radar will be to warn you of an approaching car and make you focus on what's really important, your safety. Just like when you've been driving for 60 miles and you're already tired, the radar will keep you on your toes when you're not paying attention.
Is £199 a high price for a light? We agree. But Garmin Varia is more than just a light. That warning you receive moments before being overtaken might be enough to save your thousands of euros and, who knows, maybe your life too.
Did you like the test?
My hope is that these tests will help you get to know the device fully before you spend your money, so that you know at all times whether or not what you are buying is right for you. I guess you have noticed that each of these tests takes many hours to complete. If you like what you see here and want to support the site, you can buy your Garmin Varia radar (or any other item) through the links you can see belowNot only will you get a good price, but you will also return a small commission for the page, which is how it is sustained. And best of all, it is free of charge for you.
Do you have any questions? Do you want to comment on what you think of the device? Leave your comment below and I assure you that you will receive a reply. And don't forget to share this test with your friends because I'm sure they will be interested too. Do it on social networks or, as we have done until a few years ago, by word of mouth.
Buy Garmin Varia radar
As you know there are two options to get a Varia radar. The most normal one is to buy only the light with radar, since you will most likely have a compatible Edge unit. And in case you don't have it, I think it is much more interesting than with the price difference you choose to spend it on a cycling computer (the Garmin Edge 25 costs little more) than buying the screen.
Also, these are the prices you can find on Amazon
https://www.amazon.es/dp/B0116O10SY&tag=c1mes-21
https://www.amazon.es/dp/B011OMQP10&tag=c1mes-21