HEADS UP!!
The complete analysis of the Polar Vantage M is now published. This article is only about the presentation of the model.
Click here to see all the details and opinion of the Polar GPS watch.
Without a doubt the Polar Vantage V is the main news of the day which makes me feel a little sorry for the Polar Vantage M which was also presented today. To some extent it becomes the ugly duckling, that person who lives in the shadow of his next-door neighbour's success.
But it also has a lot to offer, as it shares many features with the Vantage V and represents a leap in quality compared to the Polar M430, the model it replaces to some extent (although of course they will live together in the market).
Not that we have to give up the new advanced pulse sensor from Polar, the Vantage M also includes it. It shares a screen, although in this case it's not touch-sensitive, but it's still a multisport watch that even offers swimming metrics (something the M430 didn't have, for example).
Polar Vantage M
Let's go over the details of the mid-range model of Polar. As I said before, the Polar Precision Pro sensor is also in this version, because its functions are very similar, in fact the Vantage M also offers full triathlon mode.
Let's go over the list of Vantage M's specific features:
New Polar Precision Prime pulse sensor
Sony GPS chip with better range (same as Suunto 9) and using GPS and GLONASS
Color screen
Change of design, abandoning the circular sphere
Weight: 45 grams
Waterproof up to 30 meters (enough for swimming)
Up to 30 hours of autonomy (with 1s recording, not with extended autonomy modes)
Possibility to quickly replace the belt with a standard system (Vantage V has specific belts)
Price: 279
So what is it about Vantage V that isn't in Vantage M?
No power measurement on race from the wrist
No barometric altimeter. The altitude data will be given by the GPS
Advanced Recovery Pro metrics not available
The absence of power measurement has no other reason than the absence of the altimeter. It is a fundamental part of being able to provide accurate data (obviously it is not the same to run uphill as downhill).
But there are some remarkable things about a watch in this price range. To start with the 30 hour range with data recording per second, something that no other model in this price range offers. Then there is the Polar Precision Pro pulse sensor, which looks like a real work of engineering (and which I will simply copy from what I have put in the Polar Vantage V).
Polar Precision Pro Pulse Sensor
This is Polar's new optical pulse sensor, an important detail that not only has been included in the Vantage V as top of the range, but another lower range model like the Vantage M can benefit from.
Polar has always based all its products on offering the most accurate possible record of the heart rate. Always, from the very beginning. So when it has been necessary to make the leap to optical sensors they have taken their time and have always done so with their own solutions. And I am happy about that, because it is what they have always boasted about and on which they have always relied.
Until now, the top-of-the-line Polar sensor had 6 green LEDs. This sensor has advanced, and now has all of these to ensure the most accurate reading possible:
5 green LEDs
4 red LEDs
4 electrodes
3D Accelerometer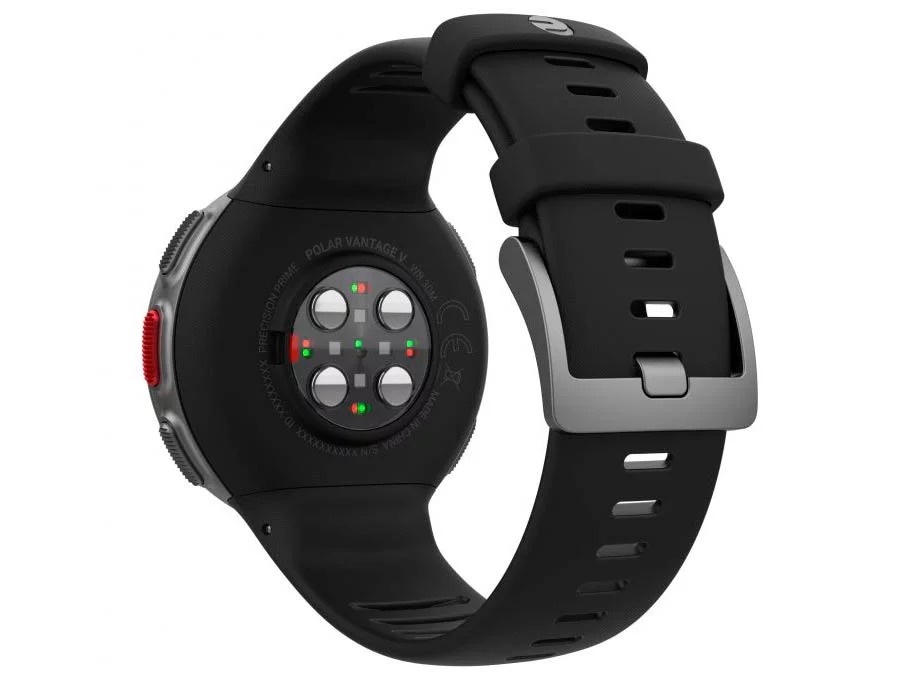 The use of different colored LEDs has a very simple explanation, and that is to capture as much information as possible. They are not the first to do so, other manufacturers have turned to similar solutions although with different purposes (Apple Watch, Garmin Fenix 5X Plus).
The electrodes are used to check the contact of the watch with the skin and to verify that everything is correct. But it does not allow an electrocardiogram like the one Apple Watch Series 4 that was introduced yesterdayThis is why it is necessary to keep your finger on the crown of the Apple watch while testing, because the watch is sending electrical current from one end of the body to the other, through the heart.
As for the 3D accelerometer, it is simply an accelerometer as it was being used so far in any optical sensor to understand the movements and poder better filter the pulse data. The reference to "3D" will be simply for its greater recording capacity, nothing more.
Training Load Pro only
Another difference from Vantage V is that only one of the two advanced metrics functions has made the cut. Vantage M offers Training Load Pro, but it does not have the Recovery Pro function.
As I said in the Vantage V article, the Training Load Pro function takes a global view of training by counting all the different metrics that the watch launches and Polar Flow collects.
Until now the training load was measured by the estimated oxygen consumption. This leads to an estimation of the fatigue and the recommended recovery time before returning to an intense training session. But only one parameter is used.
As Polar wants to offer a global vision it will use several metrics to do so. Similar to what Garmin offers in its advanced training metrics (which simply makes use of the algorithms licensed through FirstBeat). Different means to reach the same end.
Polar Vantage M, availability and price
Like the Vantage V, the Vantage M will also arrive throughout the month of October (although the Polar website indicates that deliveries will be throughout November), but the price difference is substantial, with the mid-range model at a much more interesting price.
It costs £279 and will also be available in various colours: white, black or red. However, in the case of the Vantage M there is no option to buy it including the Polar H10 chest pulse sensor. In the case of the Vantage V it seems more logical to include it, as it is required for the Recovery Pro function.
Update 18 September
Answers to some questions
After talking to Polar and requesting some additional information regarding some doubts I had that I had pending to resolve, I share it with you because I am sure you will be interested in it too.
The Vantage M, as you know, does not offer the power data as the Vantage V. The reason is simply because of lack of additional hardware. But I have been confirmed that it is fully compatible with Stryd. Additionally, I would like to point out that Polar is not going to develop any product similar to Stryd.
There will be synchronization of metrics between devices through Polar Flow, so the data for training load, activity, etc. will be taken from the total activity and not only from what the watch indicates. This means that if you cycle with an M460 or V650, those data will be reflected in the Vantage in terms of training load.
Polar Flow allows you to customize 5 power zones and train based on them. It will be based on MAP, which is the term Polar uses that resembles FTP in cycling.
The Recovery Pro function of Vantage V requires a chest sensor. Polar has confirmed that both H6 and H7 will be compatible with the function, not only the new Polar H10. It has also been confirmed that the function will not be compatible with third party sensors.
There is no possibility to send heart rate data to other devices. This means that we will not be able to see this information in gym equipment or applications like Zwift. This is something that was possible to do with the V800 and its chest pulse sensor. The problem with Bluetooth is that one sensor (which is the slave) does not allow to connect to two different devices (two masters). Well, actually in the last revisions of the standard this has changed, but the manufacturers are not implementing it yet.
Update 9 October
Update Calendar
Polar has released the update schedule They have listened to the users and their criticism of Vantage V's lack of navigation, and there's a date on the horizon. But only for Vantage V, Vantage M will have no navigation function. 
Below you will find the approximate dates and news they expect to introduce.
Update 2.0 - December 2018
Polar Vantage V and M
Stopwatch, countdown and interval timer
Enhancements to existing functions (basically, bug fixes)
Upgrade 3.0 - Beginning 2019
Polar Vantage V 
Mobile Phone Notifications
Route tracking with return to start and route navigation
Enhancements to existing functions (basically, bug fixes)
Upgrade 3.0 - Beginning 2019
Polar Vantage M 
Mobile Phone Notifications
Route tracking with return to home (but without full route navigation, that's just the Vantage V)
Enhancements to existing functions (basically, bug fixes)
Other planned updates
Strava Live Segments
Fitness Test
Correction of errors and other functions to be confirmed later
Opinion of the Polar Vantage M
Absences of benefits are the same as in the case of Vantage V, and as in this case they can be an impediment to purchase. Specifically, they are as follows:
No route tracking, no back-to-back function
No application support
It does not offer the possibility of playing music
No smartphone notifications
No Strava segments
No NFC support for wireless payments
And to clarify, some of these functions are not present simply because they have not arrived on time. Polar has limited resources (like everyone else) and has to decide what it gives more importance to. They have considered that it is better for their interests to turn fully to their new optical pulse sensor than to other functions that they have considered secondary.
Some of them Polar has already confirmed that they will come later through firmware updates (e.g. notifications), but there are important absences such as route navigation.
In a way it seems that Polar is in a similar situation to Suunto, the marketing department is going at a different pace to the development department, and it wouldn't hurt if they had more capacity at the programming level. I am clear that neither manufacturer is going to follow the trail behind Garmin and compete in terms of the number of features, simply because at the resource level it is totally impossible.
But just like Suunto, Polar is focusing on what they know how to do and what they believe is their competitive edge, which I think is absolutely right. In this case Polar has always given a lot of importance to pulse measurement and what it gets from that data, and that's what it has focused on in the new models. Of course we'll have to see if they've done a good job of that when I test the watch (probably a joint test with the Vantage V).
The Polar race starts now, and it will be a medium distance race. We have to see what they are able to offer at the finish line of the watch market (October-November) and what they can add and improve in the coming months (mid 2019).
So... thanks for reading and if you have any questions, feel free to leave them in the comments below.