Polar has released several updates today, news that had already been announced to us in the last few months and that, for a change, have slightly missed the deadlines. We are already used to these delays, so I don't think anyone will be surprised. The important thing is that they continue to incorporate improvements to your watches, and at least that is clear to us. The news is late, but it is coming.
Polar V800
The Polar V800 has been updated to version 1.4 to receive smart notifications. At the moment this feature is only compatible with iOS devices; not only iPhone, but also iPad. You will receive the same notifications that arrive on your phone, but on the clock display. These will cover calls, messages, social applications and any other application on your phone. However, when you are doing an activity the notifications received will be limited to incoming calls, not other applications.
To get it up and running you need to upgrade your V800 to version 1.4 and the Flow application to version 2.3.1. In addition, your phone (or tablet) must be on iOS8. You need to re-pair your watch to the Polar Flow application. Also, make sure that notifications are enabled by accessing the main menu.
Notifications are the main new feature, but not the only one. Support for cycling power sensors from different manufacturers has also been extended, in particular for Power Tab, Stages and Wahoo Kickr.
Minor bugs have also been fixed and profiles have been added in Polar Flow, as well as a new way of training. I will provide you with all the information later, as it is also shared with the M400. To see all the new features as well as what bugs have been fixed, you can access the version details by clicking here (in English).
Polar M400
The M400 has not yet received the smart notifications, but it has also been updated to version 1.4. The good news is that Polar has confirmed that it will do so. It was not entirely clear as the Finns had always referred to the V800 when talking about it. Furthermore, it seems that they have already developed it quite far.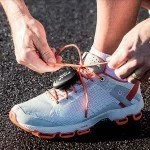 Despite this, there are other important new features. Firstly, it adds support for a Bluetooth pedometer. Thanks to it you will have cadence data that will help you improve your running technique.
In addition, Polar has included AssistNow technology to get a faster satellite signal. After every synchronization of your M400 you will receive a satellite position prediction cache file. This will reduce the search time, as the watch already starts with an estimated position. In addition to improving the initial positioning time, it will also improve the accuracy at the start of your training by having more satellites available from the beginning. This satellite cache is valid for 14 days and, remember, it will be updated every time you synchronize your M400 with your phone or computer.
As with the Polar V800, there are also new features for training and Polar Flow that you can see below. To see the list of added features and rectified faults click here (in English).
Zone lockout during your workout
When editing a sport profile in Polar Flow you will now find a new option. It's called "Zone Lock", and you can use it for speed/pace or heart rate workouts.

This new feature will allow you to perform guided intensity training, but you may not have previously programmed it, so before you do this make sure you have set your pace zone limits correctly (the default heart rate setting will probably work).


When you are training and want to make sure you are training at the desired intensity, press and hold the start button to lock your current zone. If you activate the zone lock for both pace and heart rate, 1TP10You can choose which of the two zones to work with. If you want to unlock the zone, simply press and hold the "Start" button again.
With the zone blocked, the clock will warn you if you go outside the zone, either above or below it.
Polar Flow
The watches have not been the only ones to see new features, also the web application is updated. You can see them all by clicking here (link in English), but I detail the main ones.
New data is added for the training screens. You can select to have information displayed for automatically marked laps: time, ascent or descent, heart rate or distance data. In addition the M400 can also add cadence details after receiving support for the pedometer.
It is possible to select new sports profiles. If the previous list didn't seem long enough, sports like orienteering, sailing or ping pong (and even Finnish baseball...) have been added.
Pending updates
After this update we can check things off and see how the Polar to-do list looks. Here's what's still to come:
Open water swimming for Polar V800 (delayed countless times)
Set navigation routes in Polar V800 (right now you can, but with some work)
Transfer training history from PolarPersonalTrainer.com to Polar Flow
Polar Flow training programs
Phone Notifications on Polar M400 for iOS
Phone Notifications for Polar M400/V800 for Android
Cadence detection via internal accelerometer for Polar M400/V800
About estimated dates for these updates... what do you want them for, if they are not going to be met? We'll leave it as "in the near future" and we'll all be happy.
That's it for Polar updates. I hope to be able to tell you news soon. And thanks for reading!