Polar has just released at this very moment a new watch, this time focused on fitness. The new Polar Unite is a renewal of its fitness range that was currently occupied by the already outdated A370, an activity monitor that, although still in the catalog, has hardly enough representation in the segment.
Want a quick summary of what the Polar Unite is? It is a Polar Ignite without GPS, a modified pulse sensor and at a cheaper price. All the functions that you find in the Ignite you will find in the Unite, with the only difference of the GPS that in the case of the Unite is "GPS connected".
In other words, it uses the GPS of your mobile phone, which allows you to reduce the price of the device and increase the battery life. The downside? If you go walking, running or cycling, you'll need to take the phone with you, making sure that it's in a good place to have good satellite coverage.
You want the long version? Well, don't worry, because that's why you entered Correr una Maratón.
POLAR UNITE
Overall operation - 7
Training possibilities - 9
Platform and applications - 9
Battery life - 8
Finishes and comfort - 7
Price/performance ratio - 9
8.2
TOTAL
Much more than an activity monitor, cheap but without GPS. It may be the perfect choice for your use, or you may need to look somewhere else.
---
The good
FitSpark fits perfectly with the potential buyer of this watch
With Sleep Plus Stages and Nightly Recharge, but at knock-down price
If you are not running or cycling outdoors frequently, connected GPS is perfectly valid
Even if you don't use connected GPS, you have accelerometer data for running
The bad
The charging cradle is uncomfortable and prone to possible breakage
The response to wrist turn is still very inaccurate
The strap, although looking and feeling better than on the Ignite, is still too simple
Everything about the Polar Unite
Find the best offer
Polar Unite
The Polar Unite is a watch that stands out for its lightness. With only 32 grams (including strap) it is a good substitute for activity trackers. It looks more traditional than these, but without becoming uncomfortable on the wrist. Also it allows you to use it as your regular watch.
Here are all the technical specifications:
LED touch screen with 240×204 pixels resolution. It has a light sensor to adjust the screen brightness.
It allows to change the colors of the watch face, but there are no different watch faces.
Sleep tracking through Sleep Plus Stages.
Analysis of rest through Nightly Recharge.
Training plans with FitSpark.
Relaxation and breathing exercises with Serene.
Daily activity tracking, including heart rate 24/7.
Slight modifications to the optical heart rate sensor. It loses the electrodes that confirm when it is well placed on the wrist, but it adapts the LED pattern of the new Polar Grit X sensor.
It shows your mobile phone notifications .
No built-in GPS , but it allows you to use the mobile phone's GPS.
Battery life: Up to 50 hours of workouts using connected GPS and heart rate sensor, 4 days with 24/7 heart rate recording or 29 days in watch mode.
Water resistance up to 30m (valid for swimming).
Therefore the Polar Unite has most of the algorithms that Polar is including in its platform for all models, from the most economical range to the most specific ones such as Vantage or Grit X.
Undoubtedly they are the jewel in the crown of Polar's offer. Sleep Plus Stages,Nightly RechargeandFitSparkare what makes their products stand out from the competition. Polar has other specific metrics (Training Load Pro and Recovery Pro), but they don't fit into this product range.
Don't worry because I'll tell you more about those metrics later, but first I'll give you a quick look at what Polar Unite offers and what good (and bad) it has in store for you.
Aesthetically it is very similar to the Polar Ignite, but this one is totally black. It maintains control through a single side button that will serve to turn on the screen, enter the menu or return to the previous submenu. In the end you will mainly use this button to turn on the screen, because although the watch has wrist turn detection it's something that works quite inaccurately.
Firstly, because on many occasions it does not recognize the gesture, and we have to exaggerate it or repeat it on multiple occasions. And secondly, because even if it recognizes it, it's slow to turn on the screen.
This causes you to wait to see if the screen turns on when you turn your wrist. After two seconds waiting, you repeat the gesture. And maybe in the third turn it will turn on, or maybe not. So after a while you'll end up using the button to turn on the screen at all times, forgetting about the wrist gesture.
Undoubtedly it is the most negative aspect of the watch, but it is something that is present in the rest of Polar models, so it's not that I'm surprised either.
As for the handling of the watch, everything else is done through its touch screen, swiping and pressing. The answer is not great either, exactly as was the case in the Ignite.
It offers a colourful LCD display with good contrast, so compared to watches with transflective display (such as Polar Vantage M) it is much more eye-catching. Perfect if your main use is going to be indoors, as in the gym. And yet it has pretty good outdoor visibility.
What's the catch on that screen? Well, it can't always stay on due to excessive energy consumption.
With respect to the Ignite also changes the strap. The material is similar, although I found it a little more comfortable and slightly less rigid than the GPS model. The design is different as it now has a certain "texture".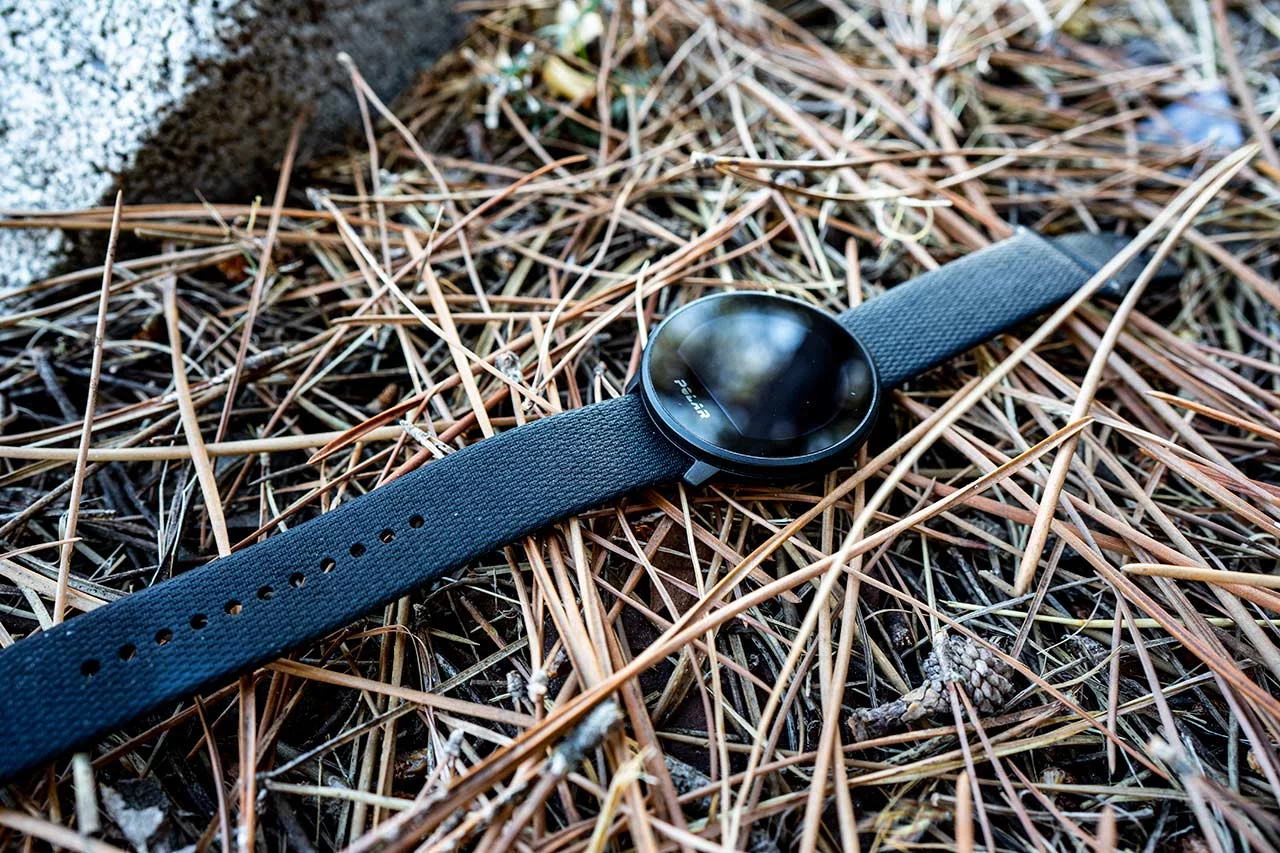 It also changes the clasp as it does not have the buckle and changes it with a hook system such as the Apple Watch strap.
Personally I am not a fan of this type of straps. I find them uncomfortable to find the perfect tightening point. But since it allows you to use any standard size strap (and the one it comes with has "quick release"), you can change it for any strap of your choice in a matter of seconds.
Something else I'm not a fan of is the charging cradle. Polar has replaced the classic USB charging cable with a plastic piece on which the watch is placed.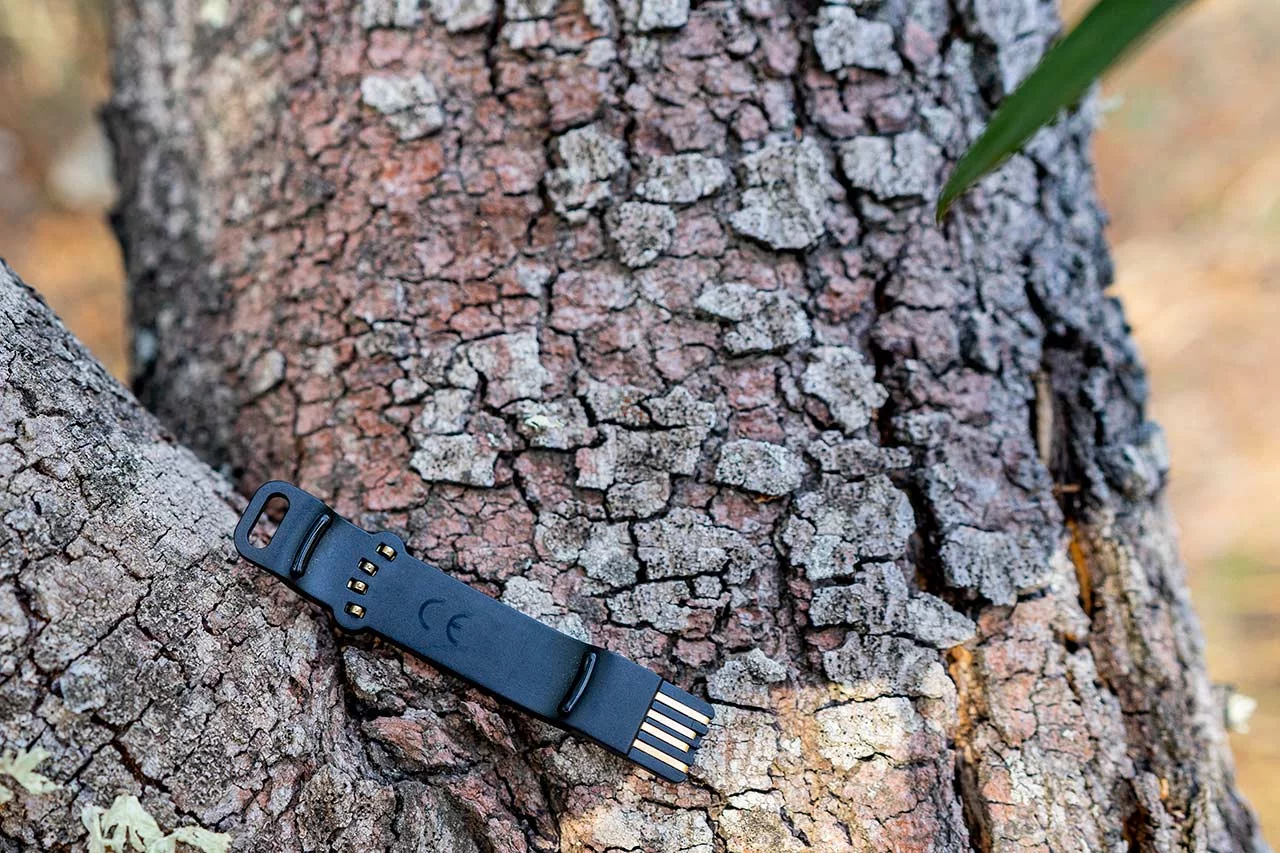 This charging system seems to me anything but convenient, unless you're going to charge it solely and exclusively on a laptop.
But in all other assumptions, including the classic wall charger, I think it's a clear step backwards.
The watch only offers two watch faces (one digital and one analog).
Although it has only two watch faces, these can be customized with details in different colours (it's something new on the Unite, as the Ignite doesn't have this option), which match the different colours in which Polar offers the straps.
Where it does coincide with the rest of the Polar range is in the distribution of the main screen, both in widgets and in the possibilities it offers.
By sliding left or right we have the different main screens for each of the functions that we will see below (Nightly Recharge, FitSpark, etc) next to activity, heart rate, etc.
If we swipe from the bottom up we will access to the notifications of our phone.
And from top to bottom, a quick access menu to alarms, screen lock and the do not disturb mode.
The vast majority of the watch settings are made through the mobile app (or the web) so the interaction with the watch screen is not as frequent as you might think. Start the activity or scroll through the different sport profiles, but we won't do much more on the watch.
But as I've been saying all the time, the important part of Polar Unite is, beyond its aesthetics or operation, everything it offers at the software level, which is what we'll see next.
Included features in Polar Unite
Historically Polar has always stood out in the application of science to sport. They are the only manufacturer that develop their own algorithms and software functions, while others license solutions from third party developers.
But they're not just algorithms that only provide information. The interesting thing about Polar's proposal is that they are all linked. That is, they are not individual metrics, but one feeds the other. Nightly Recharge is obtained through the data provided bySleep Plus Stages , and with all that we will getFitSpark workout recommendations.
But let me explain what each function is for.
Sleep Plus Stages
Sleep Plus Stages provides information on how sleep has been by analyzing its different phases (REM, light and deep), as well as interruptions, cycles, etc.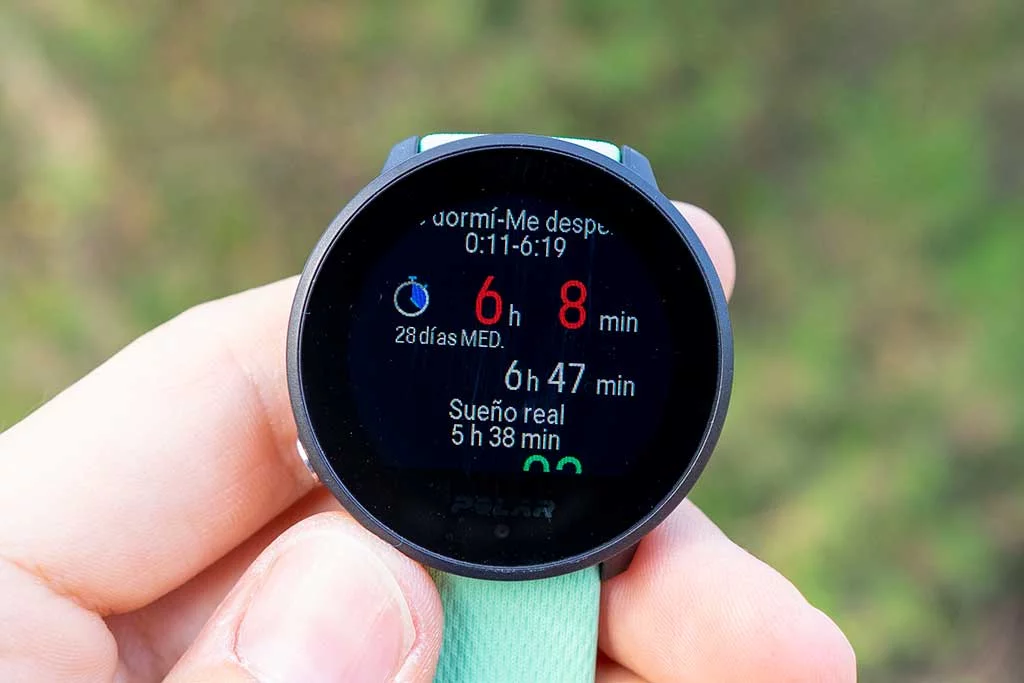 It offers a score that assesses how the quality of the night's rest has been. This score will allow you to quickly see the trend that you are having over time, allowing you to make decisions about the habits you have before going to bed (late dinners, training at the last minute, spending too much time watching TV...). Those habits can make you not resting as well as you should.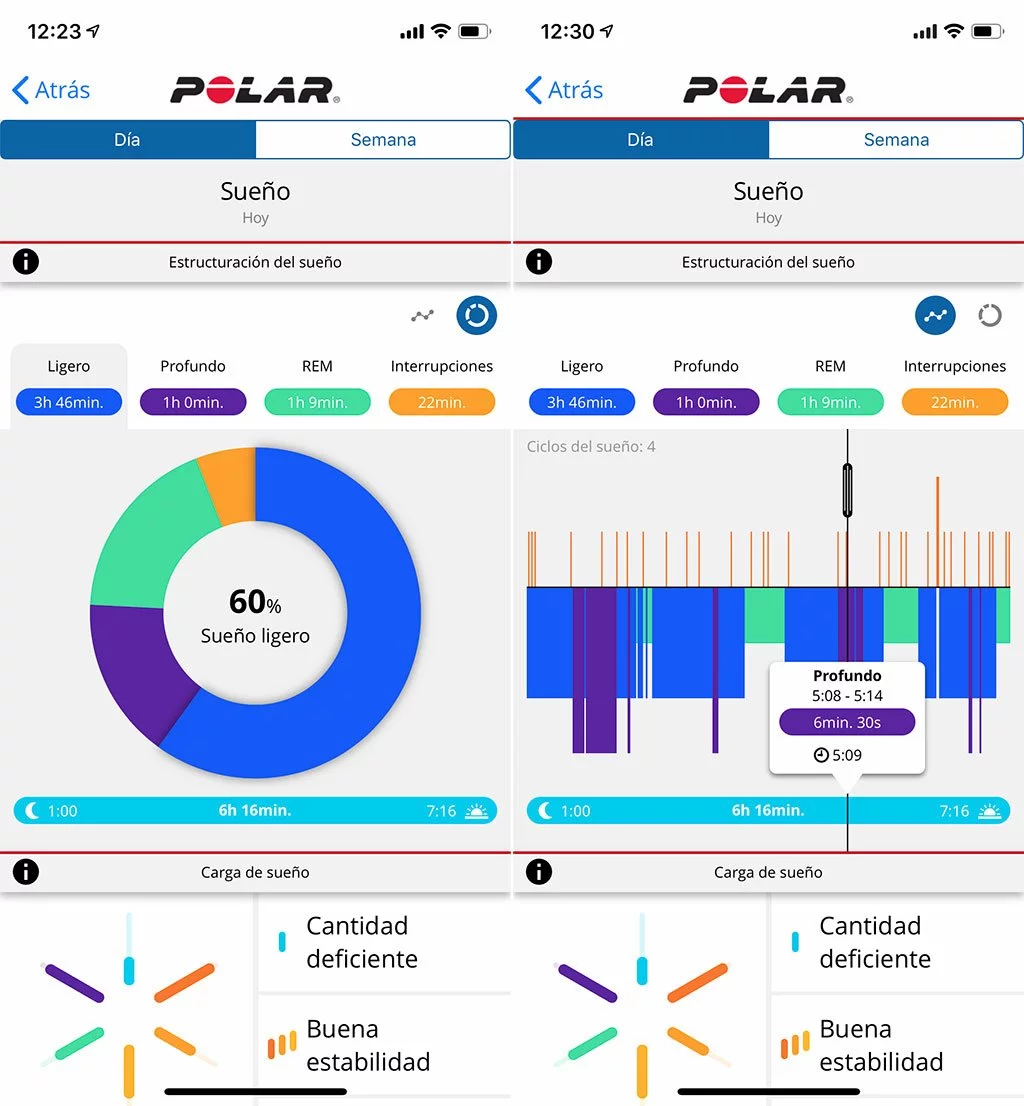 These data come from the record of breathing, blood oxygen levels and muscle activity.
With the watch we will have information, thanks to the optical sensor, of breathing and blood oxygen levels; while muscle activity can be measured by the accelerometer.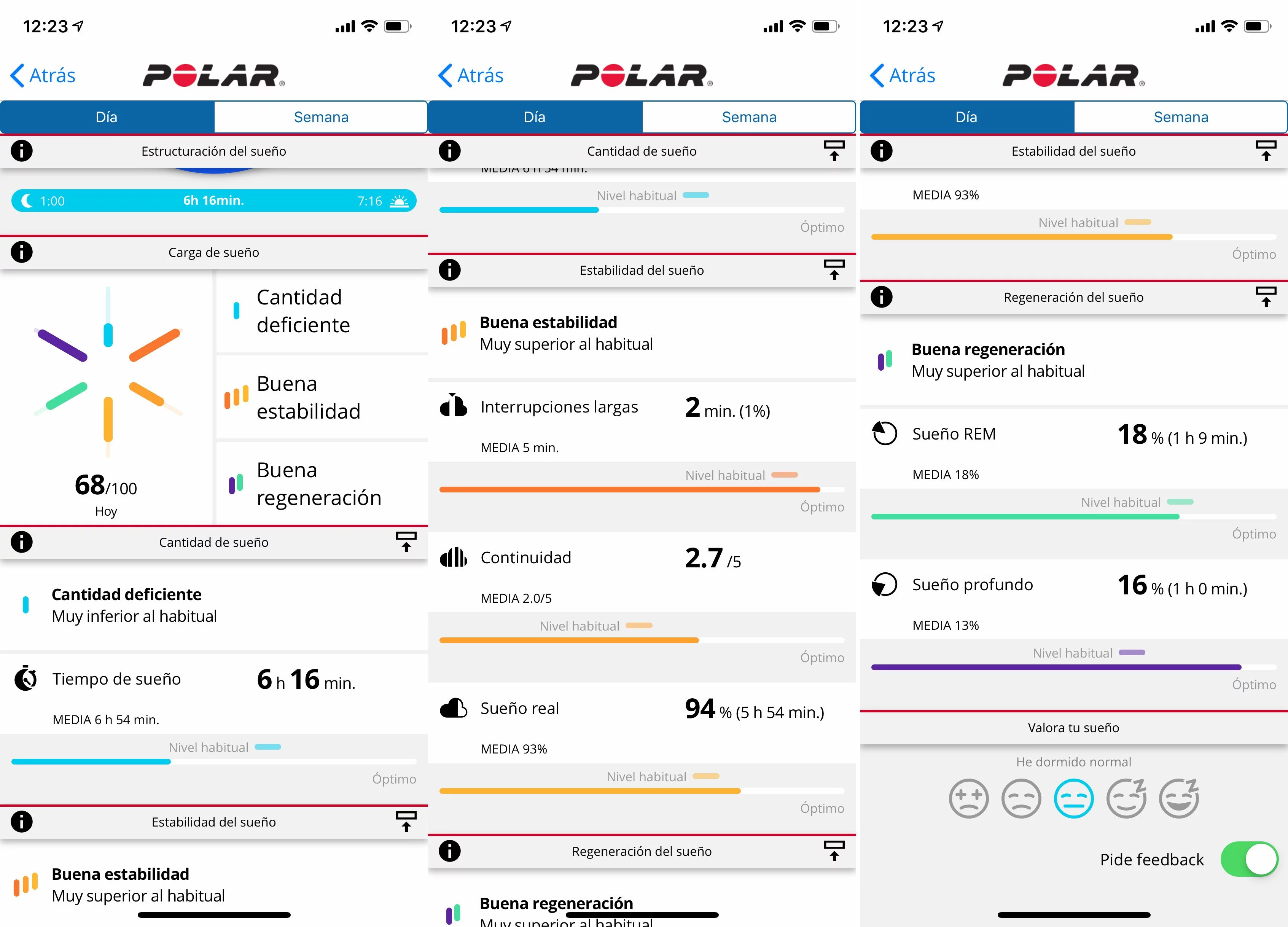 Nightly Recharge
Nightly Recharge is the next rest metric provided by Polar Unite, the next step in recovery analysis.
To the data that have been collected thanks to Sleep Plus Stages, we add what Polar calls ANS (Autonomous Nervous System). That is, relaxation during the first 4 hours of rest.
These data are obtained by the following measurements:
Heart rate
Heart rate variability
Breathing rate
These measurements come from the optical heart rate sensor on the wrist, and are exclusive to the sleep hours at night (so no breaks or naps that we have throughout the day are included).
FitSpark
The above two metrics are used exclusively to measure and value rest. And what's Polar doing with them? Well, depending on how tired or recovered, FitSpark will propose different workout possibilities every day.
It is a virtual trainer that, based on the rest data of Sleep Plus Stages and Nightly Recharge, along with the recent training history, will determine three different types of exercises for each day: cardio, strength exercises or core and mobility exercises.
These training suggestions are "smart", so if the previous night's rest has not been positive, it will not suggest an excessively hard workout. Likewise, if your activity history indicates that you have had a hard workout, it will not tell you to go out and do an interval running session.
And as you see in the picture, depending on the training you recommend it also offers small animations explaining what is the exercise to perform.
FitSpark is a minor function in watches such as Vantage or Grit X, where its merely testimonial because the training plan that is followed is usually different (those are focused for runners). But in a watch in the segment to which Unite is oriented, such as fitness, it is undoubtedly the most important function that the watch can offer.
It is not a 3-month training plan that you have to follow to the letter to run a marathon, it simply offers recommended workouts depending on how you find each day with the sole goal of keeping you fit. And, in short, that's what fitness is all about, isn't it?
Serene
Finally we have Serene. It is a function of guided breathing exercises with the aim of helping you in relaxation.
GPS Performance
It really doesn't make much sense to talk about GPS performance on the Polar Unite, because it doesn't have internal GPS. What it uses is what Polar and others calls connected GPS. If we have the watch paired with the phone, it will allow us to use the GPS of the mobile to record our track and obtain data of pace and distance in outdoor activities.
I could show you tracks recorded in Polar activities, but what we would be analyzing is the performance of my mobile phone's GPS (and the location where I'm wearing it).
However, what I can do is verify that there are no problems in connection with the mobile phone, or that if there are any problems the watch reconnects to the phone.
In general I have had no issues.
However, I have had a workout in which there have been problems. A little more than three hours by bike that the Unite has only recorded just over the first kilometer. At that point it was disconnected and did not reconnect.
On the graph you can see that the heart rate record was correct, but after those first minutes both speed and altitude disappears.
However, I do want to mention that in running or walking outings we can also have pace and distance data thanks to the internal accelerometer of the watch, even if we don't take the phone with us. The watch will calculate through the movements of the arm (identifying the steps taken) and based on your height.
During the workout you will be able to see the data on the screen, and of course after synchronising the watch. Logically what you're not going to see, of course, is a track of the route.
And how is the measurement it does using the accelerometer?
Well obviously inaccurate, but it still remains within an error range of less than 10%.
Optical heart rate sensor
The Polar Unite optical heart rate sensor is the same as that of the new Polar Grit X, except because it lacks the metal electrodes. This deficiency is probably due to economic reasons (cost savings), but otherwise the sensor is exactly the same as in the higher end model.
It adopts the same changes in LEDs. There are 5 red, 4 orange and 1 green.
This sensor does not have a significant impact on the watch's battery life, so it is also used throughout the day to record your heart rate 24/7.
It is also essential for recording other metrics such as Nightly Recharge.
Before I show you comparisons of different sensors, I would like to remind you of some basic aspects of optical sensors.
>> CHECK IT OUT
Keep in mind that a wrist heart rate monitor does not work the same way on all bodies. We're all different, and if we put things in the equation like skin tone, tattoos, body hair... the difference from person to person can be quite big.
In my tests it is not that the spectrum of users is very broad: it is me, myself and I. So what works well for me might not do it for someone else, or it might be better.
But the most important thing to keep in mind is that you have to follow some guidelines to wear the sensor. It should be tight (but not cut off your circulation), enough to keep the watch from moving freely on your wrist, leaving a separation of approximately one finger from the wrist bone. By following these details you will ensure that you get the best results that your conditions can offer.
I have spent several weeks using Polar Unite both daily and in workouts, comparing it to other heart rate sensors both chest and optical. I'm leaving you some of those workouts so you can see what the performance has been.
Here we have a simple run workout in Z2 of only 40 minutes. Constant pace. Something quite similar to what the typical user of a watch of this range is going to perform.
Overall performance is pretty good on the part of all devices, although there are a few things to highlight.
First of all these peaks that occur between the 12 and 20 minutes. I enlarge it to you in the picture below.

I had already seen them in the Polar Grit X graphs, and they are present in Polar Unite as well. I do not know what the reason for these peaks is, but it is not something that is repeated in time and it has been merely punctual.
What can also be seen is the usual behavior of optical heart rate sensors. When making an estimate (and not a direct measurement), they must process the data. The increase and decrease of pulsations has a slight delay when we increase or decrease the pace (or when we change the slope).
It is not something that poses a major problem, even more so with the target client of this model. However, if you want to do pace change (HIIT) workouts and want to ensure that the measurements are correct at all times, you can always pair the Unite with an external heart rate sensor via Bluetooth.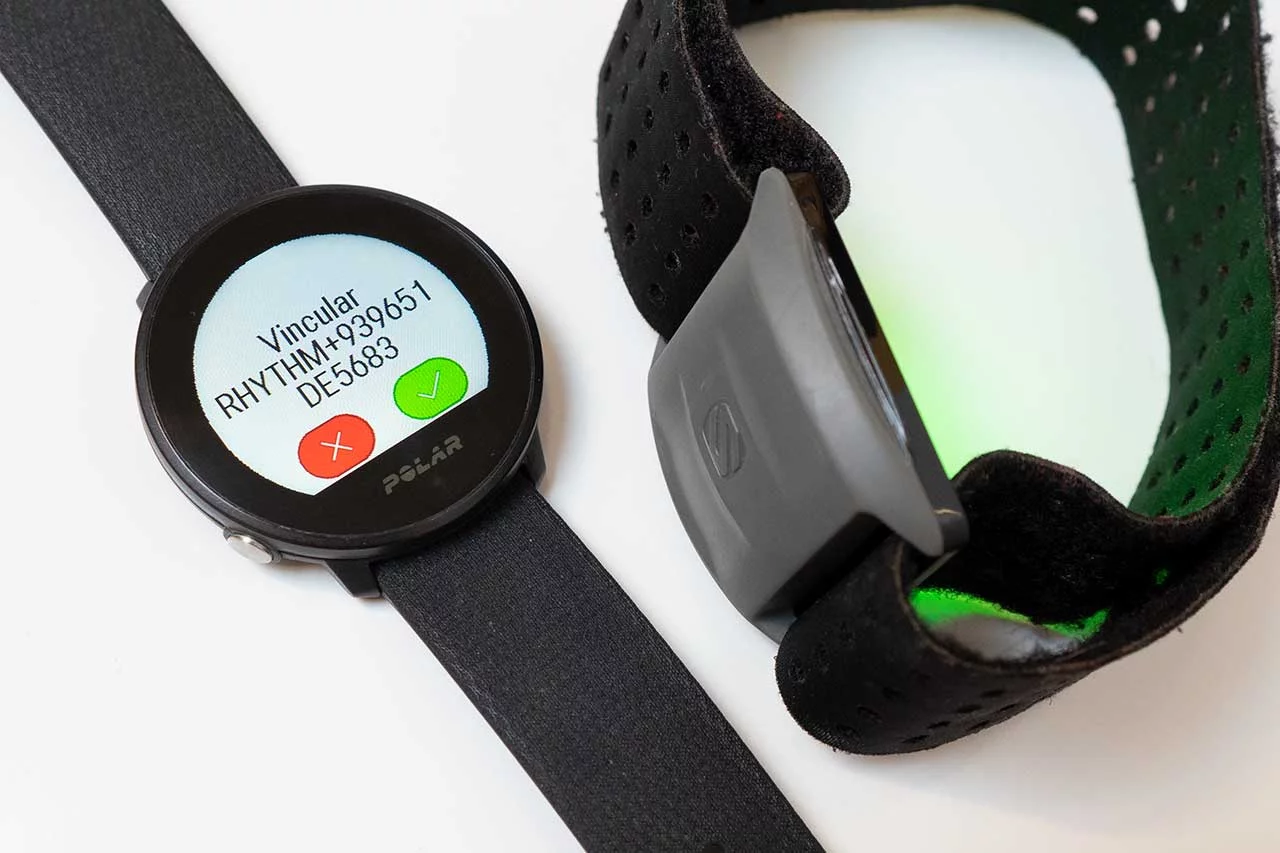 You can read everything you need to know about the differences between optical and chest heart rate sensors, as well as different options in case you're looking for one.
Here's a second workout with a result very similar to the first. We can see a complicated start on the part of Suunto 7, which takes a few minutes to get into tune. But once done, there are no more issues on the part of any of the other models.
Again I emphasize the difference in intensity changes. Here you can see how the Polar H10 sensor paired with the Garmin Forerunner 945 and the Suunto 7 (without using an external sensor but with higher processing power) are slightly faster than the Polar Unite or the Polar OH1+ optical sensors.
As for cycling, there are no surprises... The optical sensor is still not a reliable option. Although in this example it may seem reasonably correct, in the heart rate it cannot be 70% correct. Because we're losing the remaining 30%.
This is an interval workout performed on the bike. The interval periods are moderately correct because they have a constant intensity, in addition to being coupled to the time trial bike that, due to the position, passes less vibrations from the road to the wrist.
However, as soon as there is a somewhat more variable intensity or I leave the TT position, problems begin. In the graph you can see perfectly the 6 intervals performed and how at the moment I have a break, the graph begins to err between the different devices. But it's not a fault of the Unite, it's something generic that affects all optical heart rate sensors and this sport.
In short, it has almost identical behavior to the Polar Grit X sensor. Something normal considering that they use the same sensor although with slight modifications. My opinion is the same, a correct result for running or walking activities at moderate and high intensity, but insufficient for cycling or sports with a lot of intensity change.
Polar Unite best deals
I hope that this in-depth review has helped you to decide if it is a valid device for you or not. All the work I do you can consult it without any cost, but if you want to support the page and by doing so the work I do, the best way to do that is to buy your new device through the links I provide .
And if you don't buy it today, remember to stop by when you do! Through these links you will not only get a competitive price and the best customer care, but also I will receive a small percentage at no additional cost to you. That's what allows me to keep offering you reviews like the one on this page.
Find the best offer
Polar Unite
Polar Unite opinion
The Polar Unite is a good move by Polar to attack the most economical range of sports watches. And especially considering that the development cost for Polar has not been too high; we must not forget that it is very similar to the Polar Ignite but cutting performance. Although being very similar doesn't mean it's the same but without GPS, internally there are more changes.
Its biggest asset is to have the entire Polar ecosystem. It has virtually the same functions as a Polar Vantage V that costs three times more. That ecosystem will make any other physical activity watch, smart or not, pale.
Perhaps the biggest problem Polar may have is that, once the customer starts to think about buying a watch for sports, GPS is one of the first things to consider. Having the possibilities to use the phone's GPS is fine, but it's not always the solution for everything.
Maybe you feel like running without a phone (it's not very comfortable). Or where you are going to take it you will not have a good GPS signal. For a little more you have the Polar Ignite with GPS, or other options from other manufacturers for similar prices.
In short, the Polar Unite is an interesting watch if you're a "gym animal" and you're not going to be doing much outdoor sport. In that case the Unite has all the basics you need, plus all the advanced features offered by Polar (FitSpark, sleep analysis, etc). But if you want to do sports outdoors, it will be more interesting to opt for a solution with internal GPS.
And with that... thanks for reading!