Polar introduced the V800 earlier this year as its first GPS multisport watchThe official announcement described the Polar V800 as its smarter, more advanced clock to date.
Officially presented at CES 2014 in Las Vegas, it was not only outstanding for this, but also for being the first to incorporate an activity monitor in the watch itself, something the Finns had been working on previously with Polar LoopThe clock was released in April.
After this small entry, and before starting the analysis, I would like to clarify that the test unit is a store-bought unit. Therefore, it is not a demonstration unit with special features or any special software revision. It is simply the same watch that you can buy in your trusted store, with the same accessories and presentation.
Remember you can buy it on Amazon through this link and that way you will generate a small commission that will help the development of this page, and that you can see more tests and analysis like this one.
---
RATING
User Rating:

3.98 ( 17 votes)
---
The good
Flawless GPS reception. Probably one of the best watches in that area
Good overall quality feel and discreet appearance for daily use
Route navigation
Barometric altimeter
The bad
It took a while to get a complete firmware in terms of functions
It's not mineral glass
You need a speed sensor to display the slope on the bike
---
---
Unpacking
The Polar V800 is presented in a small box, quality cardboard and a careful design.
Of course, Polar also thinks of shoppers who go to the store without first checking online, so it provides plenty of information about the watch on the back of the box.
The opening is jewellery-style - when you open it, all you'll find is your new V800 Polar waiting to be put on your wrist.
Su contenido dependerá de qué versión compres, pues tienes la posibilidad de comprar sólo el reloj, o hacerlo en «kit» junto con el sensor de pulso Polar H7. La unidad de prueba es de color negro, pero Polar también vende el reloj con la correa en color azul intenso. Así que si el reloj en negro te parece demasiado sobrio, puedes contemplar la idea de hacerte con la versión azul.
All this is what is included in the small box. Certainly, the Polar V800 travels pretty close to your home (tourist category they call it).
The data is loaded and transmitted via a cable with a clamp.
It is very easy to fit, as it fits perfectly with the strap and there is no possibility of making a mistake.
Este es el sensor de pulso que incorpora, el Polar H7, junto con la cinta de pecho «soft strap». Este sensor destaca por tener conexión a través de Bluetooth Smart y transmisión analógica. El Bluetooth Smart (o Low Energy) es una tecnología de bajo consumo compatible no sólo con el reloj, sino también con teléfonos que soporten este tipo de conexión (entre otros). La transmisión analógica es útil a la hora de hacer actividades acuáticas, ya que la señal de Bluetooth no es capaz de transmitirse debajo del agua, por lo que usará la banda de 5kHz para llevar la información de pulso hasta el reloj. Además, será compatible también con máquinas de gimnasio que soporten esta banda de transmisión.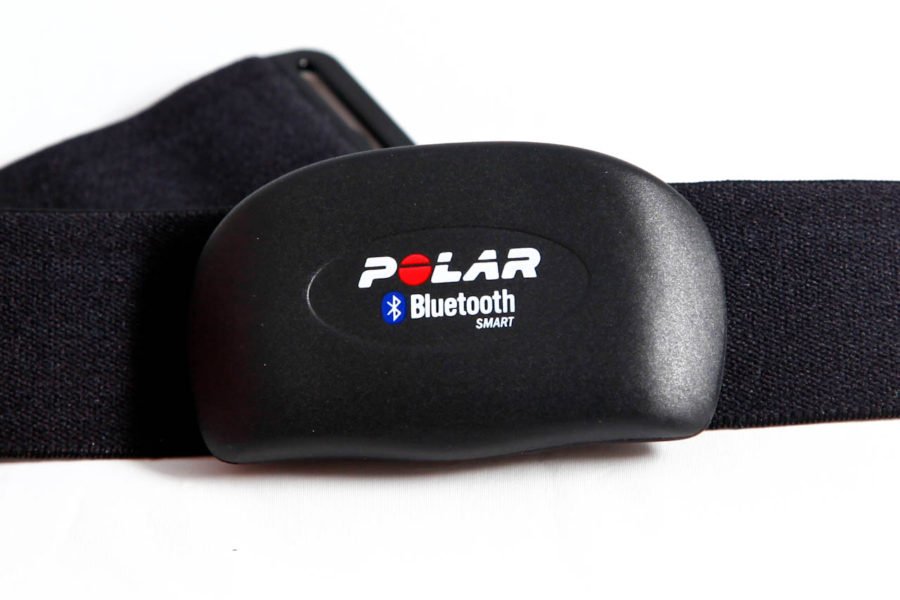 The anchoring system is the typical one, through two clips to the tape itself, which is also standard measurement. Although the compatibility between sensors and tapes is not 100% safe. For example, the Polar sensor on a Garmin tape connects perfectly, but not the other way around, since the Garmin sensor's attachment is not totally safe on the Polar tape, and at the slightest touch it separates from the sensor.
But let's go to the watch itself. Stainless steel case, 128×128 pixels screen resolution and Gorilla Glass coating. It has a total of 5 buttons, made of aluminum. Three on its right side where the red button stands out panic-stricken The two buttons that flank it are the ones used for navigation.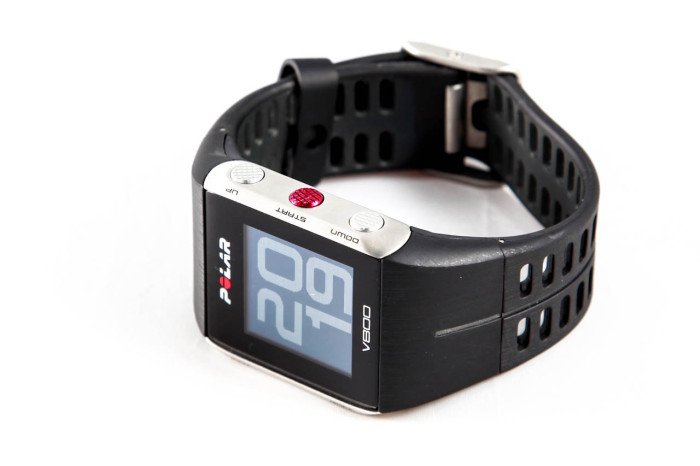 On its left side we have the two missing buttons, the one to exit a menu (back) and the one for lighting, but all these buttons are doubled in their usefulness, because if we leave them pressed, we will access other different options, such as changing the presentation of the watch, accessing the favorites menu or starting the Bluetooth synchronization.
And if we turn it over, we see the connection for charging and data transfer.
Running with the Polar V800
Probably when using the Polar V800 to do a workout, it'll be running where it's most comfortable. Not because it's bad like bicycle watch (which is not) or from swimming As with all watches, it is not going to be easy to access all the information on the handlebars of a bike, so if your main training is based on two wheels, you might want to think more about bike-specific equipment.
The first thing we should do is to configure everything to our liking. If we press the red button, we see the list of sports that comes predefined from the factory, but that we can easily configure from the Polar Flow to include the profiles of the sports that we will practice more often, like for example Beach Volleyball or Nordic Walking, something that I suppose you do every day. In addition, the information on screen is also customizable, but not from the clock.
Just go into Polar Flow and by clicking on our name we can select the sport profiles.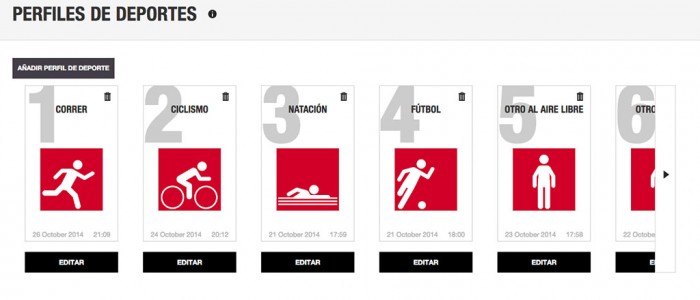 If we enter to edit any of them (in the case of Running), or we create a new one, we can configure the training views. We can also configure the GPS recording speed (or disable it), the lap configuration or the heart rate zones, all configurable according to each sport.
But we were with the training views. We can configure up to 8 different views with a maximum of 4 variables per screen. That is, a total of 32 data while running. Of course it is possible to select less amount of information, and thus make the space occupied on screen by any variable greater.
The data we can include in the views are the following,
| Time | Environment | Physical measurement | Distance | Speed | Cadence* |
| --- | --- | --- | --- | --- | --- |
| Time of day | Altitude | FC | Distance | Speed/Pace | Cadence |
| Duration | Total promotion | Average CF | Lap distance | Average speed/rhythm | Average cadence |
| Lap time | Total descent | Maximum FC | Last lap distance | Maximum speed/rhythm | Current lap time |
| Last lap time | Current Lap Upgrade | Average CF in lap | Automatic lap distance | Speed/lap rate | Max. lapping rate |
| Automatic lap time | Current lap descent | Calories | | Zone Pointer | Med. lapse rate |
| | Automatic Lap Upgrade | Zone Pointer | | Time in speed/rhythm zone | Stride length |
| | Automatic lap descent | Weather in the area | | Max. speed/rhythm of lap | Average stride length |
| | | Automatic lapping FC | | Measured speed/rhythm of lap | Automatic average lapping rate |
| | | Max. FC of automatic lap | | Max. speed/rhythm of automatic lap | Max. speed |
| | | | | Speed/rhythm of last lap | |
*Cadence data will only be available if you connect the Polar Bluetooth Pedometer, at least until the update that enables the internal clock accelerometer to collect this data.
Once we have the clock ready to show the information we are interested in, we tied our laces Press the red button and select from the list of sports profiles the option to run.
After selecting the running activity (or if you have changed it to mountain trail, track or field, whatever), it will start looking for signs. On one hand sign GPS and on the other hand the Heart rate monitor and the pedometerThe satellite search, despite not checking position every time we synchronize the watch, is quite fast. Of course it is not as fast as other watches that do receive the position of the satellites previously, but still the differences are not noticeable. In this video you can check how fast it finds enough satellites to start our training. It is a cold search, one day after the last training and in a different place. I have not made it easy, but it is not always that fast.
It is always a good idea to use this satellite search time to stretch a bit and not start so cold, but try not to move too much while doing the satellite search because it will take more work to fix the position.
And if you forget to start recording the activity during this time, don't worry, because the Polar V800 is so smart that it reminds you that you are not recording anything. Who hasn't noticed that they have started training and after 20 minutes have not recorded the activity?
An important detail that has arrived with the last update: now, when you connect a pedometer, the watch will take the rhythm and cadence of the pedometer and the distance from the GPS data. Previously the distance was also determined by the pedometer itself, but unfortunately the Polar V800 will not take data from the internal accelerometer to give the cadence.
However, the use of the pedometer will be more useful indoors, as the update of the rhythm through the GPS is quite fast. This has a positive and a negative reading. The positive part is that when a change of rhythm occurs, the watch will quickly update to the current rhythm, without having to wait to see if the rhythm we have accelerated to is the one we are looking for for our training. The negative part is that it is more frequent to see unrealistic variations in the instantaneous rhythm due to a momentary bad reception of the signal if you are running between trees and buildings. If you lose the signal for a second or two it is possible that you are running at a steady pace of 4:45 min/km and suddenly on the watch you see a jump at 6:00 min/km. But don't worry, this is normal behaviour.
In this video you can see how the indication of the rhythm varies by taking the data through the GPSIt starts at walking pace, accelerating to race pace to stop at walking speed, and then back to race pace.
Training with objectives
Running is not just about wearing your shoes. Many of us are looking for more personalised training than just going kilometre by kilometre, so the watch we choose has to be capable of being our own trainer. Unfortunately in the case of the Polar V800 the options are not yet very extensive (although Polar has promised updates in this field).
We can create a quick workout, where we simply set the final goal defined by a total time, a distance or a number of calories. The first can be used to set your last time at 12 km, for example, and go for a run with that time limit to try to improve it. The second case would be the typical distance workout. And the third case, can be used perfectly to make room for that pizza you're going to put between your chest and back and not have a guilty conscience.
This type of training can also be selected directly from the clock. And once you are training, it presents us with a graph with a percentage of what we have completed, depending on the training objective: duration, distance or calories. In the case of the image below, the objective of the training is simply to cover 2 kilometres. After covering 90 metres, it indicates that we have already covered 4% of our total training.
Then we can choose the race pace, similar to the previous one but choosing two variables. Let's say we want to train 10km at a 4:30 pace. Then we enter the data and automatically calculate the duration of the training.
Or do 2km at a rate of 5:00min/km.
Básicamente, se convierte en un «Virtual Partner» y a nuestra selección de pantallas elegida anteriormente, se añadirá otra más, para indicar cómo estás con referencia al objetivo (en este momento 3 segundos por detrás), junto con información de tu ritmo actual, distancia para finalizar objetivo, ritmo medio y pulsaciones.
The last available choice is to do a training with phases, or as we usually know it, intervals. This is where the main lack is shown, since the only objective we can set for each phase is a heart zone (or do free training). It does not give a choice to perform training with a variable paceThe speed or cadence, which is quite common.
With the 1.3 update for the Polar V800 (December 30th 2014) it is now possible to select a pace as your training target.
Así mismo, la actualización 1.4 añade entrenamientos de «Bloqueo de zonas». Click here for all the details of the new update
In addition, when creating a workout, we cannot keep them as standard workouts, but create them as a diary. We create them with a certain date and then access the agenda and can select that workout.
Si vamos a querer hacer algún entrenamiento de forma recurrente, lo podemos añadir a favoritos y lanzarlo desde ahí. Pero es algo más caótico que el habitual «buscar entrenamiento», «seleccionar» y a correr. Supongo que es cuestión de costumbre y de verlo con ojos finlandeses.
However, we can select the duration or distance of each part of the training, one or more target zones, the name of each part, etc.
We include it in the menu of favorites, and from there we can launch the training whenever we want.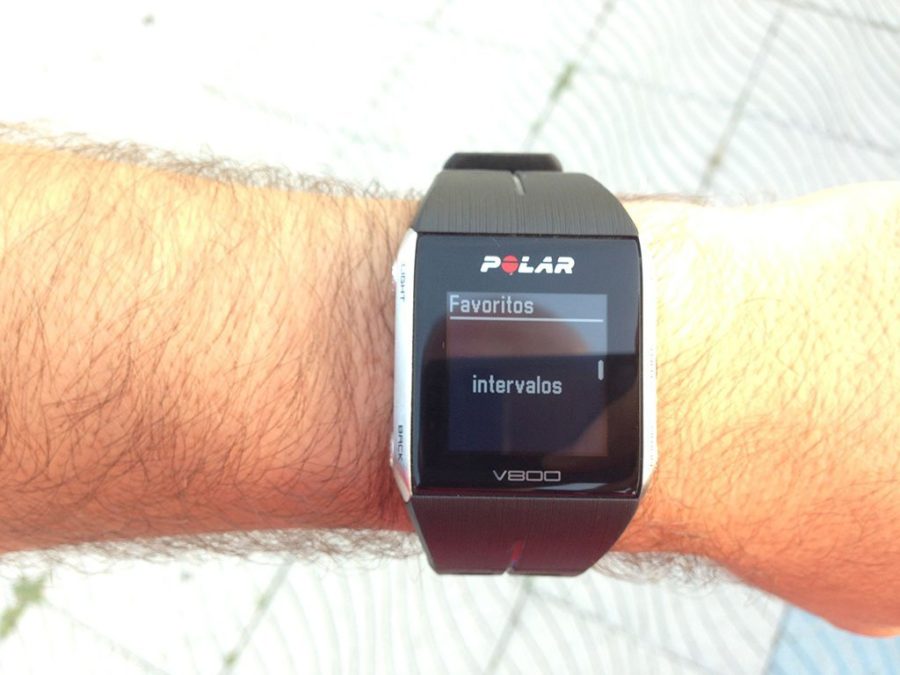 This is the screen that will be added if you do interval training.
Anyway, the way to create the workout is somewhat chaotic. We can't create a repetition of intervals and breaks until we have programmed the whole workout, or we can't add anything else. That is, if we prepare the warm-up part, the intervals and do the repetition, then we can't program a cool-down since everything will be blocked until we remove the repetitions.
Lighting
Polar has had a tremendous detail with which we are used to training at night. And not only because the lighting in the dark is very good
But because it is possible to leave it always on through the quick menu, so you don't have to look for the button every time you want to see a record. Always on and at a glance we know our pace and distance.
Information after training
Al terminar el entrenamiento, podemos pausarlo presionando el botón «back» una sóla vez, y saldremos a la pantalla de inicio de actividad, pero con el tiempo que ya tenemos realizado de entrenamiento.
Podemos volver a reanudar la actividad presionando «start» de nuevo cuando estemos preparados, o bien dejar presionado «back» durante tres segundos para borrar el entrenamiento. Si la sesión ha sido breve, el Polar V800 te preguntará si quieres guardarla.
When finished, the Polar V800 will show you the final summary of the activity, starting with the duration and distance.
The watch analyzes how the training has been, and will recommend a rest period.
Another feature offered by the Polar V800 is to help you know what your training has been like, based on heart rate zones (More on this later in the section on Smart Coaching).
And we can agree to have more details...
...in which he tells us the benefit of our training session.
The next screen you see is the detail of the heart zones we have been working on. In this case, the objective was to work on the resistance in zone 3, and thanks to this graph I can confirm that I was right.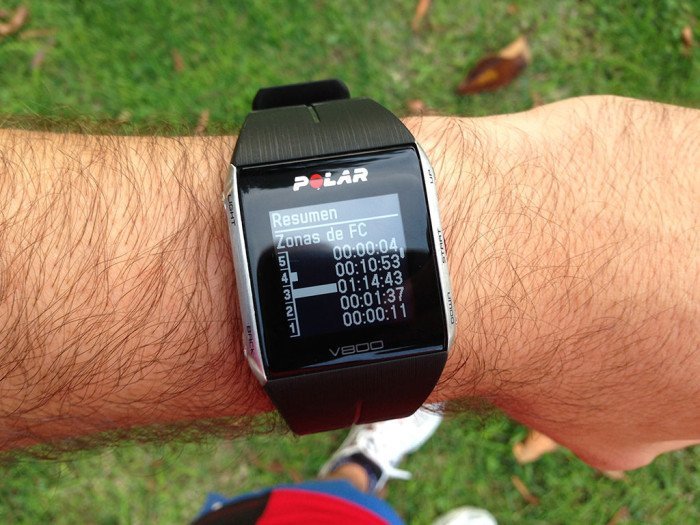 The Polar V800 also indicates the average and maximum heart rate you recorded during the session.
As well as the calories consumed during this session, and the percentage of those calories that are from fat.
Of course, the average pace of the session, which is basic to any workout, but the maximum pace we have reached will also be recorded.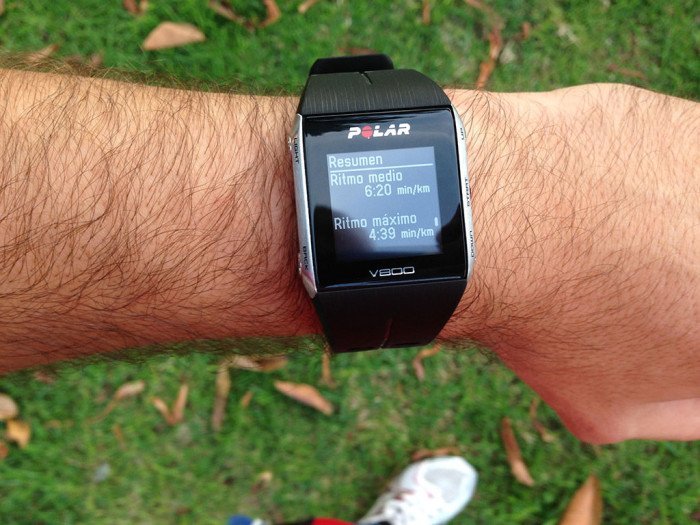 It offers us the result of our Running Index, another value that I will detail in the section of Smart Coaching.
Total ascent and descent information.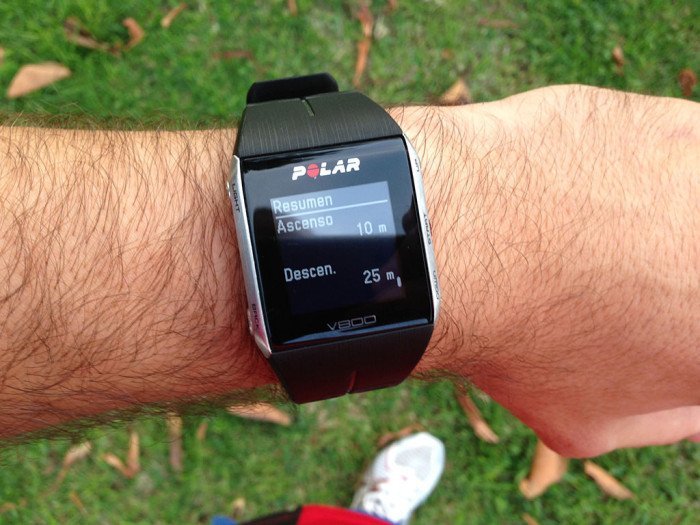 And finally, lapse information.
From which, of course, we can get more details.
And we can see the rhythm in each of them.
These laps can be set automatically so that the watch can set them, and you can also create laps manually (and in parallel to the automatic laps) by simply pressing the red button while training, and if you don't feel like looking for the button you have the option to simply tap the screen. It's not that it has a touch screen, but it is capable of detecting these taps on the screen through the integrated accelerometer.
Cycling
Talking about cycling in a multisport watch does not present many demands. Basically we are facing the same requirements as when running, and the only thing it should be able to offer us is support for various sensors. The watch should go from supporting a footpod or accelerometer, as it does in the running mode, to allow connection to cadence/speed sensors and, something quite in demand now, power meters.
It is precisely this support for power meters that has recently been incorporated through an upgrade in the Polar V800. At the end of August Polar announced the Kéo Power Essential at a price of 999 euros. These types of sensors are designed to obtain information about the power in watts that the cyclist is able to apply to the pedals.
After the update 1.4The Polar V800 can also be connected to potentiometers of other brands.
Otherwise, the operation is exactly the same as the race mode, but we can replace the pace metric with speed in km/h, which is more appropriate to the sport in question. I will not repeat all the training functions because they are the same as in the race mode.
In addition, we can also create an indoor cycling mode. This way we can deactivate the use of GPS to replace it with the cadence and speed sensor and obtain data from them (just like we do outdoors). It does not represent a big change from the outdoor mode, but being able to deactivate GPS gives us that extra autonomy that may be interesting to take advantage of at some point. And besides, spending battery for spending, does not have much logic.
Swimming
When Polar presented the V800 at the Las Vegas CES in 2014, it promised an ideal watch for triathletes, not only because it has a specific triathlon mode, but also because it has the ability to assist in water training, both indoors and outdoors.
Well, at the beginning of November 2014 we still don't have the capacity to train with the Polar V800 soaking in the water. So what works when it comes to getting in the water to swim? Not much really, exercise time and heart rate (only with the Polar H7 sensor). Polar has promised to bring pool metrics such as as , SWOLF or distance (both indoors and outdoors) by the last quarter of 2014. We are in that quarter and there is still no sign of these metrics, although they have updated dates again and promise to have the update ready by mid-November.
Even so, the V800 is one of the few watches that can use heart rate information for training purposes. This has been a typical feature of Polar watches, as it uses the 5 kHz analog band for its pulse sensors. The H7 sensor that comes with the V800 (if purchased as a pack) supports Bluetooth Smart communication, which is what we will mainly use in all sports, but also analog connectivity. Unlike Bluetooth Smart, it does work underwater, so if you are using the V800 with another sensor than the H7 (Polar H6 or a sensor from another brand) you will not have heart rate information when you are swimming. In fact, I have not had a chance to test it with the wristband Mio LinkIn swimming mode, it will not search for the Bluetooth sensor, but only for the analog one.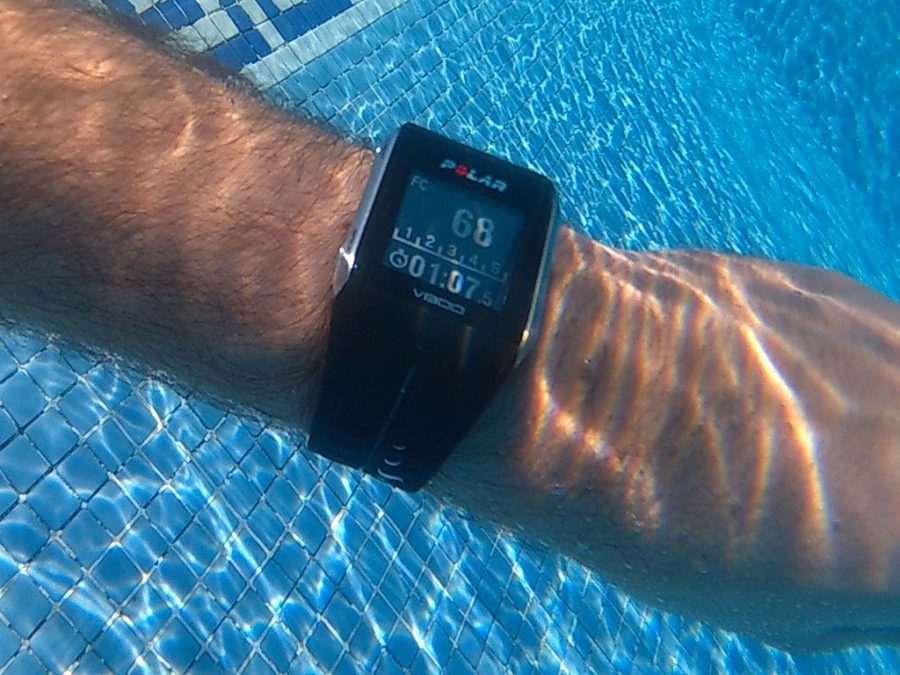 In swimming mode it is not possible to have the GPS activated. There is still no specific mode of open water swimming, which will arrive in March 2015.
El problema de no contar con un modo específico de natación en exteriores es que la señal GPS se pierde cada vez que sumergimos el reloj en el agua. Por lo tanto, más que un problema técnico (el funcionamiento del GPS es como es y no tiene mayor solución), es un problema «matemático». Cuando un fabricante incluye un modo de natación en exterior, simplemente lo que hace es aplicar un algoritmo de corrección que ayudará a ajustar el track, partiendo de los puntos que sí haya podido ir guardando e ir haciendo el cálculo de hacia donde vamos para minimizar los errores. Esto es algo que otros fabricantes como Suunto o Garmin ya están haciendo, pero que Polar todavía está desarrollando.
Polar 1.2 Update
Tras la actualización a la versión 1.2, ya hay métricas en piscina. Para ello, además de lanzar la propia actualización para el reloj, Polar ha añadido además un nuevo perfil deportivo en la aplicación web Polar Flow. Ahora hay que seleccionar «Natación en piscina», gracias al cual el reloj activará el acelerómetro interno para mostrarnos todas las métricas relevantes a la hora de nadar.
The first thing we have to do is to set the length of the pool. The clock allows us to select a 25m or 50m pool, and if it doesn't fit our particular training location, we can make the selection manually. That is, if any pool doesn't fit, the minimum distance will be 20m.
And the next step is to dive into the water. The Polar V800 is able to recognize not only your swimming style (backstroke, butterfly, freestyle...), but can also identify when you have reached the end of the pool and are starting another swim.
También te dará tu cifra de SWOLF. Para el que no sepa lo que es, es una forma de representar numéricamente cómo nadas. La denominación proviene de la mezcla de natación y golf (SWimming y gOLF). SWOLF tiene en cuenta cuánto tiempo tardas en completar un largo y cuántas brazadas necesitas para hacerlo, todo ello partiendo de la medida de la piscina. Y al igual que en golf, cuanto más bajo sea el número de «golpes» que necesites para completar un largo, mejor.
This is a relative value, so the comparison between different people does not make much sense, but rather it is a valid figure to compare yourself between different sessions.
In short, this is all the information that the watch gives you: your swimming style, how long you have been swimming and the total distance you have swum.
In this case, the clock has identified the session as a back. If different styles are used in the same session, the clock will then identify all of them and separate them.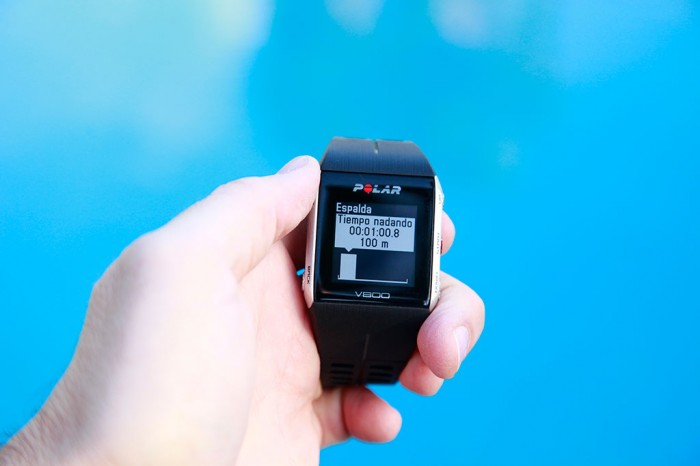 Average and maximum rhythms...
The strokes
The SWOLF figure
The duration of each length
And of course, all this information is then sent to Flow, so that we can do a full analysis of our swimming session and see how we are improving.
Polar 1.5 Update
The open water mode is now available, but it has been delayed a little longer (oh, surprise), and the update has been made available in July 2015.
Modes for triathlon and multisport
The Polar V800, let us remember, is a watch that is also designed for triathlon, and to be considered a valid watch for this sport, it must have a specific mode of operation in which to combine swimming, cycling and running.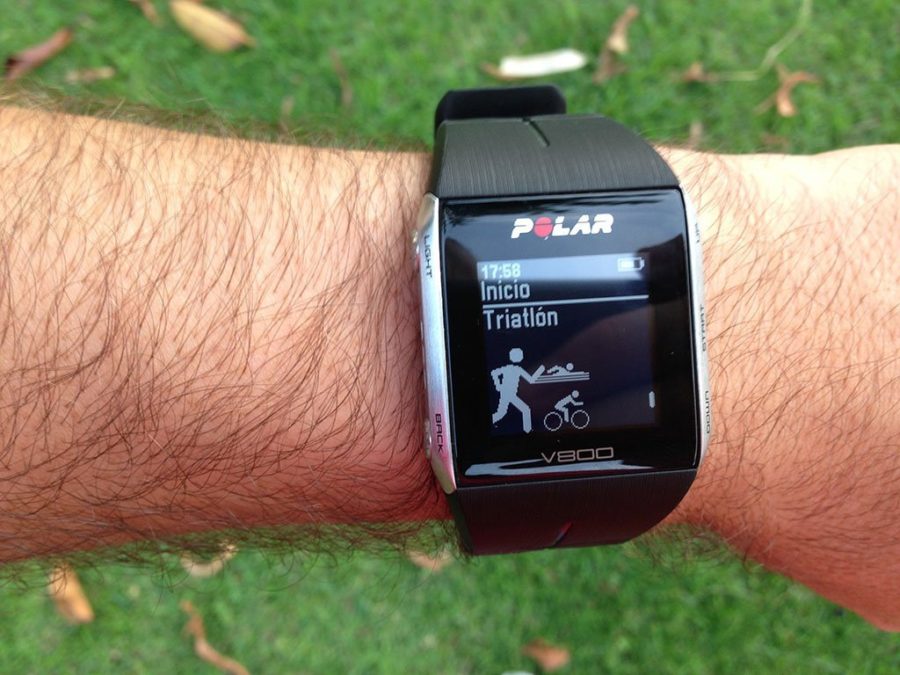 When we enter the Triathlon, we again have the possibility of selecting a sport. Logically, the first sport to appear will be swimming.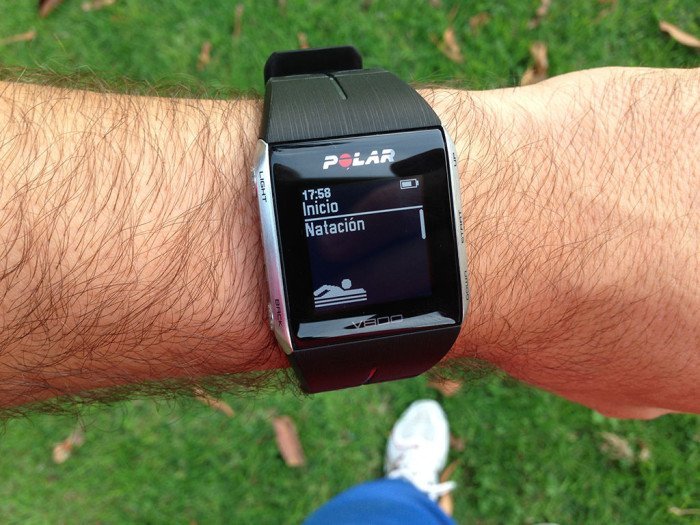 Once the exercise is over, the watch will give us a report on the duration of the session and will return to the sport selection. The next one, cycling, will automatically appear. The time that appears would be the one corresponding to the total we have been running.
After selecting the next sport (in this case cycling) another screen will appear, indicating the transition time, that is, the time that has passed since we have told the clock that we have left the water until we are leaving with the bike.
Once we have finished the cycling exercise, we press the pause again, receiving a summary of exercise information.
And it returns, again, to the sport selection page, to automatically display the running activity.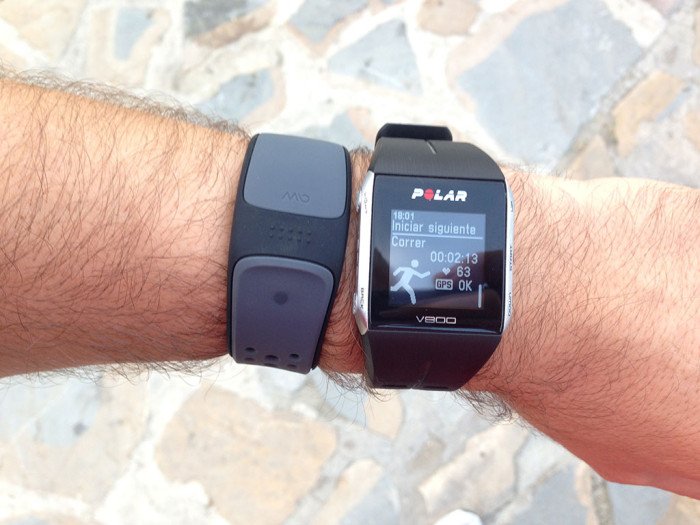 And when you select to start the activity, it indicates again the transition time from cycling to running.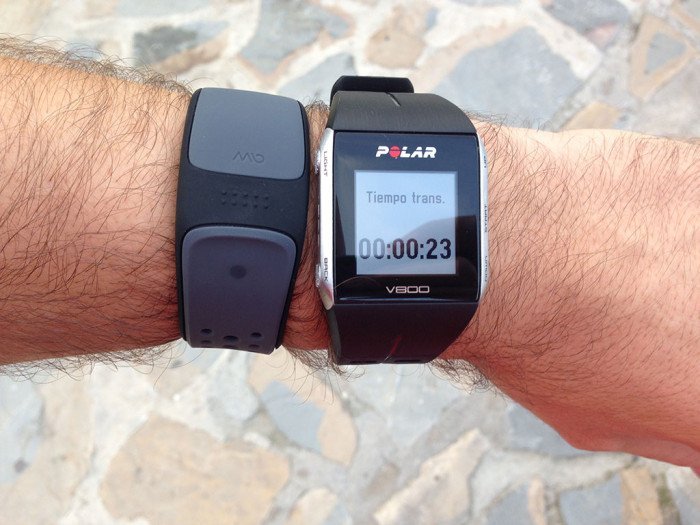 That again we will finish and when pausing the exercise, we will have the final summary of the exercise, and the triathlon event will be over.
Once the race is synchronized with Polar FlowBut it will not be three different activities, but we will have a single activity in which all three will be combined, together with the transition times and the details of each of them.
Here we have total time together with time in each activity, distances, transition times and of course the map.
Clicking on each activity we will have the detailed information of each one of the activities.
Finally, the Polar V800 has an extra, multi-sport free mode. It's similar to the triathlon mode, the only difference being that you can choose from all the sports profiles we have programmed. That is, if instead of doing a triathlon you have a duathlon, you can use this mode to track in exactly the same way. Or you can run to the gym and do some weight training, selecting the running sport first and then selecting strength training. The possibilities are almost unlimited.
The activity will be displayed in Polar Flow Just like a triathlon, one activity will be divided into several different activities when you enter.
Battery life
Another aspect that the Polar V800 excels at is its battery, despite its relatively small size. Thirteen hours of autonomy using the GPS recording data every second. It also has different modes of use with which to further increase the autonomy.
To begin with, if we use the watch as an instrument to give us the time (and record our activity, since it is not possible to deactivate this function), Polar announces a total duration of one month before needing a charge. But I guess this for most people who read this test will not be a very important value to take into account. Here the important thing is its autonomy when the GPS is connected (remember, thirteen hours). If this is not enough for you or you plan to do an ultra trail, you can change the data recording mode to 60 seconds for GPS (but still receive data from other sensors). This way you can get up to more than 50 hours in sport mode.
In all the time I've been testing the watch, I've never had a battery problem. Whenever I've wanted to do an activity, I've been able to finish it without any problems, something that other watches have been able to suffer from when they've run out of battery in the middle of training. I haven't been able to carry out an exact test to see if the figure announced by the manufacturer is real, but it certainly does match the official data.
The Polar V800 is presented as a great option for navigation routes, except for one small, great detail: for the moment, in Polar Flow we don't have the possibility to create our own path. We can only create a favorite of an activity performed. Luckily, I found the temporary solution to be able to add any GPX path downloaded from, for example, Wikiloc. You can find the method here: Import GPX routes to Polar V800.
UPDATE
Polar has updated Polar Flow and now it is possible to import a route in GPX or TCX format that you can mark as a favorite, so you don't need to follow the procedure described above.
When we start sailing, the first thing we have to do is to calibrate the compass. To do this the watch asks us to shake our wrist (or the watch if we don't have it on our wrist, which I'm watching you with the watch stored and moving the wrist...) making eight-shaped turns.
And once calibrated, the compass will show us the way to go.
In other watches without a compass you might find a similar feature, but we will have to move around so that the watch can interpret our position and know where we are going. In the case of the Polar V800 it is not necessary, as it shows us exactly our way even if we turn round, as seen in the video.
And once the compass has taken you on the road, the Polar V800 will show you the route through a map, which displays your route and the distance to finish it. It also shows a small arrow with the direction in which you should continue the route.
But... what happens when we get lost and move away from the route? To start with, the distance to the target will increase instead of decrease. And the target symbol you saw before will change to an empty circle. You can see in the video how it behaves.
The procedure once you get close to the route is the opposite, going from an empty circle to a circle with a target when you find the path that will take you to your destination again.
Además de la función propia de navegación (a la que accedes desde el menú de favoritos) en cualquier modo de carrera puedes encontrar distintas opciones que te ayudarán en caso de perderte. Manteniendo presionado el botón «light» puedes acceder a estas opciones. Puedes conocer tu ubicación exacta (por si necesitas un rescate).
You can add some points of interest, to which you can return.
And in every training mode you have a screen that shows you the way back to your starting point, but it won't show you any path, just a compass so you know where you started from, so if you're in the middle of a mountain, it will show you the squirrel trail, from branch to branch.
Polar V800 as an everyday watch
One of the most important things Polar has done in the V800 has been to make it your everyday watch. Watches for sports and specifically triathlon have always been rather bulky devices that in some cases did not even have a basic watch mode (such as the Garmin Forerunner 305, 310XT or 910XT).
El V800 tiene un diseño muy cuidado, tanto por estética como por los materiales usados. El cuerpo está realizado en aluminio y acero inoxidable, con los botones en aluminio. El botón principal está decorado en color rojo «Polar», y la caja sobrepasa ligeramente la pantalla, con protección Gorilla Glass, para intentar salvarla lo máximo posible de cualquier tipo de golpe o arañazo. En el lado con sólo dos botones hay un bonito grabado de V800, mientras que en la hebilla de la correa, también de aluminio, es «Polar» lo que está grabado. La correa es de caucho de elevada calidad, con un ligero estriado.
A través del menú, o dejando presionada la tecla marcada como «Up», podemos elegir la «esfera» del reloj. Estas son las posibilidades de las que disponemos
Date and time (without seconds)
Date and time with seconds along with your name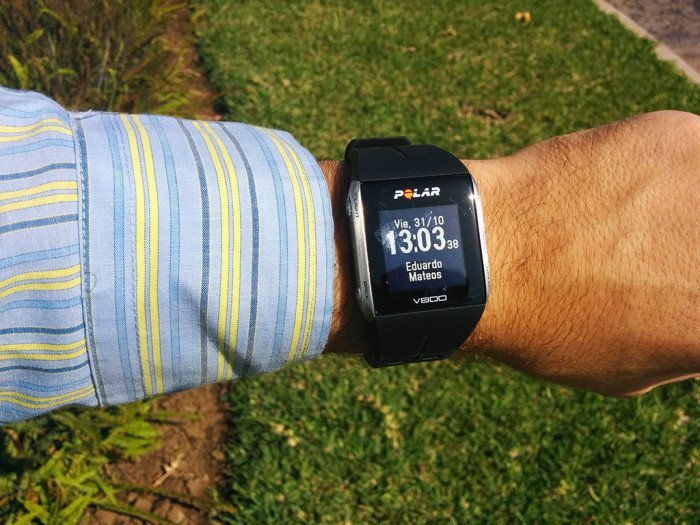 Analog dial with date at 3
Time only, in large numbers and two lines (option I have chosen)
Por supuesto, también podremos programar una alarma y elegir entre programación de una sola vez, de lunes a viernes o diaria. A este menú de alarmas es posible acceder desde los ajustes generales, o dejando presionado el botón «Light», que es el menú rápido para otras funciones.
What's surprising is that the clock doesn't adjust the date automatically with the values received from the GPS. The date and time adjustment is manual, just like when the time changes from winter to summer and vice versa. It's surprising that for a clock so advanced in many aspects, that something so simple has not been implemented. But well, it's not every day that you are changing the time (unless you travel a lot to areas with different time zones).
Activity monitor
El Polar V800 fue el primero en incorporar la función de monitor de actividad. Más tarde esta función la añadirían en su hermano pequeño, el M400. Ha sido un movimiento lógico, sobre todo tras la fiebre de «wearables» que ha atacado al mercado en 2013 y 2014. En estos tiempos, si quieres ser alguien en esto de los «gadgets de fitness», debes tener uno. Garmin, Polar, Nike, Jawbone, FitBit, Samsung, Runtastic… Prácticamente todas las compañías del sector han sacado su versión. Y eso en las compañías conocidas, porque en productos chinos vendidos a otras marcas como OEM ya es difícil seguir la cuenta.
As I was saying, the Polar V800 was the first GPS watch to include the activity monitor function. And much of its aesthetics is due to this small detail. Until the introduction of the V800, we were used to sports watches that we normally wore to train and took off as soon as we entered the shower... and until the next training session. But the Polar V800 is designed to be your everyday watch, with a much more traditional look and could perfectly pass for a simple 30 euro digital watch (nothing could be further from the truth).
De esta forma, Polar nos ofrece analizar nuestra vida cotidiana. Por un lado con el reloj GPS para anotar nuestro rendimiento deportivo y, cuando dejamos de practicar deporte, cuantificando nuestra vida diaria. El V800 nos dirá cómo hemos entrenado y además tendrá en cuenta esos paseos por las calles del Carrefour buscando los estropajos o lo que has andado después de aparcar el coche «debajo» de casa (tres barrios más allá del tuyo). En definitiva, tus actividades durante tus momentos de atleta y el resto de actividades cotidianas cuando dejas de serlo.
What we should know is that, unlike most activity monitors, the Polar V800 does not show any information on screen. No steps, no distance covered, just a bar that is completed as we go along. To see the details we must synchronize it, either with the computer or with the mobile (if you have an iPhone, if you use another platform, at the moment only with the computer). And then we can know all the details of the activity.
It estimates steps taken, distance and calories consumed. And if you leave your watch on at night while you sleep, it will also analyze the quality of your sleep (yes, I have to sleep more). In case you stay more than 1 hour without moving (for example, sitting at a table in the office), it will write down an inactivity alert. But strangely enough, you don't receive any kind of notification on the watch to warn you, it only tells you when it is time to synchronize, thus losing all the purpose that this function has. Polar says that it will come in a future update, but I think that is an important aspect that should be present from the beginning, and that is not very complicated to implement.
Esta actividad también te la muestra en una gráfica de 24h. En la parte inferior el total de horas en según qué actividad, y en el «rosco» te divide la actividad según las horas del día. A mi juicio revisando la actividad del día de ayer, se ajusta bastante a los horarios y concuerda con lo que hice a lo largo del día. Esto es lo que se ve directamente en la web de Polar Flow.
In the iPhone application, it displays information in a very similar way.
Polar 1.2 Update
Since the new update, things have changed a bit. The first thing they include is a bit of logic. Before, the activity bar was completed as the day went by (RMB), in addition to having another activity bar, which was the really important one.
Now everything is centered in the same place, and the basal metabolic rate is not included, but it does take into account our activity. If we do nothing or leave the clock stopped, the bar will be empty.
This has also brought a new view for the clock, with the bar always visible. It is animated, and when you walk or do an activity (other than training, of course) you will see how it fills up point by point.
Now the activity menu is displayed much larger, with the bar and a percentage.
And by scrolling down the menu you can find out how long you have to do a certain activity to complete the day's goal, whether it is walking...
Standing up...
Or running.
Estos objetivos son fijados a través de Polar Flow, pues con la nueva actualización es posible seleccionar el nivel, dependiendo de si diariamente tu trabajo incluye mucho esfuerzo físico o si, como yo, eres un «ente» de escritorio.
Not only that, but the lack of activity warning has been added to the clock itself, that one that only appeared on the phone and after synchronizing, and that way it didn't make much sense to use. Now the clock warns us if an hour passes when we haven't moved, to activate us and move around a bit.
Smart Coaching
The Polar V800 has a software-level functionality designed to help you. The watch can guide you through your training, and will tell you at the end of the training session the benefit of your training. With the recovery status function you can program your next intense session, taking data from your daily activity as well as your training load. In short, a circle around which everything revolves and which will keep you in control (and motivated). But I'd better explain what each option is.
Training load
When you finish your training, the watch indicates the degree of effort you have put in, and transforms it into recovery time. To make the calculation, the Polar V800 will take into account different factors, such as gender, weight, height, FCmax or VO2max, among others. Starting from the initial data, and analyzing the heart rate during training, it will evaluate the training load, and from there, the estimated time of rest. We can find the following:
Extreme: over 49 hours of recovery
Very demanding: 25 - 48 hours of recovery
Demanding: 13 - 24 hour recovery
Reasonable: 7 - 12 hours of recovery
Smooth: 0 - 6 hours recovery
Recovery status
The V800 determines your recovery status from the daily activity measured by the activity monitor along with the load from past training. Once the data is analyzed, it will calculate your recovery status and how long you need to be ready to train again.
It is represented by a bar that will move between high stress, tired, balanced and untrained states and shows when you will reach the next level of your recovery (with day and time).
During the training I have done I have found that the recovery state values have always been quite faithful to how I was feeling. It is easy to know that after a strong 15km workout you will be tired, but not so tired that you can tell yourself, for example, that on Tuesday at 12:00 you will be at a balanced point. And when the clock indicated that state, I certainly felt that way.
Training benefit
The training benefit is another piece of information that the watch gives us when we finish training, giving us indications of how the training has been and the benefits that you will obtain from it. It is based on the heart rate zones, the time of training and the calories burned.
These are the messages we may receive, depending on the training we have done.
Running Index
Finally, the Running Index gives you a way to monitor changes in your running performance. It will take into account climbs and descents, and to provide a real value you need to have set your resting and maximum heart rates correctly. In the watch's manual you can also find a table with an estimate of times that you can run in different events, from 5 kilometres to a marathon. In my case, these times are slightly optimistic (or it's just that I always run against the wind, who knows), but they are not very different from what I can achieve on a good day that I feel inspired. So it is a good guide when planning a first race in a new distance.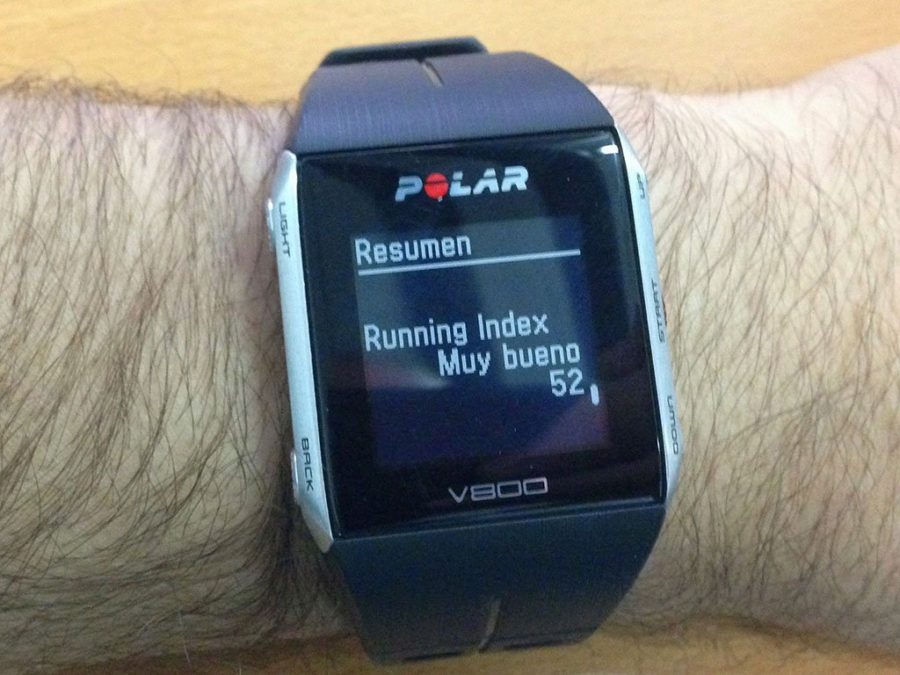 Physical evidence
The Polar V800, apart from the activity monitor and the Smart Coaching, has a series of physical tests (some need accessories not included). In total there are four tests from which we can obtain information: orthostatic test, fitness test, jumping test and RR record.
Orthostatic test
It is aimed at controlling the balance between training and recovery, and is based on the measurement of heart rate and how it varies, as it reflects changes in the autonomous regulation of the cardiovascular system.
The first time the test is performed, six measurements must be made in two weeks to obtain a reference value.
It's easy to do. With the pulse sensor on and sitting down and relaxing, the Polar V800 will ask you to lie down for 3 minutes and then stand up for 3 minutes. The results it will give us are the resting heart rate, standing heart rate and FCmax, which we can then compare with previous results to see how our evolution is.

Fitness test
Polar helps you calculate your resting aerobic fitness, which Polar calls Polar OwnIndex. It ensures that this value is comparable to your maximum oxygen consumption during exercise (VO2max). You can do initial tests to get a baseline measurement, and then month by month as you train, you do the test again to check your progress.
This test is the hardest physical test you'll ever take with the Polar V800. In short, it's all about... lying down. That's right, you simply put on the pulse sensor, lie down and relax. Start the test and wait. Easy, right?
Jump test
In this case we would need an accessory not included, the Polar Bluetooth running sensor (the pedometer).
We have three types of tests that will give information about your explosive strength and anaerobic power. There are three tests to choose from: squat jump, countermove jump and continuous jump. The clock will only show the result of the last test in this menu, but you can access the previous results through the calendar and, of course, through the web service.
RR Registration
The RR record measures the heart rate variability between each beat. To perform the test, simply put on the heart rate sensor and perform the test. The results will indicate the duration of the test, the start time and the end time, along with the minimum, average and maximum heart rate.
Polar Flow
For the time being Polar Flow is a beta application. And as such it is indicated at the top of the page. In some aspects you can tell, because the information it provides is not the most complete. Other manufacturers have more developed products, with more customization and more possibilities. But although other services are more complete, it must be said in your favor that it meets the basics we can demand (and even a little more).
As soon as you enter the web application the first thing you see is the Explore section. We have a map full of routes made by users with their Polar M400 or Polar V800. It can be useful if you search in your area, not only to find the routes of friends, but also to find routes to save as favorites to make, or to try to improve the time to make it.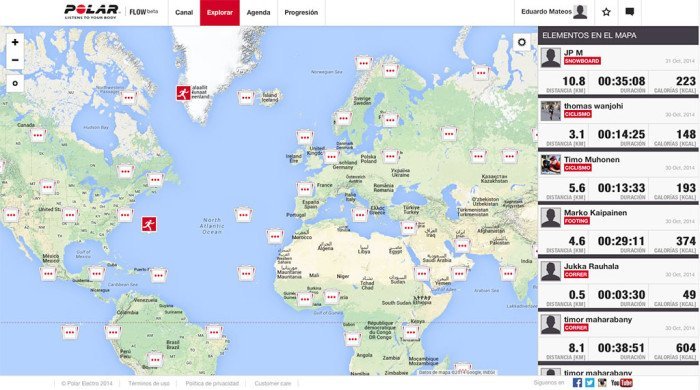 Nuestro «timeline» se encuentra en la sección de Canal. Aquí encontramos todas nuestras actividades de forma cronológica, así como también las de nuestros amigos. Podemos escribir comentarios o pinchar sobre Analizar para entrar dentro de la actividad.
Esta es la información de la actividad que vas a encontrar cuando pinches en Analizar. Un resumen global en la parte de arriba, el mapa de por dónde hemos corrido y las gráficas típicas de ritmo, frecuencia cardíaca y altitud. Desde aquí también es posible descargar tanto la ruta (en archivo GPX) como el entrenamiento (a un archivo TCX), que podrás después cargar en cualquier otra plataforma que soporte este tipo de archivos. Para ello sólo tendrás que pinchar en «Exportar Sesión».
In the previous image you can see the manual lapses (those that we do by tapping the screen of the Polar V800). But if we click on automatic lapses we can see the lapses as we have defined them previously. And if we have not done it, in the option of dividing in lapses you can do it in 0,5km, 1km, 2km or 5km.
Si en la parte superior del entrenamiento pinchas en «Más», no sólo ampliarás la información de la actividad, sino que también tienes acceso a editar algunos detalles, como la duración, la distancia y el deporte. O añadir una «sensación».
Y una opción bastante curiosa y exclusiva de Polar (o al menos, no lo he visto en ningún otro sitio). Se trata de la función «Volver a vivir». Polar nos generará un video con detalles de la ruta, algunas fotos tomadas de Street View y todo amenizado con música. Perfecto para revivir esas jornadas de entrenamientos especiales, o las carreras en las que mejor resultado has obtenido.
Our activities will also be found in Agenda, of course. Here we will have them placed on a monthly calendar with a small summary of each activity, along with the total exercise at the end of the week in time, distance and calories. That little symbol that appears on some of the days are inactivity warnings generated by the monitor. But certainly, represented like this and after time has passed, they do not make much sense.
If we access the recovery status from the agenda, we will have in a graphic way and in the time frame we tell you, how tired we are, and what our evolution has been. Perfect for planning stronger trainings or recovery stages.
And speaking of more graphs, we can also access our total progression, which we will be able to unravel and see what the development of our training has been. In the lower part we can summarize our best figures, in which areas we have worked, what sports we have practiced and how our activities have been developed (Training Benefit). We can spend quite a bit of time analyzing data from here, always with the idea of planning future training better.
From the top menu we can access, by clicking on the name, the profile, general settings, sports profiles and if we have several Polar products compatible with Flow (Polar Loop, Polar V800 or Polar M400 at the moment), we can access them.
This is the favorites tab, where we have stored our favorite routes, or recurring workouts. Remember that if you want to add a new route to explore that you haven't done yet, Polar doesn't allow you to upload a GPX file and then synchronize it to the clock. Let's hope that it doesn't take long to incorporate it into the application, because without this detail the navigation function loses a lot of sense.
Pero como todo en la vida tiene arreglo, aquí te dejo un tutorial para poderlo hacer de forma «no oficial»: Importing routes to Polar V800 from Wikiloc
Polar V800 and its connectivity
The Polar V800 is one of those new products that seek connectivity between multiple devices. Everything is based on the Bluetooth Smart standard (Bluetooth 4.1 in the case of the V800), a low power consumption profile, thanks to which it is possible to connect to the different devices that the Polar V800 supports. Pulse sensor, foot or bike cadence sensor, speed sensor and even pedaling power from the beginning of October. In addition, it is also possible to connect it to mobile phones that use the same Bluetooth Smart standard, although at the moment there is only an application compatible with iPhone phones. Polar announces the availability of the application in Android by the end of 2014.
Thanks to the 1.3 update for the Polar V800 and with the application available at the Google Play Store from December 31st, the Polar M400 is now compatible with Android. They promised it by the end of 2014 and they have fulfilled, by a hair's breadth...
Anyway, with the release of the Polar M400, it is quite likely that right now the Android application is among the priorities, since it seems that the basic swimming functions will be covered by mid-November.
One of the significant features is the possibility of the Polar V800 to re-emit the pulse data to connect to other devices via Bluetooth. This way we could connect the Polar V800 with our heart rate monitor and at the same time have pulse information in the gym machine, in our phone or in a computer on the bike. But this is true in theory, although in reality it does not work as it should. At the moment, the heart rate can only be sent to Polar Beat, nothing else. This is because the Bluetooth 4.1 standard is really new, but no manufacturer supports this part of the standard
This operating feature is due to the operation of the Bluetooth devices themselves. In the case of ANT+ connectivity, the relationship between devices is equal to equal. But in Bluetooth Smart it does not work like this, as the relationship between sensors is master/slave. Therefore, each slave (in this case the frequency sensor) can only have one master (the Polar V800). For this reason in devices that support ANT+ it is possible to have heart rate for example in the watch and in the bike computer coming from one sensor, but at the moment Bluetooth does not work like this.
Y tras un par de actualizaciones, el Polar V800 también se convierte en «smartwatch»,permitiéndote ver en la pantalla del reloj los nuevos mensajes que recibas en tu teléfono.. Polar ha incluido esta posibilidad tras actualización del software, para la recepción de notificaciones, tanto en teléfonos iOS como en Android.
Updates
Since the release of the Polar V800, one of the commitments of the Finns has been to update their product, which has mainly served to eliminate the failures they have identified. So far it has received a total of 6, but the schedule of updates is still pending the most important.
And this is where it has received the most complaints from users; not only because of the lack of some features that were announced from the beginning (mainly pool metrics), but also because Polar has been providing dates when they would launch the update, but which they have not met.
The pool metrics were promised for the end of October, but again it has been postponed to two weeks later, in mid-November, and will be accompanied by an update for the activity monitor, probably covering step and distance information, just like the Polar M400 has.
These are some of the most important updates we are waiting for the Polar V800:
Open water swimming: end of 2014
Creating Navigation Routes from Polar Flow: late 2014
Adding activities manually in Polar Flow: late 2014
Mobile phone notifications on the clock screen: Q1 2015 for iOS, Q2 for Android
Swimming pool metrics: second week of November
Activity monitor, extend information on the clock with steps and distance: second week of November
Expanding the possibilities of training targets in Polar Flow: end of 2014
Android application: end of 2014
Inactivity warnings on the clock: no date scheduled
This is only an approximation, both in specifications and in estimated dates. It is possible that in some updates something is added that is not previously programmed, and that the dates vary. Knowing Polar, these updates will arrive for sure, because once committed they will carry out the development. But as we know them, the deadlines initially set will surely be extended.
As Polar continues to update the V800 I will try to keep this section up to date.
July 2015 update: After releasing version 1.5 for the V800 and updating Polar Flow, taking out the beta version application and allowing to add activities manually, the clock is almost finished, unless you can create navigation routes (which won't take long, as it is something they have to do also for the Polar V650).
Summary
Polar ha conseguido crear un producto muy bueno en el apartado de hardware, pero de momento no tan bueno en el apartado de software. La sensación que me queda después de probar el Polar V800 durante varias semanas es que va camino de llegar a ser un producto redondo. El reloj es muy cómodo y de una calidad de fabricación indiscutible. Unido a una estética diferente a lo habitual en relojes deportivos hace que llevarlo todo el día puesto (aprovechando el monitor de actividad) no sea algo muy extraño, y desde luego no desentonará en entornos sociales «menos deportivos».
The Finns still have work ahead of them, especially with the pool and open water training options; something that had been promised from the start and that after 6-7 months on the market they still haven't incorporated. Likewise, the lack of an Android application affects many users, and the fact that the Polar web application is still in beta mode doesn't help them either.
But there's always a positive reading: Everything is solutionable, and I'm sure that at Polar they are working on the 110% to improve it. The basis, which is more difficult to achieve, they have. A watch loaded with sensors and options that you expect to find in any watch in 2014. I'm sure that when Polar polishes the defects of the V800 in the coming months we will be facing a tough competitor in the market, which Garmin and Suunto look at with respect. With an official price of 399 ? for the version without a pulse sensor and 450 ? for the complete pack, it is already possible to find good offers that reduce this initial price quite a bit.
Did you like the test?
I hope you enjoyed this complete review. It took quite a few hours to put it together. If you liked it and want to help, just comment below what you thought of the test, or ask your questions, as I may have left something along the way. Comment on this post with your friends and share it on your social networks. If you are encouraged by the purchase of the device, you can do it through this link This way it will cost you the same or cheaper than the official price, and I get a small commission that will help with the purchase of new devices for new tests.
Be sure to keep an eye on him too Amazon GermanyThey are often a little cheaper than in Spain.
Buy Polar V800
You can buy the Polar V800 in two colors (blue or black) and two variants (with or without pulse sensor). Below I provide you with a link to some very good offers. Buying through them will help you maintain the website and my work.
In addition, these are the prices you can find on Amazon throughout its European network