The Polar M400 is the maximum bet of the Finnish people to succeed in the market. Presented with a base price of 160 ? (without pulse sensor) it arrives to the market as one of the most interesting options in its segment. It is not only a GPS watch that will help us in our races and training, but it also has an activity monitor for when we are not practicing sport.
Before we start the analysis, I would like to clarify that the test watch is a store-bought unit. Therefore, it is not a demonstration unit with special care from Polar or any special software revision. It is simply the watch that you and I can buy in any store, with the same accessories and presentation.
Remember you can buy it on Amazon through this link and that way you will generate a small commission that will help the development of this page, and that you can see more tests and analysis like this one.
Unpacking
The Polar M400 is a unit without a pulse sensor kit. You can find it in stores in both versions, either just the watch or in a pack with a Polar H7 sensor. The M400 has Bluetooth Smart connectivity, so if you have a sensor with this technology you don't need the pack. But if you come from a Garmin, for example, you will need to buy the sensor because the one brought by Garmin and other manufacturers is ANT+. Also, the Polar M400 does not have 5kHz analog band, so if you have an old Polar heart rate monitor its sensor will not be valid either.
As you can see in the picture, the size of the box is very tight, you'll see that the front specifies its operation with Bluetooth devices.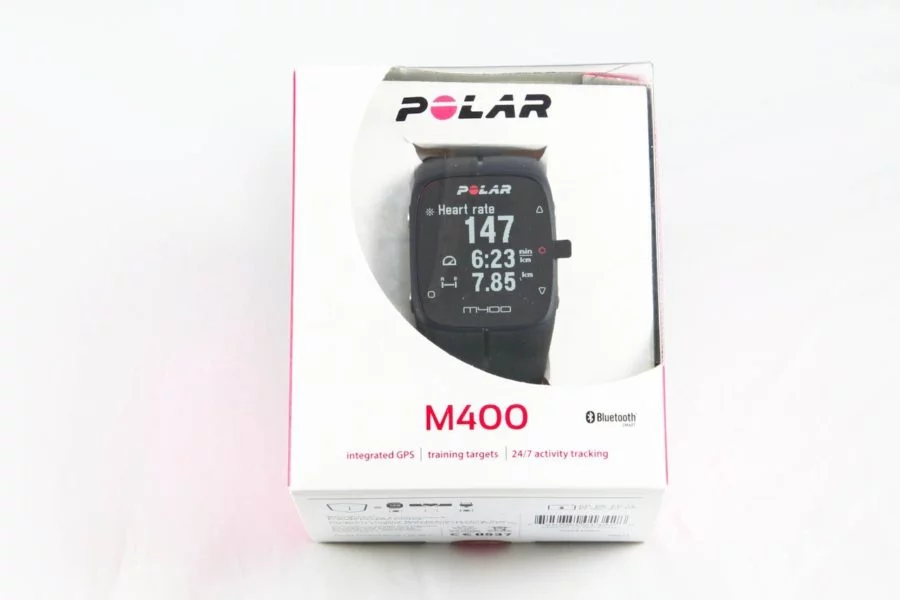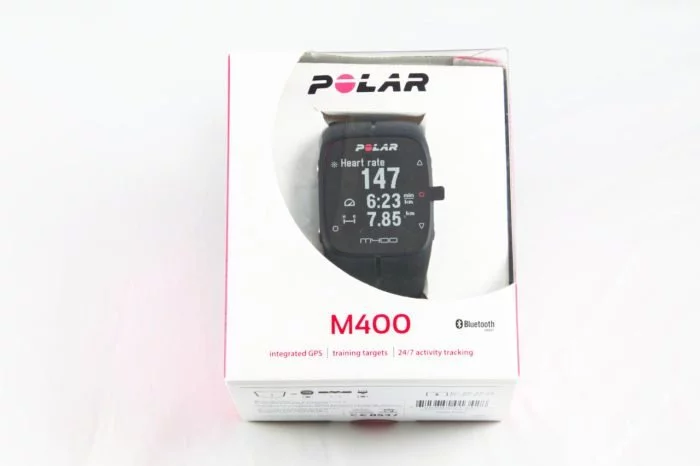 Behind it you can find some information about the watch. We can read that the "M400 is a stylish GPS perfect for urban and mountain runners". Urban yes, but mountain...
Here's what's in the box. Little stuff. The watch, a micro-USB cable for syncing and charging, and a small instruction manual. And when I say small, it's small. But thank God I'm here to do the test so you don't have to read the manual.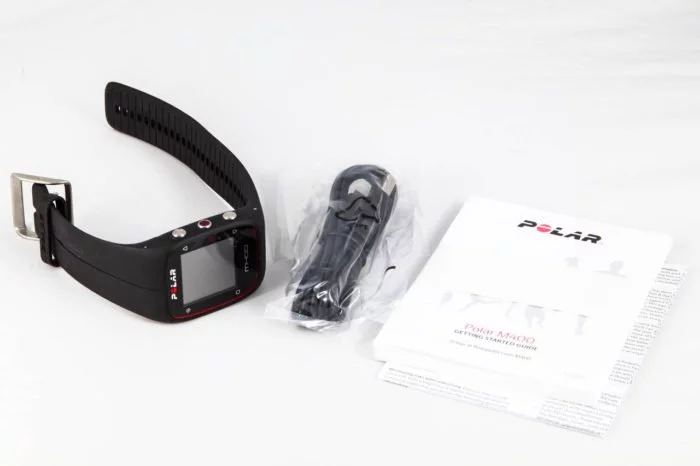 But let's go to the watch. The body of the watch is made of plastic, and its size is quite acceptable. Enough to be able to use it day by day without looking like you have a computer on your wrist. For someone who doesn't know much about the subject, you'll be wearing an ordinary watch. On the left side you have two buttons, the illumination button and the button to exit to the previous menu. But if we keep the button pressed, we'll access other different functions.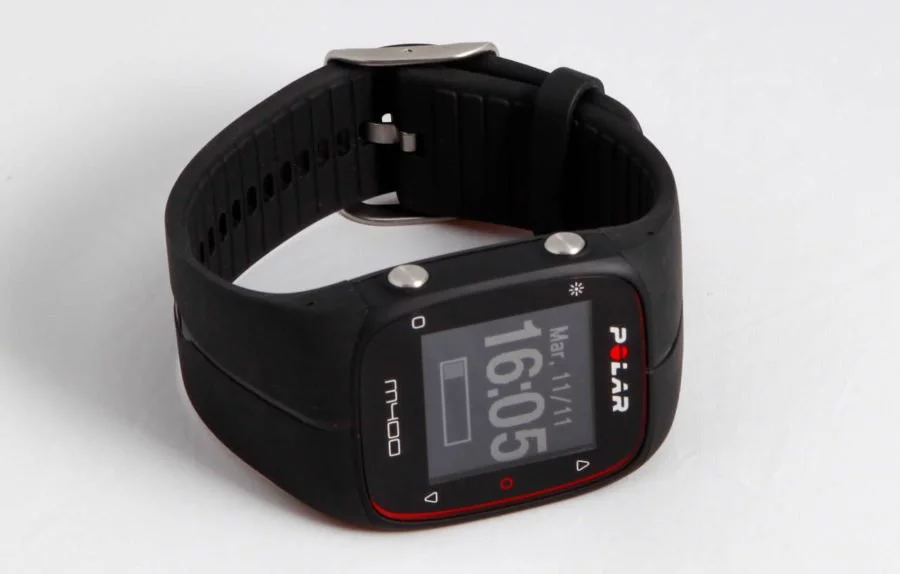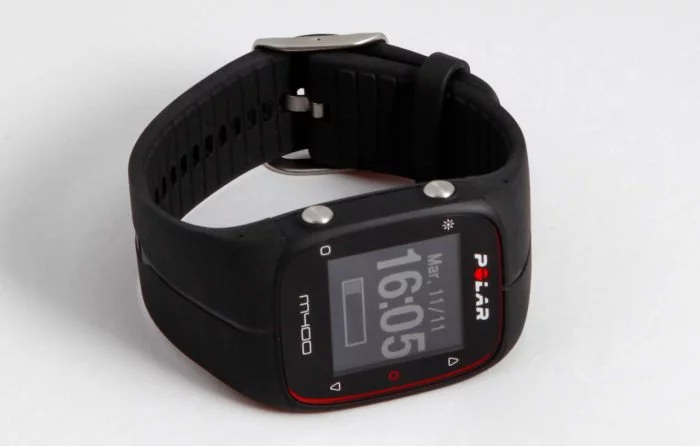 On the opposite side you have two scroll buttons surrounding the main button, which is highlighted in red. This button serves not only to initiate activities, but also to make selections and to mark laps.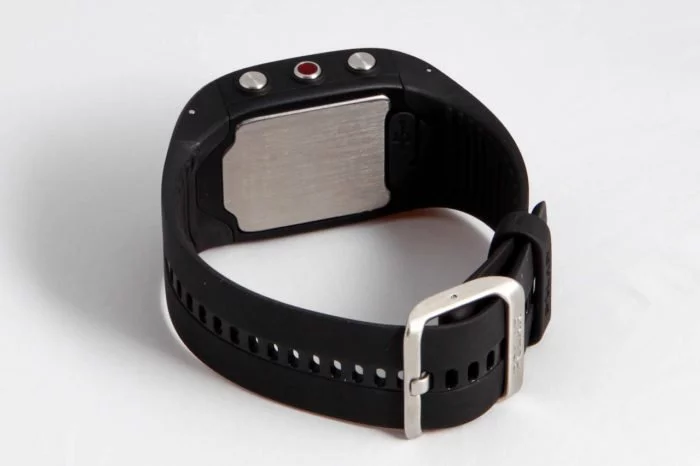 The strap, like the rest of the watch, is made of plastic. The buckle is metallic and has Polar engraving on it.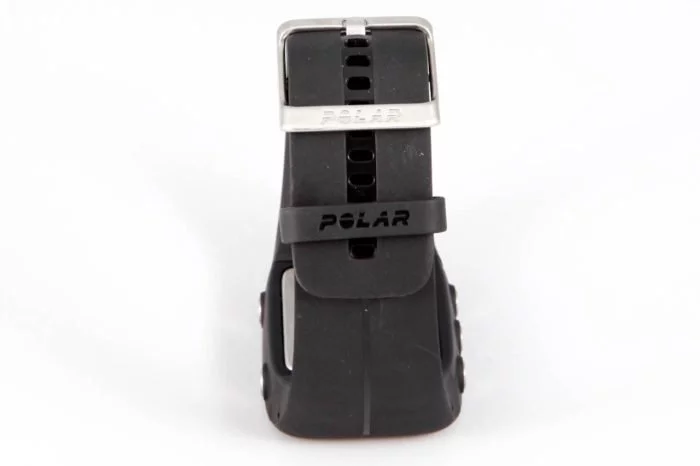 The internal part is where you have the charging and synchronization port. In addition to the cover, Polar ensures that the connector is waterproof. In fact the Polar M400 resists up to 30 meters under water.
UPDATE - Polar has modified the design by removing the cover to allow moisture to escape and rust the connector. It is recommended that after each use you wash the watch under running water (or in the shower) to remove any traces of sweat, and simply leave it to dry.
Career
If you're interested in the M400, it's probably because running is your main sport, and that's what it's clearly designed for. But before you go running, you have to set up your watch, and for that you'll need to get hold of a computer and Polar Flow. There's no way to make advanced settings from the watch, because to keep it simple you can only change a few things about it.
So after downloading the Polar Sync application and connecting the watch, the first thing you'll do is to set it up with your profile data, as well as tell it whether you'll be wearing it on your left or right wrist (important for the activity monitor, so it will know when you're sleeping or standing). Most likely, it will also tell you that there is a firmware update. Take advantage of this time to update it.
Once the initial configuration is completed, the application will redirect you to the web page. The first thing you have to do is to configure your sport profiles, that is, all the sports you are going to practice. A great detail that the Finns have thought of, because not only will it allow you to identify the synchronized activities quickly, but you can also configure the screens of each one of them in a completely independent way. So, if you are going to run you select some screens with the relevant information, which will probably be quite different from when you are going to, for example, ride a bicycle (rhythm or speed).
Polar Flow includes a number of default profiles, which you can modify or delete, or add new ones, and you can click and drag to sort them.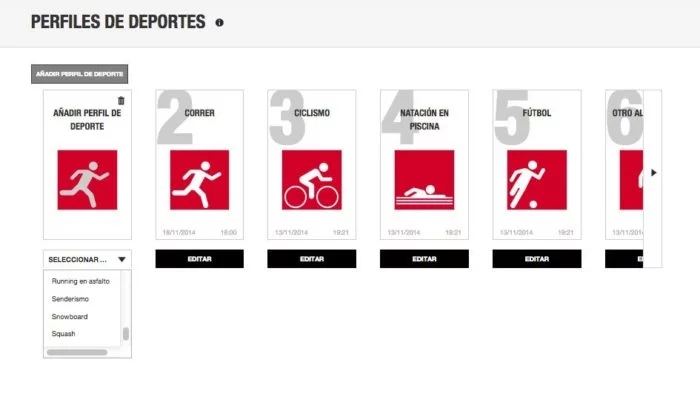 By clicking on edit, you can access all the available configurations although some of them are only supported in its big brother, the Polar V800 (such as GPS recording in UltraTrac mode or altimeter settings, something we won't find on the Polar M400).
In the basic settings you can have it create the lapses by time or distance, or disable it to create them manually. Also, you can set the sounds, but whatever you set will be quite low, and remember that it has no vibration, so if you are not attentive or running in noisy places you will have to be attentive to the warnings.
After that you can access the training views. It is possible to configure many screens with up to four variables. And if you put only two data (or only one) it will gain presence on the screen so it will be easier to see it. These are some of the options you can select
[table id=14 /]
*Cadence data will only be available if you connect the Polar Bluetooth Pedometer, at least until the update that enables the internal clock accelerometer to collect this data.
And this is where you'll make your selection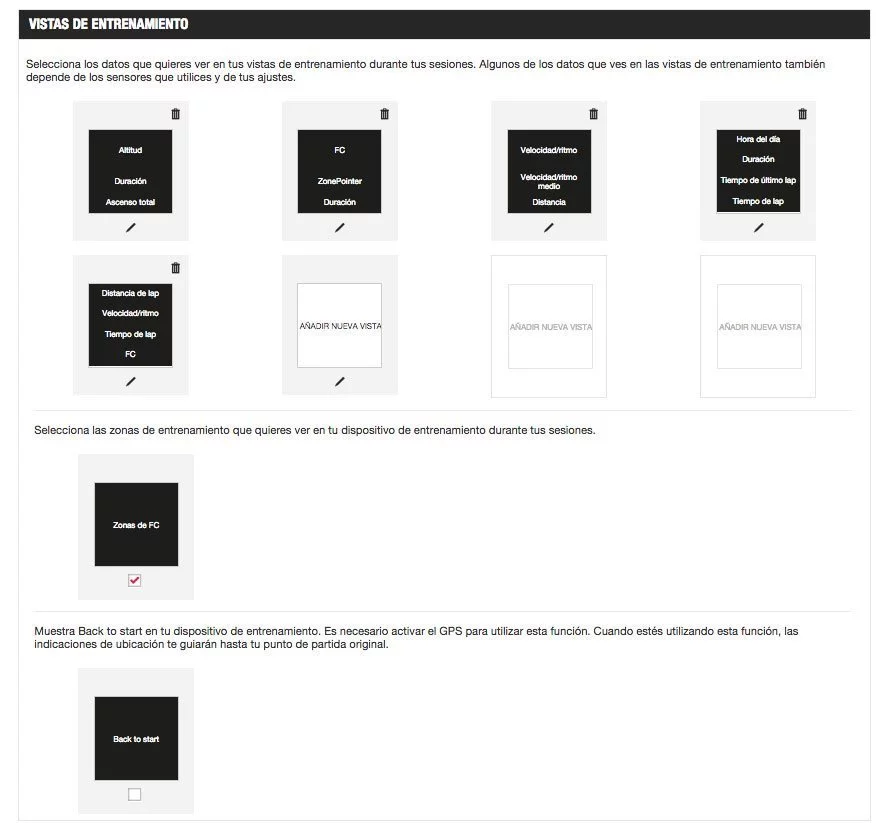 After these brief "maintenance" and tuning tasks, you can go for a run. To start the activity, just press the red button and wait for the watch to search for satellites and pulse sensor. At the moment, the Polar M400 does not support any other type of sensor, such as a pedometer (although Polar has promised to include it in a future update). As far as searching for satellites is concerned, the M400 does not do a pre-cache, so when searching for satellites it must start from previous information. That is, if you go out an hour after your last training session it will find satellites in a few seconds. If you get on a plane and go 10,000km away, it will take considerably longer.
Both are corrected after upgrading the M400 to the version 1.4This version already supports an external pedometer connected via Bluetooth. It can provide you with cadence data. In addition, AssistNow's search technology has been added. Each time the watch is synchronized with the phone or computer, the satellite position database will be renewed, making searches even faster.
So once you have a GPS signal and the heart rate sensor is connected, you can press the red button again to start the activity.
When it comes to training, the GPS is also essential when it comes to calculating your pace, and the speed at which it takes to update the information is also important, because if you start doing intervals and the clock takes a minute to update the pace information, it will be of little use. You can judge this for yourself, but in my opinion the Polar M400 records the change in pace fairly quickly.
With all the possibilities of customization it's easy to find your ideal setting. It can be with screens full of information like this with total distance, pace, lap time or heart rate.
Another screen you can access is the heart zones you have been training in. These zones can be set in Polar Flow to suit yourself, or left in the default setting.
You can also train exclusively on heart rate. One of the lines you can add will tell you which zone you are working in. Perfect for doing interval training manually without prior setup.
The Polar M400 includes a new feature, which is the end time calculator. Think of this feature as something like a Virtual Partner. Simply select the distance you want to run and it will indicate your end time as you run.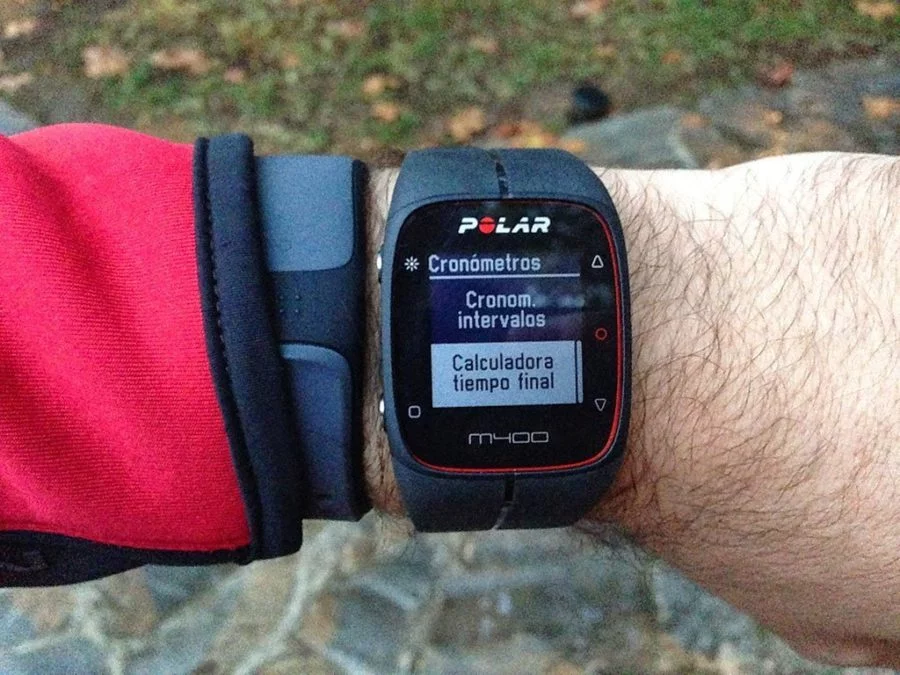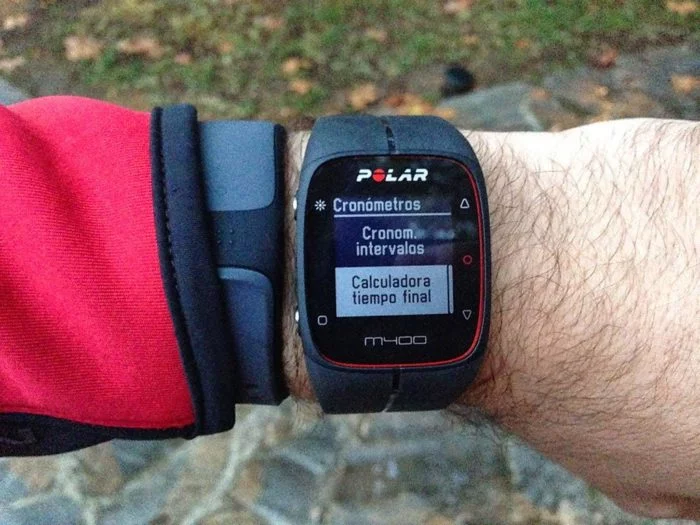 In this case, I have set up a 5km race, so the M400 will tell you how far you are from your goal, the average pace of the race and the estimated time. It is perfect for long distance races where you are wondering what your time will be at the end of the race and if you will drop your best mark. Who hasn't been doing these calculations during a race? You set up the distance you are going to run and you will always know how you are in reference to your goal. It is not that only this screen appears, but it is a screen that is added to the others we have available in the race.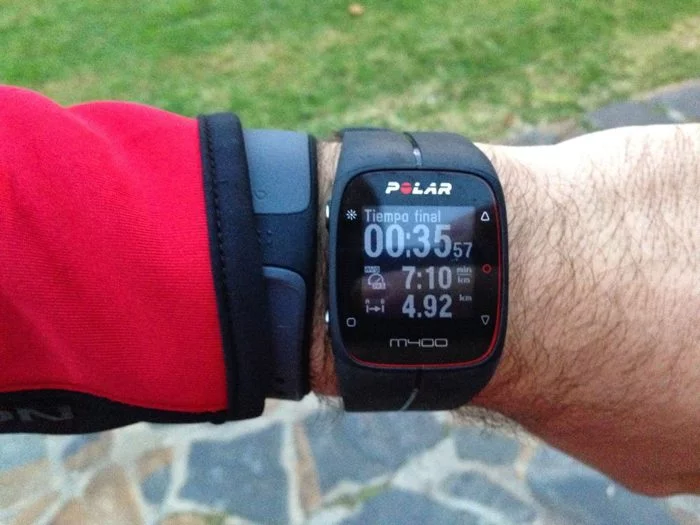 Training objectives
But since it's not all about running wild and without a clear goal, through Polar Flow we can prepare training goals and then synchronize them to the Polar M400. You can access these trainings from the favorites menu.
For example, a fast run of a couple of kilometers.
When we start the activity, the clock will have another screen added to the rest of the profile screens, in this case a circle that will be filled in as we get closer to the objective. We can also set time or calories.
But we can also access a more advanced exercise and prepare an interval training. These intervals will be by heart rate, not by rhythm. I hope that with time Polar will include the rhythm option in Polar Flow, as it is something that the Polar V800 also has an earring.
From the new 1.3 update for the M400, it is now possible to select a pace as a training goal.
In addition, version 1.4 includes a new training feature, the "Training" feature.Zone Lockout". You can find all the information in the link above.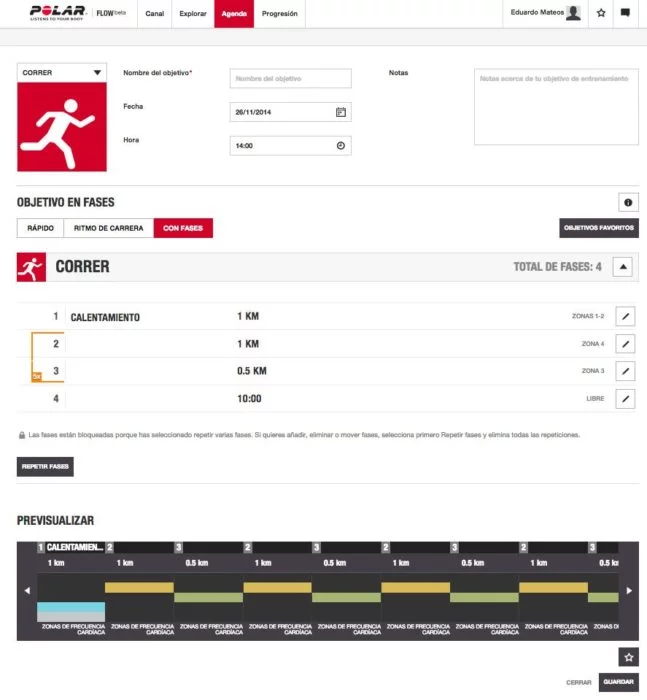 When you get the working range, the clock will show you your pulse and whether you are in the desired zone or not. In this case, I am well below what I have marked as the working zone.
Here it would already be in the desired working area, and it would indicate this to you. In case of being out of the area (both above and below) it would warn us through sound tones.
From the clock we have access to an interval timer, so we can make quick sessions from the clock itself.
You simply select a time for the interval and the clock will notify you when this time has passed. I know that those who train for competitions find this function quite useful.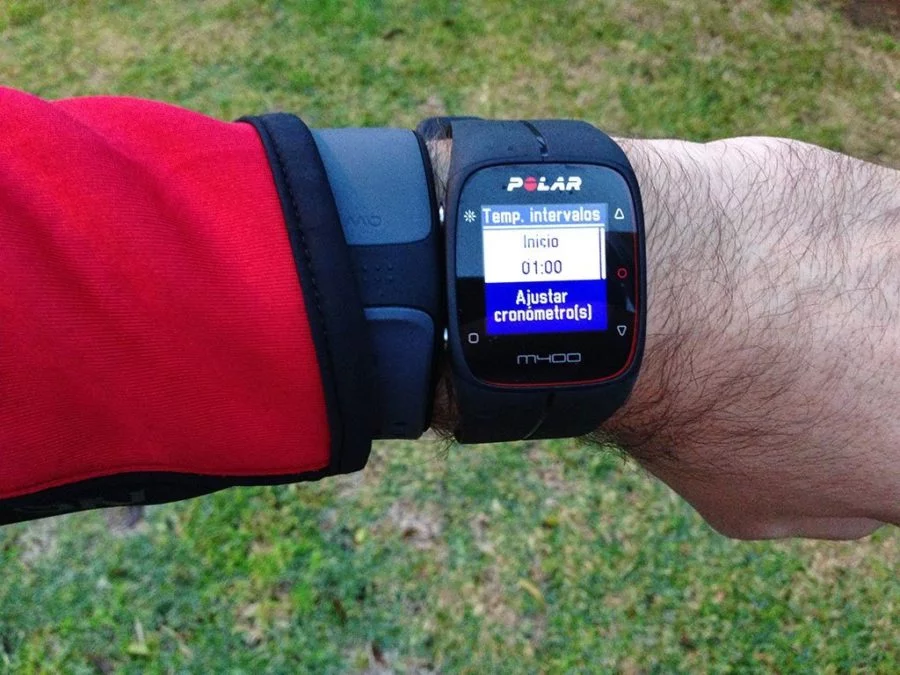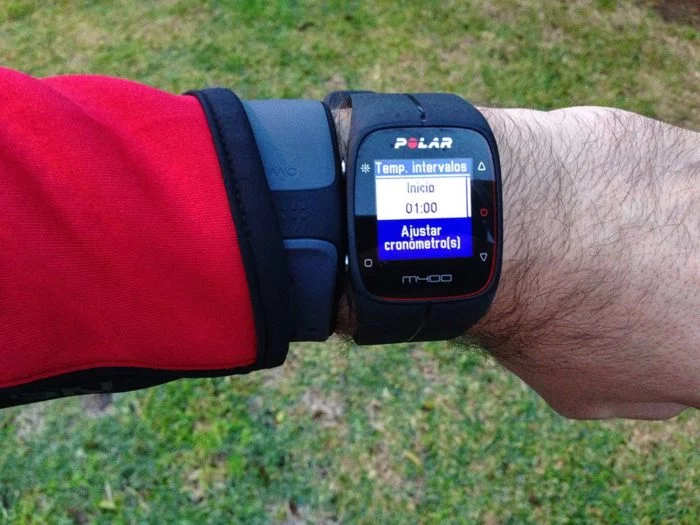 And as with target distance training, a screen is added with a circle that will be completed as the time is passed.
The Polar M400 does not incorporate any kind of navigation function, but it is possible to add a "back to home" screen. You may be training in an unfamiliar place and if at some point you get lost, by holding down the illumination button you can activate the location guidance activation function.
The clock adds a new display next to the others with an arrow that simply indicates the direction to the start point and the distance you are from that point.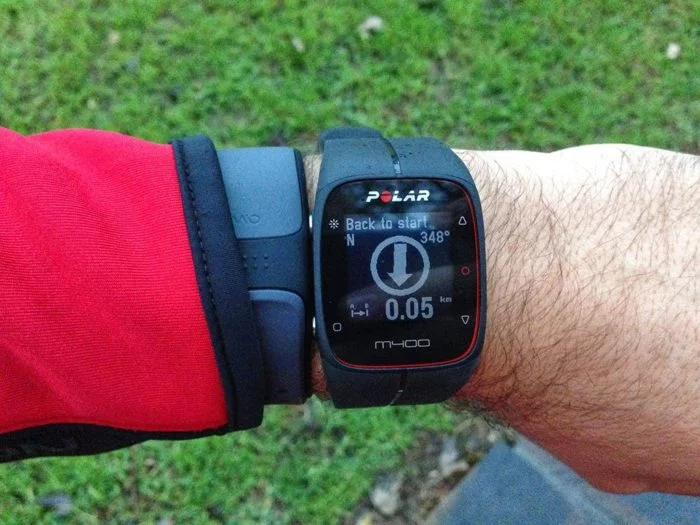 This indication is in a straight line, as it does not record a track that can be followed along roads/streets. That is, you may be 300 metres from the starting point, but with a 100-metre drop to cross. It is a very basic function, not like jumping into the mountains and hoping to rely on them in case you get lost. Although it is not a very advanced function, it is true that it is unique to watches in this range, in short something to thank Polar for having included it in the M400.
Cycling
Among the sports that we can add are cycling, road and mountain, but you must bear in mind that it has no other purpose than to train as if you were running, but mounted on two wheels (or four if you have not yet removed the wheels). The Polar M400 does not have support for any cadence/speed sensor or of course power sensor. If you can connect to the pulse sensor, of course, but that's all you will be able to match.
What is possible is to configure the training information screens completely separate from any other sport, so we can have speed (instead of pace) and add other metrics more appropriate to cycling than running, or leave one screen with only speed and distance to use as a computer, but with a lot of information on the remaining screens that you can always access to consult.
You should keep in mind that the Polar M400 is a watch clearly designed for running, but it can do the trick if you're not a hardcore cyclist.
Other sports
Although the Polar M400 is a watch designed mainly for running, in addition to running and cycling it has support for many other sports. This is useful not only when synchronizing activities or setting up screens, but also the algorithm used for calculating calories is specific to each of them. The calorie consumption values will be more faithful to reality, as it will not treat a spinning session in the same way as a light bike ride. This is why you cannot go crazy adding any sport that is not predefined, so forget about quantifying your pétanque sessions. We can also set up a swimming profile, but unlike the V800Remember that the Polar M400 cannot display the heart rate under water.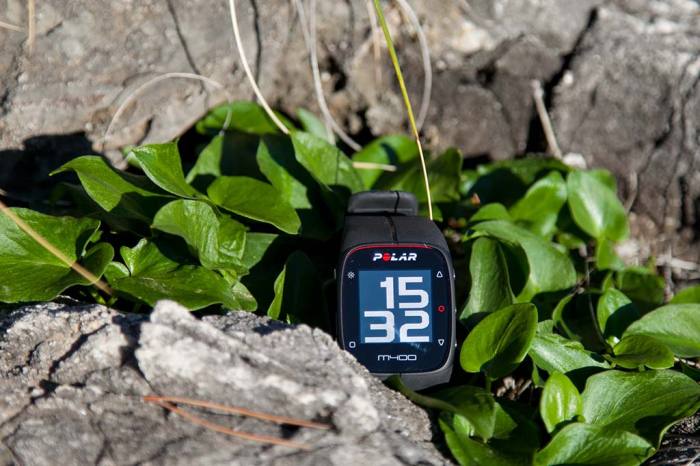 Activity monitor
One of the most important selling points for Polar is the inclusion of a daily activity monitor in the Polar M400. Thanks to this monitor, the watch not only helps you keep track of your training, but will also monitor you during the rest of the day for all those times when you will not be training for elite athletics and are engaged in more mundane activities, such as walking the dog or throwing away the garbage. Like the V800When you are in the Polar Flow application, the Polar M400 counts the daily steps and shows you the approximate distances you have covered on your watch, which is then synchronized with the Polar Flow application.
In the clock, it is possible to control the daily activity directly through the menu. By moving to the first option, we enter this function. It is also possible to select one of the clock screens that includes the activity bar.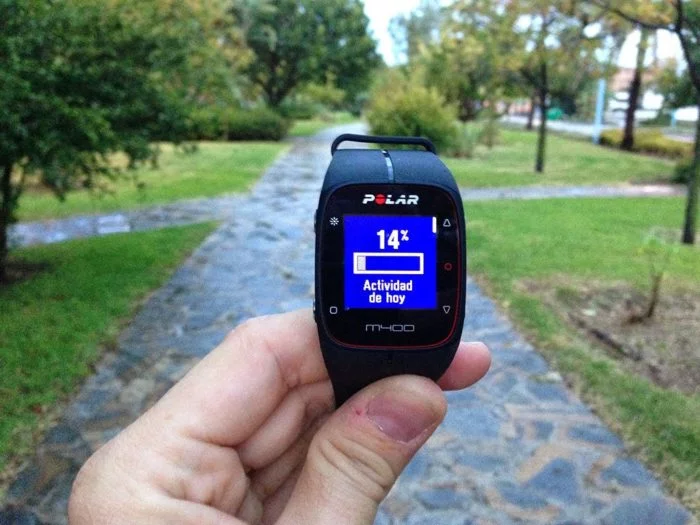 If we enter the menu, the Polar M400 gives us a lot of activity data, for example the total time you have been active, the total calories you have consumed and the steps.
And it tells us what we would have to do to complete the activity goal we have set (and which you have set in Polar Flow in the initial setup). In addition to walking, we can also complete the goal while standing...
Or going out for a run...
In addition, if we remain inactive for a long time, the clock will display an inactivity warning on the screen, reminding us to move from time to time. This inactivity will be recorded in the logs and will also be synchronized with the web application.
By synchronizing the Polar M400 with Polar Flow we will get the daily activity data that we can then access and know how our day has been. The watch has the ability to identify activities, not only training as we obviously activate the use of GPS and the specific mode, it can also identify when I have not had the watch on, when I have moved it to make some consultation while writing this article, when I have gone to sleep, when I was sitting and if the sleep has been deep or not. And the truth is that it marks the times very accurately, as well as the hours of activity.
Unlike other activity monitors, no special mode needs to be activated at any time for the M400 to be able to detect whether we are sitting or sleeping, all activity is taken automatically.
It is also possible to access a monthly summary of activity, to see how we have been active throughout the month.
Smart Coach
After every training session, the Polar M400 provides a range of data to help you understand how your training session went and how it helped you improve, going beyond a simple summary of distance travelled or calories consumed. All this information is taken from your heart rate during training.
The Polar M400 will tell you how hard your training was, and also tell you how it will improve your fitness.
And if you press the center button it will give you some more information about that benefit
Also, it rewards you as you improve your records, indicating that you have set a new personal record (these are from my first training with the Polar M400, so here I had all my records summarized). There is a record record for the longest distance traveled
The highest amount of calories consumed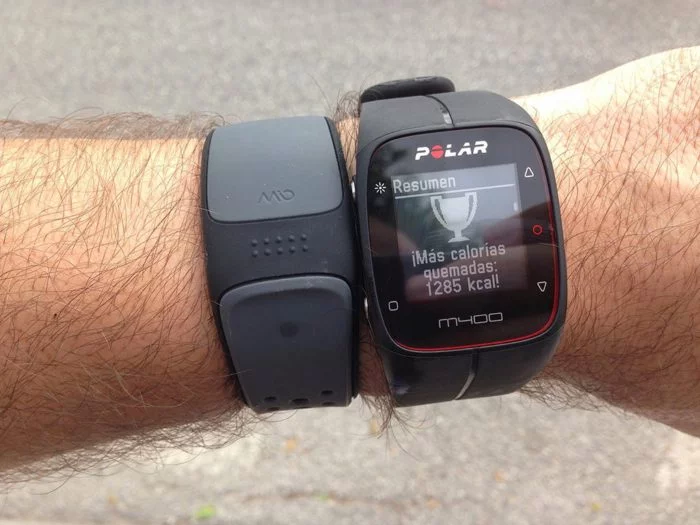 Or the fastest average pace. And all in order to reward you as you train
Of course it also informs you if you have completed your activity level set for the day
One of the most important points that the M400 reports is the Running Index, in which it basically classifies your fitness level with a number, which is also synchronized with each activity and which we can see in Polar Flow. For its calculation, Polar takes into account ascents and descents along with heart rate.
You can also use this data to calculate what your theoretical running times might be.
Another option in smart coaching is to perform a fitness test, which in older meters was called Polar OwnIndex and is basically your aerobic fitness at rest. This value could be comparable to the VO2max of each athlete. It will also be synchronized to Polar Flow so you can keep track as you train. It is very easy to perform, just put on the pulse sensor, lie down and press the button.
Use of the Polar M400 as a diary watch
The Polar M400 covers perfectly the facet of being our daily watch. It is comfortable to wear on your wrist, it is not too big or heavy and it is not excessively sporty. Except for some moments when I have changed the device on my wrist for different tests, I have almost always worn it, either on my left or right wrist. The strap is flexible enough not to be uncomfortable, although this will depend more on the size of your wrist and it is true that the smallest wrists will suffer the most with watches that are not exactly small.
It can be configured with several screens, either including date, with large numbers or showing the activity bar. These screens can be selected from the clock menu itself or if you want to make a quick change you can do so by pressing the scroll up key. These are the screens you can select.
Date and time with seconds and the owner's name (in case you forget your name and have to check it quickly)
Analog dial with date at 3
Big numbers, with hour up and minute down
Time along with the daily activity bar. This bar is an animated image when we move.
As a watch, the Polar M400 allows you to set an alarm. It doesn't have to be a one-time alarm, you can also set a daily or weekly snooze.
We can activate the lighting at any time. It is of good quality and allows us to see the screen even if we are in total darkness. And it also allows us to leave the lighting permanently active while we train, from the advanced options menu which can be accessed by pressing the light button (doing so while we are in activity). This is really useful for those of us who are used to training at night, as we don't have to look for the light button at any time, including the fastest moment of our series, or to ride the bike and not have to let go of the handlebars when we want to see the record speed we are going down, increasing even more the possibility of ending up riding around on the ground.
Polar Flow
Polar Flow is the synchronization application for the M400 (and also for the Polar V800 Registration is mandatory, as it not only allows you to upload all your training data for analysis, but is also key to setting up your Polar M400.
Once you've created an account and entered your details, which you did in the initial setup, this is the screen you arrive at as soon as you log in to the application. Polar calls it "Explore", and it allows you to view workouts by other Polar users around the world and, if you like, particularly in your own area.
The "Channel" tab will show both your and your friends' activities, if you have one added in Polar Flow. From here you can also access any of the activities by clicking on "Analyze", or access a video created by Polar about the activity you have done.
When you enter the activity, this is how it is presented: The basic information at the top with time, distance, average heart rate and calories (in the case of the picture it does not appear because this particular workout is done with a Garmin Fenix 2 watch, but imported into Polar Flow). Below you can find the map of the activity and below it extended details such as the graph with pace, altitude and heart rate, the training zones or the division into laps. By default the automatic laps are shown, but you can also divide the time information into 0.5km, 1km, 2km and 5km laps.
Polar offers the "Relive" feature, which creates a video including details of a particular workout or race, plus some Google Street View shots to add to the fun.
By entering the calendar you will have quick access to all your activities, as well as the activity monitor bar. At the end of each week it gives you a summary of activities with training time, distance travelled or calories consumed during the week.
It is also possible to enter the calendar not only in monthly mode, but also in daily mode, and under the activities, classified by hours, you will also have information about the activity monitor.
These are the activity summaries you can access from Polar Flow.
And you also have a training summary with number of sessions, distance or the breakdown of sports played (in this case, 100% race).
And if we click on Training Benefit it gives us an overview of how we have been training.
By accessing the progression menu you can check how you have progressed as you train. You can categorize the reports by sports or by specific time periods.
If you click on the name you will have access to your profile, with more information about your exercises.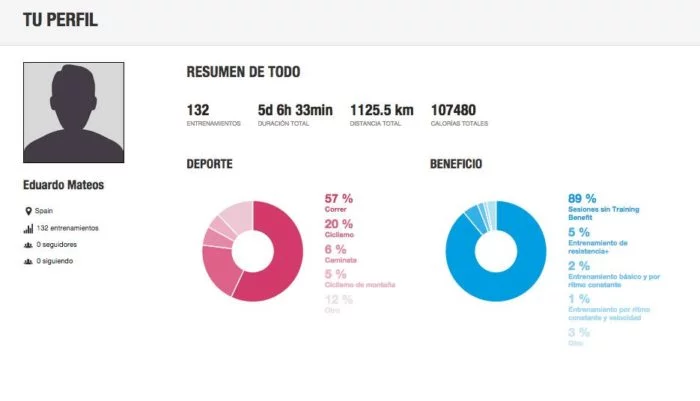 And you can change the settings you have initially configured in your account.
As well as the objective of your daily activity
Details of your profile settings
You can configure if you want others to see your data.
And configure the general settings of the application and the clock in terms of units and date.
Connectivity
Polar has given the M400 a low power Bluetooth Smart connectivity, but it will only connect to a limited number of devices. And these are the pulse sensor on one hand (the Polar H7 or other Bluetooth sensors, such as the Mio Link) and mobile phones on the other. For now only iPhone, Android devices later, as directed by Polar by the end of 2014.
Thanks to the 1.3 update for the Polar M400 and the application available at the Google Play Store from December 31st, the Polar M400 is now compatible with Android. They promised it by the end of 2014 and have come close to delivering...
Therefore, there is no support for connecting external devices such as a pedometer to have pace and distance data when training on a treadmill or indoors, although it is something that is coming in future updates. Added in version 1.4 of the clockWe can't connect speed and cadence sensors for the bike either, and of course since we don't have 5kHz connectivity we won't have pulse information when we swim either.
The Polar iOS application allows not only to synchronize the Polar M400 (it is also the same application used in the Polar V800 and in Polar Loop) but will show us the synchronized training as well as the summary of daily activity.
Android and other platform users can synchronize the clock the traditional way and it's very easy. Simply by connecting the micro USB sync cable and using the Polar FlowSync application we can have all the workouts uploaded to Polar Flow in a few seconds.
Polar also supports third party applications, although not automatically. We can synchronize our training with other platforms such as Strava or Endomondo, but you have to do it manually in each activity by exporting the GPX or TCX file. Although you can always use applications such as SyncMyTracks to do the synchronization automatically.
In addition, as of October 2015, Polar has also included the update for receiving notifications on both iOS and Android phones. It therefore joins the "smartwatch" fever, allowing you to see on the watch screen the new messages you receive on your phone.
Summary
The M400 is a winning horse for Polar. The marketing department has been very clear about where its target audience was and has been able to develop a product that is totally focused on them. With a price range designed for the mid-range it offers features that we only see in products intended for higher ranges. In addition, the inclusion of a daily activity monitor is a very important decision factor.
Of course not everything is perfect, and I have found things that I liked less or features that I directly did not find. For me the most important absence is the lack of vibration, especially because the audible warnings do not meet the minimum requirement. If we look at its direct competitors, the TomTom Runner and the Garmin Forerunner 220, both have vibrating warnings and I really do not understand why Polar has not included it in the M400.
The lack of an Android application (at the moment, expected by the end of 2014) is something that may also bother some people, but I don't consider it a key factor in deciding between one model or another. Application now available from 31 December 2014.
There are other particularities such as not being able to select training targets by pace With the December 30th update of Polar Flow, paced training has also arrived at the Polar M400 or not having external pedometer support which can be a bit of a problem for some, but I think these two points are not something that you can overestimate your target audience, and who knows if we might end up seeing it in some software update later on.
But taking into account again the price at which it is officially sold: 160 ? for the watch without a pulse sensor and 200 ? in a pack with the Polar H7 (which you can find cheaper in the links I leave you now), it can become the watch that I recommend the most within its price range in the short or medium term.
Did you like the test?
I hope you enjoyed this comprehensive review. It took quite a few hours to put it together. If you liked it and want to help, simply comment below on what you thought of the test, or ask your questions, as I may have left something along the way. I won't have any problems and will come by to answer you. Discuss this test with your friends and share it on your social networks. If you are encouraged by the purchase of the device, you can do it through this link This way you save, and I get back a small commission that will help with the purchase of new devices for the following tests.
Buy Polar M400
You can buy the Polar M400 in four colors (white, black, blue or pink) and two variants (with or without pulse sensor). Below I provide you with a link to some very good offers. Buying through them will help you maintain the website and my work.
In addition, these are the prices you can find at Amazon in all its European network. First the versions without pulse sensor. If you click on the links you will see the prices of the different colors that are available.
https://www.amazon.es/dp/B00NPZ7WNU&tag=c1mes-21
Then in kit with the Polar H7 sensor.
https://www.amazon.es/dp/B00OBZKT2E&tag=c1mes-21
And with that... thanks for reading!