The Polar Pacer Pro is the creation of a new range that, in a sense, puts a nail in the coffin of the Polar Vantage M2 (which it does not replace, it is still on sale). Both have the same price but the Pacer Pro adds features specific to higher-end models such as the Grit X or V2: barometric altimeter, power estimation during the race, Hill Splitter, navigation...
With the Pacer Pro Polar it is not launching a revolutionary watch, in fact it is not bringing anything new to the range. But it is bringing many features specific to more expensive models to a mid-range watch. But bringing nothing new in terms of software doesn't mean it's the same old same old. There is a new processor, more memory, new display, changes in the GPS antenna... Internally it is a step forward compared to the predecessor models. 
As for the model name, it is not a trivial choice. The Polar Pacer already existed in the Finnish brand's range in the early 1990s. Its star feature was poder connected with a chest sensor wirelessly, and it had other advances such as a two-line display, upper and lower heart rate display and exercise time. The new model is a "small" leap in the range and in the possibilities it offers.
As I always like to remember, the tests and analyses you see on the site are done without any kind of compensation or pressure from the brands, which gives me a feeling of satisfaction. absolute freedom to tell you everything good and bad of each device. So if you like the content you find here you can help support the page by buying your new Polar Pacer Pro (or anything else...) through the links you find on this page. That way I will receive a small commission which is what supports the page and the many hours needed to perform all these tests.
And once that's cleared up, let's go into all the details of the new model. If you prefer it in video and in quick format, here are the top 10 things you need to know about the Polar Pacer Pro and, once we get into it, you can read the full review after the jump.
POLAR PACER PRO
Overall operation - 8.5
Training possibilities - 8
Platform and applications - 9
Autonomy - 9
Finish and comfort - 8.5
Price/performance ratio - 9.5
8.8
TOTAL
It may seem that there are no changes, but in this Polar Pacer Pro there is a lot to scratch. There are no specific new features for Polar, but it is a very interesting offer within its range and at a price that practically rules out all other models of the brand.
---
The good
Competitive pricing
Faster processor
Very light
Good battery life
The bad
No specific news (only Walking Test)
Never mind TrainingPeaks workouts
There are only vibration warnings, no audible warnings.
Features Polar Pacer Pro
Buy and verify price
Polar Pacer Pro
The Polar Pacer Pro is not a renewal of the Polar family, nor is it a new product. It is about creating a competitive product at an interesting price point, and I can attest that this is what Polar has achieved. If you already know the Polar range you will feel totally familiar with this new model because, as far as the software is concerned, you will hardly find any specific new features.
Yes there are inside the watch: the processor is new and faster, there is more memory, changes in the optical pulse sensor and GPS antenna, the screen is also new and with higher contrast. It involves an interior renovation and the creation of a practically new base.
Let's go with a list of specs and what's new, which is the quickest way for you to see what all it brings to the table.
New hardware platform with a processor twice as fast
New Polar Precision Prime flat, thinner, electrodeless optical pulse sensor
Redesigned GPS antenna
New higher-contrast display with Gorilla Glass 3 lens
45mm circumference (1mm and 2mm smaller than Vantage M2 and Vantage V2 respectively)
11.5mm thick (1mm and 1.5mm thinner than Vantage M2 and Vantage V2 respectively)
41 grams of weight (4.5 grams and 11 grams lighter than Vantage M2 and Vantage V2 respectively)
Aluminum bezel
Barometric altimeter
Running power
Turn-by-turn route navigation with Komoot and return-to-start function
Includes FuelWise with reminders for hydration and nutrition
With Energy Sources to indicate energy sources in proteins/carbohydrates/fats
With Hill Splitter, for automatic separation of ascents and descents during training sessions
Training Load Pro, Nightly Recharge, FitSpart, Serene... all the load and rest tracking features of Polar.
Running Test, Cycling Test and a new Walking Test
Transmission of heart rate to other devices via Bluetooth
Smart watch functions (notifications, music control, weather forecast)
35 hours of autonomy, up to 100 hours with energy savings
7 days in clock mode
New charging cable (since the electrodes of the pulse sensor have disappeared)
Specific strap design, but SHIFT adapter included for poder use any standard 20mm strap
Withstands immersion in water up to 50m deep (30m in Vantage M2)
It costs 299€.
Available in black, red-white, burgundy, blue, and green
As I indicated at the beginning right now there is not much room left for the Polar Vantage M2 in the Polar range. There is nothing that the M2 has that the Pacer Pro doesn't, and yet the Pacer Pro does have barometric altimeter, running power estimation, route navigation, performance test, Hill Splitter, smaller size and weight, and even longer range.
The Polar Pacer Pro has almost all the features of the brand's top-of-the-line models like Vantage V2 and Grit X Pro (and which are quite a bit more expensive). What doesn't it have? Well, a few things that probably won't be important to many of you:
Leg Test not available (the test that measures recovery by height of jumps)
No Recovery Pro
No touch screen
No tone alerts, vibration only
50m of immersion resistance, instead of 100m
Gorilla Glass lens (sapphire on Grit X Pro)
No ambient light sensor (Vantage V2 does)
No MIL-STD-810G certification
35 hours of GPS autonomy instead of 40 hours for Vantage V2 / Grit X Pro
Smaller, thinner, and lighter than either of the other two
So in terms of functions and technical specifications, it is virtually identical to the more expensive models (which cost €200 more).
Polar Pacer Pro, a quick overview
If you already have a Polar watch, you can skip this section and move on to the next one, because the Pacer Pro hardly offers any differences with respect to previous models (although there are some).
Control of the watch is via the buttons, in the classic Polar layout for a few years now. In this case Polar has discarded the use of the touch screen and, honestly, I do not miss it. The truth is that in other models of the brand I do not make use of it either.
There are a total of five buttons of generous size and good feel. It is perfectly noticeable when they have been clicked and have a good relief to not fail to press them even with gloves or wet hands. There are two on the left side and three on the right, with the main button highlighted in "Polar red".
The scrolling through the clock is the usual one of the brand. We have different "desktops" (which Polar calls "Views") with different information in each of them. There is the possibility of activating or deactivating each of these views in case any of them does not interest us, that does not enter in the rotation.
We can scroll through each of these screens by pressing the upper or lower right button and podremos see the basic activity data, recovery, FC or other functions such as Fit Spark, Nightly Recharge or time, among others.
If we press the main button we will enter the data of each of these sections. For example Nightly Recharge, to see how our nightly rest has been (one of the things I like most about Polar, the clarity with this data).
When scrolling through all these screens we are already going to notice differences with previous models thanks to the more powerful processor and increased memory. It is not a brutal change, but it is noticeable because everything is a little more agile when entering and exiting the different menus (in the video podréis see it better).
Where there is not much choice is in the watch face. We can choose between digital or analog, and within these another 5 designs for each of the options. Enough for some, short for those who want something fully customizable.
The display is also a small incremental change from previous Polar models. The resolution is the same and it is still a transflective display, but it is a bit brighter and with more color than previous models.
I have the impression that the display illumination is also somewhat clearer. I insist, it is not something that stands out enormously, but comparing one watch next to another can be appreciated.
On the back of the watch we have a design change for the Polar Precision Prime sensor. Much thinner than its predecessors and no longer protrudes from the watch case. In addition, it has lost the electrodes that had two specific functions: to ensure that the watch is in contact with the skin and to serve as charging pins.
That change entails a change in the charging cable. The pins are below the optical sensor, but Polar still uses an easy to attach magnetic contact charger. I find it somewhat more comfortable than the previous one as it is more difficult for it to move out of place.
The strap design is similar to that of the Vantage V2, in the sense that it starts from the case of the watch itself. However, the Pacer Pro includes the SHIFT adapter, which allows us to replace the strap with any other traditional 20mm wide strap. 
Changing the strap to the adapter is not entirely intuitive, but with a little skill it can be done quickly and without too much effort.
There are changes regarding notifications and at last Polar has listened to many of its users and the watch allows to show them also when we are training.
Until now Polar defended that it didn't want to interrupt our workouts with notifications. Which is fine with me... but the right thing to do is to let the user choose what they want to do, so a new option has been added in the menu that allows us to have notifications on or off during training (just like during the day to day).
Where there are no changes is in the way notifications are displayed on a day-to-day basis, the watch still waits for us to turn our wrist to display it on the screen instead of directly. 
I understand that this is done for privacy, but as before I would prefer this to be a choice that can be made by the user themselves. Although the wrist-roll detection is somewhat better on the Pacer Pro than on past models (probably thanks to the faster processor), it is still not 100% reliable. Why not also have the option of displaying them directly on screen without having to wait to lift the wrist?
These notifications (and any other alerts) will be announced by the vibration of the watch. And is that the Polar Pacer Pro does not include sound tones. It is one of the "limitations" with respect to superior models, although once accustomed to the absence of tones is something you can live with.
Sport features of the Polar Pacer Pro
The Polar Pacer Pro is advertised as an advanced running watch. The reality is that it is that, but also much more. Like the other models in the Polar range it has multisport profiles, swimming, etc, which makes it a great choice as a triathlon watch. In fact I find it a more interesting choice in its triathlon facet than as a running-only watch.
There is no change in terms of the management of sport profiles or those included in the Pacer Pro, all the management can be done from the mobile app or from the Polar Flow website. There are dozens from which you can choose, which will come with a default screen configuration but that podrás change and configure as you prefer.
As you can see you have different options that you can enable or disable in each of the sport profiles, along with some of the "star" features of the Polar range. 
For example Hill Splitterwhich is not present on the Vantage M2 (because it does not have a barometric altimeter). It is a function that automatically detects when you are climbing or descending a slope, switching to a specific screen with relevant information for that situation.
Here are the data that appears on the screen:
Distance we've been going up or down. That is, the distance that has "that lap" until that moment.
Total of meters we have been ascending on this climb. If it were a descent what we were doing, it would indicate the meters we were descending.
Instant pace.
The number of ups and downs we have been through. In the picture it indicates that we are on our first climb.
In addition to switching screens, it will record all these "chunks" of the training separately.
Depending on the profile you are using, it will understand that we are climbing a hill when we have climbed 5/10/15 meters at a certain distance. Logically it is not the same for all sports:
5 meters: Running, walking or other sports on foot
10 meters: Cycling and cross-country skiing
15 meters: Downhill profiles
It is an automatic function that does not require a route to be loaded. In that sense it is different from the Climb Pro function of Garmin in which it tells us how much gradient we have ahead of us in the climb. Polar does offer the option of displaying the route profile when we are navigating, but it does not go into detail about the slope of each one of them. 
Then we have FuelWiseThe Polar is a function that is more standardized in the Polar range and available in mid-range and high-end models. It is divided into two functions, power supply during training and energy source information at the end of the activity.
The first of these is a hydration and nutrition assistant. It allows you to set up alerts with a reminder to drink and eat. They can be manual (for example a reminder every 20 minutes), but the interesting part are the automatic alerts in which the watch itself, depending on how our training is going, will tell us when we should eat.
This configuration must be prepared before starting through the Power menu by defining three values:
Workout duration
Intensity, depending on the heart rate zone (Z1 to Z5)
Carbohydrates per serving, which should be obtained from the composition of the gel or bar that you use in your workouts.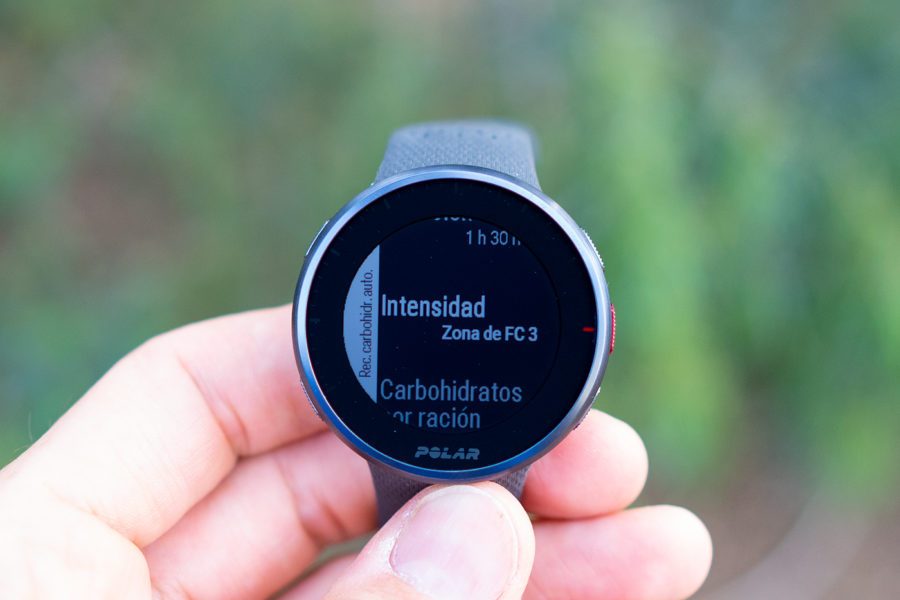 After indicating these three values and putting it together with the data it knows about your physical condition and training history, it will indicate the total number of carbohydrates that we will have to consume and how many times we are going to be eating.
What if your training is longer or more intense than expected? FuelWise will modify the number of reminders and frequency to adapt to your actual energy consumption.
And after completing the workout, the watch will show which energy sources have been used, depending on the intensity of the workout, which will be separated into carbohydrates, proteins and fats.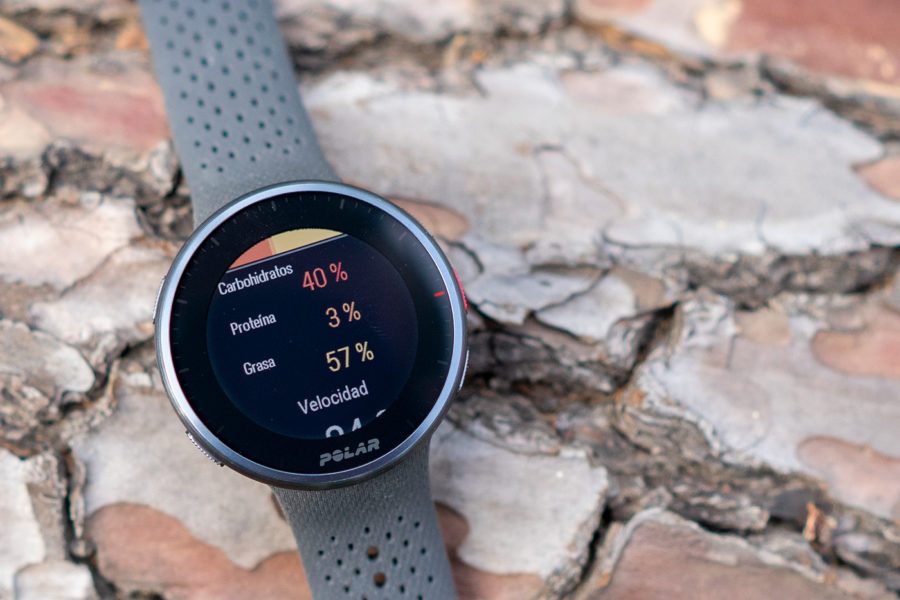 Then there are the basic functions of Polar that are part of its entire ecosystem:
Training Load ProCumulative measurement of training load over time.
Sleep Plus Stages: Analysis of sleep phases and trend.
Nightly Recharge: Recovery tracking through sleep data. It's incompatible with Recovery Pro, we have to choose one or the other.
Fitspark: Based on the load and recovery data indicated above, provide suggestions for strength, cardio or supplemental training.
Also thanks to the barometric altimeter we have power estimation in race, which arrived with the Vantage V and has remained unchanged since then. To obtain this data we do not need any additional sensor since it is the watch itself that makes the calculations based on the data entered when configuring the watch, the race pace and whether we are going up or down a slope.
I don't want to dwell too much on this topic in the review of the Polar Pacer Pro, but if you don't know details of the running power I recommend you check out the complete guide to running with power that I have published on the web, if you are new to this concept it will help you understand how it works and what you can get with that data in your training.
Taking advantage of the fact that I just talked about sensors, the Polar Pacer Pro allows you to connect to multiple external sensors but exclusively via Bluetooth (i.e. no ANT+ support). These are the types of sensors supported:
Heart rate
Running footpods
Native support for Stryd
Cycling potentiometers
Cycling speed and/or cadence
In terms of interval training, the Polar Pacer Pro supports advanced training. Both the ones we create and the possibility to plan a program for the most common distances (5K, 10K, half marathon and marathon). Or plan a complete season.
Once created and synchronized to the watch, which we can do for a specific date on the calendar, the Polar Pacer Pro will guide you through the different intervals that we have created depending on the objectives (pace, heart rate or power).
With this we have all the elementary functions of interval training, however my main complaint is the absence of downloading workouts from TrainingPeaks, which is the platform most used by trainers and where the vast majority will have the programming of the season.
And it's not just the absence of the feature, it's that as of today Polar is the only manufacturer that doesn't support it. Garmin, Wahoo, COROS and recently Suunto have also added this option, each in one way or another. Polar however still does not support this option which for many may be a significant barrier to entry. 
What there is is the possibility of exporting the training session, once done, to TrainingPeaks. And of course to Strava as well. 
Polar Pacer Pro Performance Tests
The Polar Pacer Pro features the new Walking Testwhich is in addition to the Running Test and Cycling Test that were previously present in Polar's high-end watches (and which it's great to see Polar incorporating into less expensive models). 
The Walking Test is a test to estimate VO2Max that is more accessible than the Running Test and is designed for those who are not able to run for 30 or 40 minutes at a time.
It is a guided test in which the watch will ask you to walk (never run) in a certain heart rate range.
Initially we have a warm-up in which the watch will ask us to raise the heart rate to more than 119 beats per minute. This is a major challenge for me, because I find it almost impossible to go above 119ppm without running.
After this initial warm-up you will have to speed up your heart rate and "simply" stay above 121 beats per minute for 10 minutes. If you are a person who trains regularly I am sure you will find this test difficult to perform (which is what happened to me), because these heart rates are those that correspond to running at a gentle pace, but not walking.
But don't worry, there are more ways to get the VO2Max estimate and, as you presume to have a good running performance, the Running Test is a guided test that will ask you to give your best. It will allow us to obtain the following data:
VO2max: VO2max estimation, the maximum oxygen consumption that can be processed by the organism. The higher the data will indicate that we can offer better performance.
Maximum heart rate: if it is lower than the one we have previously entered in the app we will be able to adjust it, if it is higher it will be updated with the new data.
Maximum Aerobic Speed (MAS): The rate at which we reach the maximum oxygen consumption. It is the minimum intensity at which the body reaches its maximum capacity to consume oxygen (where we would be consuming what is indicated in VO2max). We won't be able to endure this pace for too long.
Maximum Aerobic Power (MAP): Same as MAS but using watts instead of pace.
They will serve to establish training zones by both pace and power. And of course it will also allow us to track our progress directly from the Test Hub option of Polar Flow as we move forward in the preparation of our season.
As for the Cycling TestThis is simply a classic FTP test. It is not a guided activity and we will simply have to maintain the highest possible power for 20, 30, 40 or 60 minutes, depending on the test you select (and how long you feel like suffering).
Obviously to perform this test you need to have a potentiometer on your bike, as without it you will not podhen get the data. After completing the test you will have your maximum FTP in watts and w/kg, along with an estimate of cycling VO2Max. 
Of the tests available on the higher models of Polar, the Leg Recovery Test (to measure recovery over three jumps), the orthostatic test to monitor pulse variability and Recovery Pro, which is an addition to the orthostatic test, are missing.
Will you miss these tests that are not present in Pacer Pro? I think for the vast majority they are functions that they were not going to use too often.
GPS and optical HR sensor performance
The Polar Pacer Pro debuts an optical pulse sensor that is slightly updated from the ones we have in Grit X Pro and Vantage V2. Narrower and without the electrodes. But the rest of the sensor is the same as found in previous models.
The GPS comparisons are made in the same way: with the watches accompanying me in my usual workouts. Wearing both the Polar Pacer Pro and other models, and checking where the problems appear.
I do not have any defined path to establish a score for the simple reason that there are other external factors that we should never forget. Things like clouds, leaves on the trees or simply the position of the satellite can alter the GPS results from one day to the next.
This is why I prefer to make this type of comparison instead of having a predefined route and assess it from this one.
As for the optical sensor, you should keep in mind that a wrist heart rate monitor does not work the same way on every body. We are all different, and if we add into the equation things like skin tone, tattoos, body hair... the difference from person to person can be quite large.
In my tests it is not that the spectrum of users is very broad: it is me, myself and I. So what works well for me might not do it for someone else, or it might be better.
But the most important thing to keep in mind is that you have to follow some guidelines to wear the sensor. It should be tight (but not cut off your circulation), enough to keep the watch from moving freely on your wrist, leaving a separation of approximately one finger from the wrist bone. By following these details you will ensure that you get the best results that your conditions can offer.
After the "disclaimer" that I do in all my reviews, let's go to the tests themselves. I will try to be brief and concise because this section is always a bit tedious both for you to read it and for me to write it. 
In this case I will take the opportunity to do the joint test with the Garmin Fenix 7X, so I can take advantage of both optical pulse sensor and GPS graphs for both analyses. A matter of being efficient at work.
I always like to start comparisons with an easy pace workout, because it lays a foundation for what 1TP11We can expect from the sensor. Smooth and steady pace, any optical sensor has to be able to register that perfectly.
I've made several marks on the graph, so let's take it one at a time. This is a run workout after the bike, so I'm already going out with a high heart rate and dilated blood vessels. Despite that both the Fenix 7X and the Pacer Pro have an incorrect start, especially on the part of the Polar. But hey, that's relatively common and not something that worries me, as all pulse sensors (even chest sensors) need some time to work properly. And here we are talking about the first minute of training, which is usually to warm up.
At around the 8 minute mark there is a sudden stop (brief entrance to a restroom). Both the Fenix 7X and Polar H10 record the downhill and uphill correctly, but there is something confusing about the Pacer Pro. However when running again everything works perfectly.
Later it is the chest pulse sensor that suffers, with erratic behavior between the 25th and 30th minute. From that moment on, three graphs completely parallel to each other, even when I stop to drink water from a fountain on the hour. Here the Pacer Pro does not make a mistake and behaves just as well as the other sensors. 
From here to the end, just two small spikes out of place, first from the Pacer Pro and then from the Polar H10 sensor, but without much to highlight.
Below is the GPS track of this training.

This is the initial point where I enter the bathroom. Curious about how each one behaves when it runs out of satellite reception. The Pacer Pro is the one that does the weirdest things and changes location to one a little farther away. The FR745 comes out a little dizzy until it gets back to the right direction and the Fenix 7X remains virtually unchanged.
Note, this does not mean anything and is merely circumstantial. Possibly if another day I do the same test the result will be totally different, but it is good as a sample of how they behave in the loss of signal.
Further on I start to enter more complicated areas. Here I am running under trees, which makes signal reception difficult. In fact, the Pacer Pro gets slightly off track and goes over some buildings (mark indicated by the arrow). 
Further on, in the S-turn indicated in the circle, the three watches behave perfectly in the face of rapid changes of direction.
This area of Puerto Banus is quite complicated for reception. Buildings, trees and a lot of signal bounce. A total of 6 tracks (3 outbound, 3 return), and despite this at all times there is a reasonable performance by the three watches. Perhaps the Pacer Pro is the one that is more off in one of the senses, but in this area I have seen much worse tracks.
When running in clear areas and there are no signal reception problems, everything is perfect. 
Change of pace, it's time to see how it behaves with interval training, so let's go with a 15×2′.
The area I have pointed out is an erratic point on the part of the Fenix 7X. It lasts for a few minutes (although everyone has started the training perfectly). Later on it joins the graph of the optical sensors of the Pacer Pro and Polar Verity Sense.
As for the intervals, the performance of all the members of the comparison was frankly good at all times. 
I have simply slightly enlarged this part of the intervals where the Pacer Pro has two small slips.
But during the rest of the workout both the Pacer Pro and the Fenix 7X perform great, even in the intensity ramps up and down where they match the graph of the Polar Verity Sense.
In terms of GPS there is not much to see on this occasion. For this test I added the COROS APEX Pro on the left hand. The Polar Pacer Pro was the only one I had on the right wrist, you'll soon know why I say that....
Zooming into the track you can see that the graphs are at all times very accurate, always highlighting the line of the Polar Pacer Pro parallel to the other two, but slightly separated. And is that certainly the Pacer Pro is separated from the Garmin Fenix 7X and COROS APEX Pro, because they are in different hands ... so even that level of detail have managed to reach.
Possibly it was a good day in terms of absence of clouds, because the area of the passage through Puerto Banús is more stable than it was in the previous training.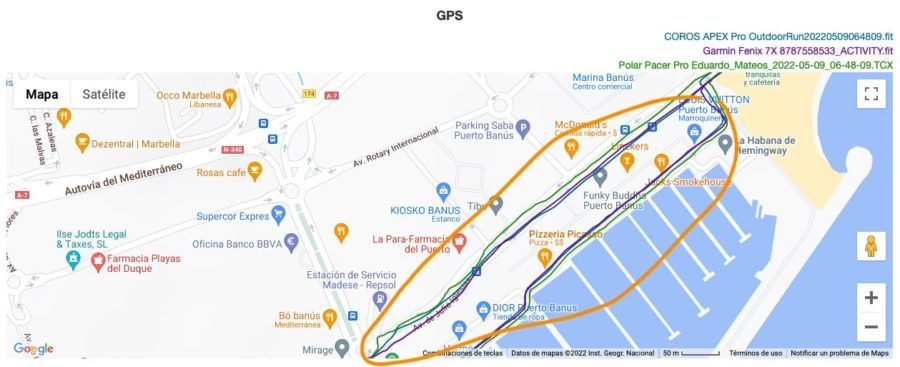 Let's move on to a progressive workout in 25-minute blocks. The intensity is gradually increasing, although the workout suits me quite well because there is not much variation in heart rate between the beginning and the end despite the changes in pace.
At almost all times all the optical sensors (Garmin Fenix 7X, Polar Pacer Pro and Polar Verity Sense) are in total agreement with the Polar H10 chest sensor that was synchronized with the Garmin FR745. There is only some difference in the final stretch where you can see some discrepancies. So I'm going to zoom in on that part to see what's going on.
Around minute 55 there is a small dip by the Polar Pacer Pro, but later on it is the Polar H10 that introduces the most errors in the graph.
In this training there are two or three occasional failures on the part of the Polar Pacer Pro and the Polar H10, but no noticeable failures in the case of the Garmin Fenix 7X or the Polar Verity Sense, which speaks very highly of both models.
As for the GPS track of this training everything seems to be quite in order.
Although the best thing to do is to zoom in to look for a punctual error and see who is the "culprit". And what we will see next is always the same culprit who has punctual deviations, first by trimming the curve and then lengthening it. For example here:
And here:
The offender is the Polar Pacer Pro. And it repeats somewhat similar behavior here as well.
In his defense, he recovers quickly from the error and that they are punctual triangulation failures. But it is equally true that neither the Garmin Fenix 7X nor the Garmin Forerunner 745 make these errors.
The rest of the training? Very boring and with nothing else to highlight, the behavior is very precise by all the members of the comparison even when there are abrupt changes of direction.
As for the barometric altimeter, for lack of having another place to show it, I do so below.
Note that I have not calibrated any of the watches, and that the Fenix 7X is able to know the altitude for self-calibration thanks to its DEM maps (all about altitude, elevation and maps explained here). I am not interested in the exact height data but in the graph itself to see that there are no deviations throughout the training. And in this case they are parallel graphs.
You can see how Polar does a filtering of the data and shows a much flatter graph while the Garmin clocks make more constant peaks. That leads to differences in training on a flat surface (as is basically the case here). Perhaps it is related to the Hill Splitter function, or that the Garmin altimeter is too "volatile" to small differences in terrain.
While the Garmin has marked 62 meters and 50 meters of ascent, the Polar Pacer Pro has accumulated 30 meters. Which one is right? If I use Strava's elevation correction it shows 47 meters, if I do it on the Garmin Connect it goes to 177 meters (knowing how it calculates accumulation on the routes, it's the one I believe the least). A real mess. 
In the end what I am left with is that it is comparable from day to day no matter what watch you use and that there are no strange deviations due to barometer error. That is the important thing.
Summarizing all this section, reviewing both these workouts and others that I have done with the Polar Pacer Pro I have good feelings with its optical pulse sensor. I have never had any problems with the Polar sensors, and this shows that despite the change of profile and making it thinner has not affected its good performance.
It is true that there are occasional errors, but there have also been in the chest pulse sensor that we usually think is the most reliable measurement. The performance has been good in all running workouts including interval training (you know that for cycling the chest sensor is essential).
As for the GPS, the performance has not been bad, but not brilliant. There are no major errors in the tracks, but it has been showing occasional errors that quickly corrected. 
It is not something that seems to me an impediment when buying the watch, I think the performance is perfectly valid for what is a watch of this type, all I'm saying is that 1TP11It could be better. 
Want to help the web? Buy Polar Pacer Pro
I hope that this in-depth review has helped you to decide if it is a valid device for you or not. All the work I do you can consult it without any cost, but if you want to support the page and by doing so the work I do, the best way to do that is to buy your new device through the links I provide .
And if you don't buy it today, remember to stop by when you do! Through these links you will not only get a competitive price and the best customer care, but also I will receive a small percentage at no additional cost to you. That's what allows me to keep offering you reviews like the one on this page.
Buy and verify price
Polar Pacer Pro
You are not going to buy it, you already have it or Amazon is not an option; but you like the reviews I perform and you want to show your support for the site? Then consider signing up for a VIP membership. Above all you will be helping to support the site, but you will also enjoy unique benefits.
If you have any questions, remember that you have the comments section at the bottom, where I will try to answer all your questions.
Opinion Polar Pacer Pro
The Polar Pacer Pro is a watch that brings nothing new to the market. Everything it offers was already available in other models of the brand in one way or another. The only addition is the Walking Test, focused on users who are not able to complete the Running Test.
With this new watch Polar has all but doomed their higher end models. With the Pacer Pro on the market there is no longer any reason to buy a Vantage M2, and I would be hard pressed to find reasonable reasons to make up the price difference with the Vantage V2. The Grit X is also left in no man's land, and the only one that would be saved from this family murder is the Polar Grit X Pro, simply for aesthetics and materials.
However, I believe that this watch is not about introducing new features, but about selling units and Polar can make cash. And it offers good reasons for that. The vast majority of features of Polar, a faster processor, a higher quality display, packaged in a small, lightweight package and attractively priced.
It's not a watch that's going to get attention for what it offers, but it's going to sell very well for what it is as a whole. 
And... thanks for reading!