Polar nos sorprendió hace algunas semanas con la presentación de su nuevo sensor Polar OH1+. Es un sensor óptico independiente que utiliza la tecnología diseñada por ellos mismos (y que anteriormente ya hemos visto en relojes de la marca) que puede ser usado en dispositivos a través de Bluetooth o, como ya ocurriera con el Polar H10, almacenar datos de varios entrenamientos en su memoria integrada.
The sensor you see here is a test unit provided by Polar. As always it will be returned, so there is no compensation from you. All my opinions are always free of any pressure as I do not depend on the manufacturers at any time.
You are the ones who allow this page to keep working with your purchases, so if you like the work I do and want to keep seeing this kind of items you can help by buying through the links I provide (ya sea el OH1+ o cualquier otro producto que te apetezca en Amazon, cualquier ayuda es bien recibida).
No quiero adelantarme demasiado en la explicación inicial del OH1+, mejor entrar directamente en materia. He estado trasteando y entrenando con el Polar OH1+ durante algunas semanas y éste es el resultado.
Unpacking
When brands provide me with a product, they usually send it in its original box, as if I had bought it in a store, so I can also show you what the packaging looks like, what it contains, etc.
It's standard procedure, but sometimes this doesn't happen. Is it important? Well, no, the only thing I won't be able to show you are pretty pictures of the box.
In this case I simply received an envelope with a name written on it. Will it be me? Hopefully it comes full of fresh bills...
Oh! disappointment (sorry for the pun...) There is no money inside, just a strap and a sensor.
I will start by opening the strap. It is an elastic band that can be adjusted in length. It integrates the sensor holder, which cannot be removed and is made of plastic. Depending on where you want to use the sensor you can adjust the length of the strap. It should be firm on the arm, but not hurt or cut off the blood supply. As long as there is no amputation there will be no problem.
This is how the sensor is placed in the holder itself, simply by inserting it into the plastic. It doesn't matter if the button or the LED is in one place or another, because the sensor is totally symmetrical. Of course, we want the sensor to be facing outwards, we don't want to measure the pulse of the belt.
By the way, as you can see from the inscription, waterproof to 30 meters.
What was the other thing you saw in the first image with USB connection? Well, the sensor inside the small synchronization and charging pod. Like the strap, you only have to place the sensor inside, but this time you have to take into account how you place it since the connection pins must match the corresponding location on the sensor.
Once placed inside, this is how you should put it in charge. No charger is included but you can use any mobile phone charger or if you prefer, connecting it to the computer port.
In addition to charging it while it's connected, you can also perform data synchronization, although the most convenient way to connect is via Bluetooth with your mobile phone. Let's see what the sensor offers in more detail.
Polar OH1+, ¿Qué es?
Find the best offer
El Polar OH1+ es simplemente un sensor de pulso. Como su propio nombre indica, es óptico; y es que Polar OH1+ significa Optical Heartrate One. Así pues el primer sensor de pulso óptico independiente de Polar. No, no se rompieron la cabeza para darle nombre.
An independent optical pulse sensor... it doesn't seem like anything new. In fact it is very similar in concept to the Scosche RHYTHM+ and, a little further away (because of its location on the body) to the Mio LinkBut that's the first impression.
Unlike these two, the Polar sensor only transmits data via Bluetooth, which puts it slightly behind since both models are capable of using ANT+ and Bluetooth simultaneously.
Update 23 April
Polar has launched an upgrade to provide ANT+ connectivity to the OH1
Para compensar esa diferencia Polar ha incorporado una memoria interna en el OH1+, lo que permite grabar actividades de forma independiente sin necesidad de transmitir datos a ningún otro dispositivo externo. Y ésta es tal vez la característica más interesante.
En cuanto a tamaño, el Polar OH1+ es notablemente más pequeño que los otros dos.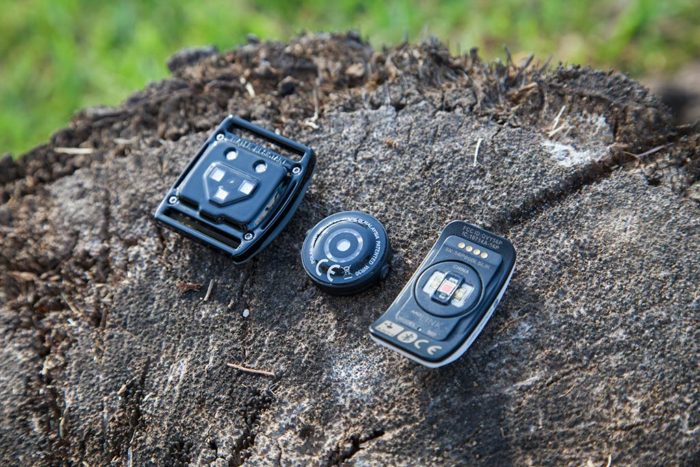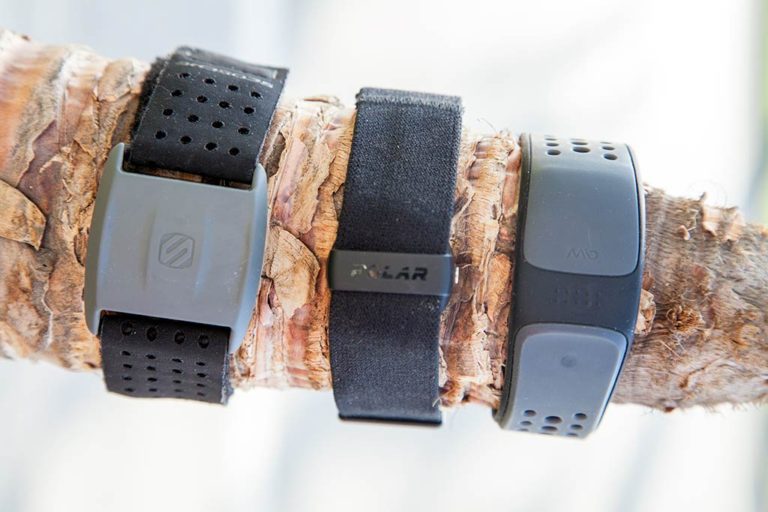 And to give you an idea of its real size, there is nothing better than comparing it with something you know perfectly well. Its diameter is slightly larger than a one euro coin.
And what about the thickness? Well, here I have already had to increase my budget, as it goes up to 4 euros.
If you want to know how it will feel on your arm, just find four euro coins and put them on your arm with a rubber band. Shabby, but effective.
The sensor must be placed on its strap, which has a plastic coupling that can be slipped on. The strap, besides being elastic, also allows regulation, so you can place it in many places, the most common being the forearm or the top of it. It could also be worn on the wrist, but the two previous locations are better for good results.
And obviously, you'll want to wear the LEDs and the photoelectric sensor on the inside.
Polar has made a very simple sensor, in fact we only have one button with which to turn the sensor on and off.
On the opposite side there is a control LED that will give us basic information about the operation. That LED is quite powerful, if you train near an airport at night you may have some problem...
Depending on the number of blinks and the colour of the blink, you will be able to know basic status data. It will light up green when it is detecting the heart rate or white if there is a problem. It will light up red when the battery is low or blue when we are synchronising via Bluetooth. And the number of blinks can also vary. All of this is described in the instruction manual.
As far as charging is concerned, there is the other adapter that is included in the package. We simply have to remove the sensor from the strap and place it in the charging adapter. This same adapter will be useful if we prefer to connect the sensor to the computer instead of synchronizing it with the phone.
Modes of use
Antes de comenzar a usar el Polar OH1+ lo primero que deberías hacer es conectarlo con el teléfono u ordenador. No por hacer la configuración inicial para indicar dónde lo vas a llevar -que por mucho que diga el manual, simplemente sirve para datos estadísticos de Polar-, sino por comprobar si hay alguna actualización de firmware disponible.
Once you have everything set up, it's time to start using it. We have two modes of use:
As a sensor associated with a device - Use it with a device such as a watch, phone, etc. Not just Polar, but any watch that has Bluetooth sensor connectivity. Remember that it is not ANT+ compatible.
As a separate sensor - Without being associated with any other device, it can record the heart rate data of any workout. In this mode it also allows you to transmit heart rate data, for example to gym machines that have a Bluetooth connection.
The first mode is the most basic of all, replacing any other sensor you may have previously. It is the default mode that the sensor is in as soon as it is turned on, and we can tell that it is in that mode because the status LED blinks only once (either in white or green).
To link the sensor to any device it simply has to be switched on, no pairing mode needs to be set. Once switched on you only have to do a sensor search.
After matching you will have the heart rate data on your screen.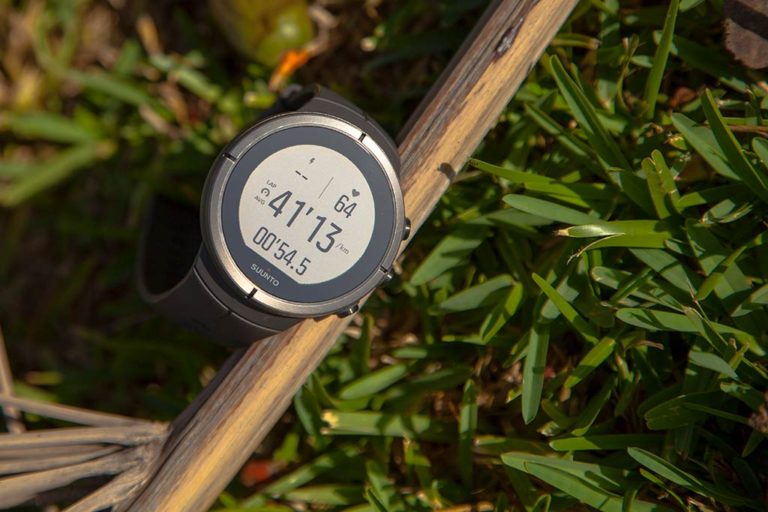 You might say why not try it with Polar models... Well, precisely because the beauty of a standard like Bluetooth is that it allows everything to communicate with each other, regardless of the brand. So the device you're recording your workout with will be the one that records and stores the data, whether it's a phone or a watch. Simply a sensor.
Es el segundo modo de uso en el que el Polar OH1+ supone algo novedoso ya que puedes usarlo de forma independiente sin estar conectado a ningún otro dispositivo. En este modo también estará transmitiendo datos a través de Bluetooth, por lo que por ejemplo puedes tenerlo conectado a una máquina en el gimnasio y ver tus pulsaciones a la vez que guardas la actividad para sincronizarla en casa.
To put the sensor in this mode, you simply have to turn it on first, and then press the button twice to start recording data. From then on, the status LED will start flashing twice instead of once, and will continue to use the same color code.
When you finish training, just quickly press the sensor button twice again. Please note that when using this mode it is not possible to temporarily pause the recording, when you press the button again it will start recording a new session.
El OH1+ dispone de capacidad de memoria suficiente para almacenar hasta 150-200 horas de datos de entrenamiento. Dichos datos se podrán descargar conectando el sensor al ordenador o a través de la aplicación Polar Flow, disponible para Android y iOS.
Once the sensor is synchronized this is how you will see it on the Polar website.
In this case I have changed the activity type manually (through the mobile application, not on the web), since by default it will be saved as a generic indoor training.
Heart rate data comparison
Ahora que ya está todo claro acerca del sensor OH1+ de Polar es el momento de hablar de lo más importante: la calidad de los datos que proporciona. Por muchas funciones que pudiera tener el sensor, si el registro que realiza no es correcto lo cierto es que no serviría para nada.
Polar is the only manufacturer that has two different optical sensors; a more basic one that is the one we can find in Polar's more economical range (M2oo or A370, for example) but not for that reason with bad records, and another one which is the one we are concerned with and which we can see in the M430 or the M600.
Mi experiencia con este sensor siempre ha sido bastante buena, y en el caso del OH1+ espero que sea todavía mejor por dos motivos fundamentales: peso y ubicación.
First of all, in terms of weight, as the sensor is very light (only 5 grams) it hardly suffers from movements or vibrations. Compared to watches of 70 or 80 grams the differences are remarkable.
En segundo lugar, al poder colocar el sensor en el antebrazo o en la parte superior del brazo, estamos llevando el sensor óptico en un lugar mucho más fiable para obtener un buen registro de pulsaciones. Porque estamos evitando bastante los movimientos propios de la muñeca al correr, o las vibraciones del manillar de la bici o al realizar cualquier actividad; y porque son zonas mucho más «carnosas» en las que es mucho más fácil para el sensor encontrar el pulso.
Así que antes de comenzar a probar el OH1+ las expectativas ya eran bastante altas. He realizado entrenamientos con el Polar OH1+ en diferentes deportes, siempre comparando gráficas con otros sensores de pulso, y aquí tienes los resultad0s.
I'll start with a simple basic workout that is very affordable for any pulse sensor, whether optical or chest: 12 minutes of warm-up, 12 minutes at a faster pace, and I'll finish with 12 minutes of cool-down, but all without major changes in intensity beyond the start and end of the core period.
Durante el calentamiento hay una situación extraña con el registro del Polar, y es que mientras que los otros dos sensores tienen ligeros ascensos y descensos de una o dos pulsaciones como es normal, la gráfica del OH1+ es prácticamente una línea recta. No quiere decir que el registro sea malo, de hecho como indico se sitúa a 1 o 2 pulsaciones de los otros dos, pero destaca tanta linealidad.
I won't take it too much into account since I made this first test with an old firmware version, but it's simply something that catches my attention. It's also possible to appreciate a small delay in the moment I start to increase the rhythm, which is also perceived in the Scosche's graphic but to a lesser extent.
Durante el resto del intervalo la frecuencia va aumentando progresivamente al mantener una intensidad constante, y cuando finalizo (y me detengo a propósito para provocar una caída rápida del pulso) todo perfecto. Tanto el Scosche como el OH1+ tienen un ligero retraso con respecto al sensor Garmin en el pecho, pero nada importante.
We are now going to go on with another more complicated training and, now yes, with the latest firmware version on the device. In this case it is not a training series with sudden changes in intensity, but it is one of constant ups and downs so despite trying to maintain a stable pace there are slight changes in heart rate.
Los actores son los mismos, sumando también en este caso el sensor óptico del Suunto Spartan Sport Wrist HR. En este caso la gráfica que nos interesa observar es la de color verde, que es la que corresponde al Polar OH1+.
As it is always the case with almost all sensors (optical or pectoral) it is always difficult to have a total match from the beginning, a warm-up time is necessary. In this case all start to mark the same after 40 seconds, although the Scosche decides to have a momentary loss until it marks the correct again. It also has two sudden drops, probably due to a punctual cut in the transmission.
En este primer tramo el peor parado es el Spartan Sport Wrist HR, que tiene algún problema puntual en los momentos donde acelero ligeramente el ritmo. Mientras tanto la gráfica del OH1+ está feliz junto con los demás sensores.
From that moment on? Happiness continues among the four members of the comparison.
Another training of variable intensity, but at a lower pace. Pre-race activation by doing short intervals increasing the pace and then jogging again.
El inicio como siempre algo irregular, con el OH1+ y el Garmin 935 necesitando algún segundo más para situarse en sintonía. El Fitbit Ionic también se muestra errático pero rápidamente se une con los demás. Mientras el ritmo permanece estable y fácil hay total sintonía.
If we take the HRM-Tri sensor's graph as correct -which, looking at its development, seems to be the most accurate- we see that the other three optical sensors suffer from the same defect: a slight delay in the recording.
Cuando la gráfica del sensor de pecho sube o baja, tanto Polar OH1+ como el Garmin 935 responden a la par y con la misma intensidad, aunque con dos o tres segundos de retraso, pero siempre en sintonía. El Fitbit Ionic muestra un rendimiento ligeramente inferior
In short, very favorable results in race training, let's explore other sports.
Si habéis seguido con anterioridad las pruebas de los sensores de pulso óptico sabréis que si bien la carrera no suele presentar muchos problemas, es cuando montamos en bici cuando aparecen las complicaciones. Así que veamos cómo se comporta el OH1+ a la hora de dar pedales.
Here in theory there should be five sensors instead of four, but unfortunately one of the watches I was wearing to record data (a Forerunner 230) changed sensor without me noticing, so the HRM-Tri's record is duplicated instead of having additional data from the Scosche.
The training consists of two parts (and a last cooling down), with an initial period doing ascents to 16-18% with their corresponding descents, and then a session of 9x3min intervals on the flat. Varied training to be able to extract a lot of information from the sensors.
Nos interesa la gráfica morada, correspondiente al Polar OH1+. A pesar de no tener el Scosche, sí hay otro sensor óptico en la prueba: el integrado en el Garmin Forerunner 935. Y doblo la apuesta por los sensores de pecho ya que además del HRM-Tri llevo también el Smart Sensor de Suunto.
In the first part of the training you can see how both the Garmin optical sensor and the Suunto chest sensor are having a hard time. The poor recording of the first one was to be expected, the incorrect data from the Suunto chest sensor is much stranger, and is probably due to movements of the tape when two are worn together. It serves at least to confirm that we should not always trust the data from the chest sensors.
On the other hand, the Polar sensor is quite well synchronized with the Garmin sensor, which in my experience (not with the sensor, but with the effort applied) is the one that shows the most accurate data this time.
La sección de intervalos es bastante más positiva para el sensor óptico del Garmin aunque continúa teniendo ligeros desvaríos. Mientras tanto todo continúa tranquilo en casa del Polar OH1+ que, salvo por un ligero retraso en la subida y bajada de las pulsaciones, realiza una gráfica sin artificios raros.
The same can be seen in the cooling itself, where except for a small delay in the Polar's graph, everything continues to be perfect.
The result does not surprise me at all, because as I have already indicated, the location of the sensor on the forearm is much more beneficial for correct readings. Here it is not at the expense of all the vibrations to which the watches are subjected. It is not that Polar's sensor is infinitely better than that of the other manufacturers, simply that it is located in the most satisfactory position as it is independent of the watch itself.
And I'll leave one of the best parts for last. Remember I said it's waterproof? And that it allows you to record in its memory without the need for an external device?
Yes, it can also be used for swimming, and it can record the heart rate of your training session perfectly as you can see in the comparison against the Garmin HRM-Swim sensor.
No tendrás datos en vivo ni podrás consultarlo mientras estás entrenando pero el registro es francamente bueno, clavando uno por uno todas las series de intervalos de 100 metros realizados en la piscina. Y puedo decir que durante todo el entrenamiento no hubo ni un sólo movimiento raro ni molestia por parte del OH1+; mientras que el sensor de Garmin, a pesar de ser el modelo específico para natación en piscina, sí se escurrió una vez al impulsarme con fuerza en la pared.
In short, an outstanding result for the Polar independent optical sensor, which would only be able to record the pulse variability in activity to aspire to be the replacement of the Polar H10, because in terms of recording heart rate I can certainly give a remarkable high.
Comprar Polar OH1+
I hope that this complete analysis has helped you to decide if it is a valid device for you or not. All the work I do you can consult it without any cost, but if you want to support the web and with it the work I do, the best way to do it is to buy your new device through the links I provide below. And if you don't buy it today, remember to stop by when you are going to do it!
Through these links not only will you get a very competitive price and the best customer service, but I will also receive a small percentage without costing you any additional outlay, which is what allows me to continue offering you proofs like this on the page.
If you have any questions, remember that you have the comments section at the bottom, where I will try to answer all your questions.
Find the best offer
Opinión Polar OH1+
Con el Polar OH1+ me ha ocurrido lo mismo que con otros dispositivos este año. Inicialmente me da la impresión de ser algo que el mercado no necesita o que no aportará importantes novedades, pero que tras un tiempo de uso crece en mí una sensación de apreciación que anteriormente no tenía.
Cuando se presentó el sensor por primera vez me pareció algo innecesario; especialmente por la ausencia de conexión ANT+ que, diga lo que diga el fabricante, limita su capacidad de venta. Desde un punto de vista empresarial Polar está perdiendo dinero al no hacer el OH1+ con tecnología dual Bluetooth/ANT+.
But as I've used it, I've liked it more and more. The good recording it makes at all times is of course the most important thing, but what I've liked most is the ability to record workouts. It's very easy to put the sensor into recording mode and it's always been very reliable both at the start of the activity and at the end. Likewise, the timing of activities has always been perfect, without a single glitch. The only thing we can miss is the ability to put the sensor on pause while we're resting in a workout, but adding more features can jeopardize the simplicity and immaculate operation of the sensor.
Maybe it's not for the sports I practice, since I always require more information and in real time, but the exercise recording function and the ease of doing it (unlike the Polar H10, which requires you to start the recording from the phone) is simply fantastic, not to mention all the possibilities it opens for me to use it to perform analysis of other optical sensors.
En comparación con el sensor de Scosche es igual de preciso en medición, pero si no necesitas la conectividad ANT+ decantarse por el OH1+ es fácil. No sólo por su posibilidad de registro de actividad en memoria, sino también por su menor pequeño y mayor autonomía (12 horas el OH1+ por 8-9 del Scosche). Pero de nuevo, la principal (y única) pega es la ausencia de conexión ANT+, que impide poder usarlo con dispositivos de Garmin anteriores a 2017 o Suunto anteriores a 2014.
Help the site
This page, like any other page you see on the Internet, needs to be compensated in order to continue to function. If you make your purchase through the links on the web you'll be helping out the blog a little bit and becoming part of the Running a Marathon family. It's a small family, but it's cool!
This is the only way in which the blog generates some money, since there is no compensation from the brands. The only income comes from the purchases that you, the users, make through the links provided.
If you liked the analysis, don't forget to share it on your social networks. Not only will you be helping me, but you will also be helping your friends find this page.
Thank you for reading, and especially for supporting the page!