If last week Polar "surprised" us with the Polar M43oYes, I say this a little sarcastically, because both the M430 and the M460 that we are dealing with today are not really new to the range.
I guess if you don't have anything to present, it's always a good excuse to refresh the range. If in the case of the M430 there are at least changes in the look of the hardware (especially because of the new optical pulse sensor) as well as some small touches in its software, in the case of the M460 the only new thing at device level is that it's now black. And that's it.
Although logically the Polar M460 is not only a black M450, there are new features in the software, but they could have been incorporated into the M450 that was already on sale (and that its users could enjoy). Instead you have to go to a new model to find those improvements.
News about the Polar M460
Well, let's talk about those new possibilities that its software offers. To start with and as the most notable addition, Polar now offers live Strava segments. It joins a long list of manufacturers that offer such compatibility to make your training and outings more competitive, trying to improve the times of your friends, or your own, in the segments that you mark as favorites.
In addition, the M450 increases its functionality when training with a power meter. Although they are still determined not to offer compatibility with ANT+ sensors, which makes it lose much of the interest of users of such devices. Because although it is already common to find potentiometers capable of sending data in dual mode via ANT + and Bluetooth, the Bluetooth standard for power remains quite disastrous.
Polar adds new metrics to the M460, such as IF (intensity factor), TSS (training stress score) or NP (power rating). These metrics are already familiar to those who are training by power or those who base their training on the platform Training Peakswhich is where this data comes from.
In addition to the Strava segments already mentioned, the Polar M460 includes Bluetooth connectivity for synchronization with your smartphone and, if you have it with you, displaying the notifications you receive.
And finally, the M460 is integrated into Polar Flow, allowing you to download workouts you prepare on the online platform so you can follow them on the device.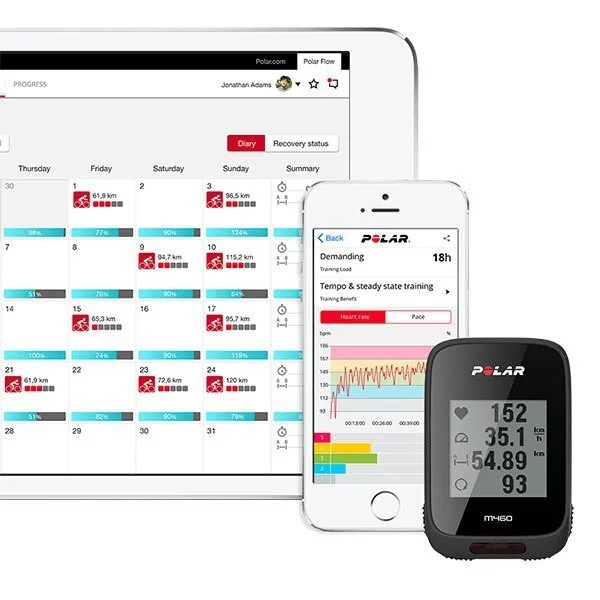 Some other specifications, already known by the M450, are as follows:
Weight of 50gr
34.65×34.65mm square screen
GPS and barometric altimeter
10 pages of personalized data, with up to 4 data on each page
Compatible with Bluetooth sensors
16 hour autonomy connected to sensors and using GPS
Water resistance IPX7
In short, a small renewal at the software level, but that could have been applied on the Polar M450 for more enjoyment of their current users.
My opinion
Well, there is little more I can add to what was already indicated above... There are few new features in this new version. New color, new metrics and compatibility with live Strava segments. Of course, it is not a product that comes to excite or to raise passions, but to maintain a bit the dynamics of presentations of the brand. I guess it is better to present a rehash than to present nothing and fall into ostracism...
And with that... thanks for reading!