The complete analysis is already finished, so if you are interested in knowing all the details of the Polar M200, I recommend you to read the complete review 

by clicking here

.
Today Polar presents a new model for its entry level range. Remember when the activity monitor was the latest fashion in training watches? It was that feature that all manufacturers wanted to add to their models, back in 2013-2014. Well, today that feature is the optical pulse sensor. In 2016 if you want to launch a model to the market, it must be equipped with an optical pulse sensor. And of course, the Polar M200 does not fail, incorporating this type of measurement as the main point of sale.
Polar M200. Simple and with optical pulse sensor
I told you the Polar M200 has an optical pulse sensor, right?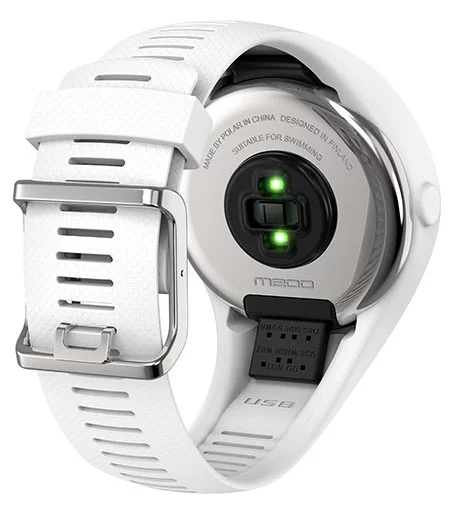 I can tell you little more about it. There is nothing new or anything else to note. In fact, the press release is a quick read.
It may not seem much, or it may be a negative aspect, but as Pau Donés sang, it depends. What does it depend on? Well, on who the watch is intended for. In this case, it focuses on the access range: the less demanding user who is looking for something simple. The one who does not want numerous options because, honestly, he would not use them. That is, the same customer to whom Garmin offers its Forerunner 35.
Of course it has a GPS receiver. The autonomy with combined use of GPS and optical pulse sensor is 6 hours, enough for the market it is intended for. And when you are not training and as it could not be otherwise, you will also have measurement of daily activity in steps and calories consumed outside the training; including also sleep monitoring.
There is Bluetooth connectivity that allows you to connect to your smartphone. You will receive on-screen alerts and notifications from any application (not just calls and SMS as is common with other manufacturers. Fitbit, I don't look at anyone). The same Bluetooth connection will be used to synchronize training and activity data with Polar Flow or to connect an external pulse sensor, in case you want to use it (for activities where the optical sensor is not the best option, such as crossfit).
The main advantage of synchronizing with Polar Flow is that you have access to its 5K, 10K, etc. training programs. And also other parameters such as Running Index that will allow you to track your performance.
I don't have screen resolution data, but the images speak for themselves. It's low, very low. 2×2 pixels maybe? Well, a little more, but not much more.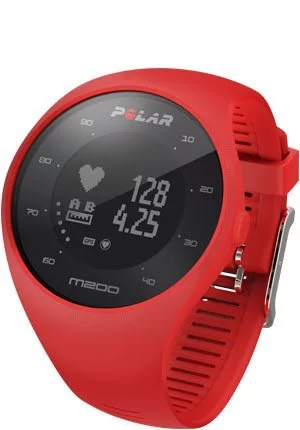 This is the price to pay to get a contained final price. However, the straps are easily interchangeable, being able to remove the part of the watch inside the strap.
Polar M200. Availability and price
The Polar M200 will be available before the end of the year, but only in some markets (United States, Canada, Australia, Hong Kong, Singapore and Japan). It will arrive in Spain at the beginning of 2017, although I suppose that Polar will bring this date forward to take advantage of the Christmas season. If it doesn't, it would be making a tremendous mistake by ignoring the time of year when more units of this type of watch are sold.
It will be available in black or red, and later you can buy straps in white, blue or yellow.
The price is low, as is usual with Polar proposals. For 149 euros it is the most economical GPS watch with an optical pulse sensor.
- Update
Now available for purchase through Amazon.
https://www.amazon.es/dp/B01N52JQL8&tag=c1mes-21
https://www.amazon.es/dp/B01MSMCN13&tag=c1mes-21
My opinion
You've seen it, this new Polar M200 is a simple and affordable watch; easy to use and not overwhelming in terms of data. The functions will be basic, but with an optical pulse sensor and mobile notifications that puts you at the sea of the simplest smart watches. Perfect for the user who doesn't demand (and doesn't want) more features.
Don't expect anything new in this new M200, because you won't find it. Its strong point is price, and in fact it will pose a major threat not only to basic models with optical pulse sensor (TomTom Runner 2 Cardio or Garmin Forerunner 35This is because the sales price of the M200 is lower than that of Fitbit Charge 2It is true that the quality of the finish is superior and that it provides constant pulse measurement; but it does not have GPS, it only notifies of calls and SMS and the screen, despite having higher quality, is smaller.
In short, it is not a device that surprises at all. But it is a watch that makes optical measurement an affordable option. What remains to be checked is whether the accuracy of the pulse sensor has improved with respect to the Polar A360The sensor looks the same (and is somewhat different from the M600), but as you know the important thing is the software that accompanies it, more than the hardware itself. You will have to wait a few weeks to find out until you can perform the complete test and analysis.
And with that... thanks for reading!