The Polar Ignite is the latest from Polar; but it is not a running clock, it is a clock destined for the fitnessMany wonder if it's not simply a different version of the Vantage M with LCD display given its similarity in design, size and price. Not at all, they are two quite different watches.
The Ignite is aimed at those looking for a watch to measure their activity and who perform less demanding workouts than Vantage users. But not only does it track your activity, it also offers a complete package of rest monitoring functions and the closest thing you can find to a personal digital trainer.
After a few weeks of testing with the new Polar I have already had the opportunity to get to know everything it has to offer, especially regarding the new rest control functions, using a test unit that Polar has sent to me and which, once the analysis is completed, will return to Polar to continue its test and trial rotation.
As you will know if you are a regular reader of the page, below you will find a analysis clockwise in great detailWhen you make your purchase, you will know if the Ignite will meet your expectations or if it is better to choose another model that is better suited to your use. And if you are not a regular reader, why not?
If you like this analysis and find it useful to decide the purchase of your next GPS watch, please use the links you will find on this page (well, you can buy that GPS watch you want or anything else). You won't pay more than it's worth, but the seller returns a small percentage which helps cover the costs of hosting the site and obviously my work. Or you can also become a VIP member..
And once everything is cleared up, let's get to know all the details of the new Polar Ignite.
Polar Ignite
Overall operation - 7.5
Training possibilities - 8.5
Platform and applications - 9.5
Autonomy - 7
Finish and comfort - 6.5
Price/performance ratio - 7.5
---
The good
Simple, easy-to-use design
Comprehensive new rest algorithms
Hardly eliminates performance compared to more expensive models of the brand
Fairly accurate sleep control functions
Variety of exercise proposals depending on your training load and rest level
The bad
Slightly irregular GPS operation
Screen power on after slow wrist turn
The touch control is a bit crude
Plastic strap on the cheapest model
Less autonomy than advertised by the brand
Polar Ignite, what is it?
Find the best offer
Polar Ignite
I think the smartest thing to do is to start by clarifying which segment the Ignite is aimed at. Because it is a GPS watch with a very similar look to the Vantage M However, they are not focused on the same user or the same sports.
While the Vantage M is a race and triathlon watch, the Polar Ignite is intended for primary fitness useThis does not mean that it lacks the functions of Vantage M; on the contrary, there are many functions of Vantage that we will find in the Ignite. It's much more than an activity braceletalthough it is intended for the users of these. 
There are several things that remind us of the Vantage, which is normal because it is based on them, but it doesn't mean that they are the same. To begin with, the screen is different because this time Polar has opted for an LCD with much brighter colours, although it is normally switched off.
This has its good things and its bad things. Logically the screen is much more aliveOutside in full sun it is more difficult to see the details (although the Polar Ignite has an ambient light sensor), and since it is not always on, we must wait for the screen to decide to show the information when we raise our arm. As for the operation of the watch, it is done through a touch screen and has only one button.
That's pretty much where the differences end, there are a lot of things in the Vantage range that are in the Ignite:
Same optical pulse sensor as Vantage, the Polar Precision Prime
Same Sony GNSS chipset
Support for external Bluetooth sensors
Swimming support, both pool and open water
Provides Training Load Pro information (only on the platform, not on the clock)
Allows you to create advanced workouts in Polar Flow and download them to your watch for completion
Running Index, Fitness Test, Training Benefit, etc.
We could say that we are looking at a slightly smaller Polar Vantage M with an LCD screen, although we must not forget that there are some things it is not so capable of:
No potentiometers can be used, neither running nor cycling
There are no multi-sport modes (duathlon, triathlon, etc.)
The maximum autonomy is 17 hours (theoretical), which is already quite good... but it doesn't reach the Vantage
However, there are novelties present in the Ignite Polar that are not (at the moment) in the Vantage:
Sleep Plus Stages
Nightly Recharge
Serene
FitSpark
It's these metrics that I'll be spending more time on during this test, because they're what sets the Ignite apart from the rest of the Polar range (beyond the technology used for the display) and it's also the first time they've been seen on a Polar watch. I'm saying this for now because, with the exception of FitSpark, all the other functions will be coming this year on the Vantage M and Vantage V. 
So let's give the Polar Ignite a quick review so you know all the good (and bad) things it has to offer.
A quick look at the Ignite Polar
Without a doubt, what stands out most about the Polar Ignite is its screen, which is different from what we usually see in other sports watches, because if you have any doubts, this is a sports watch and not a smart watch or smartwatch.
It is an LCD screen with good colour and contrast, much more eye-catching than that of its Vantage brothers or other models of other brands that also use transflective screens like those of the Vantage.
This screen, which looks fantastic at first glance, also has its problems. The main one is that the screen turns off after a few seconds (otherwise it would devour the battery). The second associated problem is that it is quite slow to turn on again.
The screen remains off and only lights up when we make a turn of the wrist - and the watch understands that we have made a turn of the wrist, because on many occasions we have to repeat the gesture by exaggerating it two or three times - or when we press the only button it has, this one you can see on the left side.
This is common to other intelligent watches with similar displays, such as the Apple Watch or Fitbit Versa, but the truth is that the Ignite works worse, because it's not just that it's hard to recognize the turn of the wrist, it's also how long it takes for the display to turn on: just over a second.
That makes you sometimes turn your wrist, wait... and black screen. And repeat... and black screen.
By the third time, you opt to press the button to see the time or, worse, to see your training data while you are running, for which 6 or 7 seconds have passed perfectly.
To sum it up in a few words: it's frustrating, but when it comes to our training sessions we can leave the screen on all the time, but keep in mind that the battery consumption will be very high.
The other factor is that it's a touch screen, so all control is done by sliding your finger and tapping the screen. It's not very accurate, and for such basic options as selecting a sport profile you have to slide your finger many times because sometimes you pass two profiles, or don't even get to the first one. 
Luckily, all the configuration is done on the phone, so when it comes to the real thing, the interaction with the screen is minimal.
These are my main problems with the Polar Ignite. To your credit, Polar can improve both display performance and wristwatch recognition through firmware updates, but the watch has been on the market for some time now and there is still nothing to report.
Well, to tell you the truth I have another problem with the Ignite, the quality of the strap in the cheapest model (the black one). I don't remember such a bad strap in a watch of this type. It is made of plastic and it feels quite cheap to touch. It really makes the rest of the watch look bad which, without being a piece of jewellery, has a good general appearance thanks to the stainless steel bezel and button.
Solving this is relatively simple. You can either choose the version with a silicone strap (which costs 30 euros more), or buy a strap of your choice, as the one you use is a standard 20mm format. 
The feel on the wrist is totally different, and it's hard to believe that something as simple as a watch strap can change the experience so much.
Changing it is a matter of seconds since it has the quick belt change system.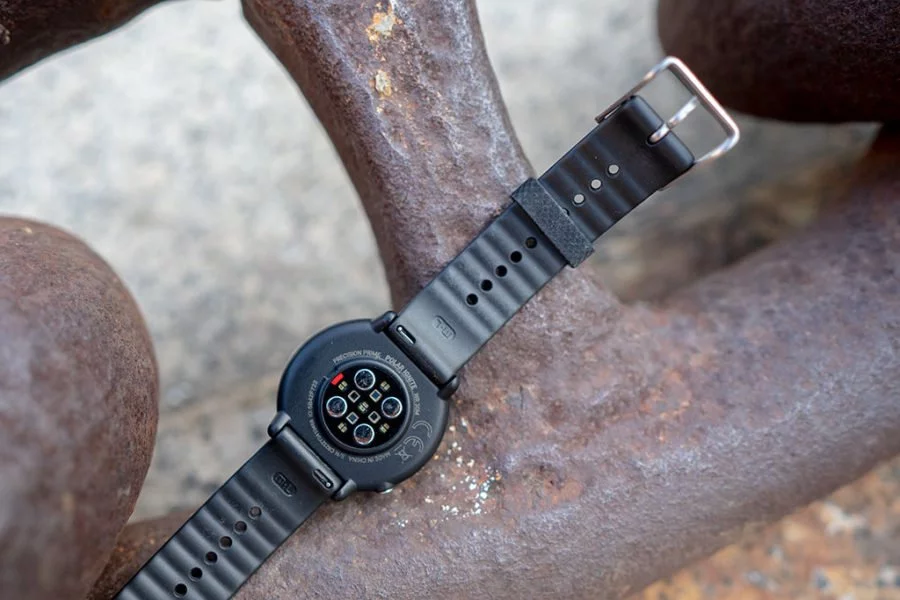 I don't understand how a manufacturer like Polar can make this mistake. It's true that they offer you a superior option with a higher quality strap; but the cost of offering a decent strap as a base, compared to the one it comes with, is pennies. 
Yes, changing it is very easy, but when you are trying the watch in a store and you have it in your hand it is perceived as something "cheap", and if you then touch it and put any other watch on your wrist it will seem better. I have no doubt that this simple fact is going to subtract sales.
But it's not all bad, the Polar Ignite has a lot of good things. When it comes to sports, it offers almost the same features as a Vantage M. For example, you can create workout series in Polar Flow and download them to your watch to help you perform them (indicating periods of work, rest, etc).
These can be created from the web or from the Polar Flow application itself.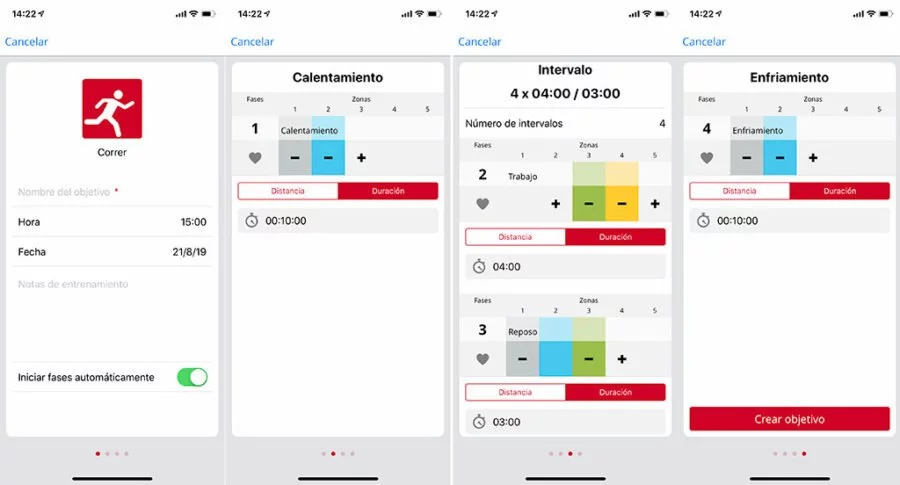 You can also download guided training sessions for different distances (5km, 10km, half marathon, marathon).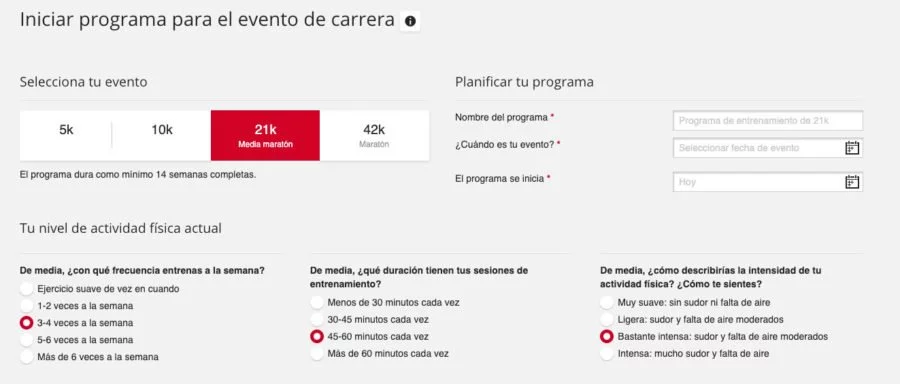 And it also gives access to Training Load Pro, from which you can find all the details in the Vantage M and Vantage V testHowever, unlike these, in the case of the Polar Ignite you will not see anything on the clock screen, but you will be able to consult the information through your mobile phone's app.
Of course the rest of the basic functions such as daily activity monitoring, 24-hour heart rate, etc. are available on the Ignite.
Perhaps the most striking omission (and one that doesn't make much sense) is that we can't manually punch a lap. I understand that the watch only has one button, which is used to pause or end an activity, but Polar could very well include the function of punching the watch to punch a lap just like on the Vantage V. 
This means that if you are doing a series training on a 400m track you will not be able to separate the laps individually, as you could do with any other model. I understand that the typical user of the model is not going to wear the nail shoes... but that anyone may want to mark manual laps in any usual situation.
It also doesn't have the ability to set up multisport profiles (like triathlon), but I don't think this is something that the average user of this watch will be concerned about.
News Polar Ignite
It's time to talk about what the News that has brought with it the Polar Ignite which, despite being a basic model within the Polar range, does not cease to provide metrics that had not been seen until now.
And it's not only interesting to talk about them because of the metrics themselves, but also because most of them will arrive at the Vantage as well. So if you are a Vantage user, it will help you to know what will arrive at your watch in the short term. These are the ones offered by the Polar Ignite:
Sleep Plus StagesThe Polar Vantage: More detailed information on how your dream came about by separating it into different segments (You will arrive at the Polar Vantage)
Nightly RechargeBeyond the phases of sleep and the time you spent sleeping, has this time served to rest and recharge your energy? (You will arrive at the Polar Vantage)
FitSparkTraining Guide: Recommended training guide for each day, based on previous days' training and how you have rested (NOT You will arrive at the Polar Vantage)
SereneGuided Breathing Exercises (You will arrive at the Polar Vantage)
Perhaps beyond the metrics themselves, the most interesting thing is the relationship between them and how they complement each other. It is not a metric that tells you a value and see you tomorrow, but it is chained like a ladder. 
All part of Sleep Plus Stages which, although it shows a lot of data, is the most basic of all. This feature looks at how your sleep has been during the night. Next comes Nightly Rechargewhich uses the data from Sleep Plus Stages and combines it with data on heart rate, pulse variability and breathing rate to determine if you're rested. And to top it off FitSparkThe training recommendations will be based on past training and the rest indicated by Nightly Recharge.
As you can see, the three main metrics are related. That's the great thing about the Ignite Polar, that you know where the recommendations come from and that everything is linked together.
It is often said that rest is the most important part of an athlete's training, and it is not without reason. It is the key to optimal recovery and to being able to return to training with energy the next day. This is when muscle growth and tissue repair takes place. 
But before we continue, I would like to clarify that I do not have any means with which to compare the data obtained, so to a certain extent we must take it with tweezers. All this could be totally random, although to some extent the results I have been seeing coincide with my own feelings. When he told me that he had not slept well I was more tired than when the indication was that sleep had been recovering.
But let's take a closer look at each of these metrics so that you can understand what each one offers. 
Sleep Plus Stages
---
Sleep Plus Stages is an analysis of the different phases of sleep, both from last night and taking into account the trend over time, summarizing everything into a single value so that we can easily compare it between different days.
In order to have this data we will logically have to sleep with the watch on our wrist, since what Polar does is identify the different phases of sleep through polysomnography. Medically this is measured through the recording of brain activity, breathing, blood oxygen levels and muscle activity; in order to identify soil disorders.
With the watch we will have information, thanks to the optical sensor, of the breathing and oxygen levels in blood; while the muscular activity can be measured by the accelerometer. Therefore unlike a medical test what we do not have is the brain activity.
By accessing the sleep option this is what we will find.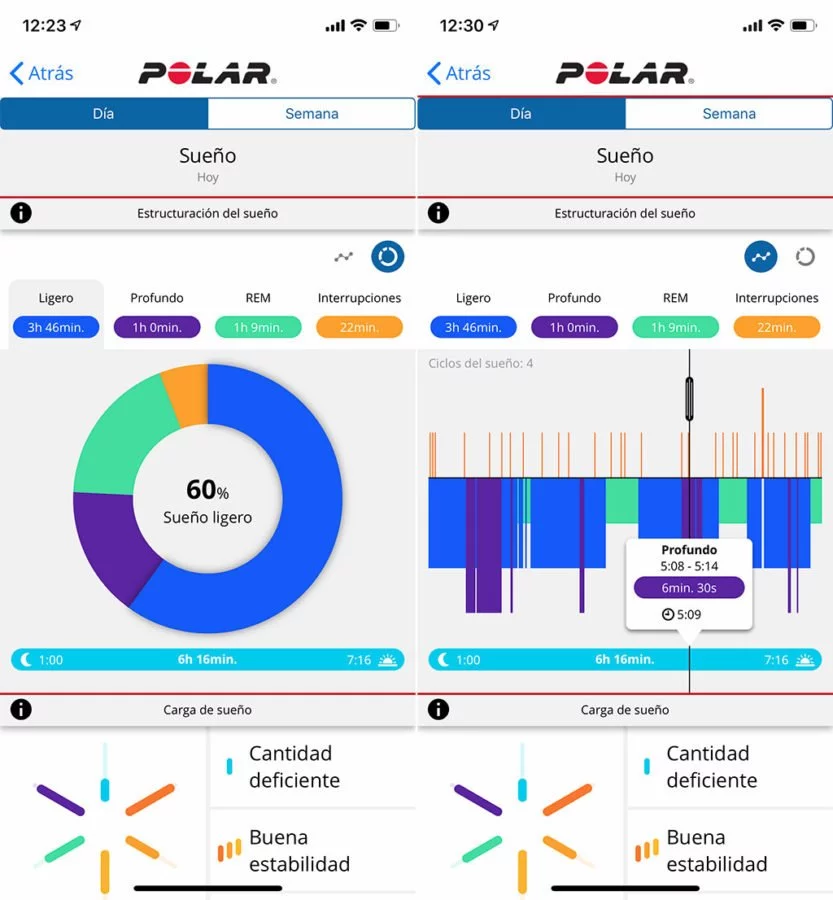 At the top you can see the different phases of sleep I have been through, as well as the duration of these phases. We can also see when we have been through each of these phases.
In the specific case of this day, it tells me that I slept a little more than 6 hours (from 1:00 to 7:16). Not that I've been checking the time, but it fits pretty well into reality. 
As for the phases, the 60% of the rest period has been of light sleep, with only 1 hour of deep sleep. Both this and to a lesser extent the REM phase are where we really rest both physically and mentally. The longer we get deep sleep, the better we will be.
Below we have the sleep value that has been given for that night in question (68 out of 100), along with a breakdown of the load, stability and sleep regeneration values.
All the values are compared with the usual average to determine if in your specific case the value that night was good or not so good. Something that is normal, since everything depends on each individual and not all of us sleep the same way. 
The main problem tonight is that I slept below the usual time: 6h 16min, when the usual average is 6h 54min. 
On the clock we can also see the same data, although in a less graphic way. Normally, the screen space is not the same, but once you know what each value is you can quickly identify it.
Since the score is based on your usual average, the first time you use the watch you need at least three consecutive days of data to have this information. In case you lose a night (because you didn't wear the watch, because the battery is low or because you left it charging) you will get your sleep data back the next day.
Nightly Recharge
---
The next step in the recovery analysis scale is Nightly RechargeTo the sleep load data (which is what we saw earlier in Sleep Plus Stages) Polar adds what they call SNA (Autonomous Nervous System) or, in other words, your relaxation in the first 4 hours of sleep.
Three variables are used to obtain ANS load data: heart rate, pulse variability and respiratory rate.
So, a lot more data to listen to and get involved with, right? Not necessarily, because if there's one thing they care about at Polar, it's making sure everything is summarized in data that anyone can understand and use to their advantage.
Nightly Recharge will combine all the data previously seen (those of Sleep Plus Stages and Nightly Recharge) and give you an assessment of how the rest has been during the night in an easy and descriptive way: good, very good, regular, insufficient... And then if you want to investigate the data separately you can do it, but starting from a general idea so that you are not the one who has to interpret everything.
Again, the assessments are made by comparing them with past data from your history, not generic data (which may or may not be the same for everyone). 
Here is an example of different states after the night's rest.
And based on the data we get every night, Nightly Recharge also gives you a series of tips about the training you can do during the day, for which it will also take into account the data from Training Load ProIn other words, we continue to chain data, which is precisely what all these new functions are about.
In my case Training Load Pro is sky high because I have not been recording my workouts consistently on the Polar platform, so I start from 0 to "train a lot", so I would need many more days to balance it. I've actually had to "hide" workouts so that FitSpark would offer me a greater variety of exercises.
As you can see, the messages have gone from encouraging me to train hard to, as I've been training and depending on the rest (which has generally been good), being a little more cautious. And that's what the application itself tells you.
Of course, we must take into account the context of these messages. For example, on a day when recovery has been insufficient, the recommendation is that podía train and that I pay attention to my sensations. That "today you can train" does not mean that I can do an 8×1000, but it is telling me that, even if I have not rested enough, I should stay lying on the couch. 
Instead you can do a recovery workout, a quiet ride, a walk or mobility exercises, all of which are already in your hands.
As with Sleep Stages Plus, we can also see all this information on the clock.
With the difference that it also appears as the header of one of the clock views that are available (and that we can change by sliding sideways).
I recommend getting used to seeing it in the application first to learn all the terms, what each one of them implies and how the algorithm manages it to know how to interpret it on the clock, since it is not so simple as it is much less graphic.
FitSpark
---
FitSpark is the culmination of all previously collected data about your past workouts (with Training Load Pro) and your rest (Sleep Stages Plus and Nightly Recharge). 
In short, FitSpark is an intelligent virtual trainer that, based on all the above data and your current fitness level, determines which exercises are recommended to be done that day.
Remember that the workouts offered by the Ignite Polar are not intended to prepare you for a marathon or an Ironman, their goal is simply to keep you active and fit. The important thing is that these recommendations are given taking into account all the values indicated above, offering you variety and recommended exercises. Or even recommend that you rest, just like that.
That's what makes FitSpark fantastic, being a proactive feature. Polar is not the first to offer training plans, even the Suunto 5 or Amazfit Stratos offer adaptive workouts; but none of them take into account past activity history or your level of recovery.
The most they could do was to readjust, and if you didn't do your 18km long throw today, nothing would happen... they'd pass it on to you tomorrow. But they don't take into account that you didn't do that workout today because you've gone on a bender and you're a rag, something that would reflect on your zero level of rest.
However, Polar will see that you have slept for 3 hours, that your heart rate is sky-high and that you have not rested because everything is still spinning; and consequently it will guide you on what you can or should do. 
Or on the contrary, you may find that you've slept like a dormouse and haven't been training for 3 days, so you can work hard.
On the watch screen you can see which workout it recommends.
That night Nightly Recharge said that I slept pretty well, and the day before it was recovery time with a 30 minute walk and 20 minutes of gym. So the recommendation for today is: go for it! What were my feelings at that time? Well that's it, that I could do a good training without any problem.
If you click on the screen you will have a quick description of what it has recommended, always within one of the three categories: strength, cardio or complementary
I don't like what you recommend? I can explore other options by clicking on the "More" option. 
Another possibility that he recommends is interval work running, in case I don't feel like lifting irons in the gym.
And if you choose any cardio training (like this interval training) it will also guide you through the workout, here you can see the "scheme" that we will follow.
The recommendation does not only include the type of exercise or the duration of the exercise, but also the heart rate zone or, in other words, the intensity to be applied.
In the previous image you can see that we have a warm up in Z1-Z2, preparation for interval in Z3, 4 intervals of Z4-Z5 with recovery in Z3 and a cooling back to Z1-Z2.
Let's say we opt for the interval cardio option and complete the workout. Are we done? Yes... or no. Now we have more suggestions in case we want to work out some more with core or mobility exercises.
For core and strength training, we can see on the clock screen animations and details about each of the exercises you are recommending to do. 
For example, if you exceed the heart rate zone during your warm-up on Z1-Z2, the watch will vibrate to warn you. The same applies if you exceed the heart rate zone on Z3, either from above or below.
Is it a substitute for a personal trainer? Of course not, but this is the first time that such a feature is truly interesting, at least for the type of audience that Polar Ignite is aimed at. It is not following a pre-established plan based on a calendar, but it is smarter than that as it will give you exercise guidelines based on past history and level of rest. Every day can be different.
Logically, if you're a long-distance runner who does two or three half-marathons and one marathon a year, FitSpark won't do you much good because your sporting goal is different.
FitSpark is perfectly valid for those who want to maintain an active life, but don't really know how to do it.
This is not to say that there is no room for improvement, such as more variety in cardio exercise or that there may be other variables besides heart rate zones. But as a first step? Polar has done it brilliantly, and offers something really interesting for those who don't even follow a training plan, but are looking for guidance in living a healthy and active life.
Serene
---
Finally we have Serene, something far less interesting than the options you've seen before. It's simply guided breathing exercises, focused on helping you relax.
To be honest, I haven't given it much use, just as I haven't given it in any of the many watches that include this function (be it Apple Watch, Android Wear or some Fitbit).
By default it is set to do the exercise for 3 minutes at 5 second intervals (5 seconds breathing in, 5 seconds breathing out), but you can adjust it to whatever you want.
Once started you simply have to follow the on-screen instructions.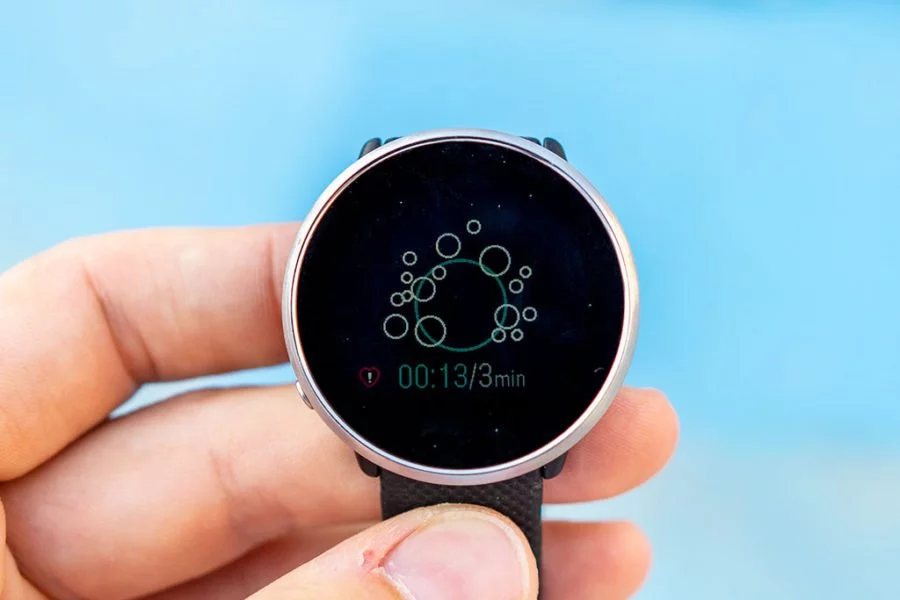 And after finishing it will give you a result about how the exercise has been, classifying it in different areas characterized by precious stones.
This function is not related to the other rest measurements we have seen before. It is totally independent and its results do not affect any other metric.
Real use? To tell you the truth I can't find it, doing these exercises I'm still as stressed out as before. Is it a question of doing them more often?
Optical heart rate sensor
The Polar Ignite uses the same optical pulse sensor as the rest of the current Polar range, which includes the Polar Vantage V 500. The Polar optical sensor certainly impresses with the amount of stuff it includes in the back of the watch.
A total of 9 red and green LEDs, four optical sensors, four electrodes... technically it is a very advanced sensor that not only serves for pulse measurement but also for all the sleep control functions you have seen so far.
It is an efficient sensor and does not have a very high impact on battery consumption, which is of utmost importance in this case, since if we have it deactivated we will not be able to enjoy all the recovery and rest functions of the Ignite, which is precisely the reason for its existence.
As a reminder, keep in mind that an optical pulse meter will not work the same for everyone. Tattoos, body hair, skin tone... all of these can create a big difference between people.
These tests are performed with a "broad" spectrum of users: one, which is me. What works for me may not work the same way for someone else, or may work better.
The most important thing to keep in mind is that you have to wear the sensor correctly, tightly (but not like a tourniquet) and leaving a separation of approximately one finger from the wrist bone. If you make sure you follow these details you can be sure you will get the best possible results for your skin color conditions, etc.
In any case we go with a few tests to see how the sensor behaves in this specific case. I'll start with this mountain trip, in which besides the Polar Ignite I'm using the optical sensor of the Suunto 5The Garmin Forerunner 945 is paired with an HRM-Tri chest sensor.
In general the result is quite good. You can see how there are some points where there are some erroneous peaks (such as around minute 35), but in general the stability in all three graphs is remarkable, something that is not easy in this type of activity given the amount of changes in training intensity.
The end of the training is also important, between 1:05 and 1:11 and the last stretch. In both cases I stop and walk slowly, or I stop completely. This is critical for the optical sensors because one of the necessary data in the algorithm is the running cadence. If there is no movement... we make it difficult for the optical sensor to measure.
Another mountain trip with the same watches, but this time changing the sensors a bit. Suunto 5 is paired with a Polar H10 sensor, while FR945 is this time using its optical sensor, the new Garmin Elevate 3.
Here we can see several things, for example that in the sudden changes of intensity the delay of the sensor of the Polar Ignite is greater than in the case of Garmin. You can see how in all the ups and downs of intensity the graph of the Polar is slightly displaced to the right, it always goes with some delay.
Although Forerunner 945's graph also behaves like this in certain occasions, in general it's faster as soon as there are changes in the intensity. We can see again how at the points where I stop or slow down the graphs get totally lost. It's not something exclusive to the Polar, it happens in all three sensors.
When there are no major changes in intensity, the reading is correct at almost all times. The problem appears whenever there are sudden changes, as in a training series.
Did I say series training? Well, here's one. It's a hill training: 3x hard climb, with rest by jogging down to the starting point.
This time there's no chest sensor, but I'm wearing the Polar OH1+ which is about as accurate.
Very good result from all three sensors, which are almost identical to 100% for the entire duration of the training. In the case of Polar Ignite you need a little more time at the beginning of the training, but once you reach the same point, around minute 2, the result is very similar including all three intervals.
In this case it is FR945 that seems to have some excessively high peaks on the third climb, but otherwise a perfectly valid result.
In short, the Ignite repeats the good results I'm used to seeing with the Vantage. Like any other optical sensor there are slight delays when there are changes in intensity, such as series training or mountain running where we're constantly going up and down hills; but in training where the intensity is stable it doesn't present a problem.
Ignite Polar GPS Reception
Just like the optical sensor tests you saw earlier, the GPS comparisons are done in the same way: with the watches accompanying me in my usual training. I wear both the Ignite and other models, and check where the problems appear. I don't have any defined route where I set a score for the simple reason that there are other external factors that we should never forget.
Things like clouds, leaves on trees or simply the satellite position can alter the GPS results from one day to the next, which is why I prefer to do this type of comparison instead of having a predefined path and assess it from there.
The tests I've done with Suunto 5 have been using the GPS + Galileo configuration, which will be the one most of you will use.
I will start with a short and complicated training for the GPS. My son is with me, so the speed is low and there are quite a few urban areas with signal reception problems. 
But I do want to emphasize the first area, where we have a constant pace and cross a park with good satellite reception, something that with any model of watch should not present problems.
Both the Garmin 945 and the Vantage M perform well, making turns in the corresponding streets or on the paths I cross in the park, while the Polar Ignite certainly seems to be totally lost.
What I'm looking for in a GPS reliability test is not so much that the GPS records the route correctly (which it also does), but mainly that it is reliable in showing a final pace and distance.
Logically, if the recorded route fits the route followed, the final result will be quite faithful, if the clock has continuous signal jumps it will alter both the rhythm and the distance covered. That's why I focus on analyzing the graphics, because that's what allows us to see if the clock is performing the calculations correctly or not.
Continuing with the trainings, let's go with some of the many mountain trainings I have done these days.
The section I highlight below is not excessively complicated, it is not a forest area but a low scrubland area. In this case the graphs of the Suunto 5 are a bit "unstable", instead of wearing the watch on the wrist I was wearing it in the hydration pack, turning at times and losing the visibility of the antenna to the sky.
As for the Polar Ignite, it is generally decent, but little else. You can see that it is the one that deviates the most from the route constantly.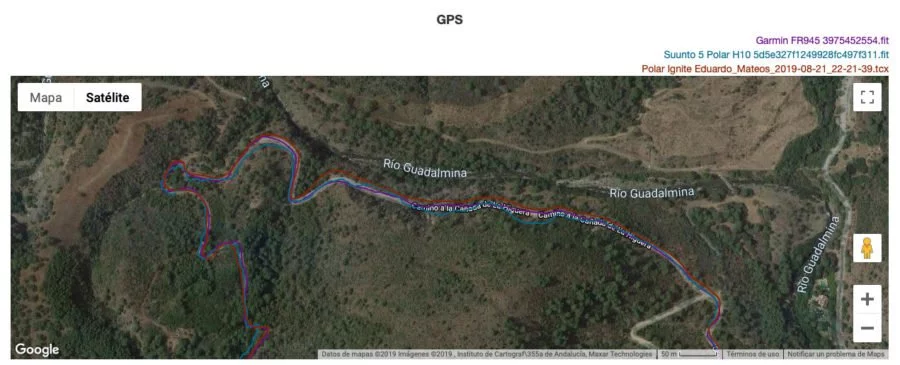 This is a behaviour that is repeated throughout the training. On this stretch Suunto 5 is facing downwards, so the performance is quite bad, but in general FR945 gets a better result.
Cutbacks by the Ignite on this route are quite frequent.

We are going with a different route, but in the same area. In this case I include the Polar Vantage M, for comparing two watches that in theory are technically very similar.
With the Ignite the graph has me almost always running out of the way over the trees, while both the FR945 and the Vantage have a noticeably better performance. Here you can see those areas I have highlighted, where the Ignite goes out of the way.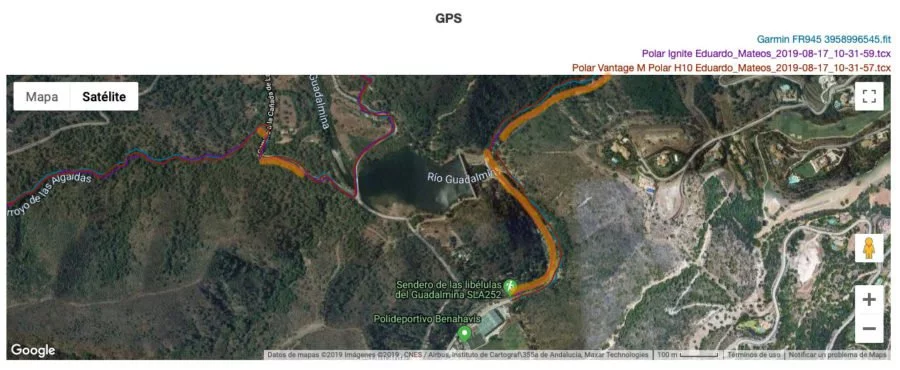 As we've seen so far, it's a fairly common mistake in the chart. There are many points where it's too far off the mark, and it's always the Ignite that gets noticed.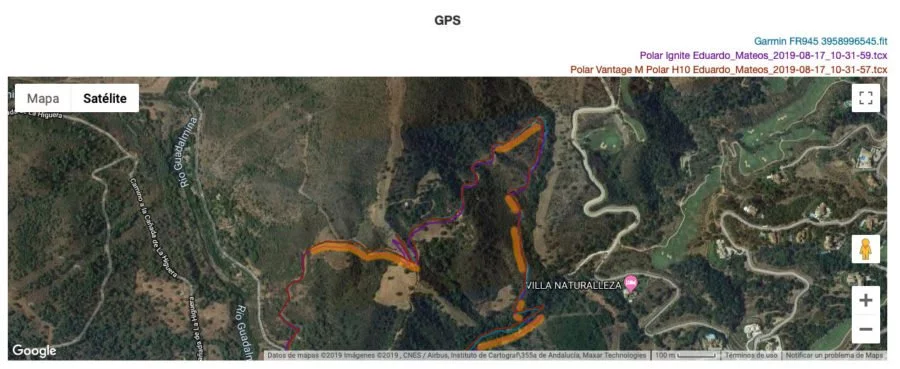 Not always the performance is bad, sometimes it has moments of lucidity with good performance, like this other example where it coincides fully in the graph with the other two models, even for the urban area where the reception is much more complicated.
To sum up, the GPS reception of the Ignite can be improved. It's not something horrendous, but it's far from good. And it's clear that it can do better because in the comparison with the Vantage M you can see perfectly how its cousin offers better results.
In the case of the Ignite, it will be sporadic runners (or even people who never run), which is why Polar has decided to allocate more resources to other areas.
In any other model it would be something I would criticize quite strongly, but in this particular case I think the performance is sufficient (not good) with respect to what Polar wants to obtain from the Ignite.
Buy Polar Ignite
I hope that this complete analysis has helped you to decide if it is a valid device for you or not. All the work I do you can consult it without any cost, but if you want to support the web and with it the work I do, the best way to do it is to buy your new device through the links I provide below.
And if you don't buy it today, remember to stop by when you do! Through these links, not only will you get a very competitive price and the best customer service, but I will also receive a small percentage without costing you any additional outlay, which is what allows me to continue offering you proofs like this on the site.
You are not going to buy it, you already have it or Amazon is not an option; but you like the reviews I perform and you want to show your support for the site? Then consider signing up for a VIP membership.
Above all you will be helping to support the site, but you will also enjoy unique benefitsIf you have any questions, remember that you have the comments section at the bottom, where I will try to answer all your questions.
Find the best offer
Polar Ignite
Polar Ignite Review
The Ignite Polar is not a watch that impresses. In fact by specs it is quite normal. My main complaints come from precisely what makes it different: the LCD screen.
Visually, the quality of this type of screen is superior, nothing like the one we have in the Vantage. But when you're playing sports, the fact that the screen doesn't always stay on is a problem, especially since it takes time to react. And the tactile response is far from the best experience. In short, it's not an Apple Watch. 
They may improve with a firmware update (both the wrist gyro recognition algorithm and the display behavior), but that's how it is today. GPS performance should also be improved, although as I said before it's not something I'm particularly worried about in this model.
However the platform and everything that it offers in terms of rest seems to me very, very good. Polar has found a very important vein with the Nightly Recharge function and, in a way, also with FitSpark. Today the Polar rest control proposal is not only the most complete of all manufacturers, it is also the easiest to understand and follow the trend.
And I'm really happy about that, because lately we've been used to manufacturers adding a lot of features, but in a disconnected way and without going into any detail. That's what Polar stands for, the connection between the different features and how one thing leads to another. 
Polar has been working in the shadow of this platform for months now, laying the foundation for a different and understandable solution for athletes of all levels - all part of the Polar Precision Prime sensor, which we may not even know everything about yet. 
The Polar Ignite is a normal product, but it serves as a gateway to a magnificent platform like Polar Flow. When you buy the watch you are not just buying a GPS watch, but everything that is associated with it. And today the platform behind it is just as important or more important than the watch itself. And I look forward to seeing where else Polar leads us with this kind of thing and what it will mean for the platform in the future.
And with that... thanks for reading!