Polar has just presented its new model, the Polar IgniteDespite being a GPS watch its focus is not on runners, but rather on fitness in general, which is not to say that if you are a runner this is not a watch for you; on the contrary it can be the perfect solution you were looking for.
In the end it all depends on what you're looking for in your training partner, because it's clear that there are many very different profiles and not all of us are looking for the same thing, or need the same thing.
With the Ignite, Polar returns to its origins: the science of sport. It is a watch that does not stand out much in terms of what it offers in the technical section, in fact it brings nothing that we have not seen so far. In fact almost everything reminds us of its brothers, the Polar Vantage.
But it is in science and in everything behind it that there is news, with up to four new functions to which Polar has given very flashy names.
Of course, some of these things are more interesting than others, but before we get into those new things, let's take a look at the clock itself, because there are some things that are different from the Vantage.
Ignite Polar details
The Ignite Polar is neither an activity bracelet nor a GPS watch. Polar has tried to make it both.
There are a lot of things that remind us of Vantage, which is normal because it is based on them. But it doesn't mean that they are the same. For a start, the display is different because this time Polar has chosen a full-colour LCD that is normally off.
Logically, the screen is much more vivid, but it can't always be on because otherwise the battery would fly. Outside in the sun it's more difficult to see details (although the Polar Ignite has a light sensor), and since it's not always on, we have to wait for the screen to decide to show the information when we raise our arm. As for operating the watch, it's done through a touch screen and only has one button.
And that's pretty much where the differences end. There are a lot of things in the Vantage range that are in the Ignite Polar:
Same optical pulse sensor as Vantage, the Polar Precision Prime
Same Sony GNSS chipset
Support for external Bluetooth sensors
Swimming support, both pool and open water
Offers Training Load Pro information
Create advanced workouts in Polar Flow and download them to your watch
Running Index, Fitness Test, Training Benefit, etc.
We could say that we are looking at a smaller Polar Vantage M with an LCD screen, although we must not forget that there are some things it is not so capable of:
No potentiometers can be used, neither running nor cycling
There are no multi-sport modes (duathlon, triathlon, etc.)
The maximum range is 17 hours, which is good enough... but it's not as good as the Vantage
However, there are new features in the Polar Ignite that are not (at the moment) in the Vantage, and as I said, all with very flashy names:
Sleep Plus Stages
Nightly Recharge
Serene
FitSpark
I was saying that these are things that are not yet in the Vantages... although they will come. In particular the first three functions are already confirmed for the next update of the Vantages in October. FitSpark, for the moment, is out.
But... what's the point of every one of those functions? Don't worry, that's why you're here, to find out everything.
New features of the Polar Ignite
I had promised some interesting things with the Polar Ignite and so far it's all pretty normal, right? Now begins the good thing that, as I said at the beginning, is what Polar has always excelled at: science applied to sport.
The Ignite has four new functions. They are not only interesting for what they offer by themselves, but the most outstanding part is that at least three of them are related to each other. Therefore, the data provided by Nightly Recharge will be reflected in the recommendations of FitSpark.
But I'm getting ahead of myself, let me explain what each function is for.
Sleep Plus Stages
This is a second step to the sleep analysis that was present until now. It now offers information on how your sleep has been by following the different phases of sleep (REM, light and deep), interruptions, cycles, etc.
Putting all of this together, it offers a score to assess the quality of the rest you've had that night. It helps to be able to see trends about habits you have before going to sleep (eating late, training, watching TV...) that may be causing you not to get as much rest as you should.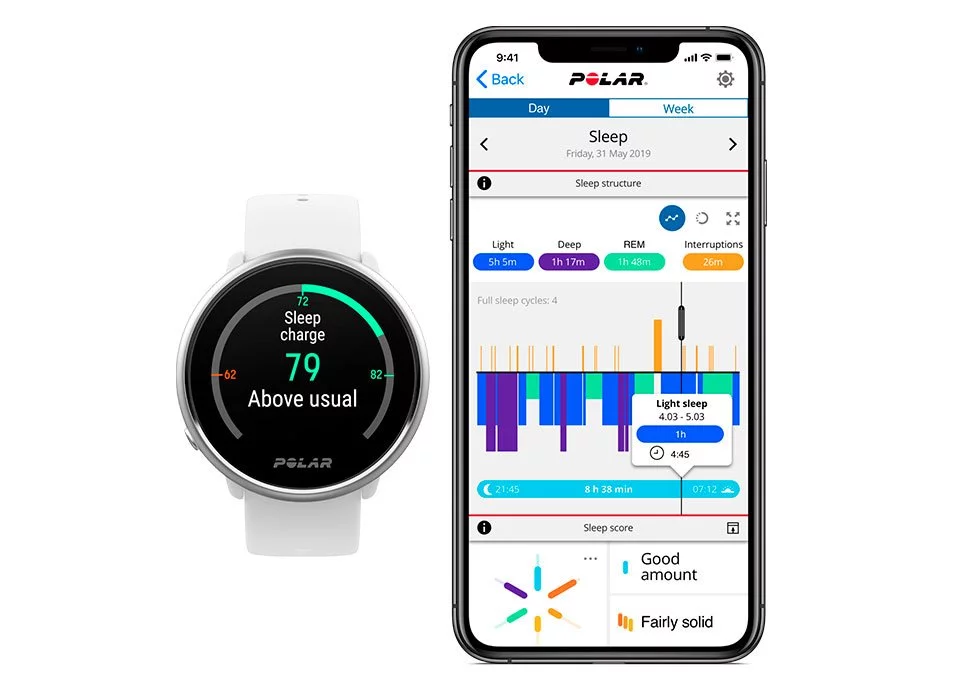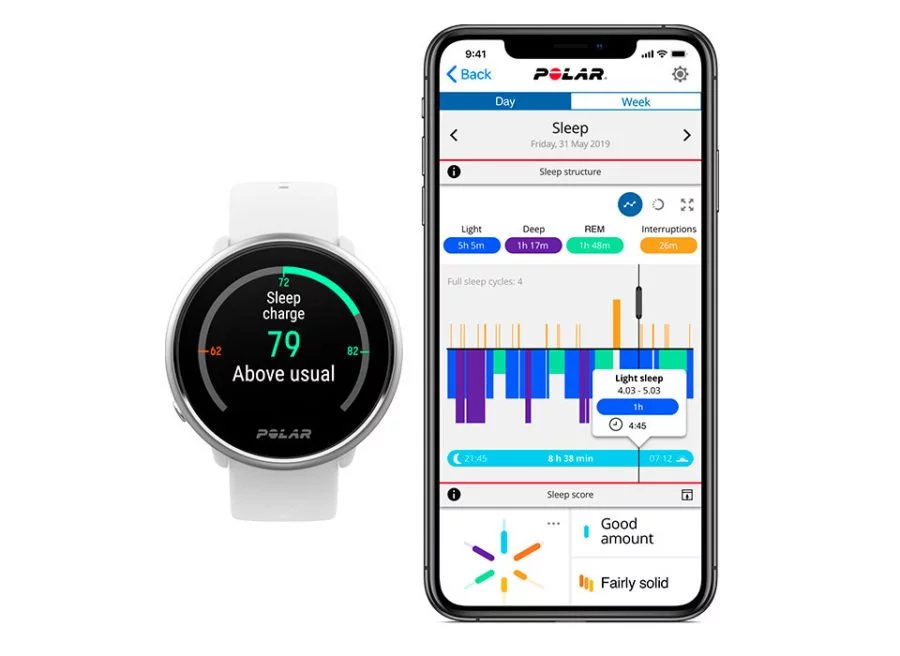 At the moment there is nothing interesting in itself in this function. What is interesting is how all the functions are linked to the next one, so read on.
Nightly Recharge
With the data from Sleep Plus, Nightly Recharge interprets the data provided by the Sleep Score by combining the score obtained with recovery data from the body. To obtain this recovery data, the watch takes three things into account:
Heart rate
Heart rate variability
Breathing rate
Polar calls this the ANS (autonomic nervous system) - it is recorded by the watch directly through the wrist pulse sensor, and does so during nighttime rest periods (so no naps or breaks that you can take during the day are included).
Nightly Recharge mainly analyses the first three hours of sleep to determine how easily your body recovers in those first moments of sleep.
So we continue to accumulate data to inform more options...
FitSpark
We're going up steps and we're already on the third. We already have combined data and now comes the best part, FitSpark.
What's behind the pretentious name (fitness spark)? A smart virtual trainer who, based on the rest data he gets from the two previous functions, your recent training history and the current fitness level, determines which exercises are recommended to be done that day.
In other words, there is no objective here with a specific date in mind (for example, running a half-marathon in three months), but rather the aim is to stay in good shape.
With all the above mentioned data the Polar Ignite offers three types of training: cardio, strength or core and mobility exercises. And the proposals are smart, so if you haven't had a good night's rest, it won't offer you too much of a workout. Or if your activity history doesn't show you doing long runs, it won't offer you an hour and a half of running.
You will see these recommendations directly on the clock screen, as well as recommended exercises for strength and core training.
Without a doubt, this is the most interesting option that the Ignite Polar has. Finally a training platform whose exercises are not written in blood or are immovable. It is not a 3-month training plan that you have to follow to the letter, or a fixed proposal regardless of whether you get up like a rose or are knocked out after a night in which you haven't slept a wink.
Both Garmin and Suunto offer virtual training systems, but neither is as open as this one from Polar, which proposes to have many more values in mind when it comes to telling you what exercises to do.
That doesn't mean you can't have a targeted workout. The Running Program option is still available, but it's not as smart as what FitSpark offers.
Serene
Finally we have Serene, something far less interesting than the options you've seen before. It's simply guided breathing exercises, focused on helping you relax.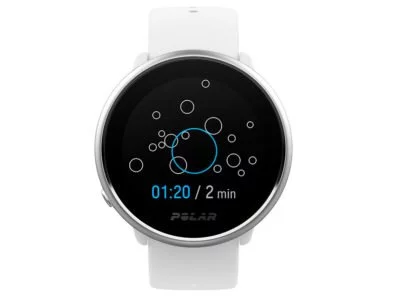 Polar Ignite, price and availability
Polar Ignite is available for purchase almost immediately, and you can have one in a week's time.
In terms of colour there are three possibilities: white, black and yellow. Both the black and white have a silver bezel, while the yellow strap has a black bezel.
However, any of them allows you to change the strap for any standard one, it does not have to be a Polar accessory.
The watch with a black strap is priced at £199 with a slightly harder rubber strap. Both the white and yellow watches have a different strap, made of silicone, which brings the price up to £229.
What's new in the Polar Vantage
Polar has taken advantage of the launch of the Polar Ignite to update the update schedule of the Polar Vantage. As I said before, some of the features that are released with the Ignite will be coming soon to the Vantage.
Unfortunately the function that doesn't come in is FitSpark. Polar understands that this function is designed for a different profile of audience than the one who buys a Vantage. They want to focus the Ignite on those who simply want to be fit, while Vantages are aimed at the more sporty or more structured target group.
This is the new plan for the next two updates:
Update 4.0
October 2019
Satellite support Galileo/QZSS/BeiDu, along with GPS and GLONASS enhancements
Fitness Test
Zone Lockout
Lap details in the training file: time, distance, average pace, etc.
Possibility of manual calibration of footpod
Sleep Plus Stages
Nightly Recharge
Serene
Possibility to leave the lighting active during training
Inactivity alert
Other improvements
Update 5.0
December 2019
Strava segments (only Polar Vantage V)
Running rhythm