HEADS UP!!
The Polar Grit X full review is already published. This article is only the watch presentation, so if you want to know all the details of the watch, how it works and the my full detailed opinion, click on the following link:
Polar is currently announcing the new Polar Grit X, its latest watch that the prepared to enter a segment in which until now they had no specific presence. This Grit X is focused to enter the outdoor range, the same in which we can find the Garmin Fenix 6, Suunto 9or APEX Pro Choirs.
The Polar Grit X is very similar to the Polar Vantage V, with which it shares most of its specifications. But remember that the Vantage V is above all a triathlon or running watch, and although it has a barometric altimeter and basic navigation, it was not intended for a specific use in the outdoors or mountains.
Hay algunos cambios en cuanto a su estética. El Vantage V es un reloj de líneas elegantes y discretas, mientras que el Polar Grit X es algo más «tosco» en su diseño, pero no en un sentido despectivo. Polar ha tratado de darle un aspecto más fuerte y vigoroso.
So, if the Polar Grit X is almost a variant of the Vantage V... are they the same watch with different aesthetics? Almost, but no. The main difference is in the specific functions that Polar has endowed the Grit X to be used in the mountains.
Polar Grit X, specs
Find the best offer
Polar Grit X
Therefore, the comparison is established directly with respect to Vantage V, because it is the model that we all know and to which we can relate the new product. There are many features that are shared between the two:
The size is very similar . The Polar Grit X is 1mm wider than the Vantage V (47mm by 46mm of the latter), but it is simply a difference in the design of the watch.
The weight, in the same way, is practically identical. 64 grams of the Grit X by 66 grams of the Vantage V, finding the difference on the strap.
The screen is transflective , touch controlled and with Gorilla Glass lens. With a size of 1.2″ it has a resolution of 240×240 pixels.
The watch case is made of stainless steel, while the back is made of polymer (plastic).
Compatible with GPS, GLONASS, Galileo, BeiDouand QZSS. Of course, the GNSS chipset is Sony's.
It can be paired exclusively with Bluetooth sensors. Although all current Polar sensors are dual ANT+/Bluetooth, so far that duality has not reached the watches.
Meets MIL-STD-810Gmilitary durability standards. Vantage V does so.
All Polar's own performance metrics: Training Load Pro, Sleep Plus Stages, Nightly Recharge and FitSpark. Meanwhile Recovery Pro is only available on Vantage V.
Running power on the wrist without the need for external accessories.
Barometric altimeter.
Supports Live Strava Segments .
Polar Precision Prime optical heart rate sensor, although slightly redesigned.
These characteristics are the same in both models. Among all of them stand out all the training algorithms from Polar, which, together with running power, are undoubtedly the most important part of their product not only because of the information they offer but primarily because of how they all relate to each other. I give you a brief summary of what each one of them offers
Training Load Pro
Cumulative measurement of training load over time.
Sleep Plus Stages
Analysis of the different sleep phases.
Nightly Recharge
Beyond the sleep phases, it tells us whether the rest has served to recharge energy.
FitSpark
Recommended workouts for each day based on load values of previous days, our night rest and the general state of fatigue.
However, there is one omission, and it is Recovery Pro. It is an assessment that indicates how you have recovered from the previous day's training and confirms whether you can increase volume and intensity or it is better to make a more relaxed session. It is not present in the Grit X and is therefore reserved for Vantage V, although the reality is that Nightly Recharge can offer very similar information.
What are the specific features and functions of Polar Grit X? They are the following:
Hill Splitter, automatic hill detection during training to separate that part and give specific information, both during training and for further analysis later in Polar Flow.
FuelWise, an intelligent assistant that will give you hydration and nutrition recommendations during longer outings. Alerts may be automatic or manual.
Possibility to create navigation routes with Komoot.
Current weather and weather forecast for the next two days.
Magnetic compass.
The battery has a little more capacity , going from the 320mAh of the Vantage V to the 346mAh of the Polar Grit X. However, the battery life announced is the same in both cases: up to 40 hours of use with GPS and OHR at maximum accuracy (every second). There are other battery saving options, allowing you to reach up to 100 hours of battery life by lowering the accuracy of the GPS or disabling the sensor.
Depending on the options we have selected for a specific sport profile, before starting the training we will have information about the maximum battery life for our activity.
The strap is 22mm wide, so we can use Polar's own or any other of that width. In the case of the Vantage V the strap was specific in the way in which the strap was anchored.
En definitiva, tenemos nuevas funciones destinadas a su uso en montaña y en salidas de trail.
The new Polar Grit X features in depth
Hill Splitter
Of the new features Polar has given to the Grit X, Hill Splitter is probably the most important of them.
Its function is to automatically separate the ups and downs that we encounter throughout our workout to be able to have detailed information about that section.
It is a kind of automatic lap, but instead of being activated by distance or time, it does so by rise or descent of 5/10/15 meters for a certain distance. It depends on the sport profile we are using; being 5 meters for running, walking or others on foot, 10 meters for cycling and cross-country skiing profiles and 15 meters for downhill profiles.
In addition to separating that part in the training file for further analysis in Polar Flow, the watch will also display a screen with the relevant data for that moment.
Distancia que llevamos subiendo o bajando. Es decir, la distancia que tiene «esa vuelta» hasta ese momento.
Total of meters we have been ascending on this climb. If it were a descent what we were doing, it would indicate the meters we were descending.
Instant pace.
The number of ups and downs we have been through. In the picture it indicates that we are on our first climb.
The screen does not have other variations and does not allow you to modify that data. Personally, I would have appreciated the ability to show power instead of instant pace, or at least be able to modify some of the data.
Pero que no aparezca en esta pantalla no quiere decir que no podamos consultarlo en cualquier otra pantalla. No deja de ser un «lap» independiente, por lo que si en otra pantalla tenemos seleccionada la potencia o la media de lap automático podremos consultarlo igualmente. Y lo mismo con cualquier otra métrica de lap, será relevante para este segmento concreto.
This display is automatic and does not depend on any external function, such as loading a navigation route so that the watch knows when we are going to find a hill.
Si estás familiarizado con Garmin, es lo que en los Fenix se denomina «Auto Climb». Pero Polar va más allá ya que no muestra simplemente la pantalla sino que hace una anotación en el archivo de actividad, que es lo que nos permite analizar cada una de las subidas tras sincronizar a Polar Flow.
But what it does not offer is information on how much we have to go up and how hard we have to face, since it does not have such cartography data.
FuelWise
FuelWise is the name given to the new hydration and nutrition assistant Polar has developed for the Grit X.
These are alerts to remind you when to drink and eat. The alerts can be manual, in the sense that you schedule the watch to remind you every X time what to drink and/or eat.
It also offers an automatic alert, and that is the interesting part, in which it is the watch that, depending on how the training is going, will tell you what to eat and when to do it.
To have these automatic alerts, before starting a workout you will have to tell the watch what you are going to do, because without that information it won't be able to show it. It's as if you're going to eat at your mum's house and don't tell her in advance that you'll be hungry after you've run 3 hours. If you don't want to stay hungry, you better warn in advance...
La información que debes aportar es duración estimada de entrenamiento, intensidad media (por ejemplo entrenar en Z3) y cuál es la cantidad de hidratos de carbono previstos para cada una de las tomas (es decir, mirar la composición del gel o barrita y ver cuántos HC aporta). Esta información se introduce directamente en el reloj, en el menú de «Alimentación».
Based on the data you enter, FuelWise will tell you the total amount you will need for your workout. The calculation will be based on the data you know about your fitness and training history, which is what you have collected previously with the Training Load Pro feature. So when you go out to do your training you will know in advance how much water and gels or bars you will have to take, and also how many times it will alert you.
What if we entered that the intensity is going to be low, but the reality is that you start to compete with your training mates and increase the intensity? (Something that has never happened to anyone, has it?) FuelWise will vary the number of alerts and their frequency, constantly adapting to the actual energy consumption you are having. And the same if the intensity isn't as high as you thought.
Additionally, we will also be able to know what energy sources we have used in training, something that depends on the intensity of the exercise.
The watch will estimate the percentage of carbohydrates, proteins and fats, allowing you to know how it has affected you nutritionally and how to plan your recovery. This information will be on the watch at the end of the activity, but it will also be available in Polar Flow along with a graph showing the consumption by time of each of the energy sources.
Logically it is an estimate and not a laboratory test, although absolute data are not the important aspect but the relationship between them (more or less carbohydrates than fats, etc.).
This information will always be present, regardless of whether we are using FuelWise in the training session .
Komoot compatible
Komoot is a navigation service of an Austrian company, designed specifically for adventurous users. Polar relies on Komoot for the management of navigation routes because, unlike Garmin or Suunto, they do not have the possibility to create routes directly on their platform, it is only possible to import a route from Polar Flow.
The truth is that it is a very complete and easy to use platform, in which in addition to being able to create your routes you will also be able to see and navigate the routes that other users load on the platform. Let's say it's a social network of adventurers.
Thanks to the creation of Komoot routes we will be able to have turn-by-turn navigation, something that was not previously available in Polar.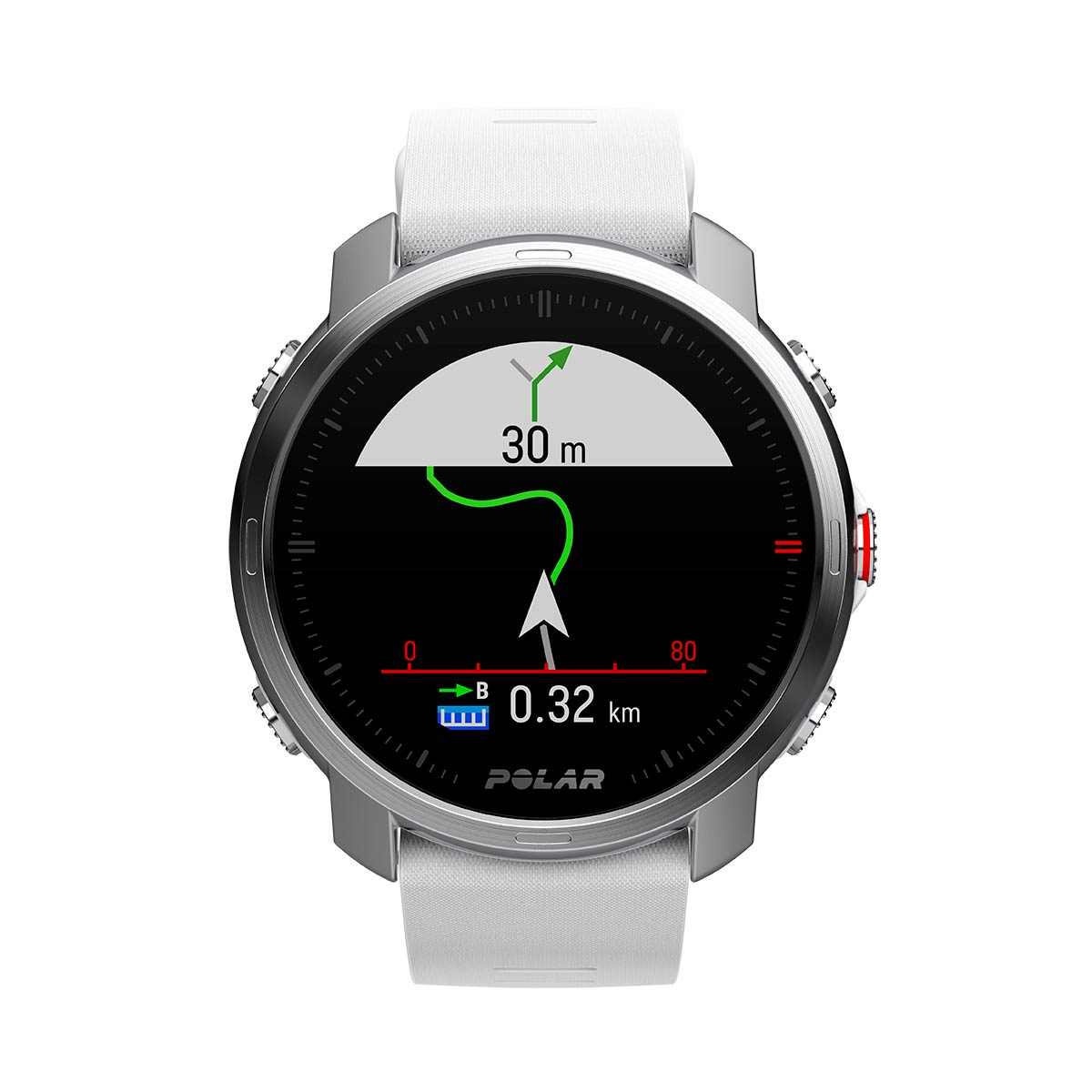 As a platform that is not related to Polar, route management will have to be done through its website, and in your Polar Flow profile you will simply have to connect both services through the Partners section, exactly the same as if you were connecting your Strava account.
The way Komoot works is by unlocking regions. As soon as you sign up for the platform, you can unlock the region of your next route. This first region is free and allows you to create unlimited routes in that area.
But if you want to use more regions, you'll have to unlock them. You can choose to unlock a province for €9, or unlock all regions with a single payment of €20.
That would be all you need to enjoy that navigation with turn-by-turn alerts, you don't need to be subscribed to the Komoot Premium option but simply unlock the region or regions you're going to use.
There is no doubt that this partnership is very positive for Polar, as the aspect where the Vantage V has always failed most is in its route navigation. Not that a substantial jump is added (because there are no POIs or maps on the watch), but turn-by-turn is an essential element in any outdoor watch.
The Vantage V only offers route exit warning, and also does not have a magnetic compass. This one is available on the Grit X.
In a watch to use while doing navigation that is a key aspect, as it allows you to stop at a fork along the way and identify which path you need to take to reach your destination. For GPS compass watches (such as the Vantage V), the direction will only be showed when we are moving, because the watch knows that we are moving from one point to another.
However, the magnetic compass does allow us to know which direction we are looking when we stand. Obviously it will not only help when navigating a route but also in any other circumstances where you need to make a basic orientation.
New Polar Precision Prime optical heart rate sensor
With the Polar Grit X we also see that Polar has made a small change in its optical sensor. The design remains unchanged, but what has changed is the number and color of the LEDs.
While in the original design of the sensor we had 9 LEDs (5 green, 4 red), Polar has now added one more and changed its color. In the Grit X sensor we have 5 red, 4 orange and 1 green.
In the image above you can see both sensors and their distribution of the LEDs. As you see, the only thing that has changed is the number and color of them.
According to information provided by Polar, with the Grit X sensor and the color of the LEDs chosen, the impact of ambient light is reduced and the reliability of the reading is increased. Certainly something to consider for the complete test that I will perform soon, although for that I will have to be able to go outdoors first...
Polar Grit X, availability and price
Let's talk prices. How much is the new Polar Grit X going to cost you? Well, less than you thought. We are accustomed to the fact that with each new arrival of a product to the market, the brand will raise the price level of the previous model.
What is the pre-Grit X model? Well, there really isn't because, as I said, Polar is entering a segment where before their presence was practically testimonial. But why not think about the Vantage V... Let's say it is the basis of the Grit X, on which more features are added. And that Polar Vantage V has a price of 499€. Okay, maybe it's now cheaper.
Si el VV «cuesta» 499€ y el Grit X ofrece casi lo mismo (sólo pierde Recovery Pro) y más, entonces la lógica dice que debería ser más caro, ¿no?
Well, no, the Polar Grit X comes to the market with a price of 429€. Indeed, Polar has established a lower RRP than the one they marked at the time for Vantage V. The truth is, accustomed to the releases of other brands where each new model means adding €100 more to its price (indeed, we're thinking of the same brand that starts with a G and ends with an N), it's a relief to see that it doesn't have to be the usual.
We have three colors available: white, black and green.
These straps are made of silicone, and together with the watch, Polar also launches a series of straps of different materials, designs and prices. The following options are available in textile, paracord and leather.
Prices range from 29€ for silicone strap to 49€ for leather strap, going through 39€ for textile straps.
The last thing you need to know is when you'll be able to get yours. You'll think that with the global pandemic situation we're experiencing, the presentation is just a shot into the air and that until everything pass, we won't be able to start thinking about it.
Well, that's not the case, because you can start reserving it right now and the first units will be delivered throughout May. In other words, availability is immediate.
— Actualización 26 de abril
Ya lo puedes comprar en varias tiendas
Find the best offer
Polar Grit X
Polar Grit X opinion
The entry of the Polar Grit X into the market is not a bomb that will shake the whole industry. It has news within the Polar platform, but these are things we had seen in the sector in a similar way. Hill Splitter and FuelWise had already been seen on other devices in a more or less similar way.
But remember, unlike when Polar launched the Vantage V, its platform is already much more mature and the Grit X comes to the market with all the features that the first Vantage lacked at first. Update 4.0 represented an important qualitative leap in what the Vantages offered, not only incorporating outstanding functions but also new features from the Ignite as Sleep Plus Stages and Nightly Recharge. And the 5.0 also brought FitSpark along with live Strava segments.
It is also necessary to add Polar Flow platform, in my opinion one of the easiest to understand that exist and that thanks to the Training Load Pro function allows you to see very quickly if you are overtraining. And let's not forget its battery life and the update of its optical heart rate sensor.
Beyond those functions, where I think Polar has been right is with the price. That will hurt the competition, offering a product with very similar performance, but at a fraction of its price.
That was precisely the success they achieved with the Polar M400, probably the most successful model for Polar and that triumphed because its price/performance ratio was superior to the rest of its segment. Success they want to repeat with the Grit X, but in a totally different segment.
Considering the watches focused on mountain or outdoor use you will only find cheaper the Suunto 9 in its basic version without barometric altimeter. But if we opt for the Suunto 9 Baro the price is already higher. The same applies to Garmin Fenix 5 Plus or Garmin Fenix 6 , which is higher than Polar has set for the Grit X. COROS APEX Pro is more expensive as well.
The price/performance ratio is a factor that we should never forget. The vast majority of buyers are not looking for the most expensive or the most complete, but what can best be adapted to their use for the least amount of money possible. And I sincerely believe that this is something Polar has achieved with his new model.
It just remains for me to place you for the full review I will make on the Polar Grit X in the near future, as soon as we can run outdoors.
If you have any questions left regarding Polar Grit X or want to tell us what you think of the new model of the Finnish brand, below you can find the comments and I will answer you as soon as possible.
And with that... thanks for reading!