With Black Friday already in the rearview mirror, it's time to catch up on all the pending work, and nothing better than starting with a new episode of the podcast Between Thresholds. Sound good?
The first thing we get into is the resolution of questions, specifically about Stryd and treadmills. Which data should you pay attention to, the data indicated on the treadmill, or the data shown by Stryd?
Once the question is solved we enter the technology part, although in this episode it's a little different... and I start talking about the last sneakers I've released, in both cases from Nike. Previously I had already written some small tests of both sneakers on my Instagram.
The first model I am telling you about is the Nike Infinity RunNike's most maximalist shoe, probably ideal for long runs, although they hold up well if we tighten the screws a little bit.
 

View this post on Instagram

 
The second model in question, which I have been using for the first time these days, are the new Nike Air Zoom Tempo NEXT%which are the little sisters of the Nike Air Zoom Alphafly NEXT%. They have a similar design and both use ZoomX foam (which is a marvel), but then there are changes in terms of the inner plate material as well as the combination with React foam in the Tempo NEXT%.
 

View this post on Instagram

 
And for sheer technology, the latest action camera I'm playing with these days: the Insta360 One R Twin.
It has a unique design in that it is both an action camera and a 360º camera, allowing the lens to be changed very easily. However, each mode of operation is very different in terms of what we must take into account both before recording and when editing.
And everything I say about the camera applies to the Insta360 as well as any other action camera and how it compares to 360° cameras.
 

View this post on Instagram

 
As you've seen, lately I've been getting a good number of small tests on my Instagram. And that's the use I want to give it and make publications with tests that would not fit on the web, but for which a platform like Instagram is perfect. Because in the end I "play" with many more things than what you see on the web.
So if you still don't follow me on that social network, click here to access my Instagram and follow me.
For his part, Jose continues with the special series on biomechanics, where today he is going to teach us all how to correctly adjust the saddle height. But not only the height, also the adjustment in terms of tilt and setback. That's the basis of any position adjustment you're going to make on the bike, and there are things to keep in mind if you change the setback (you'll have to raise or lower the saddle).
In addition, it offers two possible solutions to do it directly at home with the camera of your cell phone and a free program, along with the guidelines that you should take into account. All very didactic!
The first of these programs is Kinovea. This free program allows you to load a video that you have recorded with your cell phone to poder calculate all the angles that Jose tells us are correct.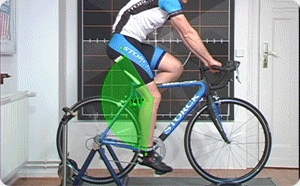 The second option is Bike Fast Fita program (for a fee) that you can find in the App Store for iOS devices with a similar operation, but that makes everything much easier and faster.
Doubts, requests, questions... Can you send us your question? You can do it through the form that you will find in https://www.correrunamaraton.com/podcast. Doubts, content requests... send us a message.
You can find us here
Podcast social networks
- Instagram: https://www.instagram.com/entreumbrales_podcast/
- Facebook: https://www.facebook.com/entreumbrales_podcast-106404554393056/
Eduardo Mateos
- Correr una Maratón website: https://www.correrunamaraton.com/
- Facebook: https://www.facebook.com/correrunamaraton
- Twitter: @running1marathon
- Instagram: https://www.instagram.com/correrunamaraton/
Jose Manuel Plaza
- Instagram: https://www.instagram.com/jose.m_plaza/
- Facebook: https://www.facebook.com/entreumbraless/
Where can you listen to it? Well, on the usual platforms, you can choose your favorite:
Or from here, at the bottom of the page.
Do you have a specific podcast topic you'd like us to cover? Do you have a training or watch question you'd like to discuss? Enter the podcast page and you will find a form from which you can podrás send us a message with what you want.
Send us your comments, we appreciate all your criticism to improve and offer you what you are looking for. Leave us your comments on the platform you use to listen to us!and don't forget to send your rating!
If you rate us with 5 stars more 1TP10 people will be able to discover it, because the platforms will put it above in its corresponding section.
Thank you!