This year the CES has been full of news, products, updates... Many of them would give for an own article, but as my time is limited (it's what it has that this is not my only work...) I can't dedicate the same attention to all the news. Not for that reason I want it to go unnoticed, so at least I will dedicate some brief lines to products that have called my attention. I would love to dedicate an exclusive post to each one, but unfortunately my days have the same 24 hours that yours, and they don't give much more of if.
UA Health Box
The union of HTC and Under Armour is not new, they have already strengthened ties almost a year ago. For the CES they present us with their proposal, something like a cookie box full of electronics. Inside you will find three products:
UA ScaleSmart Scale: Intelligent, connected scale that records and sends weight and body fat percentage data.
UA BandActivity monitor with optical sensor that records your daily movements and analyzes your sleep
UA Heart RateFor more serious training, this chest pulse sensor is included
All three devices have Bluetooth connectivity (although the scale also has WiFi) and sync with the UA Record application, already available for Android and iOS. The complete set will be priced at $400, although they can also be purchased separately. Expensive, in general.
The idea of creating a sports package with all three devices is, however, interesting, because in a single purchase you will have everything you need for complete monitoring of both your activity (with the wristband for day-to-day use and the pulse sensor for higher intensity exercises) and the result of your activity (gaining or losing weight, depending on your objective).
UA SpeedForm Gemini 2 Record Equipped
It is not the only "connected" thing that Under Armour has presented. They have also shown some new shoes, the Under Armour SpeedForm Gemini 2 equipped with a sensor in the right shoe that will allow you to record distances of your workouts, which will then be podrán synchronized to its platform, recently acquired, MapMyRun.
You'll be able to go running with absolutely nothing else (I'd take the keys with me, just in case) and still have data from your training. The memory can store up to 5 races before synchronization. Under Armour indicates that the battery will not be a problem, as its life expectancy is higher than that of the shoe, but the connected version is overpriced at $20, so I don't know if it will end up being of interest to most people.
As for the integrated technology, it is basically a pedometer with Bluetooth technology. The good thing is that it seems to have open connectivity, so in addition to being able to save data in its own memory it would also be possible to pair it with your watch (if it has a Bluetooth connection) or your mobile phone.
Under Armour not only allies with HTC, it also allies with JBL
Under Armour has not only collaborated with HTC, but also with JBL to create music products. They have introduced two headphones, the first one to come to the market (and not the one I'm focusing on) will be a normal wireless headphone.
Those who have been able to capture my attention for two minutes of my life are the ones who will arrive throughout 2016.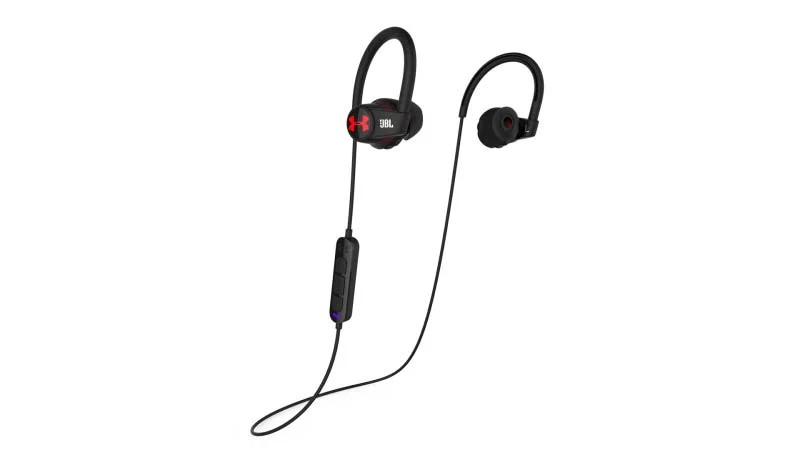 Priced at $250, these wireless headsets also integrate an optical pulse sensor that will send heart rate data to the phone via Bluetooth and will also incorporate a one-year subscription to the MapMyRun platform, recently acquired by Under Armour, where you can track your activity.
New Balance creates "Digital Sport" division
New Balance has announced the creation of a division that will work on what they call "digital sport". Their first product will be a smart watch, designed for the athlete, which they estimate to be on sale by the end of 2016.
In short, many promises but nothing tangible. We will have to watch how this new division of New Balance develops, but perhaps they arrive a little late to the party. Especially compared to Under Armour and all the platforms they bought during 2015 (Endomondo, MyFitnessPal, MapMyFitness), which they have not yet taken advantage of. New Balance will have it much more complicated, because they are going to start from scratch.
Orbitrec, a bicycle connected and created with 3D printers
More than the connected part, I am interested in the manufacturing part: a frame combining carbon fiber tubes with titanium, from a 3D printer. This type of manufacturing would allow us to create each bike in an absolutely customized way, forgetting about universal molds in which "one size fits all".
When it comes to the sensors it integrates, or functions it promises to integrate thanks to various sensors, there is nothing that goes much beyond concepts. Pothole analysis, warning of proximity to dangerous areas or automatic notification when you get home.
That said, it's the manufacturing process that's interesting.
Emfit, the first night-time non-contact pulse variability sensor
Emfit is the first device capable of tracking sleep through heart rate and pulse variability, doing it without contact. So instead of putting a sensor on you, you will put it on your bed. It seems that this system is one of the best options to transmit the pulse variability, anyone would say. 
Emfit monitors the quality of sleep, helping the athlete to know the recovery and stress levels, so depending on your pulse variability the next morning you will be able to know if you have recovered well from the previous day's exercise and if you are ready for a new intensity session, or it is better to take it easy.
–
 So much for part 1. Thanks for reading!