The presentations of the last few days have not been the only products of interest seen in Las Vegas. This edition of the CES has had some major protagonists: Garmin with the new Fenix 5, Suunto and Spartan Wrist HR confirmation, Polar announcing new pulse sensor or New Balance and its new watch with Android Wear 2.0.
But there are other protagonists who have also presented other ideas, some more interesting than others, and above all large manufacturers focusing their efforts on software. Do you think I'll go through them all briefly?
Shapeheart, a mobile phone bracelet with an optical sensor
If you're a phone runner who doesn't wear a watch of any kind, you might be interested in this product. Shapeheart is a fairly normal-looking mobile phone bracelet, like the many you're used to seeing. But there's one thing that sets it apart: a built-in optical pulse sensor. This sensor will wirelessly send your heart rate data to your phone and it can be recorded by the training application you use.
I have tried to get more information about the product, starting by knowing who the manufacturer of the optical sensor is and if it used technology from any known company. The photos of the product are not real, so at first sight it is difficult to know, especially because they do not show the face of the sensor. I have also not been given details about whether only Bluetooth connectivity is available or if it would be possible to operate also through ANT+, although from the data provided it seems that it only emits through Bluetooth.
My theory is that it is simply a bracelet "dressed for Sunday" that incorporates a well-known sensor inside, either the one from Scosche or that of MioFrom the form, I would say it is like the first one, therefore a Valencell development. Anyway, it should reach the market in March 2017 in exchange for 99 euros.
Withings Steel HR
Withings brought to CES his latest activity monitor, the Steel HR, although it was announced a couple of months ago and the first buyers should already be receiving the first units. His latest product is a smart brush able to control the quality of the hair and giving recommendations about its treatment. Don't ask me to try it, because I'm not in a position to do it anymore. I haven't had to comb my hair for years.
Returning to Steel HR, this is a renewal of the Pop activities including a heart rate monitor (of course, with optical technology) and possibility to display notifications.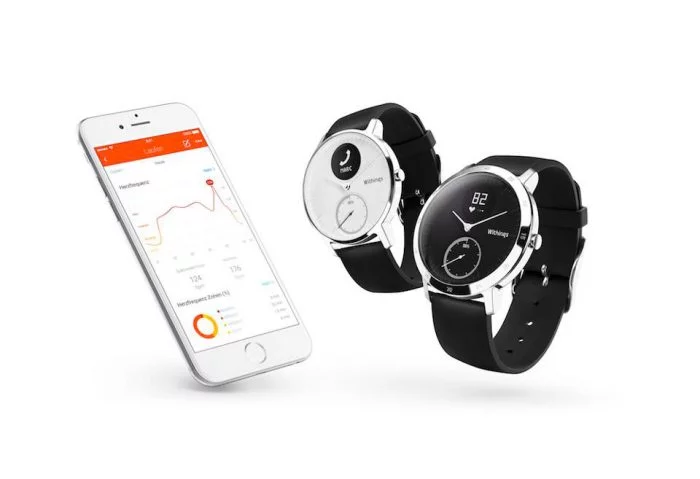 It continues with the traditional watch aesthetics, but now becomes something a little smarter. A very interesting option, especially if what you want is to wear a more classic watch that combines with any "look".
What was announced as new is a new update during the next few weeks, which will allow the type of sport to be registered automatically.
TomTom renews its mobile app
TomTom took the opportunity to announce a renewal of its mobile application. It will expand its features to not only offer training data, but also provide tips and motivation to stay active. There will also be comparisons along the type and possibility of sharing data on different social networks.
Basically some aesthetic improvements and an update of the functions offered with respect to the competition. I will go into more detail about the new features when there is a specific test of the New TomTom watches.
Misfit Steam
Misfit, now under the brand name Fossil (a watch manufacturer that sells under many brand names), has presented what will be its new products throughout 2017. With an approximate date of arrival on the market in July 2017, the Misfit Vapor is a smart watch that is based on Android. Watch out, Android, not Android Wear.
The look it offers is really good, mainly because of a high quality screen that is completely round and an interface that seems quite neat. We are talking about a smart watch with Android, like the many that are already on the market, but I include it in this section because it has GPS and an optical pulse sensor.
As it is a smart clock, it will be able to play music (which seems to be the next default feature for 2018). It has a microphone for entering voice commands, but no speaker, so no sounds or phone conversations will be possible.
Despite being based on Android, it is necessary to create a complete ecosystem. But in the case of Fossil there are more than enough resources to do so (we are talking about money) so we are not facing the typical development of a Chinese manufacturer with an ephemeral step in the market. We will have to see what they can offer.
Casio Pro Trek Smart WSD-F20
Casio's second foray into smart watches with Android Wear. It follows the same steps as the model introduced last year (the WSD-F10) in offering a dual-screen system. On one hand there's a monochrome screen with the basic information of any watch (time, date, etc.), while when we're going to use the smart part that screen is turned off to show the full-color touch screen.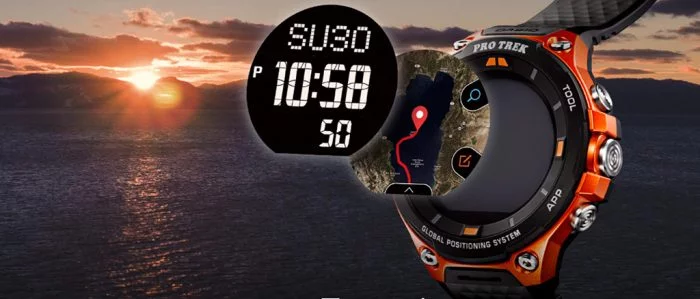 In addition to the touchscreen, there are also three control buttons on the right side of the device. Aesthetically, it's very similar to the first model; that is, it's similar to the rest of the Casio range. There are many lovers of this type of design, although I personally am not convinced.
Casio will include several of its own applications, including maps, which will be installed on the device, so no Internet connection is required to use them, allowing navigation of routes in places far, far away from civilization.
There is one important omission, and that is the lack of an optical pulse sensor. In another model it can be overlooked, but for price the Casio should carry it. In the United States its price will be $500, but in Europe taxes will have to be added and it will easily exceed 600 Euros. A complicated sale especially considering the recently announced Garmin Fenix 5X.
Under Armour
Under Armour is still trying to diversify its business, and while last year it reached agreements with HTC to manufacture different products, this year it has reached a partnership agreement with Samsung, which will make applications available for the Samsung Gear Fit 2, Gear S2 and Gear S3.
Four applications will reach these Samsung devices (Tizen-based, not Android Wear): UA Record, MyFitnessPal, MapMyRun and Endomondo.
On the other hand, Under Armour is also in the pajama business. Yes, pajama sleepers. Wait, before you close the window let me explain...
In theory, these new pyjamas are intelligent and help recovery thanks to infrared technology, and in theory, this is achieved thanks to the type of fabric used that allows the body to absorb heat and return it as infrared, facilitating better sleep and reducing inflammation of the muscles.
Sounds like a story to me... but they say they have studies that validate it. I won't be the one who spends 200 euros to prove it.
What's new in Fitbit
Fitbit has not brought any new developments in the form of hardware, but there is news in the software part, trying to take its platform one step further. To start with, it has announced an agreement with a health insurance company in the United States, which will pay up to $1,500 to reach certain levels of activity. To do this, they will have to use a Fitbit Charge 2.
The idea is initially a good one, because everyone wins. The insurer has less risk covered by improving the health of its policyholders, the user earns money and health and Fitbit sells more Charge 2 units. Although there will surely end up being ads for "I take your Fitbit for a walk for $5″....
Even investors liked the announcement, as Fitbit's shares rose by 8% at the start of the year, a change in trend, as a year ago 18% plummeted on the same day that Fitbit Blaze was presented, a device that the market did not seem to like very much.
As for new features closer to us, they are present in your application. Now it will be possible to define the daily steps goal. By default set to 10,000 steps, the application will ask you if you want to set personal goals. They can be configured for steps, activity, workouts and exercises; which will be created from a survey of your daily habits. That way the goals to be met will be more realistic for each user. The 10,000 daily steps of someone training for a marathon has nothing to do with the activity of someone who works in an office and simply wants to lead a more active life.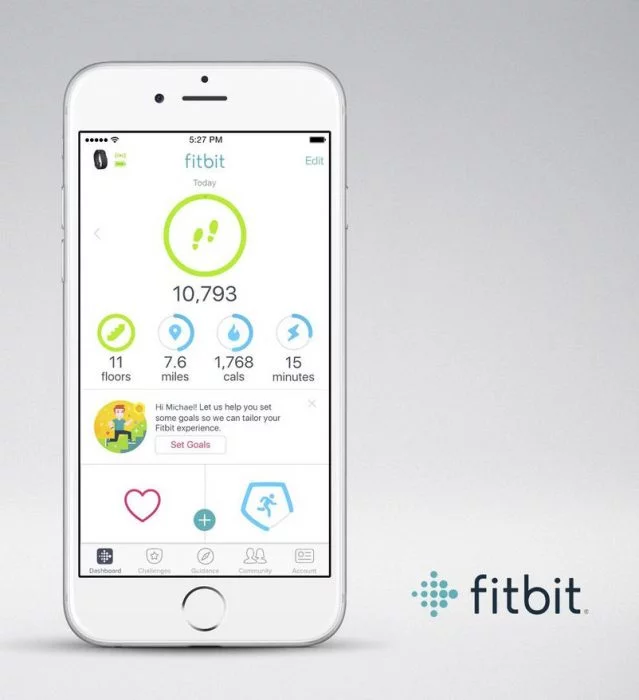 The FitStar training platform also receives new features, in the form of suggestions. There is a new section called "Guidance" that will suggest different exercises to perform. FitStar will give you personalized workouts with guidance on how to perform them, something similar to what is offered integrated in Fitbit Blaze but now available to everyone (even if you don't have Fitbit devices). Logically there will be a "premium" subscription with personalized training plans, which is what the company will try to sell you.
Finally, Fitbit will improve the social aspect of the platform to be able to share more information with family and friends, all with the aim of increasing your activity due to the internal competition you have among yourselves.
—
And that concludes my coverage of ETUC 2017I hope you liked it and that it allows you to keep up to date with all the news.
And with that... thanks for reading!