I've never had such a busy weekend, because in approximately 12 hours I participated in three different competitions. It's true that the second one was not physically demanding, but it was undoubtedly the best of them all. And besides, playing two very different sports, although something is shared in all of them: endurance. But don't worry, I'll go into detail and tell you how the weekend went.
3H karting resistance
The first thing I have to tell you is that I really have gas in my veins. If there is one sport that I have always been passionate about, it has been motor racing. But as you all know it is a sport, expensive. VERY expensive. In any of its variants (from go-karting to speed championships, including regularity of classics).
No es mi primera ni mi segunda vez en un circuito. De hecho, hace ya unos cuantos años era un lugar donde me podías encontrar con facilidad. Prueba de ello es alguna de estas imágenes donde puedes ver dos de mis «herramientas».
Putting aside the battles and sentimentality, I'll go with Saturday's summary.
The morning started early, we had to be at the circuit around 8:30. As it usually happens in these cases, we got lost when it was time to find the circuit and arrived a little later, but still with a margin before the deadline.
After the pertinent greetings to the rest of the team, we made a reconnaissance lap of the circuit. There are three key points: the second curve of the circuit because of the speed at which it is reached (about 65 km/h, according to GPS) and because it is downhill, curve 8 where you have to manage not to brake in support to avoid blockages and whips of the rear train and curves 11-12 where it is important not to lose speed to be able to face the straight and first curve as fast as possible.
Once all the teams had registered (18 in total, with between 3 and 5 drivers per team. There were 5 of us), the driver briefing began to go over the rules again, refuelling, entering the pits and changing drivers. In short, the conditions of the race were as follows:
One hour of free training for the team.
Clasificación por «super pole»: un miembro del equipo realiza una sola vuelta rápida, estableciendo el tiempo clasificatorio.
Exit thrown behind security vehicle.
Three hours of competition. The team that completes the most laps wins.
Two minimum stops are compulsory, one of them for refuelling (2 hours autonomy in the go-karts). There is no maximum number of stops.
Running as much as possible and having fun.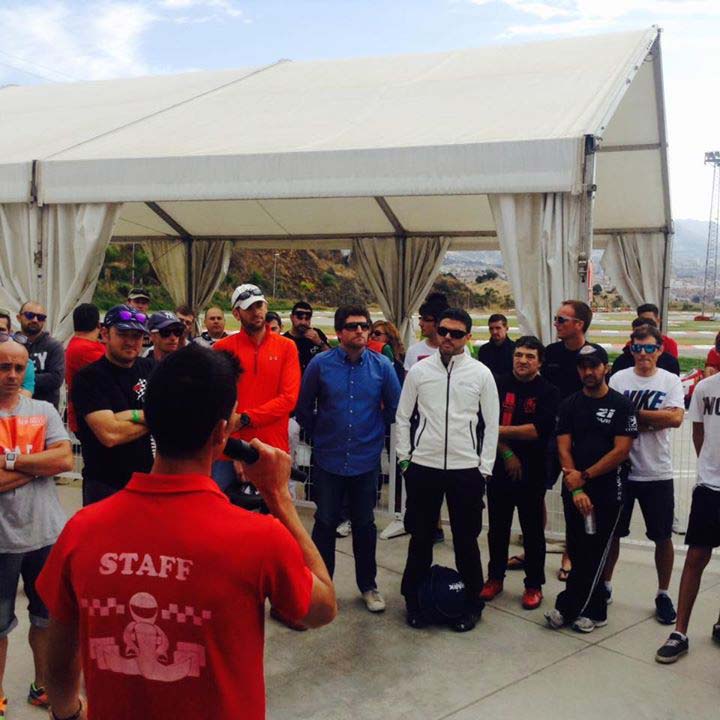 After remembering the regulations it was time to draw lots for the vehicles. Although they are all the same, there can always be some unit that is thinner than others, both in terms of mechanics and tyres.
We got number 40. The kart was working well, not a single problem. I would open the practice session, where the first thing I had to do was to start rolling to get the temperature of the tires (if they are already hard enough, being cold they don't have any kind of grip).
We had time to do about 8 laps each, which we would use to get to know the circuit, the kart and its reactions and learn the layouts and braking points. After a couple of laps of adaptation and warming up the tyres it was time to get to work. It was still early and the track was cold, so it was clear that the 1:02 time set was not going to be the best, so qualifying would be in the hands of another team member.
After practice and deciding our super pole driver, it was time to do the qualifying lap. This part of the race was quite slow, so as we waited the tyres would cool down and there was only one lap to get back to temperature before the lap launched.
The starting order was for best lap times in practice, so the fastest teams started with a certain advantage, but the problem was not only the temperature of the tyres, but also the tension of not making a mistake on that lap launched because the slightest block or error in the line sends you to the last position.
We finally qualified in 13th place with a time of 1:01.953, 2.7 seconds off the lead (real teams, with their overalls, boards, protections, etc...) So the same driver who set a fast lap to put us in 13th place would be the one to start the race.
Porque claro, cuando ves al tipo de equipos que te enfrentas, en cuanto a preparación, equipo y también peso; sabes que no vas a ser competitivo. Vamos, que podíamos diferenciar dos claras categorías, la nuestra y la «élite». Equipos de karting, pilotos de turismo, etc.
A great start puts us in 9th position, with me getting the kart in 10th position after the first 19 laps. This is where our driver changes would start, which we distributed to a total of 9 stops to run each team member twice. It was going to be our Achilles heel, as each stop means about 19 seconds of delay. Compared to teams that only made 2 stops, it would mean that at the end of the race we would accumulate two laps less than them. But well, we were going to have fun and enjoy ourselves, although the competitive vein always comes out.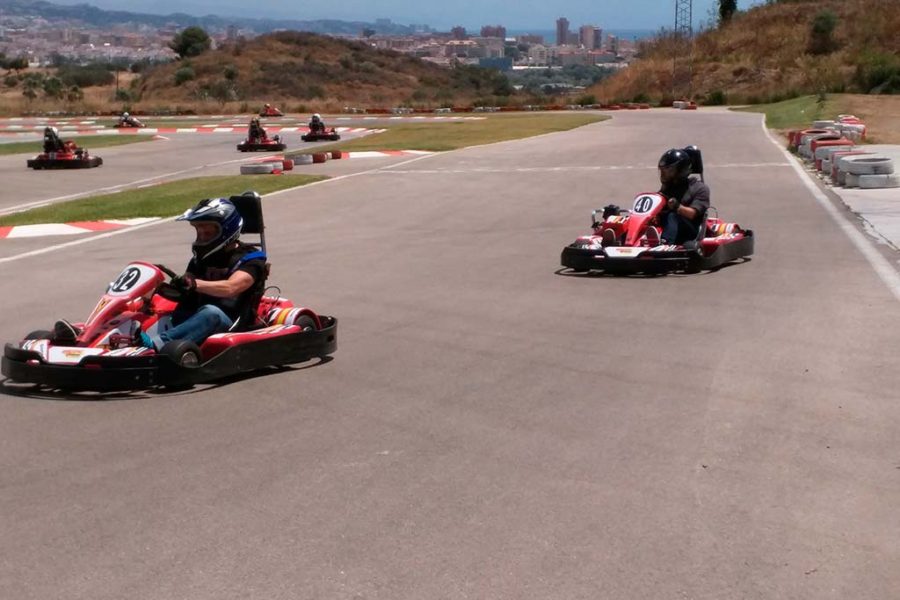 My first time on the track was in a free space, which allowed me to ride quite calmly in 1:01 rhythms and after a few laps get down to 1:00 high. At that moment I started to reach the head of the race and the first turns came. The concept was easy. If you suddenly saw a car with a guy in overalls, let him pass because he goes much faster than you.
When they caught up with me, I tried to get behind them for reference, but in three corners I had already lost the slipstream and there was nothing I could do. It is clear that my 100kg weight does not help at all behind the wheel of a go-kart, but those top teams had a very fine track and their merit was not only in the difference in weight, but also in their level of driving and chosen lines.
After my 18 laps I gave up the baton and almost got a (well-deserved) penalty for my pit stop. I took the pit stop at the right speed, but I got too close to the driver change point and delayed my braking too much... Result: we changed drivers 5 meters from where we were supposed to and I almost ate the pit stop. I went in like an elephant into a junkyard.
I think I can remember that when I started to change drivers we were in the same position, 10th or 11th, but as I said, the continuous changes of drivers would be what would weigh down our race strategy.
At the end of the third round, we had to refuel. We arrived quite close, and with an empty tank it took us one minute and twenty seconds to fill the tank and change drivers. Here we lost a few positions, but all the teams had to make a similar stop, so the times were going to be similar.
La carrera continuó su desarrollo sin reseñas importantes, salvo cuando nuestro cuarto piloto recibió un ligero toque en la frenada en apoyo de la segunda curva (la más rápida) que lo mandó fuera de pista. El kart que en ese momento rodaba en segunda posición se lanzó al adelantamiento tocando ligeramente por detrás a nuestro número 40. Por suerte Pedro supo reaccionar salvando magistralmente la situación. Lo que pudo haber sido no sólo una importante pérdida de tiempo sino un susto «curioso», terminó con una simple excursión por la hierba que simplemente nos costó un par de segundos.
Before I started my second round I looked at the time sheet to see which teams were ahead and behind us, to see who I was fighting for the real position and who wasn't worth fighting for. I knew that the team with the number 56 go-cart was the one ahead of us, but with 1 lap more than us. That was the car I had to look for on the track.
So after a very good driver change, I went out on the track. And what a coincidence, right behind the kart with number 56.
My session promised excitement. We had to chase the go-kart in front of us in the standings, to split up and be able to fight on the same lap. In two laps I managed to chase it, overtaking at the exit of the closed fork, and from here we would go into a good dive.
I managed to keep the position for 3 laps, but after missing the braking in the penultimate corner it came out with a bit more speed and won me the inside. I did the whole uphill straight to be able to put the car back in the inside during the hard braking and get back in front.
From that moment on, it was two laps on the defensive, trying to fill gaps, so even though the times were a little slower than first thing in the morning, now he was fighting for position, so I wasn't willing to let him pass so easily.
The driver of the kart 56 made a mistake when he tried to overtake me on the bottom fork and spun, so I was able to do my last two laps without any opposition and gain a good cushion of seconds.
At the end of my last laps, just when I was changing drivers, the 56 had just made its stop to refuel. Now we were in the same number of laps and the one who passed the finish line was the one who was going to be ahead.
My work at the controls of the kart was already over, but not the wall work or helping with driver changes. During the course of the next round, the kart 56 became gradually more distant, so we were already losing any possibility of moving up in the standings, unless they made a major mistake with a spinning top that slowed them down quite a bit. Although it was difficult, we could not give up.
In the end everything was the same, finishing in 15th position. One lap separated us from moving up and overtaking the team we were fighting with at the end of the race, and 12 were the laps with respect to the winning team. For the next occasion we have to work on the strategy and reduce the number of stops. If we had made only 2 stops we could have done 2 more laps, placing us in the middle of the classification. And if we lose a few kilos on the way...
VII Legua de San Bernabé, Marbella, pre-baby category
At night, with his body quite bruised after the efforts with the steering wheel (and bruised in ribs, knees, etc.), he would play another race. The night was divided in two. The first one was the most special race, because my son was going to run his first competition. About to turn four years old, it is a good time for him to start knowing the sport.
En un primer momento pensaba que en su categoría se correrían 400 metros, distancia que creí bastante apropiada para ser su primera vez. Pero una vez recogidos los dorsales escuché cómo por megafonía se anunciaba que la carrera tenía 800 metros. Bueno, tal y como le había ido explicando toda esta semana, había que «correr despacito», así que tampoco nos iba a trastocar mucho los planes.
We stood at the starting line with the rest of the children, some of them also accompanied by their parents (the youngest) and others, the older ones, 6 or 7 years old, completely alone. I could feel Marco nervous, but in spite of that he was very attentive to all the indications they were giving them about which side they had to run on, how far they had to go and where the finish line was.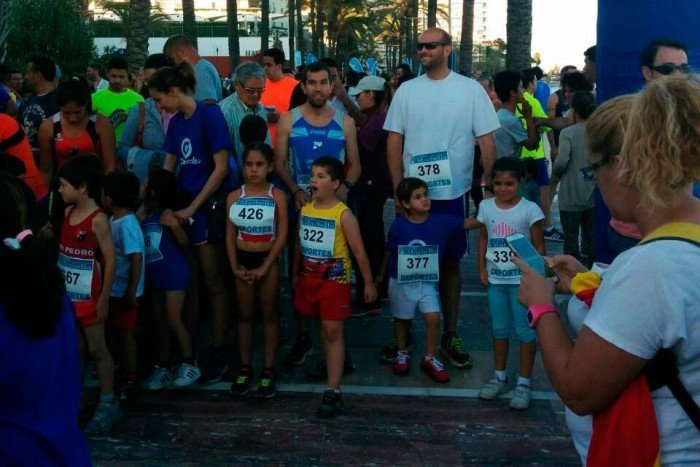 After all the indications from the organization, we left. The children who were opting for victory like a rocket, and we as I had told Marco in previous days, running slowly and almost in last position.
Once he lost his initial scare at the start, after a minute's run he wanted to push a little harder and we picked up the pace at a speed he felt comfortable with. We were running alongside a girl from the athletics club, so at no point did he feel alone or defeated, on the contrary.
At 500 meters it was time to go around the circuit. We didn't have the racket of the start line anymore, but we were watching the older kids go by.
– «¡Papá, cuánto corren los niños!» me decía Marco. A lo que yo le contestaba
– «Claro, ¡es que esos niños son muy mayores!»
And the truth is that they were going very fast. We weren't going badly at all, taking into account the size of the stride and their young age. Except for the initial stretch where it was more tense, the rest of the race was at a pace between 6:00 min/km and 6:30 min/km.
The most exciting part was the finish line. The whole audience was overturned with the little ones, which encouraged them much more to continue, passing under the starting arch and reaching the finish line (which did not correspond to each other) at all times in a continuous race and without having to stop once.
He ended up not too tired, very happy and very proud of having run with his dad. And above all, wanting more. And of course, the whole family was drooling...
VII Legua de San Bernabé, Marbella. General category
The night went on while the rest of the children from the different categories ran their corresponding races, all of them quite numerous, which promises a good number of people. The influx was high, probably thanks to the great prices (1 ? children, 2 ? adults) that besides allowing to participate in the race gives the right to dorsal, t-shirt and water bottle for the older ones.
Despite being about to officially enter the summer, the night was cool, not to say directly cold. I had to warm up three times, because the wind was blowing quite a bit and it wasn't shorts and T-shirt night.
Around 22:15 it was time to form a group, all the runners were close together and here there was no problem of cold, we wrapped each other up. I had not set any specific time goal, I had enough to do the race after the pains in ribs and legs of the morning competition. So I placed myself halfway back in the group. But you know how these starts are, a crowd where at the end people place themselves where they shouldn't. Those who go at a pace of 6:00 min/km who place themselves in the third row, and those of 4:00 min/km at the end of the whole thing.
It was a tight start because of the narrowness of the walk, we had to look for each other's places. It took about 500 meters for the race to be long enough to find a comfortable place to start thinking about a strategy. I decided that a good race pace for that night could be 4:30 min/km. Moving comfortably at that pace assured me that it wasn't going to be an uncomfortable race, but neither was going to be a walk.
Soon we left the marble promenade area to enter compacted albero terrain. I was still comfortable, although I noticed that my legs were heavy. I knew that I was not thin, so I did not venture to follow some runners who overtook me and went at 4:20 or 4:15 min/km. The fact that I was not totally involved in the race meant that the kilometres did not pass as fast as usual, and when you think that there is not much left to do the turn you realise that there are still a few metres to go. It seems like a lie, but the first two kilometres were quite long.
On the way back, I was next to another rider and we were setting our times, relaying. I passed him, passed him, passed him... like that on several occasions. Our small group of two broke down when he started his final sprint 300 metres to the finish line, and I was stuck. I only sprinted when we reached the starting arc, pushed by the crowd's encouragement rather than wanting to get a specific record.
I crossed the finish line in just over 21 minutes, with an average pace of 4:29 min/km. Looking at the pulse graph, it's not that I tried too hard, but I did notice a tremendous heaviness in my legs after being all day going back and forth without stopping.
So in that sense I'm satisfied, especially for having recovered the rhythms of before the injury, in fact I think that if I faced another 10k today I could lower my best mark a little more.
That's all. As always... thanks for reading me!