These two Black Friday offers are historical minimum price for both models, they've never been so cheap.
The offer of the Polar Vantage M for 149€.. On previous occasions the maximum reduction that had reached were 159 €-169 €. There is no watch on the market that gives more for less.
As for the Polar Vantage V is available in only 249€never before has it been so cheap.
Both are triathlon watches, which means that in addition to allowing you to swim, bike (using a potentiometer) or run, you can set up multisport for poder to switch from one profile to another during the same activity.
As you can see, two interesting clocks, and even more so after firmware update who added the three main novelties of the Polar IgniteSleep Plus Stages and Nightly Recharge. And FitSpark is also available on them. Not only that, have also significantly improved the performance of GPS.
It is true that the replacement for both models has already arrived on the market, both Vantage M2 like Vantage V2. The basic operation of these is the same and the innovations of the new models are secondary, although obviously preferable.
But the price of course is something to take into consideration and the discount on both models is really interesting.
Polar Vantage M and Polar Vantage V, what you need to know about them
Polar has focused on performance metrics, leaving aside fighting Garmin for pure performance numbers (in that competition no one can fight Garmin).
But that's talking about the Vantage V, because the Vantage M offers pretty much the same as any Garmin in its price range (and that's not on sale).
But what they do have are Polar-specific features, which they integrate fantastically into their platform. Starting with Training Load ProThis metric will measure the intensity of your workouts by measuring TRIMP, muscle load, and perceived load.
Training Load Pro allows you to take stock as you introduce workouts, seeing how each one affects your fitness and allowing you to decide in advance what the next one should be.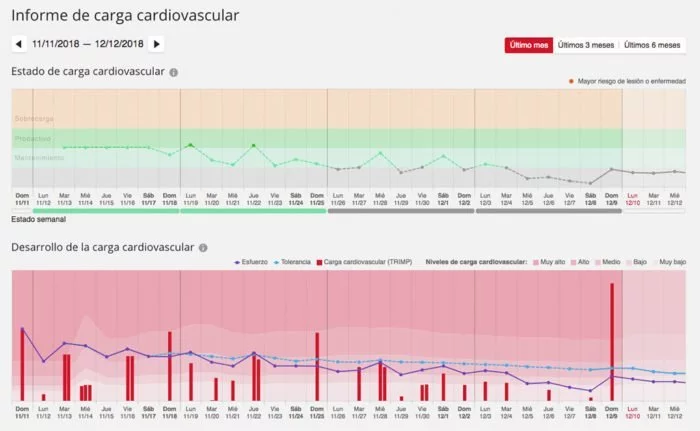 These are the data you will find on the Polar Flow (available on the web or in the mobile application) and that they will be updated every time you synchronize a workout. You will be able to see it on the mobile screen, but also on the screen of the watch itself.
Thanks to Training Load Pro you will be able to identify when you should increase or decrease the intensity of your workouts. I'm talking about intensity and not kilometres covered. You know, it's not the same to do 10km smooth as 10km on fire, because the physical impact is very different in both cases.
So it will let you know when you can (and should) increase the intensity of your training. Or the other way around, make your next session smoother because you've been working too hard in the past few days.
This is something that is present in Vantage M and Vantage V, but the latter also has Recovery ProThis is a great way to get a feel for your recovery and combines perfectly with Training Load Pro.
Of course it is not new, in other manufacturers you will find similar functions, but where Polar has won the battle is in the representation it makes on its platform.
And finally the two new features you just added, Sleep Plus Stages and Nightly RechargeThe data collected during the sleep (which is a lot, but again represents a very easy to understand) will give you a recommendation for the next training, of course together with what we already have from Training Load Pro.
In other words, these are not individual metrics, they are all linked together to show an overview of your entire training.
Where there is a unique feature to the Polar Vantage V is in the power measurement. It is the first (and only) watch that is able to display and record the running power completely autonomously, without the use of any external accessories.
Yes, it is an estimate and it is not comparable with the data we can obtain from other methods, but it is equally true that in many phases of your training or in races with slopes it will help you.
You can see in this training series how the power measurement is a completely instantaneous value, unlike the heart rate which takes much longer to reach the levels for that interval.
On top of all this there is the great range offered by both models or the new Polar Precision Prime optical pulse sensor. And this is just a quick example, so I recommend you take a look at the full test I made of the VantageThis is not only so that you can see what they have to offer, but also so that you can decide which one will best suit your training.
And to see what the new features that are already or will come, you have the corresponding section in the Ignite Polar analysis.
---
Polar Vantage M
---
Polar Vantage V
---
If you are thinking of renewing your Polar M400 or M430 for a more current model of the brand, or you want to try something new by switching to Polar, this is a good opportunity to do so because both models are at historic low prices.