Heads up!
Hay una buena cantidad de chollos disponibles ahora mismo, no te lo pierdas porque son precios mínimos
How's your confinement going? I guess you've already seen all the functional training videos and the bike trainer will be smoking right now. You'll be looking forward to running in the trails, breathing fresh air, going down among the trees... What if I tell you you can do all that with a Garmin Fenix 5 Plus on your wrist?
Then get off the trainer for a while and check out this offer that has just been published on Amazon Germany. 46% discount on its release price.
Yes, I know the price has been falling down over time and the real discount is not that big, but believe me when I tell you it's VERY GOOD. Here you can check the current price in other stores.
You already know how it works with Amazon in Europe. You can shop with your same user account at any location, but if you have an Amazon Prime membership in Spain, you cannot use it to get free shipping in Germany. But the shipping cost is very low and frankly, the price difference is well worth it.
As far as the warranty is concerned, you have nothing to worry about. Garmin's warranty is European, so it is fully valid even if you buy it outside of Spain. And the maps are European, so it's another aspect that we don't have to worry about either.
Garmin Fenix 5 Plus, is it still a good choice?
Yeah, it is. And why? Because it integrates all these options that are reserved for Garmin's high-end models:
Full colour maps. The maps were previously available exclusively on the 5X
Altimeter calibration with accurate data thanks to integrated maps and GPS coordinates
With ClimbPro, which separates the different climbs we have on a route into independent parts
Smart route calculation thanks to Trendline, straight on the watch (just like Garmin Edges)
Supports Galileo satellites
Music playback via Bluetooth, both transferred to the watch and streaming platforms such as Spotify and Amazon Prime Music, downloading the music wirelessly
16GB capacity to store both maps and music
Garmin Pay for NFC payments
Better antenna design for external sensors, increasing the distance the watch will receive data from
In other words, we have all the star features of the new 2019 and 2020 models, but at a reduced price: maps, music, wireless payments and ClimbPro.
As I say in all watch reviews that include maps, the most useful function is not when creating a route on the watch. At least, not exclusively. Actually, the most common thing is that routes will come from somewhere else such as Wikiloc, from the race organizer or simply you design it from your computer.
You'll find the most interesting part of the maps halfway through a route. That moment when you are in the middle of the mountain and you reach an intersection, being able to look at your wrist and see where each of the paths is headed to choose the one you prefer (because one thing is cartography, and quite another the real situation), is totally unpayable.
And not only that, it is also practically magic that at any moment you can tell the watch that you want to return to start, and that it calculates the fastest route to follow, which does not necessarily have to be the same path used to get to that point.
Maps are certainly the best feature of this Fenix 5 Plus, but it's not the only one. There's also the music playback, where the amount of streaming platforms available stands out: Spotify, Amazon MusicDeezer... In fact, Garmin is, to this day, the only "wearable" to have compatibility with such a number of platforms.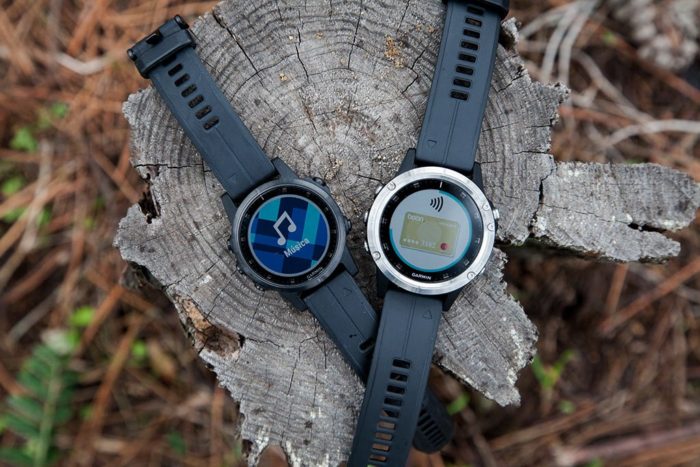 Naturally, the question is whether it's a good idea to opt for the Fenix 5 Plus instead of going directly to the Fenix 6 Pro. This one came to the market last year so logic says that, in theory, it is better to invest in the most current model. But which one are you most interested in? In summary, these are the main stuff that the new model has:
PacePro
Power Manager
Data displays with up to 6 metrics
Sony GNSS chipset with higher battery life
Temperature and altitude acclimation
But of course... we're talking about a little more than €200 difference between the Fenix 6 Pro and the Fenix 5 Plus. I think that price difference is not worth it for the improvements you're going to have in the new model, since the "goodies" are in the maps, a function that is exactly identical in both models.
Anyway, I leave you the direct link to the Garmin Fenix 5 and 5S Plus reviewso you can see for yourself what this Garmin watch is capable of.
Thanks for reading!