Septiembre se nos escapa de las manos cuando ni siquiera nos habíamos dado cuenta que ya había comenzado.
Para terminar el mes de la mejor manera posible he estado rastreando Internet para encontrar unas cuantas ofertas interesantes. Lo cierto es que, la mayoría de ellas, son de Garmin. El motivo es muy sencillo, y es que mientras los demás fabricantes tienen un catálogo de producto bastante acotado, el de Garmin necesita varios tomos para enseñarlo.
Las ofertas son de diferentes vendedores, no hay ninguna promoción vigente, por lo que es cuestión de "picotear" un poco aquí y allá. Pero todos ellos son de la máxima fiabilidad (y en todas esas tiendas he comprado previamente). Y recuerda que, comprando a través de los enlaces que publico, estarás ayudando a la web con una pequeña comisión sin que a ti te cueste nada.
Deals on Garmin GPS watches
Garmin Forerunner 245
Poco se puede decir del Forerunner 245 que no se haya dicho ya. Es uno de los más buscados y figura en cabeza de la lista de recomendaciones en la shopping guide which I just updated a week ago.
➡ Garmin Forerunner Analysis 245
Ver oferta Garmin Forerunner 245 en Chain Reaction Cycles (código CLEAR2020)
Ver oferta Garmin Forerunner 245 en El Corte Inglés
I think it's the best mid-range running watch they've ever made, pressing all the right keys, and don't forget that most of the functions it has are the same as those found in a top-of-the-range Forerunner 935, with the price being much lower than that.
Por si esto fuera poco, Garmin sigue lanzando novedades para el pequeño de la familia Forerunner. Esta misma semana se ha lanzado la beta que añade la función de carrera en pista de atletismo heredada del nuevo Garmin Forerunner 745.
---
Garmin Fenix 5
Si estás interesado en un reloj de montaña con buen acabado y altímetro barométrico esta es tu oportunidad.
Es además interesante porque, salvo momentos puntuales, ya no suele haber ofertas para este modelo y habitualmente está por encima de los 400€ porque la disponibilidad es muy baja.
Ver oferta Garmin Instinct en Amazon UK
No cuenta con los últimos avances de los nuevos modelos, como los mapas completos para la navegación o la posibilidad de reproducir música, pero lo cierto es que por este rango de precio no hay mucho más donde elegir para un reloj de este tipo.
¿Cuál es la principal baza con la que cuenta el Garmin Fenix 5? Las métricas de rendimiento.
Incluso podría decir que es su característica estrella (si no tenemos en cuenta los mapas del 5X). Es la novedad más importante de este reloj con respecto a modelos anteriores de la marca.
The entire data revolves around the training status (or Training Status), which will vary and adjust each time you complete a new activity, analyzing your last workout along with past activities to give you an overview of what you're doing.
Aunque no tengamos mapas para navegar, sí podemos seguir rutas completas (con POI, funciones de Sight 'n Go, etc) e incluso la gráfica de altitud pendiente para la ruta.
En definitiva, se trata de un reloj que a día de hoy no ofrece lo más de lo más en cuanto a funciones dentro de lo que es la gama Garmin, pero que para un uso básico (y no tan básico) en montaña sigue cumpliendo a la perfección. Y no sólo montaña, porque también permite perfiles multideporte (triatlón, duatlón, etc) y por supuesto deportes individuales como carrera en asfalto o ciclismo de carretera o montaña.
---
Garmin Instinct
Un reloj especial que se parece bastante poco al resto de la gama de Garmin, especialmente en estética.
Ver oferta Garmin Instinct en Amazon Italia
Ver oferta Garmin Instinct en RunnerInn
Ver oferta Garmin Instinct en Amazon España
Diseñado específicamente para la montaña, tiene altímetro barométrico, brújula magnética y funciones específicas para los amantes de la aventura.
---
Ofertas en ciclocomputadores Garmin Edge
Garmin Edge 530
Su precio de lanzamiento ya era bueno (algo extraño hablando de Garmin). Si a ese precio le sumamos una rebaja del 17%… miel sobre ojuelas.
If it's not your first Garmin and you've already been using one of its bike computers (for example, the Edge 520), the first thing you're going to realize is that it's much faster . The processing power is much higher than the model it replaces and is noticeable in all operations we do with it.
Of course we must remember that we now have full map navigation. While the Edge 520 had no map (the Edge 520 Plus does have it, but the lack of a processing power makes it an unpleasant experience) and only has trailcrumb navigation, on the Edge 530 you can see roads and paths that will tell you where to go, including turn by turn navigation suach as take the third exit on the roundabout, or turn right on Main Street.
The screen is larger without the device having overgrown. It still has a compact size and appearance thanks to its rounded shapes, but now you can see the data on the screen more clearly.
It's not the only thing it has over the Edge 520. The Edge 530 now also has WiFi, ambient light sensor to change the screen backlight automatically and supports Bluetooth sensors. None of these things were present in the Edge 520 as they were reserved only for the more expensive models.
The battery life has increased significantly thanks to the Sony GNSS chipset, the same that all brands are now using on their devices.
The software also received a lot of improvements. The one you will use most will be ClimbPro, a feature that separates the climbs individually and indicates distance and elevation remaining for each one of them. A quick view of the hill or pass you are currently on, and not the total of the route.
But there are many other features that I'm going to detail quickly and, if you want to know them in more detail, you can see them in the full Garmin Edge 530 review.
MTB specific metrics
Full road and mountain maps, with Trailforks function for trails
ForkSight
Dynamic performance control considering heat, humidity and altitude acclimation
Smart nutrition and hydration alerts
Critical power curve
Find my Edge
Bike alarm feature
It is, in short, a great device that you will love to have on your handlebar. The only thing that didn't convince me on my test unit was the touch feedback of the buttons. The other objections were software issues that Garmin has been polishing to a greater or lesser extent.
If the question is whether the Garmin Edge 530 is recommended, my answer can be none other than: yes, totally recommended.
---
Garmin Edge 830
Si eres más partidario de la pantalla táctil, entonces aquí tienes el Edge 830.
View offer on Chain Reaction Cycles
The differences between the Edge 530 and Edge 830 are very small in this generation. Or, at least, much less than what was in the previous one.
Beyond the price difference between the two, there are only a handful of things that differentiate them:
How you control them: While in the Garmin Edge 830 we control it thanks to the touch screen with a pretty good response, in the Edge 530 we do it through 7 buttons that I personally did not like much in their touch feedback (it is my only objection to the Edge 530)
Navigation: Although both have full route maps navigation, on the Edge 830 we can enter our destination directly by street name or POI. On the Edge 530 you have to load the route in advance, although the mobile app is quite useful in that respect. When it comes to navigating and recalculating routes, both offer the same functionality
Route altitud profile scaleOn the Edge 830 we can change the scale, but not on the Edge 530
Is it worth the extra payout? It depends on each and what their particular use will be. If you are going to navigate routes frequently, the touch screen will be of great help, both when creating the route and to make queries about it halfway through the exit. It's a much faster control method.
Similarly, if you want to check out different aspects and information halfway through the road, the use of the buttons can become uncomfortable.
On the other hand, if you're not going to navigate that much and once you start pedaling you don't need to change screens, the feedback of the buttons is not going to be very important because you won't use them too much.
How about the rest of the software features? Exactly the same, both Edge 530 and Edge 830 have ClimbPro, MTB dynamics, dynamic performance control, nutrition and hydration smart alerts, etc.
---
Garmin Edge 1030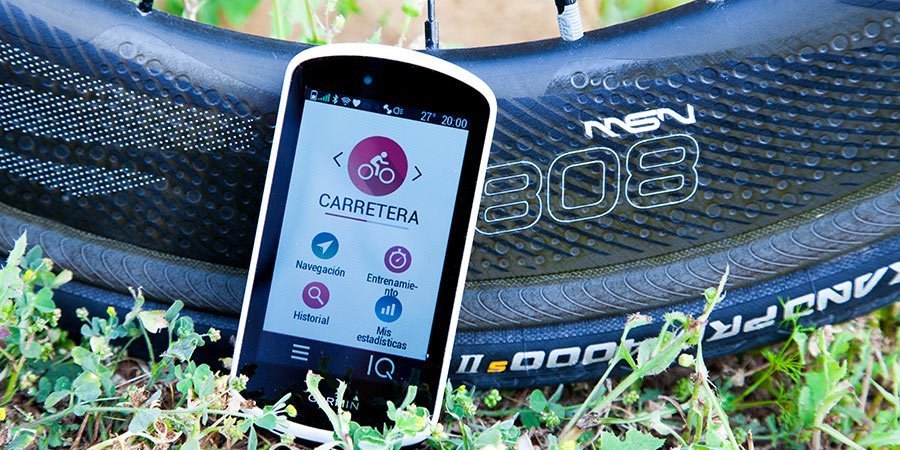 Ya ha sido sustituido por el Garmin Edge 1030 Plus, pero no creas que eso lo convierte en poco capaz o anticuado… en absoluto.
➡ Garmin Edge 1030 full review
Its features are almost the same as those we find on the Edge 830 (except that the Edge 1030 does not have the ForkSight feature, exclusive to the Edge 530 and Edge 830), so the only difference is the huge screen it has. The truth is that navigation is a delight on that large screen.
But if the size of its screen is its greatest virtue, it is also its biggest flaw. Naturally, if you want a large screen, you have no choice but to make a big device. Its 114mm length can make you feel that it's too bulky on your handlebar.
However, if you are already "on that age" and have some difficulty with your eyesight, there is no doubt that you will appreciate those extra inches of screen compared to the Edge 830. The Garmin Edge 1030 has a 3.5″ screen, while on the Edge 830 is down to 2.6″.
There is another difference with the Edge 830. Both have 16GB of internal memory to store maps (the Edge 530 too), but in the case of the Edge 1030 we can expand the memory with a microSD card.
This memory expansion can be useful for installing additional maps without erasing Garmin's own, such as those from TopoHispania.
---
Garmin Edge 130
Al igual que ocurre con el Edge 1030, también el Garmin Edge 130 ha sido sustituido recientemente por el modelo Plus.
No te dejes engañar por su pequeño tamaño, el Edge 130 es un ciclocomputador muy capaz. De hecho es el que utilizo en mis competiciones, donde no quiero llevar nada que sea más grande que éste.
Cuenta con cosas muy interesantes por los menos de 100€ que cuesta:
Soporta medidores de potencia y, aunque no tiene métricas como IF o NP, se pueden añadir gracias a ConnectIQ
Barometric altimeter
Compatible con sensores externos ANT+ y Bluetooth
Route navigation
Pantalla ampliada, mostrando los datos de tu reloj en la pantalla del ciclocomputador
Compatible with LiveTrack
Incident Reporting
Only 32 grams in weight
Pantalla pequeña pero de gran visibilidad
Obviamente no es "lo más de lo más", pero por el precio que tiene es una opción magnífica.
---
Últimos días de la oferta de la pistola de masajes Addsfit
Hace algunas semanas que publiqué una comparativa de tres pistolas de masaje en las que te facilitaba un código de descuento para la de Addsfit.
Dicho código de descuento está a punto de caducar (sólo es válido hasta el 30 de septiembre), y se puede aplicar junto al que hay en Amazon para hacer un descuento combinado que deja el precio final en menos de 100€.
Tal y como indicaba en la prueba y comparativa las pistolas de masaje no son una solución milagrosa para cualquier molestia o lesión, pero como herramienta para usar a diario ayudando a hacer descargas musculares se trata de una opción francamente cómoda.
---
Ofertas de Fin de Temporada en Nike
Fin de temporada hasta 50% de descuento
Ha llegado el final de temporada a Nike y han lanzado ofertas con una rebaja de hasta el 50% de descuento en miles de productos. Merece la pena echarle un vistazo.
Ver ofertas Fin de Temporada Nike
Lo cierto es que en running no hay mucho, pero sí lo hay en muchas otras secciones. Que igual no compras algo para ti, pero seguro que puedes encontrar prendas o zapatillas interesantes para todos los miembros de la familia. Y recuerda, con gastos de envío gratis.
---
Lo dicho, aquí te dejo con unas cuantas ofertas para terminar el mes a buen ritmo. Voy a seguir peinando Internet y si encuentro alguna otra oferta interesante, actualizaré el artículo para incluirlo.
Thank you for reading and above all, for collaborating with the site!