As you know, this past week the big Eurobike fair was held in Germany (next to the Swiss border). It is the most important cycling fair, although Interbike is also just around the corner but it is a fair more oriented to the North American market. But you didn't come here to find out details about the fair or tourist information, so let's go over the main novelties presented here.
Stages Dash and Stages Link
Stages Power (mainly known for its power meters) has presented two products which, although different, are totally associated: milk and Cola Cao, bread and Nocilla or Internet and the por... well, what we were going for.
Stages is preparing a new bike computer for 2017 (Stages Dash) and a new training analysis software (Stages Link). There are several things that stand out. Firstly, Stages Dash allows you to vary how you install it on the handlebars, being able to see the screen horizontally (designed for road cyclists) or vertically (more logical in triathlon or time trials).
Dash is totally focused on data, being able to display up to 16 of them on a single screen. And it is also highly configurable, because it allows you to vary the size of any of these fields to create a "tablecloth" of data to suit the consumer's taste. The configuration can be done from the device itself, but also from the web application or from the cell phone.
Compatible with ANT+ and Bluetooth, it can be connected to almost any sensor. The control is through five buttons on top of the device but does not have a touch screen, which is a pity because I think in this device is something that would make a lot of sense.
It also supports route navigation (without turn signal), route profile, has barometric altimeter... that is, the usual in high-end devices for cycling.
Another highlight is in the training options, where it also shines. When creating a workout it is not only possible to program the duration and goal of, for example, an interval (as you can already do with any Garmin), but you can also put annotations that will appear on the screen, both for the current interval and the next one. Something like "sprint to failure or liver in mouth" or similar.
Stages Dash will arrive in early 2017 with a price tag of 399.
Secondly, the Stages Link software is the training analysis platform that they are also preparing, this time with the development team of Today's Plan.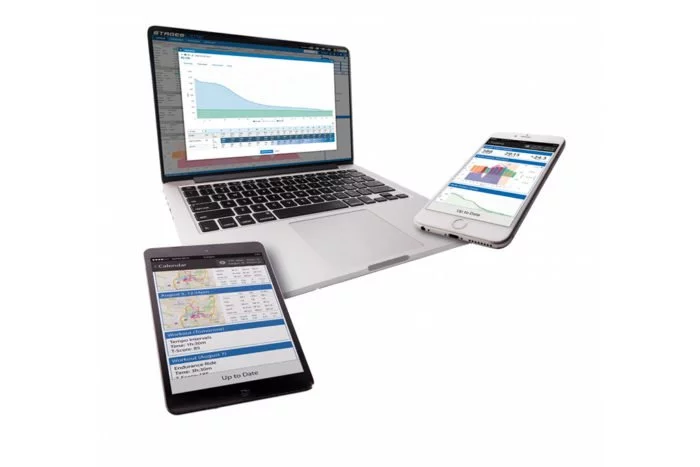 It will not only allow you to analyze your workouts, but also to schedule them or edit your Dash settings.
Tacx Flux
If you're a regular winter training roller user (although I'm a strong advocate of year-round roller use) you're probably familiar with direct drive rollers, and you'll be eager to get your hands on one, but their high prices at the moment prevent you from doing so.
So Tacx has introduced the Flux, which although it still has a high price tag (799 euros), is the most accessible direct drive roller today.
As you know, unlike other types of rollers, direct drive rollers are placed directly on the frame's toe, by removing the rear wheel, with the cassette mounted on the roller itself.
The price is not the only thing that stands out. Of course it has connection via ANT+ and Bluetooth Smart, with support for ANT+ FE-C as well, so you can control it from compatible computers (such as Garmin Edge 520) and, much more interestingly, from simulators or training platforms such as Bkool or Zwift.
In terms of specifications, it is sufficient for the 98% users. It reaches a maximum resistance of 1500W and simulates slopes up to 10%. The flywheel is 22.8kg virtual (6.7kg real) and, although it is not as quiet as the NEO, you must also take into account that it plays in another league.
For the time being Tacx indicates that in terms of accuracy it is currently around +/-5%, somewhat higher than other rollers, but they hope to improve this by the time it is actually launched on the market.
Zwift launches iOS version
Zwift brings its platform to mobile devices, starting with Apple's. This makes the application much more interesting, as not everyone has a computer that can be placed in their usual training place, or even a computer capable of supporting the level of graphics that this cycling simulator demands.
However, to ensure a minimum of quality, Zwift will start working in a much more closed environment such as iOS, with far fewer devices to test. The idea is to bring it to Android as well later, but for now they will focus on providing a good experience on Apple devices. Not everyone will be able to support the application, only those listed below (with an A7 processor or higher):
iPhone 5s
iPhone SE
iPhone 6 / 6 plus
iPhone 6s / 6s plus
iPad Air / iPad Air 2
iPad Pro (9,7″ and 12″)
iPad Mini 2 / 3 / 4
iPod 6th generation
The connection with the roller and sensors will be made exclusively through Bluetooth; something that is obvious since Apple devices do not have ANT+ connectivity.
By when? In September a beta period with some members of the community and at Zwift they hope to launch the final version in winter, the ideal time to lock yourself in your cave and pedal while you're warm (maybe too warm).
Wahoo renews Kickr
Wahoo also renews its roller, perhaps the best known among the direct drive ones. There are not many changes in the new KICKR, mainly focused on improving the use experience.
Most notably, the new version has a "handle" that makes it easier to carry from one side to the other. So instead of having to pick it up by hugging it, podhen pick it up by the "handle" that can be seen in gray in the image.
In addition the weight is slightly redistributed in the unit, so once lifted from the ground it will be quite stable when in the air (without moving from one side to the other).
Wahoo also announces that they have managed to make it a bit quieter too. If you want figures, they indicate that it emits 14% less decibels than the model it replaces. It's not the only thing they have improved, the power calculations have improved and it is now capable of reaching up to 2,000W of resistance (if you are able to develop that power...).
It is available from today through their website.
Argon 18 and CoA measurement
In cycling you can measure everything, or almost everything. There are still things that cannot be measured directly on the bike and for which you need a wind tunnel or, failing that, tests on the velodrome. The fact is that work on aerodynamics is expensive and complicated, and I am not talking precisely about the aerodynamics of the material (bicycle, jerseys, etc), but rather about our position on the bike.
The Canadians are developing a device that, using up to 22 different sensors on both the bicycle and the rider, is capable of measuring QoA (aerodynamic resistance) in real time, collecting data such as inclination or yaw, power, speed, lactic acid, wind speed, etc.
All this data is converted into a single number: CdA. And it's transmitted via ANT+ to a Garmin cycle computer (with a Connect IQ application) so you can see in real time (and record it) and see at that very moment how any change you make to your aerodynamic coefficient affects your ride.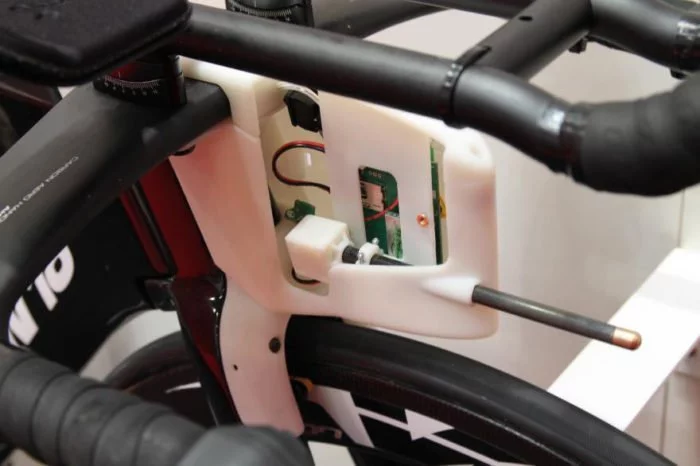 Don't be afraid of the size, because now it's like this simply to make it easier for the engineers to develop the project. Because they are very clear about this, this is not simply something that is exhibited at fairs to attract people's attention; it is a very real project that they want to work on and that, without a doubt, is tremendously interesting.
Quarq Dzero
It is to be expected that Eurobike will also have some new power meters. Quarq (part of the SRAM group) updates its potentiometer model by introducing the DZero. The measurement location remains the same, on the bottom bracket spider; but they have improved the measurement gauge, there are more control LEDs and it is now capable of sending power data via ANT+ and Bluetooth simultaneously.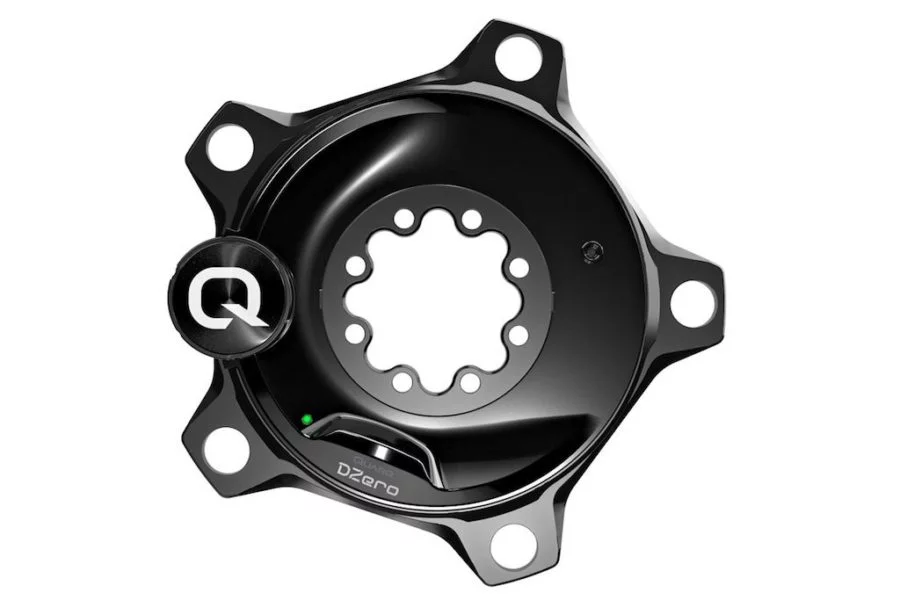 Quarq has also taken the opportunity to talk about its new Prime Power Ready program. Bicycle manufacturers will be able to have the power meter fitted to your new bike, simply by buying the spider to have the complete system.
For the moment Trek, Canyon, Felt and Fuji will opt for this option. It is simply a simpler way for the end customer to adapt the stem to his bike, instead of having to check compatibility between bottom bracket, cranks, etc.
PowerTap P1s, single-sided version
PowerTap has launched a simpler version of its P1 pedals. The new P1s model only has power measurement on one of them, thus doubling the power of the left pedal to get the total power, something that Favero already did at the time with the BePro (of which I still owe the full test) and that commercially has worked very well for them.
This is a more economical way to get into power measurement, and if you want to do so tomorrow, you can buy the right pedal and attach it to the system without any problems, thus forming a fully functional P1 pair.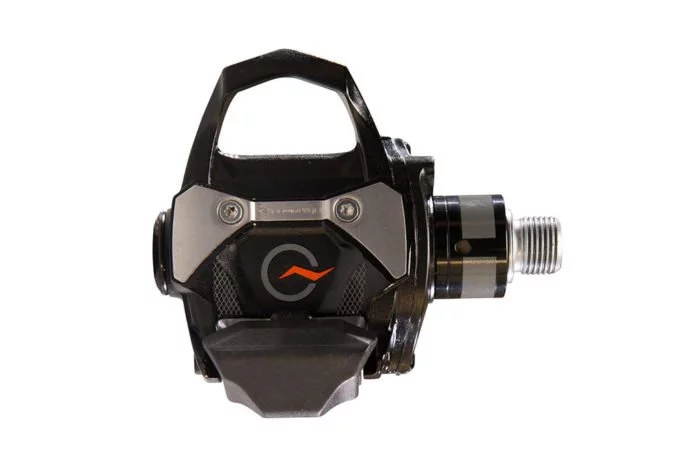 In addition to the P1S, PowerTap has launched an application with additional metrics to analyze the pedaling cycle, analyzing the movement of the cranks in space. In addition to displaying data it will also inform how to improve each pedal stroke. For the time being the application will be available for iOS
–
These have been the most interesting things about Eurobike (as far as technology is concerned). I hope you found the information to be extremely useful. Thanks for reading!