A few weeks ago Nike proposed me to try the new (at that time) Tempo NEXT%. When they make you a proposal like that, who can say no? especially if the shoes are orange...
My first thought regarding this test was to compare running data between the Nike Tempo NEXT% and any other shoe, using data from external sensors such as Stryd. However, looking at the data and graphs, I'm looking for small differences that Stryd may not be able to bring up, or that I may not know how to identify.
So I've moved on to plan B. I've taken the opportunity to dust off my Youtube channel and I have published the analysis there (and incidentally in InstagramTV also). It's something I've wanted to do for a long time, and I haven't found a better time than this.
It won't be the last review I publish through that medium, because my workflow when poder creating and editing video now is quite a bit better than it was a few years ago. And for certain types of material, video is sometimes more useful.
I'm also posting short reviews of other sports gear on Instagram (@correrununamaraton). So if you haven't already, it's a good time for you to follow me on both networks (and like, share and all that stuff).
You have the complete video analysis in the header (or directly on this link), and here is a brief note about the Nike Tempo NEXT%.
The Nike Air Zoom Tempo NEXT% correspond to the NEXT% range of the North American manufacturer. This range is composed, in addition to the Tempo, by Vaporfly and Alphafly. In other words, we are not talking about just anything.
Their design is very reminiscent of the Alphafly, mainly because both share the visible air chamber in the midfoot area. Here they are side by side.

But beyond aesthetics and shapes, there are a few differences between them that I will quickly detail:
The Nike Tempo NEXT% uses a composite plate to provide stability to the foot. In the Nike Alphafly that plate is made of carbon, so in addition to offering stability it also provides momentum in the stride.
While in the Tempo NEXT% Nike has mixed ZoomX foam with React foam, the entire midsole of the Alphafly is made of ZoomX.
The Alphafly upper (called AtomKnit) is lighter and more advanced than the Flyknit of the Tempo NEXT%.
But the main thing between them is the use that we podemos give it, or that Nike understands that we want to give it. While the Alphafly are purely competition shoes and you should keep them for races or very special days, the Tempo NEXT% are more for daily running.
They are not as explosive or as light as the Alphafly. On the other hand, they have greater durability and a lower price.
So do I mean to say that the Tempo NEXT% are worse shoes? No, they are simply different. And complementary, which is precisely what Nike wanted to do with them. Nike's idea is that you can train with the Tempo NEXT% and compete with the Alphafly.
Sure, that's a nice idea, but considering the price of the Tempo NEXT% (between 150€-200€ depending on the time of the year) and the Alphafly (299€) it's not something that everyone can afford. And to be honest... we must admit that the Alphafly is not a shoe that anyone podamos take advantage of. Because to run a marathon in 3:30 we don't need a shoe with so much technology. And I'm not criticizing anyone for using them to run it in those times, so don't misunderstand me.
Well, I promised you at the beginning 3 things I like and 3 things I don't like about the Tempo NEXT%, here we go.
3 things I like about the Nike Tempo NEXT%
These are the three main things I would highlight about the Nike Tempo NEXT%.
Reactivity
The energy return it offers thanks to the ZoomX foam. 4% as Nike says? More? Less? Well I don't know, it's hard to quantify, but it's something that's there and it's noticeable when we're running at light paces.
Mixing ZoomX and React
At first glance it may seem that the combination of ZoomX and React is a measure to reduce the cost of the shoes. Or to avoid overshadowing other models that do use ZoomX in the midsole. It could be, but it's a combination that I like the way it works in this shoe.
The reason is that due to the difference in reactivity between both foams, it is perfectly noticeable when we are running with the right technique (midfoot, forefoot) and when we are heeling.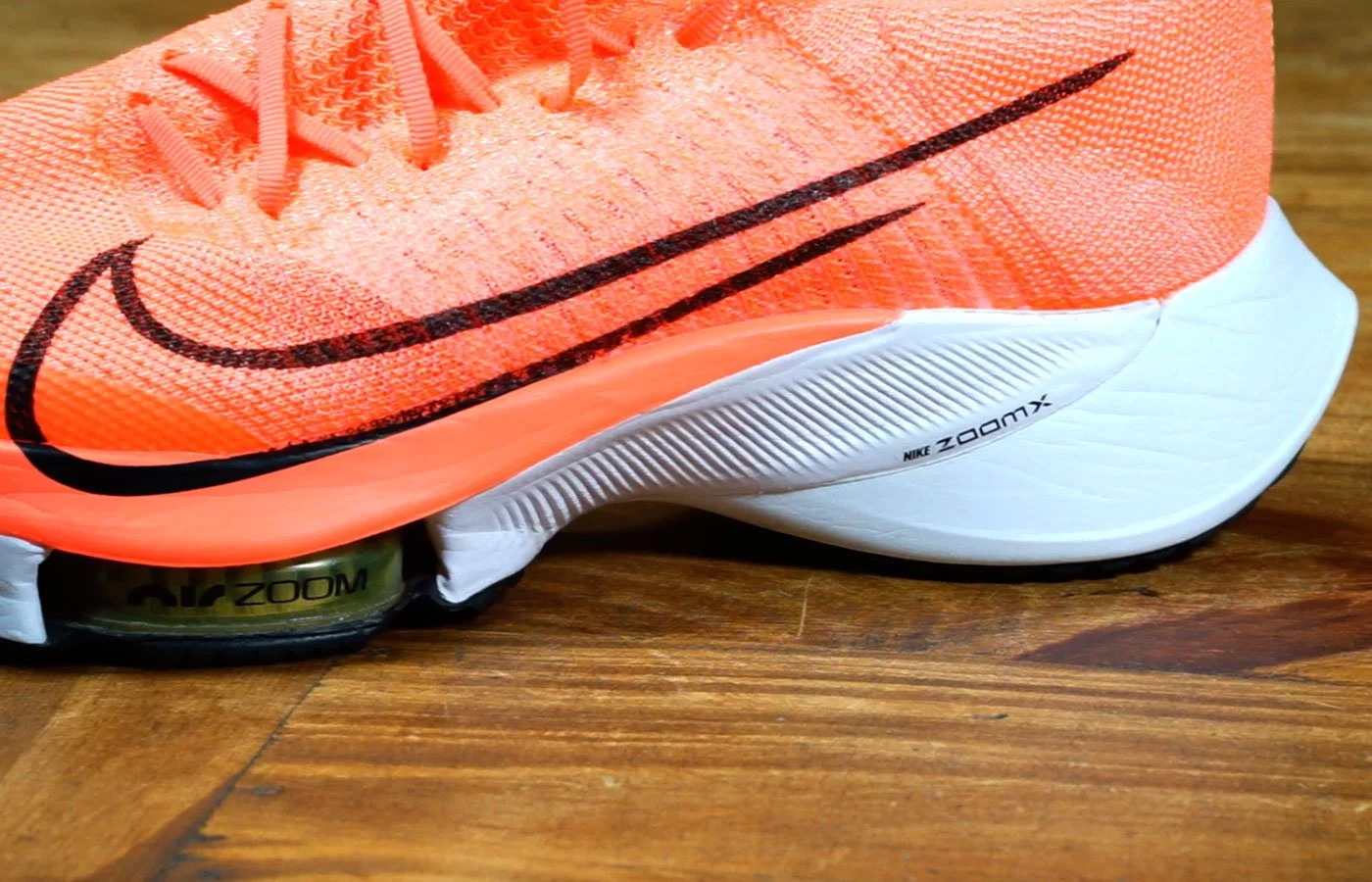 Generally when we start to fatigue, our running technique degrades. We pull our body back, we don't make the right stride and we start to heel.
That, with the Tempo NEXT%, is immediately noticeable because the moment you start running with the React foam zone you will notice that you lack that "spring" feeling.
Upper Flyknit
I find the upper extremely comfortable. An integrated tongue that is more elastic than the rest of the shoe, eyelets without thermo-seals (which you still don't need), reinforcements in the toe cap... everything is well thought out and fits the foot well, without being too tight or too compressive.
3 things I don't like about the Nike Tempo NEXT%
Not everything is pretty, there are also things that I like less or that I would prefer to be otherwise.
Noise
The way they are built, they are VERY NOISY shoes. I have never tried anything similar, at every stride you can hear a dull sound when stepping on the ground.
That noise comes from the air bubble area. They are two pieces of plastic, and between them there is an empty space. This, inside the shoe itself, produces a resonance chamber that makes the sound audible when you step on it.
Not that it is something of utmost importance or that makes it impossible to use, but it is something to keep in mind so that you are not caught unawares.
Wear and tear
I've barely done 100km with the shoe and the wear marks can already be clearly seen on the sole. It's true that almost all the kilometers have been done at fast paces (with all that implies in terms of traction), but it doesn't seem that the sole will perfectly last 800km.
Not that I expected them anyway, because although ZoomX has many positive aspects, durability is not among them.
Stability at low rates
It's not all about "running on fire". You also have to warm up, cool down and cover the breaks between intervals at very gentle paces. And here the Tempo NEXT% are totally out of place.
Have you ever seen any video of these non-Newtonian fluids (that they are hard if you hit them, but if you deposit some weight it sinks in)? It's a similar feeling to what you get with the Tempo NEXT%'s.
Running fast the midsole is comfortable but has reactivity. It helps to move forward and offers a sense of propulsion. However when walking it feels like I am sinking, there is a lot of foam under my foot that sinks in, and when running slowly it is a similar situation (although not as blatant).
It's not that it's impossible to run at low paces, but the feeling it gives is not the same.
Well here is a pretty comprehensive review of the Nike Tempo NEXT%. Be sure to watch the video because I go into much more depth on the different aspects that I've been discussing above. Do you have any questions regarding the Nike Tempo NEXT%? Well use the comments below, and I'll answer them for you.
And with that... thanks for reading! (and for watching the video!).