The Nike Pegasus series is probably the most famous in history. Since 1983, the year in which Nike introduced this sneaker to the market, it has been renewed annually. That means that in 2021, the model we have is the Nike Pegasus 38the latest iteration of this shoe with so much history behind it.
The Nike Pegasus 38 is Nike's training shoe, the one that claims to do it all. From light and long workouts to even offering a bit of speed on faster days. And all this for a price that, within what is the usual Nike range, is quite interesting. An everyday shoe that can do everything.
In its thirty-eighth version there are no major changes, which focus on the upper. Outsole and midsole remain unchanged compared to last year's Pegasus 37. Which is a good thing, as the main complaints from 37 users were focused precisely on the upper. So it's those changes that I'll focus on in the review.
Nike provided me with a pair of shoes to review. I've been using them with some regularity in my usual workouts, although not for everything as on fast interval days I've opted to use something with more energy return (the Nike Tempo NEXT%). But it has been "almost everything", because I've even taken them out on trails and trails..
I've been rotating the Pegasus 38 on my feet for a few weeks now, more than enough time to get to know them and adapt them to my feet. So I can now tell you all about what they have to offer.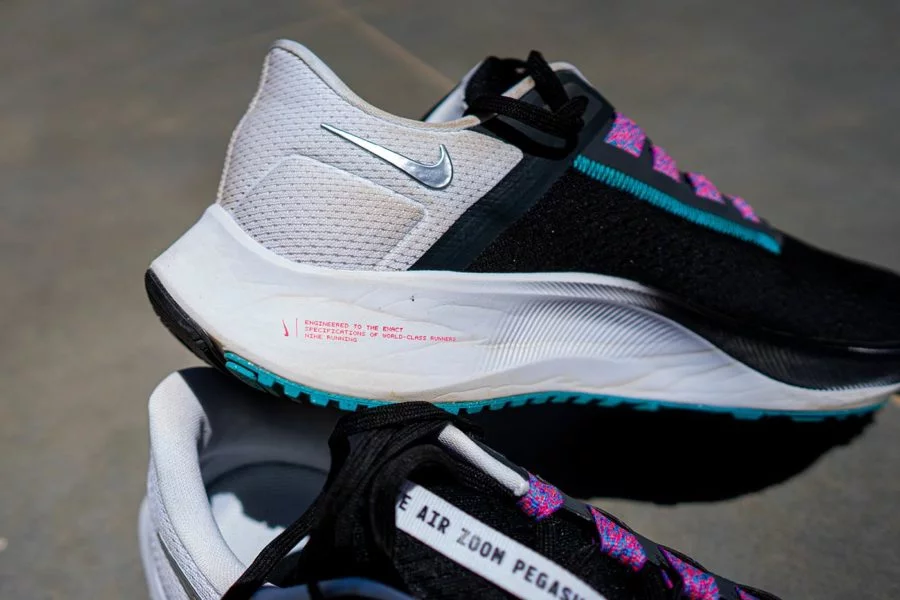 ---
Plus
Familiar feel and sensations, no radical change with each new release
React foam is always pleasant to use
Some more space for the fingers
Minus
Upper is warm
Not a lightweight shoe
Nike Vaporfly 2 video review
If you prefer to see the video review, you can find it in the header, clicking on this link or below. It is not a substitute but the video provides information that is not available in the written analysis and vice versa.
Nike Pegasus 38, a much-needed upper change
The upper of the Pegasus 37 turned out to be quite poor and few users liked it for two main reasons: a too narrow forefoot that squeezed the toes (and 1TP10Could cause blisters) and a collar that did not support the foot as much as necessary, preventing the heel from locking in properly and making the shoe move around in the foot.
This is what Nike has tried to fix with the new upper. On first wear you can see that it is quite comfortable and that the materials used are of quality. Everything is quite soft, especially the tongue which is now longer but above all much more padded. We abandon that thin tongue that we had in the Pegasus 36, lighter and with a feeling of being more focused on a racing shoe or faster paces.
That thicker tongue helps protect the foot from lacing pressure. Also, because it is wider, it moves the foot slightly further back to help with heel lockdown.
The forefoot area is wider, leaving more room for our little toes. There is no feeling of being with the foot imprisoned. As I said at the beginning that was the main complaint of the Pegasus 37 users, a front part too narrow that besides not being comfortable podía cause blisters by chafing. In fact I stayed in the Pegasus 36 and never made the move to the 37.
However, not everything is perfect. The type of double mesh that Nike has used for these Pegasus, despite being comfortable and stretchy enough, I find it quite warm. This is something that is more easily seen now with the arrival of summer and high temperatures.
This double mesh system feels quite thick to the touch and is not overly breathable. If we add to that the thicker tongue the result is that we have a pretty warm shoe for winter, but I'm sure that running with it in hot areas you will find it lacking in ventilation.
Don't get me wrong, it is still a daily training shoe and is far from more specific running shoes such as the Vaporfly NEXT%2. In general all training shoes are going to feel a bit warm, but the Pegasus 38 maybe a bit warmer than its rivals. 
It is something to take into account whether you are going to use them in summer or ride with them in winter. 
Vaporfly midsole without changes or modifications
The problem with the Pegasus 37 was in the upper of the shoe, but the midsole worked quite well. It's all made with Nike's React foam - which doesn't have the reactivity of the ZoomX, but it's not as soft either - and it also incorporates a Nike Air unit in the forefoot.
React has a pleasant feel. It's not hard, but it's not overly soft either. But this foam is more comfortable than the Cushlon we found in the Pegasus 36. So there is more comfort and more protection, but at the same time it is loose enough to be able to move at medium-high paces.
This change to React foam makes it a good candidate for training over longer distances. They are a good training shoe for half marathon or marathon, but perhaps they have lost the usual versatility of the Pegasus for shorter distances.
Of course, when necessary I have had no problem to speed up the pace and go under 4:00min/km to do some kind of interval, but these are not shoes that ask for speed. 
I have also had the opportunity to wear them on easy trail routes (roads and trails, no mud or aggressive descents), and the midsole is thick enough to filter out the small stones that we find on the road. At no time did I have the sensation of nailing any of them.
In the front part of the midsole is where we find the air pocket. This bag is somewhat larger than in previous models and is a good ally to absorb the blows of each step on the asphalt, offering at the same time a sense of thrust when taking off from the ground.
With respect to the "Airbag" there is a curiosity, and that is that the feel offered in the men's and women's models is different. According to Nike, women prefer a softer feel, to run more comfortably. Men preferred a harder feel. So the type of bag differs between the two models.
The sole on the Pegasus 38
The outsole is already very classic in the Pegasus 38. The design is the same as in the Pegasus 37 and practically the same as in the 36 and previous ones. It is a hard and resistant sole that allows to run for many kilometers without appreciating important wear.
Obviously a hard sole doesn't cope well with tricky situations like wet asphalt, where it's certainly not the aspect where they shine the most. You can't have everything, I guess.
At the rear of the shoe, under the heel, there is an area where the midsole is visible. This opening saves weight and makes the heel softer as the foam can compress better in this area.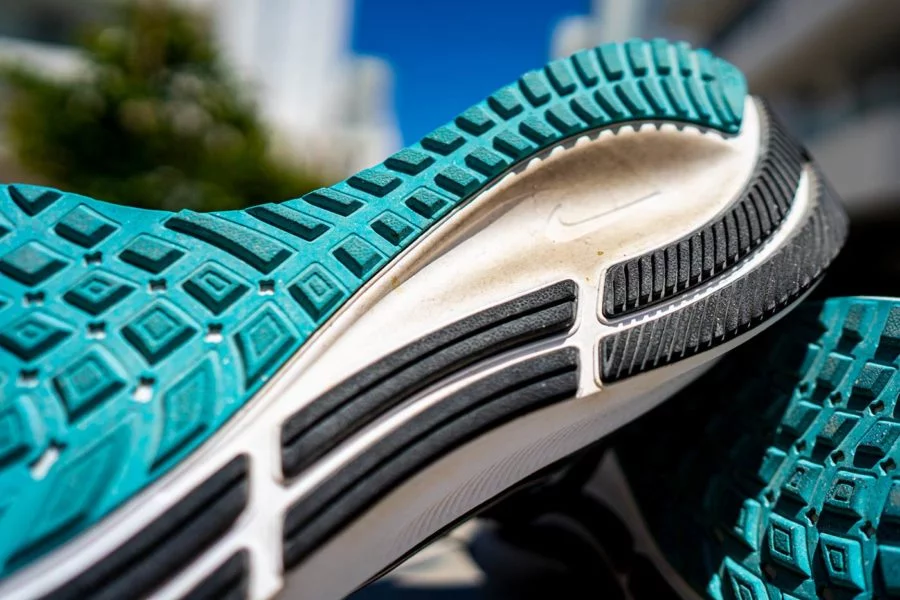 But as I said before I also wanted to test the Pegasus 38 on an easy trail route. Trails, some loose rock and dirt. But no mud or rock. In other words, a looser surface than asphalt but without complications or difficulties.
The Pegasus offered me enough confidence in traction, with no slippage even going downhill. Let's be clear, this is not a trail shoe, nor is it their primary use, but if you're going to mix asphalt with loose terrain or trails, podrue do it all with the Pegasus 38.
Want to help the web? Buy your Nike Pegasus 38 here
I hope this full review has helped you decide if these shoes will fit your wear. All the work I do is without any cost to you, but if you want to support the page and by doing so the work I do, the best way to do that is to buy these shoes through the links that I provide .
And if you don't buy them today, remember to stop by when you're going to! Through these links you will not only get a competitive price and the best customer care, but also I will receive a small percentage at no additional cost to you. That's what allows me to keep offering you reviews like the one on this page.
If you have any questions, remember that you have the comments section at the bottom, where I will try to answer all your questions.
Nike Pegasus 38 review
Nike has updated the Pegasus 38 where it was most needed, as the upper of the 37 created problems for many users. Both due to chafing and lack of support in the heel area. 
Both aspects have been corrected, but my only complaint about the upper is that I find it hot. This is logically increased now that summer is about to start. But of course, I live in the south of Spain and what for me may be a hot shoe for someone else may have the appropriate point. And of course on cold winter mornings it will be much more pleasant than a more ventilated shoe.
The Pegasus 38 are true to their tradition. They are good in all aspects, but don't stand out in anything special. They are a good candidate as a training shoe, especially if you run two or three times a week and only want to have one pair of shoes (and they are not too expensive), these are good candidates.
If you run more frequently, remember to have more than one pair of shoes. After a run, the midsole needs some time to recover all its properties. In addition, if you have more training volume, you will probably need something faster for series days.
You may be wondering where these Pegasus 38s rank in the brand's range of sneakers. We have for example the Nike Infinity Run FlyKnit 2pod can also be considered as a training shoe. The Infinity is a more maximalist shoe, with more stability and more oriented to long runs.
But where the Nike Pegasus 38 works well is as a wildcard shoe for paces neither too high nor too low, quiet workouts or a bit more lively, they can even serve you for competition if you are not going to run under 4:30 min/km. 
If you are looking for a shoe that won't surprise you with chafing or discomfort after 10 or 15 kilometers the Pegasus 38 are good candidates. But don't look for new technologies or big changes, because this is not Nike's line where we will see this.
And with that... thanks for reading!