Pay attention to these Nike bargains that have suddenly jumped out (these are the best deals!). A lot of sneakers with discounts of even 40% on highly sought after and well priced sneakers.
Two different promotions. On the one hand, we have the standard discounts where the price is the one you see on the web and on the other the price of the back to school promotion with additional discount in a series of products. But don't worry, I'll make it all very clear...
In addition to the discounts, remember that if you are Nike Member all orders have free shipping and returns. To become a Nike Member you just have to register at this linkso it's all benefits.
I recommend that you subscribe to the Telegram channel because that way 1TP7You'll get instant notifications when a new offer is posted, so you won't run out of stock because you see it too late.
Nike running shoes offers
Let's go first with a quick list of my favorites from this promotion:
That's my list, but if there isn't one in your size or you want to see if you can find something that better suits your characteristics, you can check out the all Nike shoes on sale. Here are some of them:
Nike Vaporfly 2
Undoubtedly the best offer of all. A 40% discount on an incombustible shoe, which continues to be a reference among all the marathon elite.
You know, top racing shoe with real ZoomX and carbon plate. Little more I can tell you about them, because you will know them more than enough.
If you are hesitating... I don't know why you are hesitating. If only to give you a taste of the feeling, it's well worth the purchase.
If you want to know what the differences are with respect to the Alphafly, here you can see the video I made about it.
---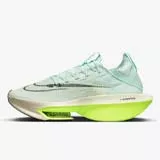 Nike Air Zoom Alphafly NEXT%
The other Nike racing shoe that keeps the Vaporfly company. They are not so discounted, but since it is not normal for them to be discounted, it is always appreciated when they are reduced in price.
It is Nike's fastest, most special and undoubtedly the most eye-catching shoe.
It has a huge midsole made of ZoomX, Nike's highly reactive foam, and has a carbon plate inside for stability and some extra propulsion. The icing on the cake is the air chambers in the forefoot.
---
Nike Pegasus Turbo NEXT%
When I tried them on I didn't find them to be an "impressive" shoe, but rather a premium quality Nike Pegasus.
The recycled ZoomX does not offer the same feel as the ZoomX in racing shoes like the Vaporfly or Alphafly above, but it is better than the React foam in the traditional Pegasus.
But with a 40% discount as it is now? I find it a very good choice as an all-purpose shoe for daily training. It handles well in workouts at easy paces and allows for some joy with paces.
It is neither a fast shoe nor a recovery shoe, but it sits well between those two concepts and performs perfectly.
---
Nike Trail shoes sale
It's time to move on to trail running, where Nike has more and more models and where its ZoomX foam is also arriving.
Nike Zegama
The Zegama were the entry of ZoomX in the Nike trail range. They are shoes for short to medium distances in the mountains.
Designed for mountain running on dry terrain, this is a shoe with a good energy boost.
---
Nike back-to-school offers
So far I've shown you the normal deals, discounted prices like the discounts of a lifetime. But that's not the only promotion going on at Nike right now.
There is also the back to school promotion with a 25% discount buying 2 or more products from a rather large section.
The code to use is BTS23and it will be valid until September 7. But as you know, rather than worrying about the date on which the promotion ends, you should worry about the stock, because good opportunities always end soon.
Not all products are promoted, the additional discount is applied on those listed below. Men's and women's shoes, pants, T-shirts, jackets, windbreakers...
How do I apply the discount? Simply add to cart the items you want to buy and, where it asks if you have a promotional code, enter BTS23. Remember that you must be logged in to your Nike Member account to apply this poder code.
You only plan to buy a pair of sneakers and don't need anything else? Here's the trick, you can add a cheap product to the cart and then already apply the discount code for what you have put in. These socks are always very useful for this purpose..
Direct link to items that allow for an additional 25% discount
Do you want a product idea that could be interesting? I give you the two most outstanding examples, but in this case it is perhaps more interesting that browse all that is availableespecially thinking that you may not be buying for yourself and that you will be buying for back to school (sneakers, tracksuits, t-shirts, pants, etc.).
Nike running back to school offers
Nike InfinityRN4
Very good opportunity to see these sneakers here, because they have just been released and there is no way to get them discounted.
The new Infinity continues the legacy of the three previous versions, but they have changed completely. New ReactX foam with slightly more energy return and a less pronounced arch than in the previous versions, so if the previous ones gave you discomfort here it should be corrected.
Slightly softer than previous models, more comfortable and offering a little more durability.
---
Nike back to school trail offers
Nike Kiger 9
The Terra Kiger 9 has lost the official "Terra" nomenclature, but continues the evolution of the previous models.
They continue to be a fast and agile shoe that departs from the growing trend of increasing profiles and offering comfort above all. With the Kiger 9 you'll get more ground contact and feel than, for example, a Pegasus Trail shoe.
Good dry traction and good rock protection.
---
Remember to use the code BTS23 to apply the 25% discount to your shopping cart!
Free shipping and 60 days return
When you create your Nike account and become a Member you will have free shipping costs.
Not only that, if when you receive the order and for whatever reason it does not fit what you expected (size error, you do not find it comfortable or you have changed your mind) podrás request the return of the order for free, no questions asked and no objections. You prepare the package, request the return and that's it.
—
I won't keep you any longer and I'll let you shop in peace. You already know that your concern should not be when the promotion ends but when the sizes are going to run out.
And with that... thanks for reading!