Yesterday Suunto published a "teaser" on their social networks. They simply offer the silhouette of a watch in a rather dark image. Enough to know that it is a watch, but nothing more... This is when all kinds of rumors begin to emerge around a future presentation, and everything would point to a new Suunto Spartan Ultra to be launched this 2018, predictably throughout the summer. This is the video shared on social networks:
Stay tuned... #Subject pic.twitter.com/iVYfW4BoMY

- Suunto (@suunto) May 22, 2018
As I say, many questions arise, but no answers, so it is now my turn to make the corresponding assumptions.
I'm sure it's a new Suunto Spartan Ultra
I'm sure to the 95% that this is a new Suunto Spartan Ultra. The original model will be two years old in a few weeks (was presented on 7 June 2016), which may not seem like a lot of time but in consumer electronics it's a lifetime. It's the life cycle that's usually happening in all brands, with some exceptions. Do you want to see it a little better? Well, the only thing we can do is increase the brightness a little and reduce the contrast to try to appreciate a little more the details of the rendered image.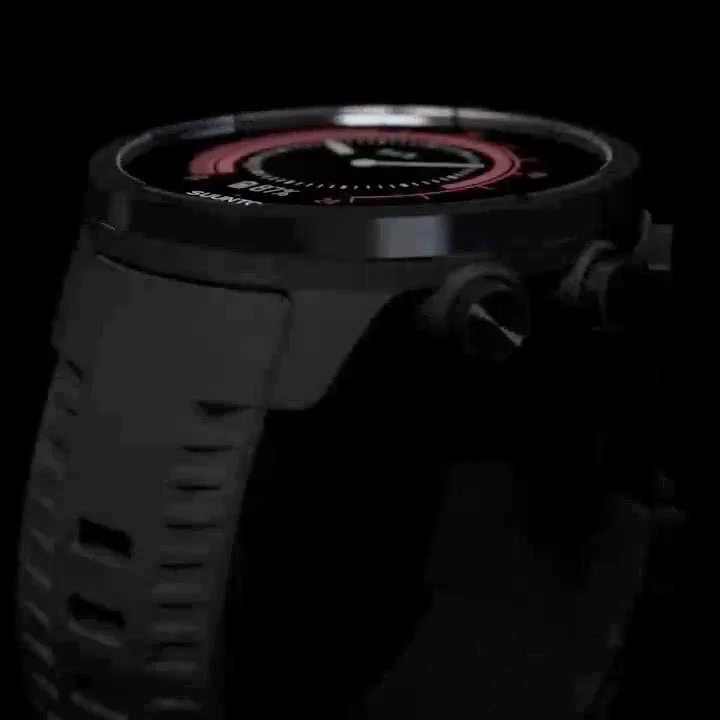 Now we can see more things. The strap is quite wide, so we can rule out a different edition of the new Suunto 3 FitnessThe strap anchorage is similar to that of the Spartan BaroThe external antenna in the belt area is therefore not available.
At least the three side buttons remain. I don't think the user interface will suffer from redesign as this is something that Suunto-san has been working on for quite a few months.
It does change the bezel, which instead of being flush with the glass as on the original Spartan Ultra is now above the glass. Also visible is a watch face that is not present on any other Spartan model, although it is impossible to see if it loses the "pinched wheel" effect by cutting off the bottom of the display.
At least, these are the aesthetic aspects that can be seen in the image. It will still be a big clock, but my intuition tells me that it will reduce its thickness without losing battery capacity.
Why now
There are several reasons why this watch will now reach the market beyond the two-year cycle, more than enough time to amortize a product, and even more so in the case of Suunto, which bases a complete range on the same product (some hardware features or details are reduced, but the whole range offers almost the same).
New firmware update
The first is that Suunto has just launched a new update for the current Spartan rangeBeyond the logical firmware update that is coming to all products and that Spartans have been receiving over time, it stands out that there has been a significant change in the version. It is now 2.0, so there is a significant change beyond the novelties introduced with the latest version. Probably the core of the operating system has been redesigned, leaving room for new features. Be assured that the new Spartan will have the same features as the current models.
Polar about to launch a new model
Another reason to launch the watch now is simply the market situation. Polar, the other Finnish brand, has yet to launch the replacement for the V800 this year. With this leak Suunto has already given a hint that something is imminent, protecting itself in case of a hypothetical announcement by Polar in the coming weeks.
Wireless payments
The new Spartan will surely have support for wireless payments, through Barclays bBay. The agreement is already signed and was submitted two months agoSuunto will join other brands such as Garmin, Apple and Fitbit in their quest to provide a way to offer wireless payment directly from the wrist.
New Valencell sensor
Valencell, the manufacturer of the optical sensor that currently equips the Spartans, presented a renewed sensor at the beginning of the year.
Although the original Spartan Ultra did not have a sensor of this type, it was later extended to the rest of the range. It is to be hoped that the optical sensor will now be present throughout the range. This same sensor is the one that Scosche will be fitting in its new RHYTHM 24This new sensor is more energy-efficient, so Suunto will be able to mount it on its top-of-the-range model (which has always placed great emphasis on range), but they also announced that it is capable of recording pulse variability, which opens the door to new recovery status metrics and more accurate recordings than ever before.
New mobile application
Suunto continues to work on its new mobile app, simply called "Suunto". But there are several things around it that create a "strange" situation. Although the app is compatible with all Suunto Spartans; at the moment it does not dump workouts to Movescount, only to Sports Tracker The latest Suunto model, 3 Fitness, is not compatible with the Movescount app and is only compatible with the new Suunto... In short, there are several inconsistencies that will only begin to make sense when everything is updated and running internally.
Movesense Sensor
Presented at the CES in 2017, the Movesense pulse sensor is in principle oriented to developers so that they can carry out applications based on it. It has a multitude of sensors (accelerometer, gyroscope, compass, pulse, temperature...).
It is much more than a pulse sensor, in fact I would say that it is the least important part of this device. It is a sensor capable of recording a multitude of different data that the appropriate software can then store or process in real time. From here and with so much data a world of possibilities opens up.
In short...
I think it's safe to say that there's a new Suunto Spartan Ultra in the making. Beyond the manufacturer's own shared video, there are many signs that point to it. When will the official launch be and will we know the official details? I think it will be next July, with the watch available by the end of July or August. So until that date, all we know is what we can assume. Some of the things I indicate here will be fulfilled, others won't. But don't worry, as soon as it's officially announced, you'll have all the details.
And with that... thanks for reading!