Test published!
Don't miss the full analysis of Suunto 9, where you'll find absolutely every detail of this model - indispensable!
You can see the updated test from hereThis article is only the presentation of the model.
Suunto today announces a new product range. Suunto 9, despite the name change, could well be a Suunto Spartan Ultra 2. There are no major changes either aesthetically or in function, although Suunto is further developing the features that its most loyal clientele will appreciate.
While other manufacturers are introducing mobile payments, music playback, and other features adapted from the smart watch segment, Suunto remains true to its philosophy and includes new features not yet seen in any other model that the brand's most loyal (and ultra-distance racing) customers will appreciate.
Before we start, let's make it clear that this is not a test or a contact, it's just the presentation. There is already a unit of this clock on its way, so the test is scheduled to be published some day between the last week of June and the first of July. But before that, let's go over all its news.
Suunto 9, news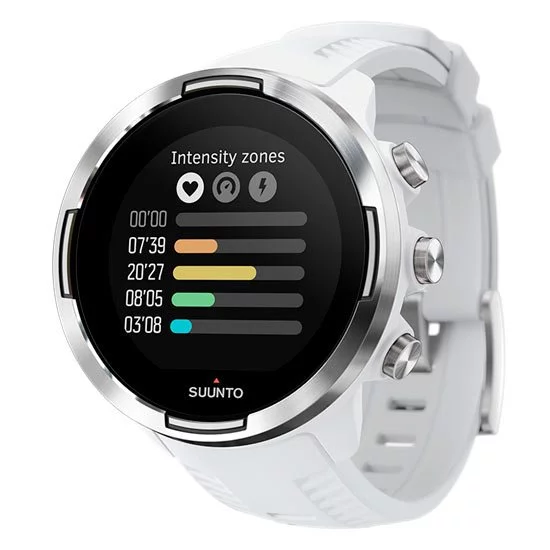 In fact, Suunto 9 is the replacement for Suunto Spartan Ultra, and it is with this one that we can compare it. You are probably wondering about the change of nomenclature after three generations of Ambit and only one of Spartan... Well, Suunto has not made any statement about it, but I could bet that the reason is because of the image that has been left after launching the Spartan, when I was not yet ready for your release.
But it's been a long time since that and the Spartan range has been getting new features all these months. Maybe not at the speed that many of us would have liked, but consistently. But with the change of name Suunto wants to make a clean slate. And about future models of the brand, knowing that we have a Suunto 3 already on the market and a Suunto 9 that was presented today, you don't have to be a genius to know what will be the name of the ones that will come after the current Spartan Trainer and Spartan Sport...
Returning to the model presented today, these are its novelties with respect to the Spartan Ultra it replaces (although for the moment both will coexist in the market):
Intelligent battery modes that can be changed before and during training for up to 120 hours
FusedTrack, new function to create GPS tracks... without GPS (I'll explain later, but it's a clever innovation)
New GPS chip from Sony (replacing Qualcomm's SirfStar V)
Valencell's optical pulse sensor (Spartan Ultra did not have one)
24-hour heart rate monitoring
24mm quick replacement strap (just like the Spartan Baro)
As you can see, there is no revolution of any kind, but there are functions that those who are most assiduous in long tests and training will appreciate. We are going to explain these functions.
FusedTrack function
From the Ambit3 range, Suunto offers functions called FusedSpeed and FusedAlti, which are quickly described as an algorithm that starts from different parameters and helps to display more accurate data than if it is based on only the records of a single sensor.
So with FusedSpeed they combine GPS data with the accelerometer data from the watch to give more accurate pace and distance data, especially when GPS signal reception is more difficult, while with FusedAlti the watch corrects the barometric altimeter values with the GPS values, to combine the air pressure and display an actual altitude.
FusedTrack follows the same concept, combining several sensors to make one function: in this case, higher quality GPS tracks (and more accurate live data).
This function takes center stage with the extended battery life modes, where the GPS logging rate increases. Instead of taking position points every second, the watch will now take position points every 60 seconds.
Before selecting this option the track we got was very poor, because in those 60 seconds depending on the route many things could happen. Now the clock will combine those points with the data it collects from the internal sensors (accelerometer, gyroscope and compass) to be able to determine if we have changed course, correcting therefore not only the track but also the data shown by the clock in real time.
At the moment this function is available for the running and trail modes, but Suunto would like to introduce it for open water swimming as well (which it needs).
So, for all intents and purposes, it's having GPS data without using GPS. Sounds like magic, right? It's definitely the feature I'm most looking forward to trying with the new Suunto 9.
Suunto 9 Smart Battery Modes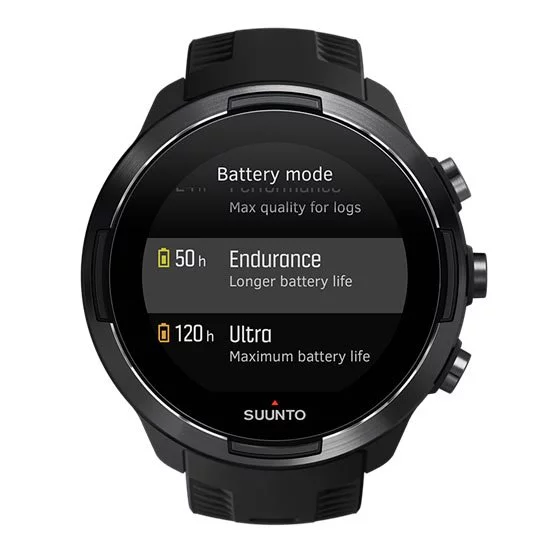 Since Suunto 9 is largely geared towards users who often spend many hours (too many if we consult their families) abroad, Suunto has new features that you will certainly appreciate.
The new model will have three predefined battery modes, with presets that will allow to reach from 25 hours to 120 hours of data recording. Additionally, we will be able to configure a specific mode with settings at our will.
When you start a workout, regardless of which sport profile you choose, the watch will indicate how many hours you can record with the current battery mode. The change will not be simply at the start of the workout, it can also be modified during the workout.
The predefined modes are called Performance, Endurance and Ultra; and this is their configuration: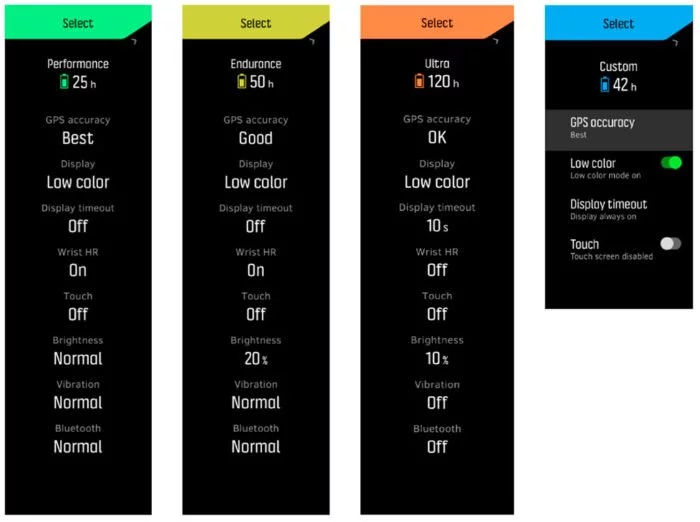 As you can see there are many parameters you can adjust to increase the battery performance, not only modifying the accuracy of the GPS. Disabling Bluetooth or vibration, disabling the touch screen, activating the automatic shutdown of the display...
There are also mid-activity alerts, notifying you when your battery is low and asking you to switch to a more conservative mode to get through your workout. But it's up to you, as you're the only one who knows if there's 5 minutes or 5 hours left until your destination.
And if there are not 5 but 15 left, there is one last emergency mode where a stopwatch will simply be displayed. Everything else will be disabled to try and squeeze the battery to the maximum and get at least the total training time right.
Questions and Answers
Since I'm sure they'll be here, I'm asking a few questions that I'm sure will come up...
Are the functions the same as in the Spartans?
Yes, for all intents and purposes it's a Spartan with a few more new features in its firmware.
Will this news reach the Spartans?
Suunto hasn't made any statement about this, but I'm pretty sure that the Spartan Ultra would be able to do it (at least as far as FusedTrack is concerned).
Is Suunto 9 the same as the Spartan Ultra from a hardware point of view?
Aesthetically it's very similar. There are changes in the strap and in the bezel, but internally there are many new features. For example the optical pulse sensor that the Spartan Ultra doesn't have. And of course the new GPS chip from Sony.
Does this mean that the Spartan range will not receive any more software updates?
I have no idea. They may get some new features, but what is clear is that right now the new range will be the number one priority (along with the new Suunto App mobile application).
I have a Spartan, would you recommend the change?
Honestly, I don't see much justification for spending. It would be different if you came from an earlier model or a lower range.
Suunto 9, availability and price
The Suunto 9 will officially be released on June 26th, after which you can get a unit that is currently available in black or white. The price is £599, and for an additional £50 you can add a pulse sensor for your chest.
—
Suunto 9's opinion
As I said at the beginning, Suunto is taking a different path from the rest of the manufacturers. While others have recently focused on incorporating novelties that come from the smart watch segment (probably due to their fear of Apple Watch), the Finns have decided to bet on their current customer typology: users who mainly carry out their training and competitions in the mountains, and who do so for many hours.
Suunto is thus trying to set itself apart from the rest and try to secure the market position where it has the greatest penetration. I think this is the most intelligent decision because it cannot fight, with the means it has, for all sectors.
As for the watch, there are no major changes, but these new features will be appreciated by the "hard core" of Suunto users. Ultimately, it is for them that this model is intended.
But to form a better opinion I still have to wait to spend hours of quality with the new model, and do it with the production firmware version (with which it will reach the market), so in the next weeks you will have more information.
And with that... thanks for reading!