HEADS UP!!
The full analysis of Suunto 3 Fitness is now published. This article is only from the presentation of the model.
Click here to see all the details and opinion of the Suunto activity bracelet.
Suunto is entering a market today that it has not been in before. The Suunto 3 Fitness presented today at CES in Las Vegas is not a watch that is meant to be used in the mountains, in adventure sports or in risky activities. Not at all, it is meant to help you lead an active lifestyle - that is, it will be more common to see you in the gym or out for a walk than in a mountain race.
Suunto enters the field of activity monitors, but with a classic watch look rather than the typical wristband; designed and thought to be worn every day. But the star of this presentation is not the product, as there are no new features; what makes Suunto 3 Fitness special is its software.
Suunto, through FirstBeat (the company behind most of the algorithms available in all the watches of the different manufacturers), offers personalized training plans for cardio. What is this?
Adaptive training plans and real-time indications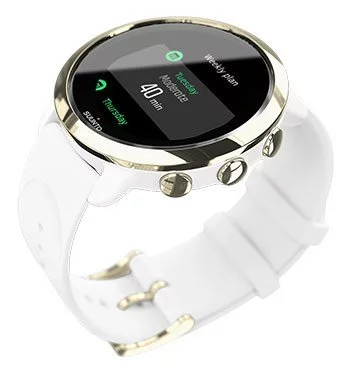 The watch will create a seven-day training plan based on the parameters you specify. Things like your fitness level, whether you want to maintain or improve your level, your level of ambition or whether you want a softer or very intense workout. Depending on all the parameters you choose, this will be your training, both in intensity and in number of training days per week.
The most interesting thing is that the training plans are dynamic, so if one day you have more energy and you do a much more intense training than scheduled, or on the contrary you do not feel strong enough to do it, the watch will automatically modify the training plan created to have these modifications.
The exercises will also be monitored through heart rate zones, to guide you in finding the right intensity, and the results will be analyzed with the VO2Max estimate you make after each exercise, also courtesy of Firstbeat.
Tracking of all types of activity and exercise, but without GPS
As an activity monitor, Suunto 3 Fitness counts steps and estimates calorie consumption. Of course there is also sleep monitoring as in its big brothers, the Spartans. But it goes much further, offering different sport profiles as well: running, swimming, cycling, etc.
But there is an important detail, all measurements (including distance and running pace) will be made through the internal accelerometer, since the watch does not have GPS. This way it is possible not only to reduce the cost of the watch, but also to increase the autonomy and avoid having to constantly charge the watch.
Availability, versions and price
There are two levels of finish with some difference in the finishes. On the one hand we have the more economical models, with a price tag of 199 euros, which offers a polished steel bezel and plastic buttons in the same color as the casing. There are three versions: Black, Ocean and Sakura. Black, light blue and pink respectively.
The second level of finishing gives a little more in the "premium" aspect. The bezel is also in stainless steel, but is offered in gold or black. The buttons in this case will also be made of steel. Named Gold and All Black, its price rises slightly to 229 €.
They will all be available in the spring.
New Suunto app, now officially dated
I'm sure you don't remember, but Amer Sports (the company that owns Suunto) bought the Sports Tracker application in 2015, and they haven't really done much with it since, so from spring onwards it will be this application that becomes the core of the Suunto application.
It has been in beta status for a few months now, and at the moment it does not offer all the functionality expected of it, but the truth is that it improves the current Movescount which has already become quite old.
Suunto 3 Fitness Opinion
At the moment there are not many details about the new Suunto watch beyond what I have already told you. I don't even have any data about size, weight or performance. But beyond the watch itself, what is interesting is not so much the product or the software, but Suunto's entry into a market that I had no intention of visiting until now.
Suunto is entering a very mature market, practically when other big manufacturers are leaving or taking much more cautious positions. It is a market where the low range is being taken over by Asian manufacturers with very cheap products (of doubtful performance), the middle range is quite stagnant and dominated by Fitbit, and a high range where the Apple Watch is the undisputed king and there is no one to cough at it.
Still, I believe that Suunto 3 Fitness can be well received by the public, within the figures handled by Suunto. Obviously no one expects it to displace the Apple Watch (not even Suunto), but there is a lot of possible market in a segment, the wearables, which will maintain an annual growth of almost 20% until 2021.
To begin with, all the couples of mountain runners who have trusted Suunto for many years. Those couples who are not so active but still enjoy the sport, just because they can be on the same platform is already an important buying factor.
And even though it is a very mature segment, I think that the 3 Fitness has enough to offer something fresh and different. It is not the first watch to have dynamic cardio training plans, other models like the Huawei Watch 2 already offered it. But it is the first of the big manufacturers in the sports sector to offer it.
There are still a few months to go before its arrival on the market and more details will become known, which are essential to give a much more accurate opinion. But for the moment it "looks good".
And with that... thanks for reading!