HEADS UP!!
The complete analysis of the Polar Vantage V is now published. This article is only about the presentation of the model.
Click here to see all the details and opinion of the Polar GPS watch.
Today the new models of Polar are finally officially announced: the Polar Vantage V, replacement of the Polar V800; and the Polar Vantage M, replacement of the Polar M430. Two models that were being very much awaited (especially the Vantage V or replacement of the V800) and that we expected even for some months before.
These two new models from Polar are a clean slate in the Polar range, it's a qualitative leap forward in everything. Materials, aesthetics, platform... To begin with, the square boxes that have accompanied Polar in recent years are behind us. The new Vantage comes with a round box, thus bending to the market trend. I'm sure there will be many who will prefer the more square design of its predecessors, but it's what most of the market demands.
Black and white and low resolution displays are also a thing of the past. At Polar they still held their own and in fact the M430 came on the market with a monochrome display when colour displays were the norm.
But there's much more: New optical pulse sensor, longer range, racing power measurement from the wrist, new training load and recovery metrics... let's see it all!
Polar Vantage V
The Vantage V is the new top of the range from Polar and includes the latest innovations launched by the Finns. If there's one thing that stands out above all else it's the new optical pulse sensor that Polar is really proud of and they claim it's the most accurate wrist heart rate recording system available. The Polar Precision Prime sensor is supported by 9 green and red LEDs, 4 electrodes and an accelerometer.
But it's not the only thing, it's just one more little thing in the long list of features that are present in the new model.
Polar Vantage V features
These are the functions that he assumes:
New Polar Precision Prime pulse sensor
Race power recording
Barometric altimeter
Sony GPS chip with better range (same as Suunto 9) and using GPS and GLONASS
Colour touch screen
Despite the touch screen, we still have 5 buttons
New Metrics: Recovery Pro, Training Load Pro
Change of design, abandoning the circular sphere
Weight: 66 grams
Waterproof up to 30 meters (enough for swimming)
Up to 40 hours of autonomy (with 1s recording, not with extended autonomy modes)
Price: 499
Polar has focused on offering novelties where the athlete needs them, beyond more or less accessory functions, and I think it's right, because it also does something that others have perhaps not worried about offering, which is to give a certain information from many data.
That's where the new Recovery Pro and Training Load Pro metrics come in, because they try to take multiple data that by itself for the vast majority will not have much meaning, and translate it in a much clearer way for all types of athletes.
I will go through the main news point by point.
Polar Precision Pro Pulse Sensor
This is Polar's new optical pulse sensor, which is not exclusive to the Polar Vantage V, but also featured in its little brother (also introduced today), the Polar Vantage M.
Polar has always based all its products on offering the most accurate possible record of the heart rate. Always, from the very beginning. So when it has been necessary to make the leap to optical sensors they have taken their time and have always done so with their own solutions. And I am happy about that, because it is what they have always boasted about and on which they have always relied.
Until now, the top-of-the-line Polar sensor had 6 green LEDs. This sensor has advanced, and now has all of these to ensure the most accurate reading possible:
5 green LEDs
4 red LEDs
4 electrodes
3D Accelerometer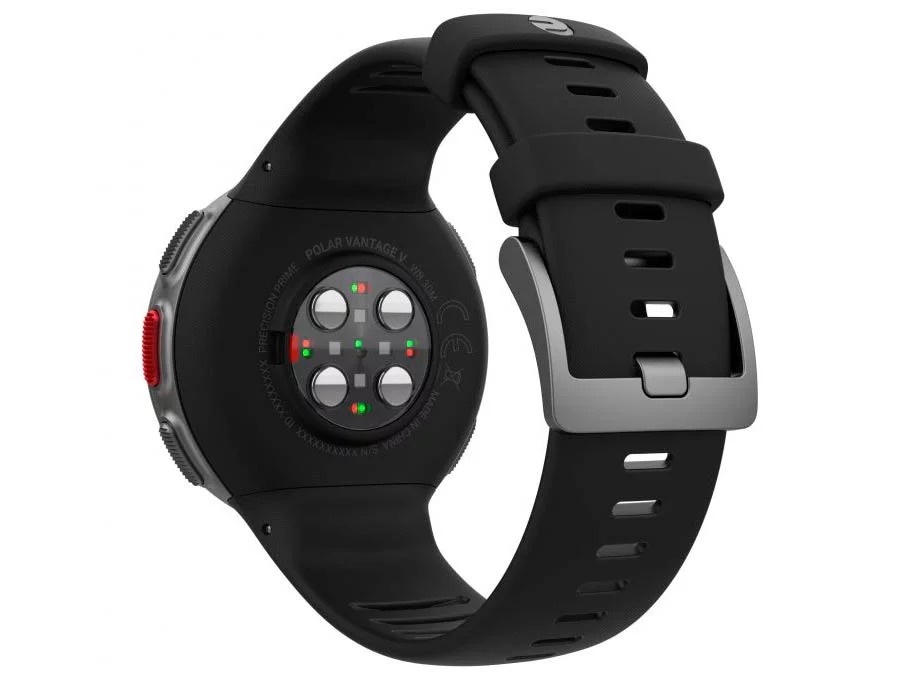 The use of different colored LEDs has a very simple explanation, and that is to capture as much information as possible. They are not the first to do so, other manufacturers have turned to similar solutions although with different purposes (Apple Watch, Garmin Fenix 5X Plus).
The electrodes are used to check the contact of the watch with the skin and to verify that everything is correct. But it does not allow an electrocardiogram like the one Apple Watch Series 4 that was introduced yesterdayThis is why it is necessary to keep your finger on the crown of the Apple watch while testing, because the watch is sending electrical current from one end of the body to the other, through the heart.
As for the 3D accelerometer, it is simply an accelerometer as it was being used so far in any optical sensor to understand the movements and poder better filter the pulse data. The reference to "3D" will be simply for its greater recording capacity, nothing more.
Power measurement at the wrist
Stroke power measurement is nothing new. Stryd They were the first to offer it, and have consolidated themselves as the best option to do so. Then came other systems with similar proposals, always through an external accessory. Garmin offers a Connect IQ application for some of its models (you need a watch with a barometric altimeter and an HRM-Run, HRM-Tri or Running Pod pulse sensor).
But Polar is the first to offer it directly on the wrist and without the use of external accessories, based on similar metrics to those used by Stryd: pace, changes in altitude to identify the slope, weight, accelerometer, etc. All these data are used in its algorithm to be expressed in a single metric, the running power.
It is not a direct measurement as with cycling power meters, but it is really useful in many ways.
When you train, for example, power is an instantaneous data that measures the intensity level. Heart rate can indicate the same thing, but it is much slower. A 50-metre sprint in the middle of our training is barely reflected in a heart rate graph, while power records when you started the sprint and when you finished it. If you have lowered the intensity during the exercise and how much.
In combination with other metrics it also allows us to have more information. In long distance it is common that as minutes go by we get tired, and our running technique tends to get worse. This makes it harder for us to advance, so two things can happen: we keep the power, but the pace goes down; or we keep the pace but at the cost of increasing the effort.
Advanced Metrics: Recovery Pro and Training Load Pro
Remember what I said at the beginning about having a single metric that explains what a lot of data is? That's Recovery Pro and Training Load Pro. It's a global view of training by counting all the different metrics that the watch is throwing, and that Polar Flow is collecting.
Until now the training load was measured by the estimated oxygen consumption. This leads to an estimation of the fatigue and the recommended recovery time before returning to an intense training session. But only one parameter is used.
Polar wants to provide a global view so it makes use of other variables, not only the cardiovascular load (oxygen consumption, heart rate intensity) but also the amount of muscle work thanks to the power data together with the perceived intensity load that you have to enter manually in Polar Flow (although it would be good if Polar included it in the post-training summary, as Suunto does).
It is similar to what Garmin offers in its advanced training metrics (which simply makes use of the algorithms licensed through FirstBeat), although unlike these in Polar it makes use of data such as power. Different means to reach the same end.
Recovery Pro is a measure of how well you have been working out; whether you have trained as much as you need to (in a satisfactory progression), below what you could train or if you are pushing too hard and might be overtraining. It can be used to get daily information on how you are progressing in your training and whether you can push more or less in your next session. The main basis for knowing all these details is the pulse variability.
And here comes an important detail for this function, and is that it requires the use of an external sensor (the Polar H10) as it offers more reliable pulse variability data than those coming from the optical sensor.
Update 18 September
Answers to some questions
After talking to Polar and requesting some additional information regarding some doubts I had that I had pending to resolve, I share it with you because I am sure you will be interested in it too.
The Vantage M, as you know, does not offer the power data as the Vantage V. The reason is simply because of lack of additional hardware. But I have been confirmed that it is fully compatible with Stryd. Additionally, I would like to point out that Polar is not going to develop any product similar to Stryd.
There will be synchronization of metrics between devices through Polar Flow, so the data for training load, activity, etc. will be taken from the total activity and not only from what the watch indicates. This means that if you cycle with an M460 or V650, those data will be reflected in the Vantage in terms of training load.
Polar Flow allows you to customize 5 power zones and train based on them. It will be based on MAP, which is the term Polar uses that resembles FTP in cycling.
The Recovery Pro function of Vantage V requires a chest sensor. Polar has confirmed that both H6 and H7 will be compatible with the function, not only the new Polar H10. It has also been confirmed that the function will not be compatible with third party sensors.
There is no possibility to send heart rate data to other devices. This means that we will not be able to see this information in gym equipment or applications like Zwift. This is something that was possible to do with the V800 and its chest pulse sensor. The problem with Bluetooth is that one sensor (which is the slave) does not allow to connect to two different devices (two masters). Well, actually in the last revisions of the standard this has changed, but the manufacturers are not implementing it yet.
Update 9 October
Update Calendar
Polar has released the update schedule They have listened to the users and their criticism of Vantage V's lack of navigation, and there's a date on the horizon. But only for Vantage V, Vantage M will have no navigation function.
Below you will find the approximate dates and news they expect to introduce.
Update 2.0 - December 2018
Polar Vantage V and M
Stopwatch, countdown and interval timer
Enhancements to existing functions (basically, bug fixes)
Upgrade 3.0 - Beginning 2019
Polar Vantage V 
Mobile Phone Notifications
Route tracking with return to start and route navigation
Enhancements to existing functions (basically, bug fixes)
Upgrade 3.0 - Beginning 2019
Polar Vantage M 
Mobile Phone Notifications
Route tracking with return to home (but without full route navigation, that's just the Vantage V)
Enhancements to existing functions (basically, bug fixes)
Other planned updates
Strava Live Segments
Fitness Test
Correction of errors and other functions to be confirmed later
Polar Vantage V, availability and price
And what price are we talking about? Well, 499 euros for the watch without including the chest pulse sensor (obviously it does include the watch's optical sensor). It will be available in three colors: white, black and orange.
There should be a version including the pectoral pulse sensor for 50 ? more. As for the availability, during the month of October(although the Polar website indicates that deliveries will be during November).
Opinion of the Polar Vantage V
As you can see, Polar has focused on functions absolutely related to physical training, avoiding other types of features. But there are omissions that may be more or less important for the user. To begin with, there is no possibility of tracking routes.
Maybe it will come in the future or maybe not, but I think it is a very important absence in a watch of its price. It is true that its use is more focused on the triathlon or race on asphalt, but other models of the competition do offer it.
There are also no applications, or possibility of playing music, or wireless payments, or smartphone notifications, or Strava segments... Of course all this may be secondary in a watch that is designed by and for sports, but we must not forget that these are things that the competition offers in a similar price range. I do not consider it to be mandatory or anything like that, but it is something to be valued when the competition is offering it.
Polar has hit the table, but only in the fields that they dominate. And the truth is that everything seems pretty good, but until I test it carefully in the next weeks I won't be able to know if the optical pulse sensor is indeed the best one so far, as Polar claims. Or if the power data is accurate (although I doubt that it will match Stryd's data, since we must not forget that both are estimates, not really measured data).
So I'm calling you in for the thorough test of the Polar Vantage V that's coming up in the next few weeks.
And with that... thanks for reading!