More movement in the adventure camera market. After the last presentations we have seen this year (Garmin VIRB and TomTom Bandit mainly) GoPro does not stand still and continues to expand its range.
Although they recently renewed their catalogue with the HERO4 range and an economical HERO version, yesterday the Americans presented a new model to complete their range and offer a bridge between the more affordable version and the mid-range version, the GoPro HERO4 Silver. And they were also present at the Google I/O, by creating a system of 16 cameras for Google's new virtual reality project, Jump.
Despite its name, this is not simply a HERO camera with an LCD touch screen. Aesthetically, they are very similar, and the housing is still integrated with the camera itself, which cannot be removed. It offers resistance to dives of up to 40 metres.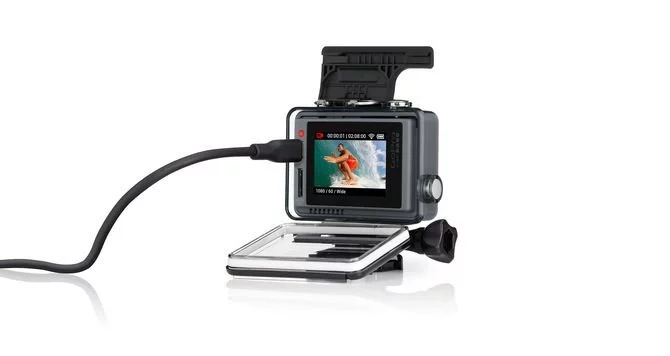 The new GoPro HERO+ LCD offers 1080p video recording at 60fps (instead of the 30fps offered by the basic HERO version), and photos are now 8 megapixels instead of the 5 megapixels of the input model.
The new model adds WiFi and Bluetooth connectivity, and also automatically tags the best moments. This wireless connectivity does not allow the pairing of external sensors (as in the case of the Garmin VIRB), but will be used to connect the camera to the mobile phone to transfer photos and videos and share them quickly over the Internet.
Unfortunately the battery is not removable, and we have the limitation of recording imposed by the autonomy of the camera. There is no possibility to extend it by buying additional batteries to extend the recording times.
https://www.youtube.com/watch?v=IjszDEByTgo
GoPro HERO+ LCD, availability and price
The GoPro HERO+ LCD arrives on the North American market on June 7th. But in the rest of the world we won't have to wait much longer, as on July 12th it will be accessible to everyone else. The official price will be 329.99 euros.
–
Support this siteYou can do this by purchasing your GoPro Hero+ LCD from Amazon.
https://www.amazon.es/dp/B00ZUU5R62&tag=c1mes-21