Did you think that with all the new products that Garmin has presented over the past few months, it was time to rest? Well, you were very wrong, since today two more devices have been announced (they are already presented in pairs, to save time). They correspond to the Vivo range, that is, the activity monitors. Garmin will show both the new Garmin Vivoactive HR and the renewed Garmin Vivofit 3 in Barcelona, at the next Mobile World Congress.
–
And by the way, I will take advantage of these lines to rant a little... It turns out that I should attend this event to know first-hand all the news (not only poder, but also the other manufacturers in the sector). In fact I registered several months ago. But they denied it. The reason? That my dedication to the blog is absolute and that I do not have people hired for web design, marketing or organization. That is, if I had half the visits I have, but I paid five salaries, then they do consider it appropriate that I can report news that the manufacturers present.
As I am self-sufficient (well, I have a main partner called Hacienda), according to their criteria my capacity to offer all the information of the sector is not optimal and it is better that they inform you of new generalist media products that are not dedicated to sport, and that the only thing they will do is regurgitate the press release. All very logical. In the end I suppose that I will have to be grateful to them, since they save me about 1,500-2,000 euros of expenses. So... thanks, GSMA!
–
Well, after I got comfortable, I picked up where I left off...
So that, as I was saying Garmin just presented a couple of products. The one that occupies this article is the renewal for the Garmin Vivoactive. Now it is called Garmin Vivoactive HR, which, as not pod otherwise, receives the optical pulse sensor Garmin Elevate. However the first model will continue within the range as a simpler model.
The sensor isn't the only new thing it has, there are many other things that are incorporated. Let's take a quick look at it and I'll detail it for you. Let me just take the press release for a minute and strip it...
Garmin Sensor Lift for both sports activities and pulse monitoring throughout the day. It also allows the heart rate to be relayed to other devices via ANT+.
It adds barometric altimeter for poder calculate floors raised, as in Vivosmart HR. It also receives the function of minutes of intensity that premiered with it.
In addition to the sports applications it already had (running, cycling, swimming, golf) there are a few more: rowing, paddle surfing, skiing and snowboarding.
New "Chroma Display", with higher color quality and contrast and better outdoor visibility.
Compatibility with lights and radar Garmin Varia.
Automatic activity detection (called Garmin Move IQ) - The watch will automatically detect an activity based on movements, and pod will register it directly without you having to start it manually. It is capable of recognizing running, cycling, walking, swimming and elliptical cycling exercises.
13 hours of battery life with GPS use and up to 8 days in standby mode, with constant heart rate recording.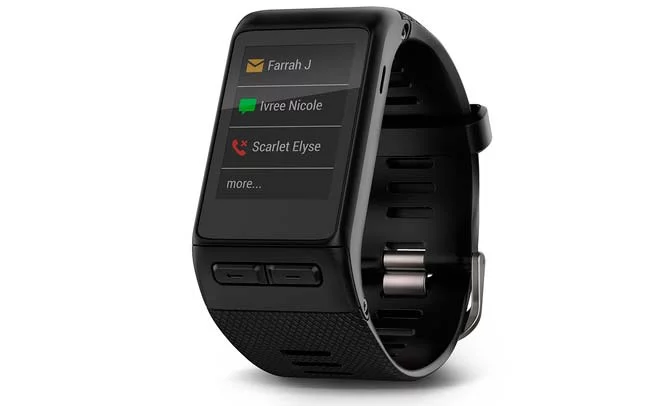 Garmin Vivoactive HR, availability and price
The new Garmin Vivoactive HR will soon be on the market, throughout the month of April 1TP10We will find it in stores. And it will do so with a price of 270. It will only be available in black (with two different sizes), but will sell straps of different colors for those who want a more daring proposal. In addition to the same black strap with which it is put on sale, also 1TP10After finding it in blue, yellow and white.
Opinion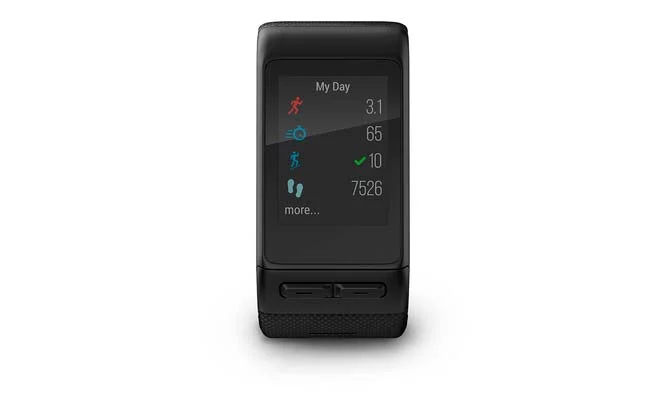 After the recent invasion of optical pulse sensors it was only a matter of time before it would also reach the Vivoactive. In fact it is in this model that it best fits, given the target client it is offered to (fitness and sport in general, but not intensive).
Aesthetically, it reminds me a lot of the TomTom Runner 2Both offer similar features, but with the possibility of playing music on the TomTom. In return the Garmin is able to record more sports, has a better online platform and the clock shows smart notifications. Fitbit Surge is another competitor you will have to compete with, within the high range of GPS receiver activity monitors.
But there is also competition in your own home, for you can shade the Garmin Forerunner 235which can hardly justify a price difference of 80 ? (at least as far as the recommended price is concerned, always less in the good offers I always put you).
We will have to wait for the complete analysis to know all the details of the new watch. In the meantime I leave you the presentation video.
And with that... thanks for reading!
–
Support this siteDo you like this page and the information you find here? You can do it by buying your Garmin Vivoactive HR through Amazon.
https://www.amazon.es/dp/B01BLQT7DM&tag=c1mes-21