The full analysis is now complete, so if you're interested in all the details of the Garmin Forerunner 25, I recommend reading the full review 
by clicking here
.
Garmin today unveiled its new model, the Forerunner 25. It appears that they are not resting even in August and continue to drip with new features and presentations throughout 2015.
This new Garmin Forerunner 25 comes to renew the Forerunner 15 that Garmin introduced in Q2 of last year, adding features to what that model already offered - primarily a larger, higher-quality display, along with the Bluetooth connectivity that is now common across the range.
The choice of name may be a little confusing, as we now have two Garmin devices with the same model number, the Garmin Edge 25 and the Garmin Forerunner 25. In my opinion they should have chosen a different number (it will be by numbers...), because even though they are two different families and have nothing to do with each other, using the same number can lead many people to be mistaken. Although both have a lot to do with each other, since internally they are two very similar devices.
New Garmin Forerunner 25
The Garmin Forerunner 25 has been modernised and made smarter by adding Bluetooth connectivity as one of its key new features, allowing you to connect your watch to your mobile phone to synchronise your activities with the Garmin Connect Mobile application as soon as you finish (and automatically sync with other platforms such as Strava or MyFitnessPal).
You also get new possibilities found in higher-end watches, such as Live Tracking (transmitting your training or race data and position in real time) or on-screen clock notifications (only for calls, SMS and calendar - no WhatsApp, Facebook, Twitter, etc.).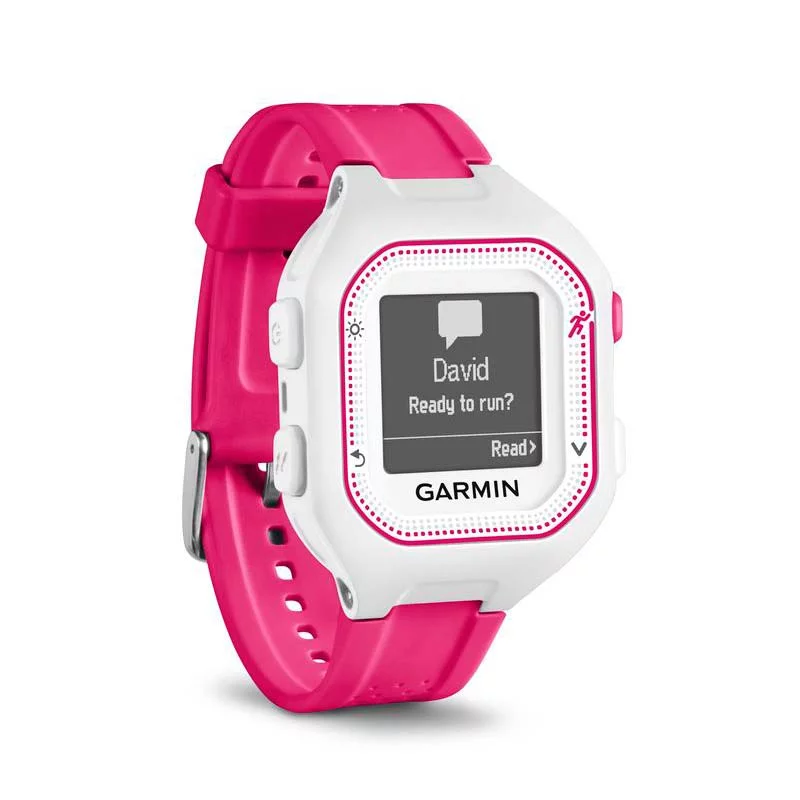 The screen is much better on Forerunner 25 than the one we saw on Forerunner 15, both in size and in clarity and resolution. It doesn't seem like we're in the era when Ms. Pac-Man was causing a sensation, and now we have more contrast and especially resolution. The physical size of the screen is also bigger, specifically a 32%The watch has been designed for use in the home, but it does not increase the overall size of the watch, which remains the same and even slightly thinner.
What has increased is the autonomy, which Garmin announces will be 10 hours with use of GPS or 10 weeks as an activity monitor in the large model, and up to 8 hours in activity or 8 weeks as an activity monitor for the smaller model, designed for them.
Otherwise, the specifications of Forerunner 25 remain the same as Forerunner 15:
GPS for measuring distance and pace
Smart Mode Data Logging
Activity and sleep monitor, to count distance, steps and calories, with inactivity warning
Internal accelerometer to count the stroke on the belt
Two configurable screens, with two data each. Additional screen with heart rate data
Different training modes: Walking/Gait, time goal, distance goal, calorie goal, virtual pacer
Personal record keeping (best time over a distance, longest distance, etc)
Bluetooth connection for mobile phone synchronization
Phone notification notice (calls, SMS and calendar) for iOS and Android
ANT+ connectivity for pulse sensor
Up to 10 hours of GPS use on the large model, 8 hours on the smaller model
Models and colors
As you can see, Garmin continues the tradition of providing models in different sizes in its access range, thinking mainly of you, runners. This smaller version is also associated with more feminine colors. These are the available combinations:
Size smallPink/white and purple/black
Large size: Red/black and black/blue
Garmin Forerunner 25, availability and price
The Garmin Forerunner 25 unveiled today will be priced similarly to the Forerunner 15 it replaces, although the exchange rate of £/$ is yet to be determined. Its official advertised price in dollars is $169.99, while if you want to buy it with the ANT+ pulse sensor the price of the pack is $199.99. Taking into account exchange rates and that European prices include taxes (as in the US each state has different taxes, and therefore advertised prices do not include things like VAT), we can expect to see it at £169 and £199 respectively.
The price may seem high for what it offers, and it really is. For that amount you can get a Polar M400 (even for less money), which is a multisports watch with higher performance, or also the Garmin Forerunner 220although we wouldn't have any cell phone notifications or activity monitors.
But the Forerunner 25 market is not about giving more for less or being a good choice in terms of quality/price. Rather, it is a watch for those who want a simple watch to use and with the variables they are going to use, such as pace, distance or uptime.
–
Support this siteYou can do this by purchasing your Garmin Forerunner 25 through Amazon.
https://www.amazon.es/dp/B0142FJL7G&tag=c1mes-21
https://www.amazon.es/dp/B0144D4VSU&tag=c1mes-21
https://www.amazon.es/dp/B014AW8HIA&tag=c1mes-21
https://www.amazon.es/dp/B014AW8IE8&tag=c1mes-21
And the corresponding models in pack with pulse sensor
https://www.amazon.es/dp/B0140ULMHK&tag=c1mes-21
https://www.amazon.es/dp/B0144CZ1GW&tag=c1mes-21
https://www.amazon.es/dp/B014AW8HJE&tag=c1mes-21
https://www.amazon.es/dp/B014AW8RZS&tag=c1mes-21