One year after the introduction of the Garmin Edge 520 (to replace the 510), the Olathe people are doing the same with the 810. The new Edge 820 can be defined quickly: if you put an Edge 1000 and an Edge 520 in a shaker (mixed, not shaken), what would come out is an Edge 820. Keep in mind that in addition to receiving the genes from both parents, the child has come out smarter than its parents and offers qualities you won't find in either of them.
Before passing with the full test, please note that the unit of the Edge 820 under analysis has been kindly provided by Garmin. This unit, once the work with it is finished, will go the opposite way to me and will be returned to its origin. There is no compensation from the brands to have a more or less favourable opinion of a product (come on, they don't give away a product in exchange for one of my analyses). And you will say... then how is all this managed? Easy, thanks to youBecause if, after reading the complete test, you decide to buy the Edge 820 and you do it through the links I provide here, you will contribute with a small commission paid by the sellers (at no cost for you). This is what allows the website (and rewards in part my many hours spent on this work). So if you like what you see here and you want to keep seeing it, you know what you can do.
And after we clear it all up, we go with the full analysis.
Unpacking
You can get the Edge 820 in two "different flavors". First you can buy just the device (along with a few mounts). Then there's a complete kit that includes cadence, speed and pulse sensors. In this case, we're dealing with the basic version, the one where you're the one who puts in the rest of the sensors.
Regardless of which version you've purchased, when you open the box all you'll find is the Edge 820.
But if you shake the box a little like an apple tree, everything inside will start to fall out. Specifically, in addition to the Edge 820, you'll have the instruction manual, the front mount (along with installation tool and adapters for different handlebar thicknesses), a strap to secure the unit to the handlebar (designed more for MTB than road use), the microUSB cable, two traditional mounts and two rubber sizes for each.
But it's the Edge 820 you're most interested in, right?
On the bottom of the unit you'll find the same two buttons as on the Edge 820. On the left is the lap marker button and on the right is the start/stop button. Garmin has repeated the location of these buttons, which is criticized by current Edge 520 users. Depending on where you place the device, it's not the most comfortable place to operate them. For example, with the K-Edge Advanced Mount there is only a little more than 1 cm of space between the device and the handlebar.
But looking at it from the side, it totally changes. And there are no buttons here.
Well, just one, the one you'll use to turn the Edge on and off.
On the back there is not much to highlight. You can see in the center four small holes, behind which you can find the barometric altimeter. And at the bottom, behind a rubber cover, the microUSB connector to charge it. It will also serve to synchronize it, but since you have the possibility to do it through Bluetooth and WiFi I don't think you use that port much for anything other than charging.
Here you can see the port after lifting the lid.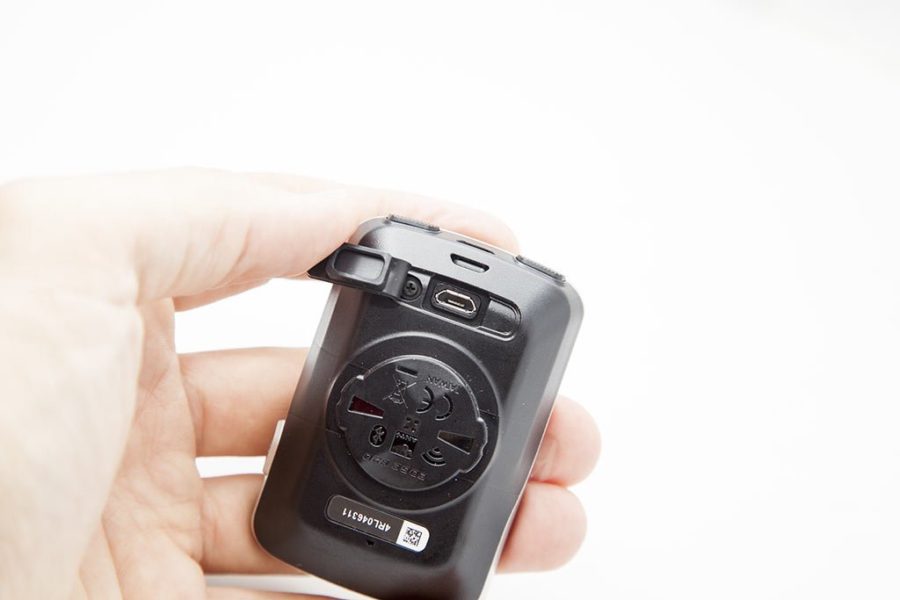 As you can see, everything reminds me of Edge 520. How is it different from this one? Well, let's see it before we get down to business.
Main differences with Edge 520
As you've seen in the photos, the new Edge 820 is remarkably similar to the Edge 520. So much so that if it wasn't for the different colors (instead of the white frame, it's now silver and black), it would look like the same device from a distance. But after you get closer, you'll begin to notice the differences, which are far more than you might think at first:
The screen has the same quality and resolution as the Edge 520, but in the case of the Edge 820 it is touch-sensitive.
Moving through the menus without the keys makes the initial screen different and also provides shortcuts to navigation, training and Connect IQ applications (on the 520 these options are buried in the different menus).
In addition to synchronizing via Bluetooth, it also supports WiFi.
It has a light sensor, which allows to vary the intensity of the backlighting.
Point-to-point navigation, similar to that found on the Edge 1000. A major improvement over the 520, which only allows you to follow previously designed routes from your computer. This allows you to make roundtrip routes and plan your routes without depending on a computer.
So, with point-to-point navigation capability, you have more memory on the device. 16GB so you can have all the maps you need (compared to just over 100MB available on the Edge 520).
Recovery status and stress test.
New GroupTrack function.
Battery saving mode.
Accident detection mode.
As you can see, there are many differences. What about the comparison with Edge 1000? Well, there aren't many changes. Edge 820 has no microSD memory expansion slot, the screen is slightly smaller and has no landscape display mode. That's it. So unless you need the Edge 1000's display, this 820 will be a much more reasonable choice.
Navigation
The biggest difference between Edge 520 and Edge 820 is undoubtedly route navigation, which is likely to be the differentiating feature that will make you decide between one model or another. If you don't need advanced navigation, Edge 520 is more than enough. However, if you love exploring new routes all the time, then you should opt for the 820. And the additional features of the latter will be welcome, but I don't think having a touch screen, WiFi sync or GroupTrack will make you opt for the more advanced model.
The Edge 520 has navigation, but out of the box it's not as functional. Nor does it have the same memory capacity to store maps. You can follow previously created and synchronized routes and, depending on the service you use, even with turn signal. But there's no way to create a route directly on the unit.
This is where Edge 820 stands out, offering the same navigation capabilities as Edge 1000 and other navigation-focused Garmin devices. When it comes to navigating a route, we have different options to do so:
Navigate a route created from Garmin Connect or downloaded from another service
Create a trip to one or more destinations
Return journeys (creating an automatic route from a target distance)
Navigation to POI (Point of Interest), addresses or saved locations
But let me explain briefly what each of them entails.
Navigate a created route
The first option it offers is to navigate a route that you have created in Garmin Connect before. You simply create your route by selecting the different points you want to go through and using the different options it gives you when creating a route.
Once created you can send it to the device through the USB cable, through Bluetooth with the mobile phone or connecting to a WiFi network. In the device you can find it in the navigation menu, and before starting to navigate you can check all the details (to confirm that you have the body to do it). In my case it's easy, because my test route is as simple as going for an ice cream.
This is not the only thing you can check, it is also possible to access the map in case you have to check if there is pizza next to the ice cream.
You can also see the altimetry profile (the ice creams are always higher, it is colder).
And from that point on, you can start sailing, and Edge 820 will let you know when a turn is coming.
The warnings do not only appear on the map screen, but also on any other data screen you have configured, so you don't get lost even if you are training.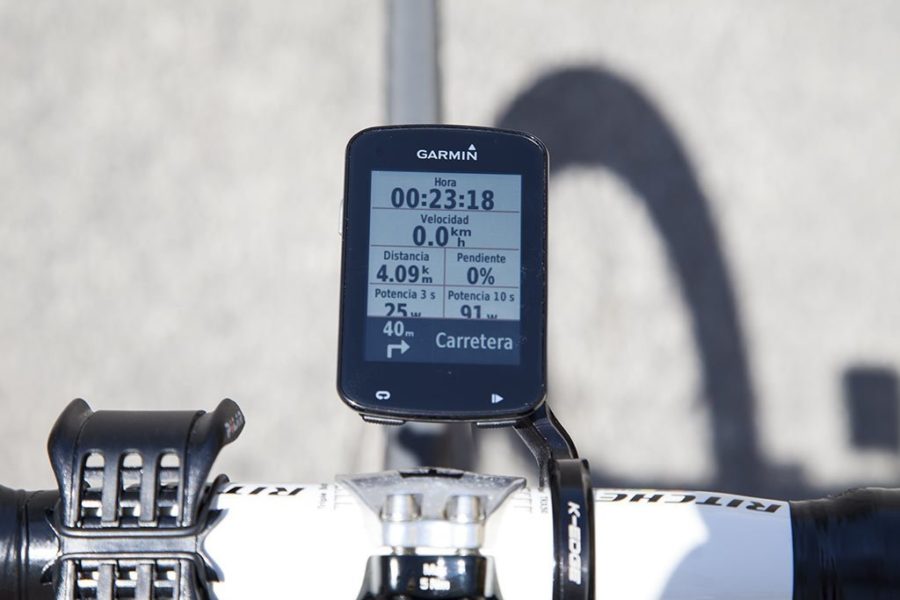 If you stray off course, Edge 820 recalculates your route to show you how to get back on it (something you don't have on 520, for example).
And in case you have planned to go to a different point and you prefer to skip it and go on to the next segment of your training, it will also understand and will continue once you have rejoined the route later. Therefore it is not essential to go through each and every point you have planned, if you change halfway through the route there is no problem.
Of course, both in this option and the ones below, the instructions shown on the screen are exactly the same. The only thing different is the way to create the path.
Create a trip to one or more destinations
What you saw in the previous point is for routes created from Connect, but you can also do routes from the Edge 820 itself. In this form of navigation you can plan a whole day's ride by visiting different points on the same route. Simply add destinations to the list and when you're done the computer will create the entire route.
When creating the route, you can edit different options in the settings to prepare it, for example whether it is road or mountain biking or items to avoid such as motorways.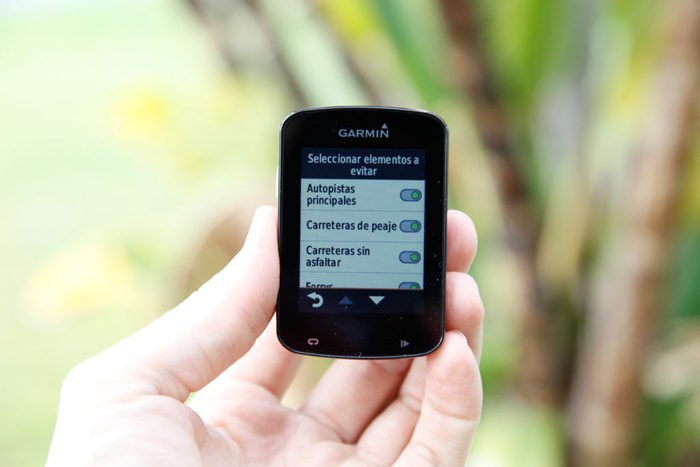 Therefore, simply indicate where you want to go and if you intend to pass through a halfway point before arriving.
Return journeys
The next option is the creation of return journeys. You go out on the road with your bike knowing that you have to do a workout of approximately 70 kilometres, but you don't know where to go. So you simply select the option and ask it to find you routes of a certain distance with a series of parameters. After a couple of minutes it presents you with three different options with the distance to be covered and the amount of positive metres you will have to climb.
You can see details of these routes before selecting them, such as the map or the altimetry profile.
The usefulness of this function depends on your location and the number of possible routes you can explore. It is also not intelligent, so it cannot interpret whether the route it is sending you on is badly paved or at a certain time there is a lot of heavy traffic.
I don't think it's an interesting option to use regularly near your home, since you can surely think of dozens of different routes for a given duration, but if you're on vacation in an unknown place it's a pretty interesting option.
Navigation to POI or addresses
Finally, you can navigate to a specific address or point of interest, such as the nearest supermarket. You select the location where you want to go and it will calculate the route for you below. This is similar to the method of creating a route, but obviously you are only entering one location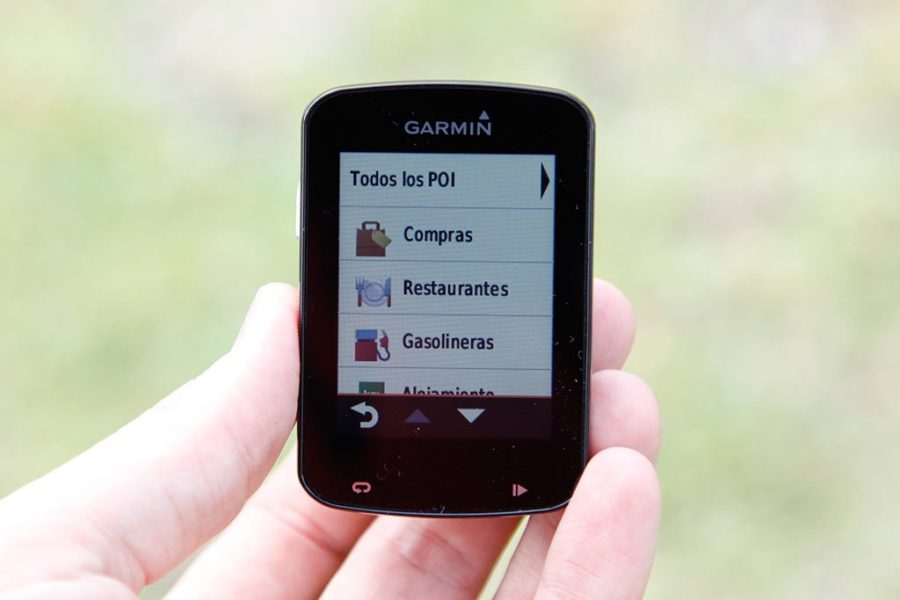 These are the different navigation options it offers. In short, possibilities similar to those you can have with a portable car navigator. The main difference from the simplest model is that in the Edge 520 you can only follow previously created point routes and it does not know how to interpret whether you are driving on a road or not; it is simply point navigation. In the 820 it is much more complex and it knows that you are on a street and not on a roof, that the next turn you cannot take because it is a forbidden direction and that to get to the other side of a river you need to use a bridge.
As for the time it takes to create a route I find it variable. Sometimes it is reasonably fast (always taking into account that you do not have a smartphone in your hand, we are talking about one or two minutes). But at other times it can take forever. I guess it depends on the complexity of the area and the number of roads and possibilities to get to a point. Of course, the calculation time is limited by the possibilities of the device, whose computing power is quite far from what a mobile phone or a computer could offer and that the processor is quite limited to provide a respectable autonomy.
What you should be clear about is that when you start navigating you should be clear about what you are looking for (approximately), because if you start looking for one route, then another, then another... you better be having breakfast at 7 in the morning with time to spare, because you can end up getting desperate.
And another important point is that when tracing a route you do it stopped. I have tried to make routes while I am moving and then we are not talking about one or two minutes, we move to the category of "eternity".
GroupTrack
If navigation is the main feature that separates the 820 from the 520, GroupTrack is the main new feature when compared to the rest of the range. It's a new feature that debuts with the 820. In essence it's taking the already classic LiveTrack feature a step further, allowing you to see on your Edge 820 screen where your friends or group members are so you can catch up with them.
And you might ask yourself... how the hell does Edge 820 know where your group members are? Well, they'll have to activate the LiveTrack feature on their devices. And that's the first point to make.
While virtually any Garmin device from the last 3 or 4 years has LiveTrack functionality, only the Edge 820 can display the position of those devices (to which the Edge 1000 has recently been added through an upgrade).
Therefore, in order to make use of the feature, each of your group mates must enable the LiveTrack feature on their device. In Garmin Connect, there is an option that you can enable to share the position for GroupTrack. This is true for any device that supports LiveTrack (in the case of the example, a Forerunner 230).
Only after this process will you be able to see their location on screen and go to meet them, either by hunting them or intercepting them somewhere along the route (which you must know beforehand, of course).
Garmin has improved the function and is adding the ability to enable the LiveTrack option automatically on every output. At the moment the devices that can do this automatically are the Edge 520, 820 and 1000. On clocks, the Forerunner 735XT supports it as well, while the Fenix 3 will probably receive it on the next update.
So with those devices you don't even need to remember to activate the option in each output, you can have it enabled by sending session data to your contacts or simply sharing the position for GroupTrack.
On the Edge 820 you can add a GroupTrack display to the training profile. When one of your Garmin Connect contacts initiates a LiveTrack session, you will see a notification at the top of the Edge and it will appear in the list of available contacts. In this case, "my other self."
You can see that basic data on the activity of each of these contacts will appear, such as the speed at which it is moving and the distance it is located (in a straight line, without taking into account detours, bridges or rivers). Clicking on the name of the contact podhen you will see its location on the map, represented by a red circle and a letter with the initial of the name. In the image you can't see it very clearly, but if you look for the "E" next to the main road, it won't be difficult to find it. At the top of the screen you will also have the previous data of distance and speed.
And to make it easier for you to see, I leave you the rendered image of Garmin. You can clearly see the members represented by circles with letters and your location would be the blue arrow.
You can also see your contacts on the map screen, in case you are navigating a route for example. You will have to enable this in the options.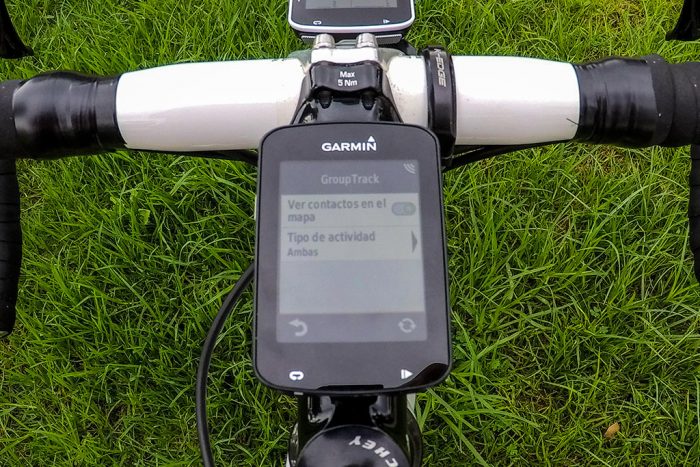 And you can select which contacts you want to see: those who are riding bikes, those who are running or both.
What you won't be able to see is where they're heading. The only thing you'll be able to do to catch them is to pedal faster than them.
Incident detection
This feature (which was introduced with the Garmin Edge Explore 1000) allows you to select a number of emergency contacts in Garmin Connect. In the event of an accident, you will receive an SMS message along with the location where the incident occurred.
This selection is made from the Garmin Connect mobile application, and you can select contacts from your phone's address book.
Of course, you need to carry your mobile phone with you, because communication is done through it. Anyway, I think most of us go out with our phones (at least on our bikes) in case we have any incidents, so I don't think it will change your training much.
Once activated and with the contacts added, you have nothing more to do. In fact, it would be best not to have to test the function. But in case something happens, at least I will explain how it works.
The detection is made by combining GPS data with data from the internal accelerometer, to identify that it was not a simple braking but a more serious incident.
In the test time I didn't have any false detection, not even forcing emergency braking from more than 40km/h. For the test I had to simulate a fall.
I say simulate because I had two options: Reach cruising speed and pull the bike to see how the detection responds or simply do the drop simulation by launching the Edge 820 from the bike.
As suggestive as the first option sounds... I finally opted for the second one. So after reaching a generous speed, I simply threw the Edge on a soft surface (yes, like a grenade).
Two seconds later both the Edge and the mobile phone started emitting continuous alarm sounds, which are intended to be located both to the bicycle and to the cyclist.
And it is important to locate both, because after a fall they can be separated from each other (e.g. fall down an embankment), and you may not be seen but the bike is.
An accident detection message will appear on the Edge's screen and a countdown will begin indicating that your emergency contacts will be notified unless you cancel, for which you have 30 seconds.
If you do not cancel the notification, a text message will be sent to the emergency contact notifying them that something has happened, along with the location coordinates and a link to Google Maps.
Meanwhile, your phone will indicate that the emergency notification has been sent, and provide you with a button to send a message to let you know that it was a false alarm (which is the message you'll see above) or that it was just a silly fall without major damage.
I haven't been able to test the function in MTB with similar jumps and impacts, so I don't know to what extent it can trigger false warnings, but at least on the road I've only seen it work if forced.
And again, to send the notice, you must have your phone with you, because communication with the Garmin servers is through the phone.
Battery saving mode
The battery saver mode is another new feature on the Garmin Edge 820. And in its own way, it's actually a pretty cool feature. I don't think it's a valid option for everyday use, but there will be times when it makes a lot of sense.
By default it's off, so the Edge 820's behaviour is traditional, you turn it on and you have information on screen at all times.
If you activate it, the Edge 820 will automatically turn off the display, but of course it continues to function normally.
Continue to record data from GPS and all connected sensors, and the screen will automatically turn on for various notifications that you can configure within the options of this mode.
The display will turn on for 15 seconds (if you have selected it) to alert you of return data, phone notifications, navigation turn alerts, etc. You can also turn it on at any time simply by tapping on it.
This mode will increase the battery life to 50% as it dispenses with one of the things that most affects battery life.
I don't think it's the ideal mode for every day, but long routes with the group where it doesn't matter the power, speed or distance? I think it's a fantastic idea.
Edge 820 Basic Operation
So far, I've tried to focus on those specific features that differentiate the Edge 820 from its more direct rival in the Garmin range (the 520), rather than focusing on it as a regular analysis, because in its basic aspect both are the same.
However, I don't want to end without reviewing the main functions of the 820 as a cycling computer.
In its basic configuration and its day-to-day operation, everything is the same as in the case of the Edge 520, so if you want more details about a specific function, it is best to that you're going to review this one's test.
On the Edge 820 the configuration of different activity profiles is similar. It supports different profiles, and can have different configurations depending on whether it is training, competition, indoor use with a roller, etc. Normally the requirements in each of these areas are different, so you will want to have different configurations.
By default you have three profiles that you can edit, delete or add different ones.
For example, in my training profile, I like the basic screen to have almost all the information to be able to see it at a glance.
Time, speed, distance, and in small data about power, cadence and pulse. But it has nothing to do with my profile to compete, where what matters most is to see power data.
On the Edge 820 the configuration of the different screens is much faster, thanks to the use of the touch screen.
Simply click on the field you want to change and select it from one of the different lists of possibilities it offers.
It's very, very extensive; in the Edge 520 test you can see all the data you can include which I won't put here so as not to make it too long.
It also offers the same possibilities of adding other additional screens, taking into account that the map and navigation screen obviously has much more detail than the lower model (although you know you can replace the base map and put a more detailed one).
Each of these screens can be activated or deactivated according to the profile, so if you want to have the height profile in the training profile but not in the running profile, you can do it without any problem. And the same with the rest of the options, such as configuring the use of GPS or GPS+GLONASS, alerts, etc.
In short, the basic operation is the same, but the difference is in the way you interact with the equipment. While on the Edge 520 everything is menu driven through the buttons, on the Edge 820 it is faster and more intuitive. Not only in selecting or changing the data screen, but also in how you access certain menus.
For example, to enter the status page instead of pressing the button, you must slide up and down. Or if you want to cancel a segment of Strava, just press a circle with an X.
Not to mention the map page, where you can scroll much more easily with a simple tap of your finger.
But how does the touch screen work?
So here we come to the first problem, and that is that depending on what occasions the touch screen can be a problem.
Just take a look at the Garmin forums to find many screen complaints oversensitiveSometimes the screen would be activated simply by having your finger close to it but not pressing it. Or a drop of sweat, or a rain while you are riding your bike.
Any one of those things can make the computer behave like it's crazy... which can be annoying.
Garmin has tried to solve this problem, and version 4.20 includes the option of being able to define the sensitivity of the touch screen.
The three options try to address precisely the problems mentioned above. The high option improves performance when wearing gloves, medium is a valid value for day-to-day use and the lowest option prevents sweat or rain from putting "pressure" on the screen.
And we still have the shortcut menu available, but instead of having to press a key to access it, you'll have to slide the screen up and down.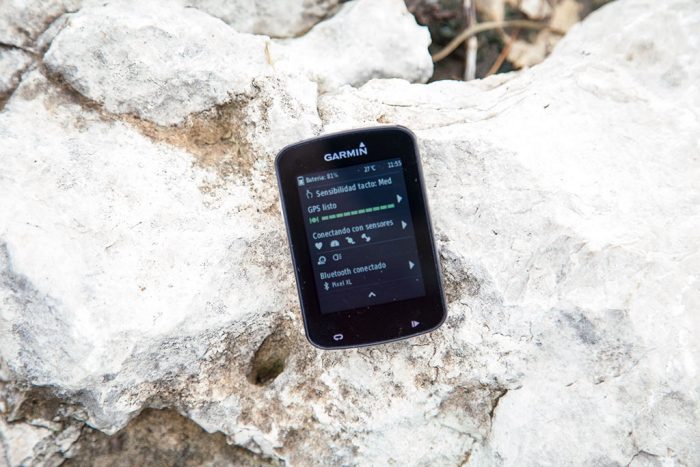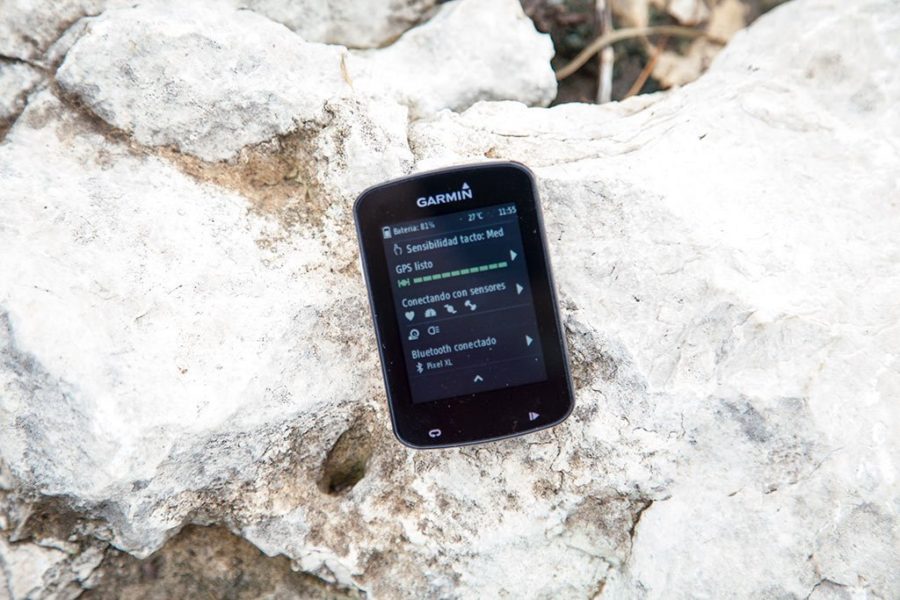 Here you have access to the most common functions, without having to enter menus to find each setting, for example changing the display sensitivity or checking which sensors are connected.
There is another function present in the Edge 820 that is not in the 520, and that is the possibility of regulating the brightness automatically thanks to a light sensor.
However, this mode does not allow you to carry the screen without lighting and have it automatically illuminated at sunset or when entering a tunnel.
The backlight will always be on, but you can vary the intensity of the backlighting, which can be a drain on the battery, but is certainly much more comfortable.
Indoor roller training
ANT+ FE-C roller compatibility was first introduced on the Edge 520 and later on the Edge 1000.
What is the purpose of the FE-C control? It allows you to remotely adjust the resistance of the trainer. Of course, your trainer must be "smart", so it must also have ANT+ FE-C support. If you only have ANT+ 1TP10, you will be able to see speed, cadence or power data, but not to vary your resistance.
Using it is very simple, just add the roller like any other sensor.
It's the same protocol used by applications such as Bkool and Zwift simulators, but brought to your device's small screen, so from the Edge 820 you can perform the same operations you do from your phone or computer when you're training, such as calibrating it.
In the "Training" menu you will find the submenu ANT+ Roller, where 1TP10After choosing the different modes of use it allows you to
Here you can choose from the different options presented:
Follow courseAllows you to perform an activity you have downloaded (from a race or from Garmin Connect), simulating elevation changes.
Follow an activityYou can select a route you have done and relive it. In my experience it does not offer a very satisfactory performance due to the changes in altimetry, giving continuous "jerks" in the resistance.
Follow a trainingYou can do a training session that you have created from Garmin Connect, for example an interval session in which you set a certain power for a defined time. The roller will automatically change the resistance.
Adjusting resistance10 points of resistance that you can select, and you can play with changing the bike to increase or decrease the cadence (or power). It's like selecting a certain incline.
Adjusting powerThe power of the roller: You select a certain power and the roller will maintain it, regardless of the development chosen.
Of those five options, the last one is the one I use most often, because of the ease of doing interval training without having to prepare it beforehand.
You simply select a certain power and the roller tries to maintain it by adjusting the resistance automatically.
And if you set up a workout in Garmin Connect and synchronise it, the Edge 820 will ask the roller to go through each and every stage you've marked, blocking a certain power if that's the case.
It's a long thing to prepare while sitting in front of the computer, but infinitely more comfortable when you're sitting in the saddle.
Connectivity
The Edge 820 has a Bluetooth connection, which will be used to receive notifications from your phone, synchronize activities upon completion, and for LiveTrack and GroupTrack functions, so for all information displayed on your route, such as weather information.
And to reiterate, all those functions offered in real time need mobile connectivity, both classic and new incident reporting or GroupTrack.
In terms of user experience, once paired with the phone, it has always worked perfectly. Whether it's displaying on-screen notifications (only SMS or calls, no emails or other applications that might distract you more than necessary) or synchronizing activities, I have never had a bad connection.
It also offers WiFi connectivity, so if you have an Internet connection wherever you store your bike, your activity will be synchronized when you arrive. It also allows you to download updates (both routes and device firmware) so you don't have to connect it to your computer at all.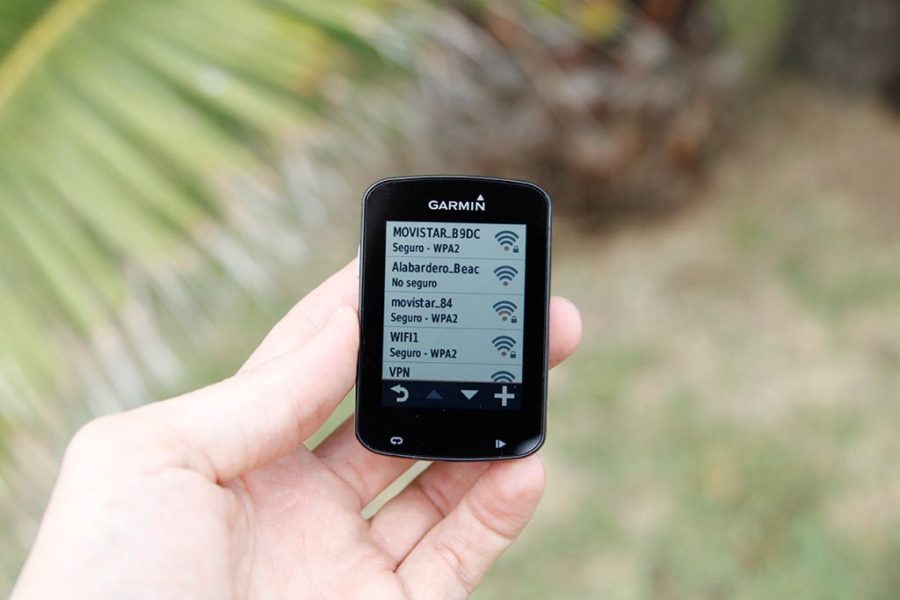 In fact, in all these weeks of use I have not been able to do so, performing all the settings and synchronizations directly wirelessly.
Even network configuration can be done from the device, including entering the network key.
So if you don't have a computer at home, this is another important reason to opt for the Edge 820 instead of the 520.
My opinion
The Edge 820 is a logical step in Garmin's cycling product range. The work ahead was simple, as it simply had to be equipped with extra features over the Edge 520And starting with navigation, which is where the most economical model limps most.
Garmin not only adds navigation, but also takes advantage of the new model to present an interesting option such as GroupTrack, although it still needs a little more time to become something to take advantage of. Undoubtedly the new LiveTrack startup setting that has been incorporated into some devices will help, because it eliminates the most uncomfortable step of all (remembering to start the activity when you begin training), but I think it takes time for the idea to penetrate more among users.
Battery savings may not be a determining factor in your choice of Edge 820, but it is an addition that can prove very interesting on more than one occasion.
Other features such as WiFi, light sensor and incident detection round out a package that fits quite well in the Garmin range. What doesn't convince me is the touch screen - not because of its operation, but because of its usefulness. There are times when it's very convenient to control, such as when setting up data screens or operating the main menu. But there are other times when I miss the buttons on the Edge 520 a lot.
Whenever Garmin launches a touchscreen device, I always ask myself the same question: why do you have to choose between touch and buttons? I'd like to have both options.
Finally we have the speed when moving through the menus or to calculate a route directly from the device. Accustomed as we are to mobile devices that are tremendously fast, it is hard to get used to the "relaxation" with which the Edge 820 takes everything, but it is a necessary toll to pay to get a reasonable battery life. There could be a more powerful processor, but it would be detrimental to battery life (and price).
At this point I'm sure there's a question still haunting you: 520 or 820? The answer would narrow it down to navigation. I'm sure the Edge 520 will satisfy the vast majority of users, but if you do frequent navigation routes and want the turn signals and other features it offers, then the Edge 820 is the option to choose.
There are other features that differentiate them, but if navigation is secondary for you I don't think they are enough to justify the price difference.
Buy Garmin Edge 820
If you like the tests I perform and want to collaborate with the site to help it continue to perform tests as extensive as this one (and as you can guess, they carry  many hours of work), all you have to do is buy your Garmin Edge 820 - or whatever you need - through the links I provide, and I will receive a small commission at no cost to you.
And don't forget to share the test with your friends, besides helping me your friends will be tremendously grateful to discover this site.
I want to remind you that there are two versions available. You can find the Edge 820 that I have discussed in this test and a slightly cheaper version, the Edge Explore 820. I don't consider it interesting because it cuts out many of its features (and the price difference doesn't justify it). These are the features it lacks:

No WiFi available
No ambient light sensor
Does not support advanced training (creation and tracking of intervals, etc)
No connection to power meters or electronic switches
There are no advanced metrics such as FTP calculation, VO2Max, recovery time, etc.
As for the Edge 820, there are two ways to buy it. The first and less expensive way is to buy just the device. You can use your current sensors, as long as they are ANT+ compatible.
https://www.amazon.es/dp/B01IGR1YMG&tag=c1mes-21
The second option is interesting if you don't have sensors. It includes a pulse sensor, a speed sensor and a cadence sensor.
https://www.amazon.es/dp/B01IIJ1044&tag=c1mes-21
If you do not currently have any sensors, the pack may be an interesting option because it lowers the price of the sensors compared to buying them individually. But if you already have ANT+ sensors (whether they are from Garmin or other brand), just buy the cyclocomputer.
Thank you for reading and collaborating!