Today, the new top of the Garmin Edge cycling range is finally presented: the Garmin Edge 1030 Plus (and it does so together with the new model for the lower range, the Garmin Edge 130 Plus). It has been difficult to "bring them to life". Their launch was scheduled for a few months ago, but the situation experienced with the COVID-19, the confinements and the diversion of focus in the news interest of the general public has meant that Garmin had to delay both this and the launch of the new model. the rest of the new developments planned for this year.
The Edge 1030 Plus does not represent a radical change with respect to the model that precedes it, which is why there is no change in the model numbering and it simply adds the designation "Plus" to the end of its name.
If you compare the Edge 1030 together with the Edge 1030 Plus, you won't find much difference. The most obvious is the color change since the Edge 1030 was white and the new Edge 1030 Plus comes into a completely black housing, combining matte and glossy black.
Obviously the screen is identical in both models, keeping the 3.5″ diagonal with a resolution of 470×282 pixels. However, I hope Garmin corrected the manufacturing issue that caused some (quite a few) units to develop a halo on both sides of the screen, something that only happened after quite a few hours of use. Although I have to say that, in my case, I never suffered it in the many hours my Edge 1030 unit has been with me.
But after three years in the market you'll be eager to know what's new in Edge 1030 Plus, beyond the simple similarities with the previous model.
Find the best offer
Garmin Edge 1030 Plus
Garmin Edge 1030 Plus Pack
What's new in Garmin Edge 1030 Plus
Many of the new features of the Edge 1030 Plus come directly from the Edge 530 and Edge 830, with some things as obvious as the GPS chipset (which is now Sony, as in all other products from both Garmin and other manufacturers) and the MTB features that were released on smaller models and already reached the Edge 1030 via firmware update, except for the Forksight feature that we had to wait for the new model (mainly for licensing issues).
In short, this is the new stuff that we have in the Edge 1030 Plus:
Daily workouts suggestions, based on your 7 days training load and your VO2max
New quick setup procedure. Now it imports profiles and sensors from your older Garmin (it will also be available to Edge 530, Edge 830 and Edge 1030 later on)
World maps
Possibility to pause navigation and continue it later (so we do not receive constant warnings that we are not on the right track), or perform a route recalculation
Livetrack now allows you to share the route, if you send someone your session via Livetrack and have a loaded navigation route, they can see where you are and where you are going (it will also be available to Edge 530, Edge 830 and Edge 1030 later on)
MTB metrics: Grit, Flow and jump measurement. Already in the Edge 1030 since firmware version 8.00
TrailForks integration, which was already present before, but now includes Forksight to choose any route halfway, something that did not reach Edge 1030 for licensing reasons but is present in the Plus
Bike theft alarm. When activated by moving the bike or bike computer, the alarm will go off on the Edge and on your phone. Already in the Edge 1030 since firmware version 8.00
Garmin InReach support
Sony GPS chipset for extended battery life. Up to 24 hours (instead of 20), or double if we use the external battery accessory. Which doesn't look like a lot increasing 4 hours more... but ultimately it's an additional 20%
New faster processor, which will help calculate routes and above all recalculate them
32GB of storage (instead of 16GB of Edge 1030). But in return it loses the microSD card reader
New color, now it's totally black (to match your carbon handlebar), just like that custom Bontrager Edge 1030 that was released a few months ago
Slight interface changes with redesigned icons
Thus, the most notable difference is found in the recommended daily workouts. If you do not work with a trainer who tells you what you should do every day, podrast do a more or less "intelligent" training with the proposals that he/she offers you.
These proposals will be based on your training load, your VO2max and FTP values. In short, they are structured training the same as those you will find on platforms like Zwift, TrainerRoad or the like.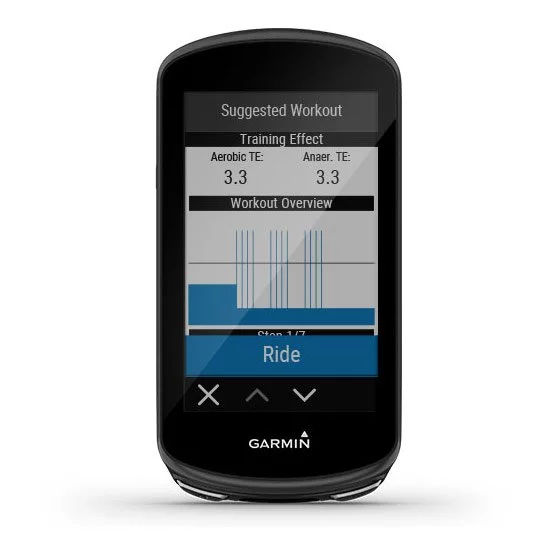 The only difference with these is that instead of you choosing from a training library based on the sensations you have that day, the Edge will decide what to do on that day.
It's a Firstbeat feature, like all other features and metrics that Garmin devices include, except that this is the first time we've seen specific cycling workouts. Until now FirstBeat had cardio and run training, but not cycling.

Workouts are based on both aerobic and anaerobic training effect score, so depending on how you are that day the daily workout will play with those values increasing and reducing depending on the load it wants to give you.
These are structured workouts, so when we go to do them it will be the same as in the interval workouts you have done so far (both those scheduled on the Garmin platform and those downloaded from TrainingPeaks). And if you do them on a trainer, it will be the Edge 1030 Plus that dictates the hardness of the trainer (as long as you have a smart trainer).
That's the main new feature, but then there are small tweaks. For example, the possibility to pause navigation at any time.
It may seem silly, but it won't be the first time you're navigating a route and for whatever reason you want to deviate from it. Because you've seen a friend and you join him for a while, because you feel like having coffee or because you're going to get an ice cream. From less to more important.
When pausing navigation you will stop listening to constant messages that you out of the route and that you have to turn around. Just pause, go for your ice cream and when you are ready to ride again, you'll continue with the planned route. When you turn navigation back on, Edge 1030 Plus calculates the route you need to follow to return to your initial route.
By the way, the Garmin Edge 1030 Plus now supports Garmin InReach (satellite phone). Obviously not many of you are going to take advantage of this, but if you often get lost in totally inhospitable places where there is no mobile coverage, combining incident detection with InReach is a very important thing to take in mind.
And so far these are practically the new features it offers. According to this, it may seem like a simple bike computer at a very high price, but don't forget it comes from the Edge 1030, that is a bike computer already packed with functions. And to refresh everything available, here´s the list:
Training
Dynamic Performance Monitoring
Training status
Heat and altitud acclimation
ClimbPro
Structured workout synced from Garmin Connect, TrainingPeaks or TrainerRoad
Smart nutrition and hydration alerts
Cycling dynamics
MTB dynamics
Additional features
Trailforks route download
Forksight to identify different paths when reaching a bifurcation
Turn-by-turn navigation, with trend line popularity routes, route calculation, back-to-start, etc.
Incident detection
InReach support (especially useful for the incident detection feature above, if you like to get lost in the mountains).
Bike theft alarm
Varia compatible
Live tracking, group tracking and group messaging
Garmin Edge 1030 Plus, availability and price
The Garmin Edge 1030 Plus is available NOW. Something obvious considering that the announcement was delayed. It has the same price as the original Edge 1030 when it came to market: 599€.
On one hand it is expensive, because if we compare it to the current offers available for the Edge 1030 and the changes it offers from the new model, those differences do not justify the €200 difference between the two.
But on the other hand, it is "surprising" that Garmin has not taken the opportunity to add an additional 50€-100€ as it is used to do with each launch of a watch in the Fenix range.
Find the best offer
Garmin Edge 1030 Plus
Garmin Edge 1030 Plus Pack
Garmin Edge 1030 Plus opinion
Very slight model renovation, but at least it does not come with an increase in price. The new features are scarce and I'm sure they won't attract everyone's attention.
The suggested daily workouts are undoubtedly the most important new feature in the new Edge 1030 Plus, but truth told is that I don't know many people who do structured workouts of that kind and are not trained by a coach. That is, if you have a powermeter, an interest in improving your performance and 600€ in your pocket to buy the new Edge... most likely you will already use the services of a coach.
I think that in the end, facing the end user, the most important thing is the increase in processing power. Especially for navigation and route creation. Something that over the years we are seeing remarkable improvements and that now it is a totally feasible possibility to rely exclusively on the routes created from the Edge.
We can select a destination and in a few seconds the Edge will create the most ideal path, making use of popular routes among cyclists. Previously that meant several minutes waiting for the route calculation, and there is nothing more desperate than waiting 5 minutes before you can start riding.
In short, the Edge 1030 Plus has a competition problem. The "old" Edge 1030 offers almost the same at a fraction of its price.
And with that... thanks for reading!