Another contributor joining for the cycling section. If I already introduced you to a a little over a year agoIn fact, the acquisition of the new bike was one of the reasons why I made the biomechanical researchThis allows me to evaluate the selection of size and geometry for the new goat.
As it always happens when we are going to make an investment of this kind, we have to look at things two or three times. I had several models that I had my eye on that, initially, could fit me by cost. Obviously this is the main barrier of entry, because there is no point in looking for something that fits me completely by geometry if the result is a Canyon Speedmax of 10,000 euros.
Therefore, first I set my sights on several much more mundane models, and after evaluating the different options the market offered me, the next finalists were chosen:
Those were the models that passed the initial screening, which included others like Argon 18 E117, Orbea Ordu M20 Team or Ceepo KatanaI valued both full and frame only options, and taking advantage of components I already had as a cockpit or saddle, but as soon as you start adding groups, wheels or cranks you quickly go well above the offers that can be found at this time of year for full models.
De las tres finalistas la BMC fue la primera descartada. Al ser un modelo nuevo el precio subía por encima del que se ofrecían tanto la Felt como la Cervélo, sin aportar gran cosa con respecto a las otras dos más allá del «cajón» para nutrición o herramientas.
The choice was between Felt and Cervélo. Looking at the sizes and geometries, the difference is that Felt was only offered up to 58 while in Cervélo you could choose 58 or 61.
Starting to review the geometry data quickly led me to a key. My current Ceepo has a stack (height from the bottom bracket to the top of the frame) of 583m. Reviewing Felt and Cervélo's data, for size 58 both give a 559mm stack. Therefore the frame is slightly more than 3cm lower than my road bike (and which I have previously transformed into a goat so I know the references).
Honestly, I don't consider Ceepo's painting to be large, but quite the opposite, even slightly low for my height.
The Cervélo is the only one of the two that reaches size 61, with a 588mm stack, very similar to what I am used to.
Of course the stack is not everything, you have to look at other things. The reach is not something that I could extrapolate from my current bike, because being a road bike it is obviously shorter, a triathlon bike will always be longer. But I can check other data such as the length of the head pipe, which determines almost entirely the height at which you can carry the handlebars and therefore the aggressiveness of the frame.
Returning to the comparison of measures, in the case of my Ceepo are 180mm, with 157mm in the size 58 of the Felt and 153mm in the 58 of Cervélo. Clearly lower, so it could be an overly aggressive position, at least if I did not use separators. But opting for a size 58 in either model we have already seen that it would be a pretty low frame for me. In fact that was the professional opinion.
And independently of the size, other aspects have also been valued: Availability of accessories, components, support... And here the Cervélo also wins, so together with the availability of size 61, the choice was obvious. Furthermore, who can resist more carbon for the same price?
Cervélo P3
The result of the whole screening process led me to the Cervélo P3. As a group both this and the Felt were similar, both equipping the mechanical Shimano Ultegra.
Making the jump to electronic gearbox is a quite important plus and, although I think it is precisely in tri bikes where it makes more sense, I still don't make the jump. Personally I like more the SRAM option with the Red eTap (which I was evaluating in case of buying only frame), and I think it will be much more interesting when the 1×12 arrives to road cycling.
As for accessories, the Cervélo was the option that convinced me the most, starting with the brakes, a hydraulic Magura that has nothing to do with traditional cable brakes.
More aerodynamic (both calipers and brake levers), lighter, with better feel and less maintenance.
The saddle is an ISM Adamo Prologue, the same one I have been using so far and one of the most comfortable options for long distance.
The 3T carbon handlebar is also a good addition, a fairly acceptable option as a standard cockpit, as is the standard stem, which in the case of the Felt is of specific design and with greater problems of future compatibility.
But as in every standard assembly, there are some things that do not convince me: the 3T aluminium and Sky-bend type couplings, the FSA crankset or the pedalset of the same brand.
If I don't get the shape of the couplings I have a carbon Profile Design T2+ in S-bend shape that I could replace them with at any time, but I will give the standard bars a chance.
As for the crankset... Well, the cranks are heavy, but they do their job, but I'm not too happy about that. And the crankset will probably end up being replaced by a PowerTab C1, although I still have to decide what I'll do with the FSA crankset because the compatibility of the C1 is not too wide.
Shimano Dura-ace gear shifters would deserve a separate chapter. It's a real shame that Shimano continue to keep these switches in the catalogue. As much as they are interested in shifting the top end to electronic gear shifters, it seems unbelievable that we still have to suffer from gear shifters designed 30 years ago and named after the top (and expensive) version of Shimano.
They still do not have return pulsation or any other type of ergonomic improvement that other manufacturers have introduced to their mechanical gear selector. SRAM has its R2C pushbuttons, Campagnolo has its RTZs. Shimano continues to mount last century's technology on the latest generation bikes and several thousand euros.
And this time I didn't have to assemble them from scratch, but when I did it before, it was like building an Ikea cabinet without an instruction manual (indeed, Shimano supplies them disassembled and WITHOUT an assembly manual).
Otherwise, the attention to detail that can be seen throughout the bike is incredible, for example the way it hugs the rear wheel to the frame, leaving a minimum margin and ensuring proper air flow.
Or the shape of the central tube at the height of the screws for the water bottle.
The fork is not as worked as in its big sister the P5, but it still has a specific shape and is fully integrated with the frame, improving the little sister's fork the P2.
Even the rear pods have a specific design ending in a very sharp wedge, again to encourage airflow in the most aerodynamic way possible.
And yes, in size 61 the bike is hugeit looks more like a horse than a bicycle.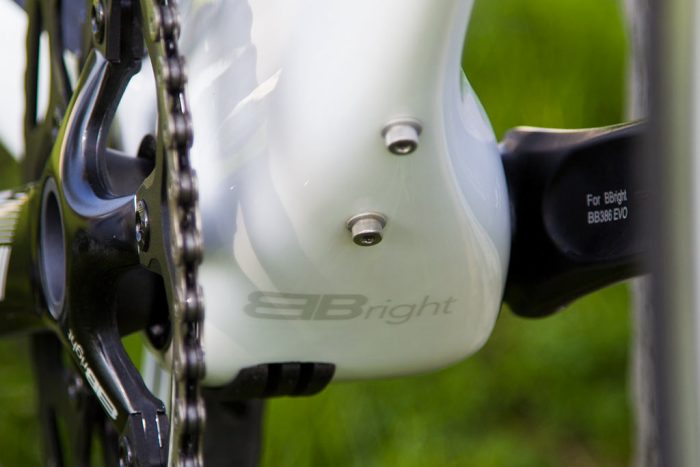 Sensations
Unfortunately, we haven't had much time together. In fact, I've only had a chance to take her out once. I've been jumping from flu to bronchitis for the last few weeks, and I'm crushed. So I haven't had a chance to do all the tests I wanted to do yet, but enough to know some details.
To begin with, it's a long bike, very long. It's something that gives it a remarkable poise, allowing you to ride coupled without being frightened by unexpected movements or wind. It's something that I have suffered in my Ceepo transformed into a goat. But obviously it's not a mousetrap bike nor alive with reactions. There are always concessions to be made.
But what it stands out most is in comfort, mainly because it does not have an aggressive geometry for what a TT bike is. Even though the stem is in the lowest position (and the fork is still to be cut), the difference in height between handlebars and saddle is not excessive.
Yes, the size is big, but it's still a model that takes care of the comfort, and it asks you to always go coupled. Rolling a couple of kilometers up controlling the brakes ends up exhausting me, and I'm wishing I could put my back straight on the handlebars.
It is also a bike that offers countless possibilities when it comes to setting up the position. With the saddle-on-rail anchoring system it allows for a multitude of positions for the rider.
Despite not adding a standard drawer to carry nutrition, there are screws in the top tube to allow bags or drawers to be adapted. Not only will they serve to carry everything that is needed for long training sessions and competitions, but they also help aerodynamically with the flow of air, as well as hydration between the bars.
Although I haven't had all the time I wanted with the new P3, it has left me wanting to make a good long ride with it (and in full physical condition), and of course that feeling is the best way to start the relationship with a new bike.
And with that... thanks for reading!