After the first submissionI hope you like it, because you will see it in many pictures around here.
This is a Ceepo Mamba. If you have been in the triathlon world for a long time, I'm sure you know the brand perfectly. And for those of you who don't, I'll give you a brief presentation.
Its founder, Nobuyuki Tanaka (better known as Joe) began his journey in the world of triathlon in 1990. After two years of competing and not finding a bike he could feel completely comfortable on, in 1993 he decided to create his first model. This bike, compared to others he had used in the past, allowed him a 90-minute improvement over the same distance. It was clear that Tanaka knew what he was doing.
With the advent of the 21st century, manufacturing using carbon fiber had become popular. Tanaka knew this was the way forward and partnered with a carbon frame manufacturer in Taiwan. He began manufacturing a limited number of units in 2002, designed specifically to compete in triathlon and thus differentiate himself from other manufacturers, who continued to use specific road geometry. This would be the starting point for Ceepo.
The truth is that I arrived at the Ceepo Mamba by rebound. I had already chosen a model, a Fuji Transonic 2.7 mounted on 105 and Oval accessories (Fuji's own brand, which equipped handlebars, stem, saddle, chainrings and cranks). It was the type of bike I was looking for, with an aero carbon frame, although the geometry was specific to the road.
After ordering a definitive model and size, Fuji said it would be in the shop in 3-5 days. Three weeks later, we still didn't know where the bike was (neither I nor the shop where I ordered it). The salesman even told us that it had been sent a week ago, that it should have arrived by now but that he didn't have the tracking number.
The next step was to contact the importer directly, where they confirmed that it was not that the package had been lost, but that despite the fact that the bicycle is marked as available in stockBut I was told that they were about to do the assembly in Germany and that in a week's time the shipment would be made.
After waiting patiently again and, not knowing anything new, I contacted again. The answer, a week later, was the same "it is being assembled and will be in the store in 5-7 days". In short, I had been waiting for a month and a half for a bike that I had bought as "in stock" and, worst of all, it was that I didn't even know when I was gonna get there (and if I was going to do it).
So I marked them an ultimatum. If they didn't give me a valid tracking number by the end of that week, I automatically cancelled the order. And as you can imagine, that's how it happened.
During those days I had already been researching the market again, but I couldn't find anything that I liked and that fit into the budget. If it wasn't for a detail of the assembly, it was because I was inevitably over budget. I was already doing configurations of the Stevens Arcalisuntil I came across a good offer on the Ceepo Mamba painting, which totally matched what I was looking for.
This Ceepo totally fits my requirements. It is a triathlon focused bike and allows dual configuration. Although right now it has a conventional road handlebar, if I had the intention of doing a middle distance triathlon (it is possible in the future) or even an Ironman (I hope it does not occur to me, and if it occurs to me, make me change my mind), thanks to its reversible seatpost and mounting the corresponding aero handlebars with couplers, I would have a perfectly valid "goat", especially considering my level.
Deep down, I'm very grateful to Fuji...
Ceepo Mamba and its assembly
Ceepo bikes are only sold as a frame kit, so you have to pass your components from your old bike or, as it has been the case, buy new everything that is going to be assembled. You also have two options, to assemble the bike on your own or take it to your trusted store to have them do the work for you.
If there is one thing you appreciate about buying just the frame, it is precisely that it is the only thing you get. It is not associated with certain measurements, or developments that someone has decided for you. And why not say so, with regular quality components that you know you will end up replacing in the future, above all, to lighten weight. So, by buying just the frame, it is you and only you who decide if you want to opt for one component or another: if you want carbon stem and handlebars or if aluminium is enough; if you want 170mm or 175mm cranks; if you are looking for ultra-lightweight rims or prefer something with a profile... In short, you configure YOU bicycle to YOU taste (well, usually to the taste of your budget).
In this case I have chosen to mount a complete Ultegra groupset. At first I was looking for bikes with 105, but the fact that the frame offer included some Ultegra components has made me decide that "de perdidos al río". But it's better if I give you a complete list of components, so you can get to know the new partner better. Some of the links are affiliate links, so if you decide to buy something from the list you will be helping to support the web.
The choice of components is very entertaining, especially because every choice you make has a reason. Unlike buying a bike already assembled, with a predetermined equipment, in this case you can choose what you want from each component and how you want it. Not only when choosing the group is where you have to make decisions, also in details such as saddle, handlebars, stem, wheels and tires, where you can choose very different options. Of course, the possibility of choosing something as important as the development that the bike will have the something of utmost importance.
And you have to admit that the constant dripping of new pieces is quite amusing.
Baptizing the new collaborator
After the complete assembly of all the parts in the frame, not without certain problems such as having to adapt one of the cable stops that inexplicably did not come with the hole made (nothing that I could not solve with a dremmel and a little patience).
Or make me a press to put the cups on the frame for a little over 2 euros capable of replacing a specific tool of 175I was finally able to hit the road with my new partner.
The first thing I have to point out is that I have been cycling all my life, but exclusively in the mountains, so now I practically have to learn how to ride a bike again, and above all not to fall at the impulse of jumping over all the obstacles in the way, now it's time to go around them. But as is obvious, the position and handling is very different, and I have to get used to the new sensations that the bike gives.
I still have to make a finer adjustment, especially in terms of position. The clear end is a professional adjustment service, with specific tools to find the ideal position where I can develop more power; but what I can do is to study different positions on my own, not only in terms of comfort but also to achieve a more aerodynamic profile. That considering my total wingspan, I better work on it a lot, because I am like the sail of a sailboat.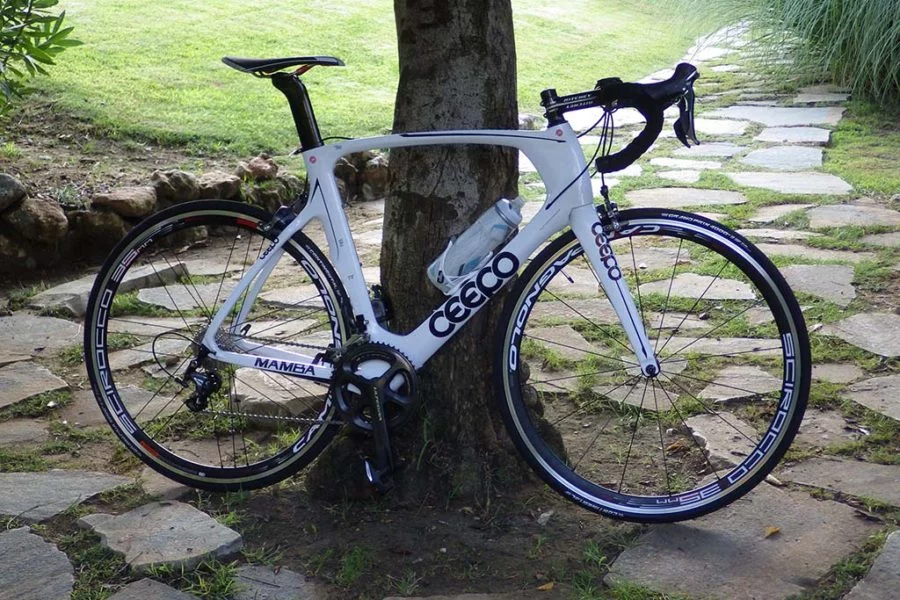 Once everything was in place, and after a brief pass by my trusted workshop to confirm that I hadn't mounted the handlebars on the stem and the wheels on the stem (you never know), the first route was already decided. An area that I have very close to home, the climb to Benahavis. The access to that road is quite fast and only includes a few hundred meters in a national quite busy (and dangerous), being the road of the climb to Benahavis much less busy and with a perfect asphalt. It is also divided into several sections separated by roundabouts, so it allows to train in flatter and faster areas or areas of small ups and downs, and there are several forks with more and less hard slopes and variable length. I think it will become my training circuit of reference.
The sensations I have with the bike are really good. It's very fast on the flat and above all going down, where when it comes to braking it's very energetic. It's on the climbs where it suffers the most. First of all because I'm not a climber at all, neither because of my physical condition nor because of my hobby. I really hate the slopes and where I enjoy most is keeping cruises on the flat and, of course, on long descents (although with age I'm more and more of a shitter, I used to go down to an open grave. Unconsciousness of youth...).
But you can tell that the Ceepo is not comfortable when the road goes up, and we agree on that, I am not comfortable either when the road gets rough.
After taking a couple of pictures, it was time to go home. The first route was going to be short, because of the time of day and because two hours later I was going to go for a run. But before finishing the route...
Rear tire puncture. And as is often the case when you go out for a short route, obviously had left without a camera or toolsWhat for? What podia to pass? So back home on your feet. What a premiere...
On Saturday I was able to take a little more than an hour for another start, so I had thought to eliminate the feeling of fiasco of two days ago. I also wanted to take pictures and data from the next device that you will see test soon (the speed and cadence sensor of Wahoo with dual connectivity), so I chose the same route. This time I was not going to make the same mistake of the first time and I took camera, detachable and a CO2 canister that I had stored long ago. I left the hand pump at home, because it is useless to reach the pressure I need.
Same as the first one, punctured on the way back, this time on the front wheel.
But this time I had been careful. I set up my camera, prepared to inflate and when I put in the CO2... nothing, nothing, zero... I was "past it"!
Luckily there was no wall nearby, so I didn't have to headbutt against it. Poking twice in a row on starts of less than an hour is quite complicated, but I managed it. Is it a signal to quit cycling? To switch to tubeless tires?
Anyway, I've already stocked up on enough CO2 to blow a hole in the ozone layer. But I hope I won't have to use it for a long time...
Of course, in both occasions, by the time I managed to get home, it was time to do other things, so there are no more pictures than the ones in the gallery I prepared for you at the end, but soon you will have the chance to see it again, because as I said, the Wahoo Blue SC test is already in the making.
And with that... thanks for reading!