The 4th version of the Propel has had a radical change, mainly because now we have a plate inside. It is not made of carbon as in the more expensive models (let's not forget that it is a mid-range shoe), but neither is it made of nylon as in some of its rivals (which are certainly cheaper). It is a TPU plate, i.e. plastic.
Buy New Balance FuelCell Propel v4
New Balance wanted to make a shoe accessible to those who have never had a shoe with a plate, at a price not too high and making a good combination to design a versatile shoe.
Maybe it's a shoe that, by itself, "doesn't go bad". The problem it has is that there are great options on the market in the same category of multi-purpose shoes that I think work better, even with or without a plate: Saucony Endorphin Speed 3, Adidas Adizero SL, Puma Deviate Nitro 2, Asics Novablast 3... All of them are shoes that perform well at slower paces but also work when we increase the pace, and for my taste all of them do it better than these New Balance.
To be fair I must remember that the Propel v4 start from a price of 130€ and, except for the Adidas, all the others are more expensive. Maybe the comparison I make is not fair, but it is what is on the market.
Things I don't like about the New Balance Propel v4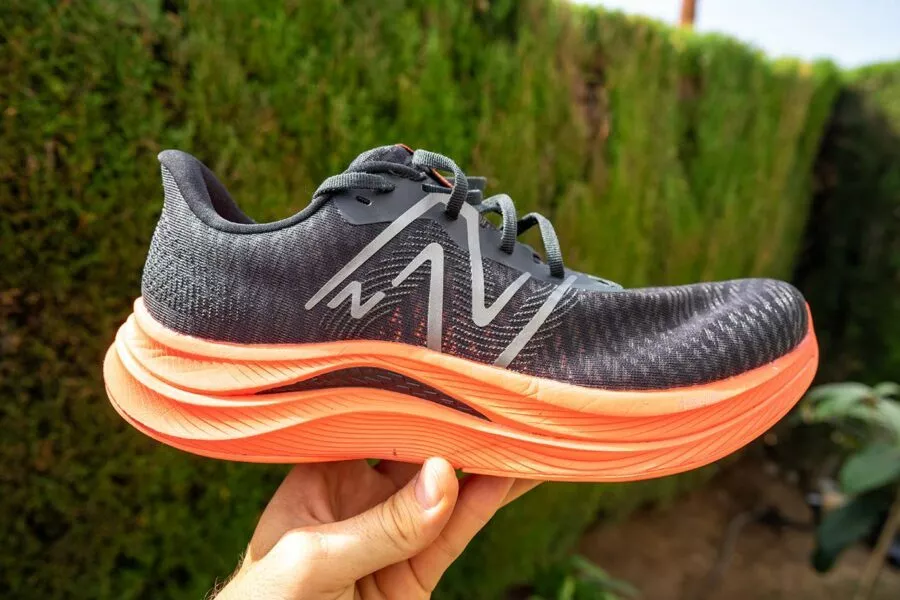 The first one is precisely that plate. I have the impression that New Balance has included it more for the sake of poder adding this feature to the spec list.
I found the dynamics of the shoe to be a bit clunky. There is something in the transition of the footprint that doesn't quite fit my running dynamics.
The TPU plate, complete throughout the shoe and which New Balance has made sure to make visible, feels quite stiff.
It requires some effort to bend the shoe and returns energy abruptly, which makes the transition of the stride feel a bit strange.
The rubber outsole does not help either, as it is quite thick. While this is positive for the shoe's durability, it also provides another stiff component that does not facilitate the transition of the foot strike.
I'm left wondering how this shoe would behave without the plate inside, but I have the conviction that it would be more pleasant.
The FuelCell is the same density as in the SC Trainer, but there is less foam. 30mm in the back and 24mm in the front, a normal height for the current fashion, which leaves a 6mm drop. In motion this drop is noticeable, it even seems less because it doesn't have too much rocker, so the feeling is of a rather flat shoe. A more pronounced rocker would have given it a bit more agility.
But there is also something good about this midsole, and that is the stability. Here the plate does help, especially in the central part as it can be perfectly seen that it ends upwards, as if it were a wing, very similar to the plate design of the Endorphin Speed 3.
The plate together with the just the right point of hardness of the FuelCell makes it a shoe with a lot of stability. So there we have a positive point.
Another problem I find is the weight. 334 grams in my size 46.5, a high weight for a shoe that pretends to have some dynamics. For comparison with the ones I have indicated as rivals above, here are the weights of those other models:
- Adidas Adizero SL - 288 grams
- Asics Novablast 3 - 280 grams
- Puma Deviate Nitro 2 - 300 grams
- Saucony Endorphin Speed 3 - 261 grams
Naturally, the weight ends up being noticed, and it plays against the New Balance.
Propel v4 upper
Let's go with the upper. It's pretty standard, what podemos think we're going to find in a mid-range shoe. It doesn't stand out in anything, but it doesn't have major shortcomings either.
It is a double layer mesh, soft on the inside and quite resistant on the outside. As I say, along with the fairly thick sole it looks like it's going to offer quite a bit of durability to the shoe.
It does not need great inventions to give good structure, because the double layer offers it, but there are still some curious details. For example, where there is a large N with thermosealing, with a smaller N at the beginning, underneath 1TP7 we can find another practically imperceptible N formed by rubber-like balls.
These two large N's give full structure to the entire shoe without adding too much weight and making it aesthetically very sober and simple.
This material is also found in the rear part, forming the heel but without making it too rigid.
The collar area is well padded although you may have to fight a little with the laces to get a good hold, because it is somewhat low and open. I have not had problems in that area, but it is true that it may need some more work to get a good closure.
The tongue is very traditional. A basic padding, it is not attached by the sides to the midsole and you can tell that cost savings have been made here. It does not work badly, but 1TP7It could be better.
But in summer it can be a bit hot as it is not one of the most ventilated uppers on the market.
Want to help the web? Buy here your New Balance FuelCell Propel v4
I hope this full review has helped you decide if these shoes will fit your wear. All the work I do is without any cost to you, but if you want to

support the page and

by doing so

the work I do

, the best way to do that is

to buy these shoes through the links that I provide

.
And if you don't buy them today, remember to stop by when you're going to! Through these links you will not only get a competitive price and the best customer care, but also I will receive a small percentage at no additional cost to you. That's what allows me to keep offering you reviews like the one on this page.
Buy New Balance FuelCell Propel v4
If you have any questions, remember that you have the comments section at the bottom, where I will try to answer all your questions.
New Balance FuelCell Propel v4 review
As I said at the beginning, we have not made good friends. I recognize that it is partly due to the fact that initially I had the bar higher and that, comparing them with the bogeymen of the category, for my taste they are inferior.
But I repeat the price factor and it must be recognized that except for the Adidas, all the others are above it.
My problem with them has been not having a more uniform transition dynamic. The cushioning is rather coarse in that sense, the cushioning is firm, so it does not fully pick up the foot when stepping. If we add to that that they do not guide the transition and result in a somewhat abrupt take-off.
The positive part is that it is a shoe that can be used for many types of use, from light paces to higher paces, it can be comfortable and have some response when we push the pace.
They may be a good option if you like the feel of a New Balance shoe and want to have your first experience of a shoe with a plate, but if budget allows I would opt for one of the other options listed.
And with that... thanks for reading!