Polar has been playing cat and mouse with all of us for a few days now, and it's been announcing a new product for a few days. First they warned us of what was coming through this image they published on their social networks. For those of you who know the sector well, I'm sure you've quickly identified what it is. No, it's not a UFO, it's a new device with an optical pulse sensor.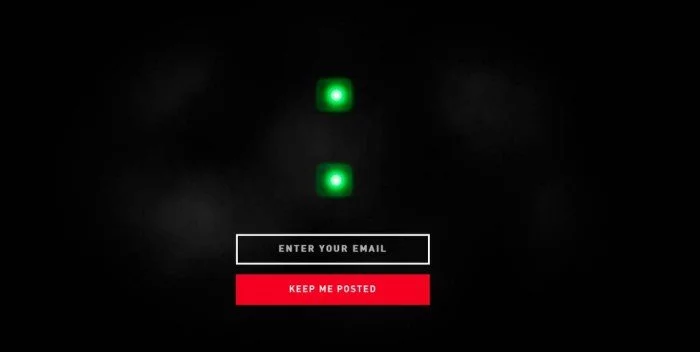 Knowing what was to come, yesterday they left us this other image, where we could slightly see the bracelet.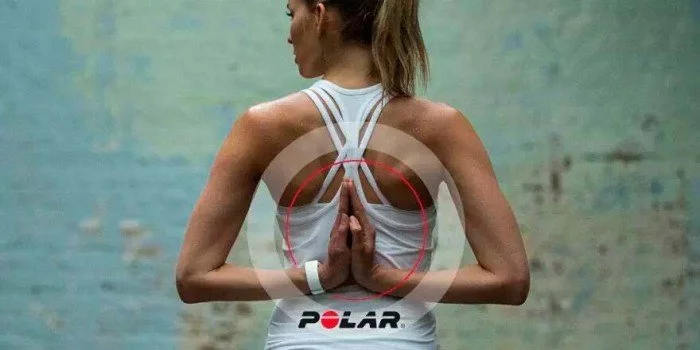 And today they finally presented it. With all of you the new Polar A360.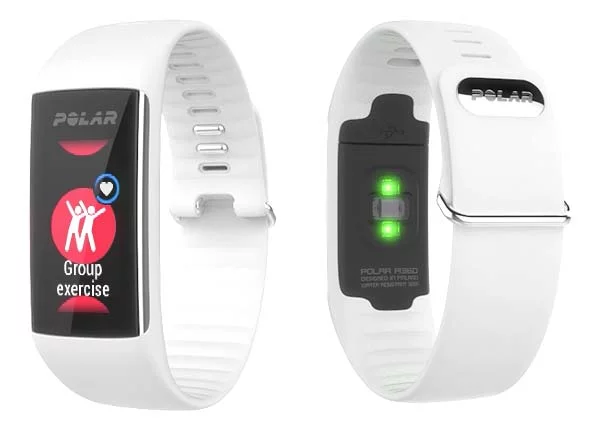 The truth is that many of us were waiting for a new GPS watch with an optical pulse sensor to accompany the mid-range (where the TomTom Cardio Runner and TomTom Spark, Garmin Forerunner 225 and Fitbit SurgePolar has surprised us with an activity monitor, without GPS receiver, and mainly oriented to fitness. Fitbit Charge HRThe new system, very well established in the market since it was introduced a year ago, also incorporates the optical pulse sensor.
What stands out in the Polar A360?
Technically, what stands out the most in the new Polar A360 is the optical pulse sensor. Thanks to it we will have pulse monitoring during our fitness activity, being the first approach of Polar to this kind of technology, since it is not a licensed sensor, but Polar has decided to develop its own optical sensor, contrary to other brands that have chosen to integrate Valencell, LifeQ or Mio's technology.
But objectively what is most striking is its large color screen (for a bracelet) of 1.18″. The screen is touch-sensitive, so moving through the different menus is very simple.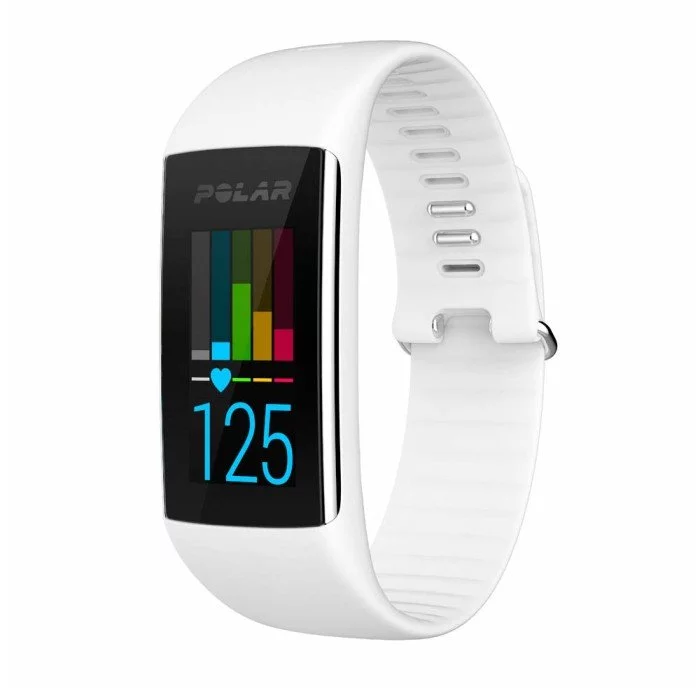 Through the screen you can not only control the activity modes, you can also view activity data such as estimated steps, calories or distance traveled.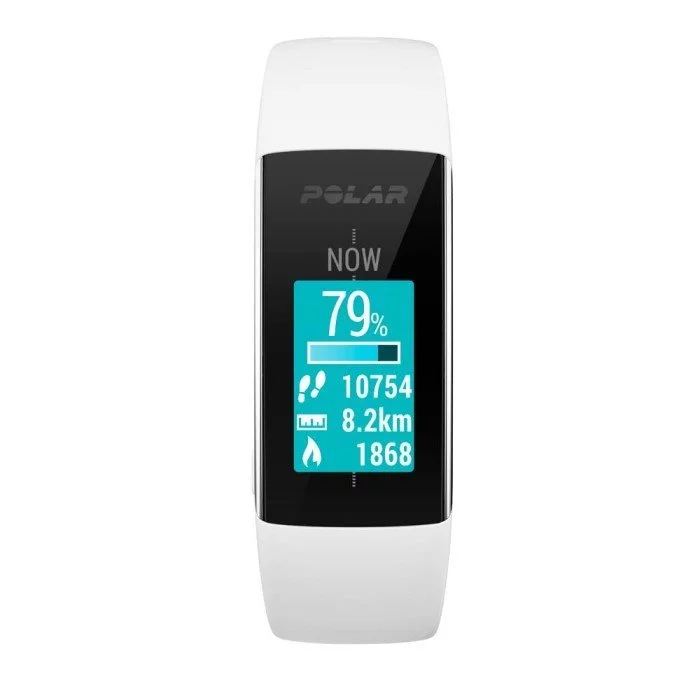 The bracelet is waterproof, submersible up to 3o meters, meaning you can swim with it on without having to worry about its integrity, but it has no swim tracking function (i.e. it neither counts lengths nor offers metrics).
Charging is done through a microUSB connector located at the rear, above the pulse sensor. 100mAh battery capacity promises 2 weeks of autonomy with a daily 1 hour training, provided that the intelligent notifications are not used.
As pod would not be otherwise, it has inactivity warning, vibrating when you stay too long without any activity. All this during the day, because during the night it also fulfills its service, analyzing movement data during sleep to determine what Polar has called "Sleep Index".
Bluetooth connectivity
The A360 Polar has Bluetooth Smart connectivity, which on the one hand allows you to synchronize your activity with Polar Flow (Polar's tracking website) and on the other hand offer smart clock functionality, alerting you with its vibrating alarm of incoming calls, messages, calendar and social network alerts. Notifications are now available for iOS-enabled phones, will be updated at the end of November to support Android as well.
After synchronizing activity data with the cloud, you can view it both from your computer browser and in the mobile app (available for Android and iOS).
Polar A360, availability and price
The Polar A360 will be available very soon, in the first week of November. In fact there are many German websites that have been filtering the product and its price, 199.90 ?. Polar wants to have it on the market soon to try to reach one of the key dates in the calendar where more devices of this type are sold: Christmas and Black Friday.
At first you can find it in black or white, but later there will be more colors to choose from.

Other colors such as pink and navy blue or green will be available later. In addition, the strap will be interchangeable, so it can be replaced later.
My opinion
I think that Polar is going to have a hard time entering the market with this activity bracelet, especially with the price marked initially. At a price of £200 I think it's a pretty complicated buy, not only because the Fitbit Charge HR can be found almost halfway (right now in Amazon Italy it is at just over 100 Euros) with a very similar concept, although with a much smaller screen and without being in colour. But it offers constant heart rate monitoring, something that, at the moment, Polar does not indicate it will offer.
The real problem with the new A360 is called Fitbit SurgeAnd of course, it's a complete GPS watch that will give you more accurate data when you're training outdoors. And to top it off, there's the TomTom SparkThe same range of prices is also available.
Setting that price is something I have missed from Polar. Their two most praised products in recent years have been the Polar M400 and the Polar M450It seemed that Polar had decided to go for that market range, but this Polar A360 is a far cry from that philosophy.
Possibly part of that price is determined by the cost of the development of the pulse sensor. We must also consider that being a new sensor, with a high initial price can ensure a slow entry into the market and can refine the algorithm of the sensor. Because for many tests that can be done in their laboratories, is not comparable to 10, 20 or 30 thousand units on the market, with users with different skin tones, different types of use, different types of sweating, etc.
It is a good way to validate data in order to continue adding the sensor to the rest of the range, starting with the replacement (or range mate) of the Polar M400, which is what we were all really waiting for.
Really the most important thing in today's presentation is not the product itself. As an activity monitor it does not bring great novelties to the market, beyond a showy screen and features on par with the rest of the competition. What is great news is that Polar has developed a new optical pulse sensor, expanding the number of players in the sector. Undoubtedly this increase in competition benefits us, the end customers, as it will make the development of the technology faster. In the last month we have met two new players, LifeQ (present in the TomTom Spark) and Polar, which join the existing ones, mainly Mio and Valencell.
–
Support this siteYou can do this by buying your Polar A360 through Amazon.
https://www.amazon.es/dp/B016BD6I3M&tag=c1mes-21
https://www.amazon.es/dp/B016BD6B1G&tag=c1mes-21