The Mio LINK bracelet is one of those new products that will soon change the world of running and fitness watches. Or at least its technology. And there is no need to look to the future because, in fact, it is already doing so. GPS watches TomTom Runner Cardio This bracelet was launched shortly after the first model of Mio with this technology, the ALPHA. The most criticized thing in that device was the price, and after the elimination of the screen is no longer a factor against this new bracelet.
Before we get on with the analysis, I would like to clarify that the test device is a store-bought unit. Therefore, it is not a special demonstration unit with a careful eye on quality. It is simply the sensor that you and I can buy in any store, with the same accessories and presentation.
Remember you can buy it on Amazon through this linkThis way you will generate a small commission that will help the development of this page, and you will be able to see more tests and analyses like this one.
MIO, a little history
Mio ALPHA became the first heart rate monitor for athletes that did not use a chest strap. It was a sports watch that marked the heart rate and took its measurement directly from the wrist. This avoids the discomfort that many athletes have typically encountered with the chest strap, such as chafing, burns or readings that are not always correct when losing contact or being affected by the weather (dry environment, low temperature). Its initial launch was made possible thanks to the "crowdfunding"through the platform KickstarterThey needed $100,000 to make the dream come true, but they got more than three times that amount: $321,314. Thus was born ALPHA, the first heart rate monitor that can be placed on the wrist and that offers electrocardiogram accuracy.
Mio LINK is the logical evolution, eliminating the screen to reduce cost and positioning itself as the replacement of our usual chest strap, allowing to connect with any equipment that has ANT+ or Bluetooth 4.0 technology.
 How does the technology work?
Mio LINK uses an optical sensor to monitor the pulse, simply by placing the bracelet on your wrist, no matter which one. Thanks to two LEDs, it emits an intense light that allows the optical sensor to read your pulse.
The way it works really shouldn't surprise you. If you think about how you check your pulse in a hospital, you only have to think about the "clip" they usually put on your finger. What is the great novelty of Mio? It allows you to take this reading not only while standing still, but it works the same whether you are sitting, jumping, doing any physical activity or running (even at high speed).
Compared to a chest strap, it's much more comfortable, both to wear and to use. Something as simple as putting on a watch. You don't need to wet anything, there are no problems reading in the cold, it doesn't cause scratches or burns. And it doesn't have to be totally tight in a way that is uncomfortable to wear. It's enough that the light doesn't enter under the bracelet, which could confuse the optical sensor.
Its placement is slightly above where we place the watch, above the wrist bone (precisely to ensure that no gap is created where any kind of light can pass through).
Unpacking
Mio LINK can be purchased in two different sizes, the S-M and the L. The device is the same, but changes the length of the strap. Two colours are also available, in grey and white. The one I have for this test is the grey one, with the strap in size L. The advantage is that this strap is very easy to replace, so if the strap breaks or we need a different size, we don't have to change the whole device.
The contents of the box are very brief, and we will only find the Mio LINK inserted into the strap and a magnetic charger, plus the corresponding instruction manual.
As you can see, the unit itself is quite small. At the top we find the on/off button, and to its right the multicolor status LED (I'll talk about this later). Below, besides finding the icons of the types of connectivity it supports, is its heart. Two high-powered LEDs flank the optical sensor that will provide all the magic.
The charging system is very convenient and practical. It allows the Mio LINK to be charged inside or outside the wristband, just place it on the charging base, which has magnets to hold it in place.
It can even be left charging in the air with the strap on, which will not fall off. The same magnet holds the USB connector in place once the cable is folded back, placing it under the charging unit, making it fully retractable and very easy to store. A truly ingenious design.
Mio LINK and connectivity: Bluetooth Smart and ANT+ simultaneously
Another great possibility that Mio LINK offers is to double your connectivity. Originally, Mio ALPHA was offered in two variants, Bluetooth Smart and ANT+. But LINK offers both types of connectivity on the same computer, which is a significant savings for those of us who like to train with different devices. Personally I usually wear a watch with ANT+ connectivity when I train outdoors, and I use Bluetooth 4.0 connectivity and a mobile phone for indoor activities. With Mi0 LINK these two possibilities are covered.
In addition to offering two types of connection, it does so simultaneously. This means that we can connect two devices at the same time, receiving the pulse information on both.
To give an example, we could connect the heart rate monitor to a Garmin bicycle computer, where we could see the heart rate, and at the same time connect via Bluetooth to a mobile phone to record the route.
Another thing to keep in mind is that ANT+ allows us to multi-connect between devices. That is, we could connect Mio LINK to several devices, for example a watch and a bicycle computer, simultaneously. This is something that Bluetooth 4.0 does not allow to do, since it is only possible to connect it to one device.
Zone training made easy
The Mio LINK, in addition to sending our heart rate information to other devices, also has an LED on top. This LED is multicoloured and configurable.
After turning the device on, the light indicates the battery status (blue charged, yellow below 30% while two red flashes means battery too low), but thanks to the phone application we can configure this light to show us information while using it. These are the colors it will show us if we configure the five zones:
Cyan Blue: 0%-50%, rest
Blue: 50%-60%, heating
Green: 60%-70%, fat burning and background
Yellow: 70%-80%, aerobic fitness
Purple: 80%-90%, intensive anaerobic training
Red: 90%-220ppm, maximum performance
By default, these colors indicate the work zones where you will be training and based on your minimum and maximum pulse values that you will enter yourself, but you can configure it to your liking.
So, if all you want to do is monitor your heart rate to make a training plan without needing route recording, current pace GPS information or any other data, Mio LINK can be used as a fully autonomous device without connecting to anything else. Only by monitoring the blinking we will know which zone we are in.
And even if we have it connected to a clock or phone this light is really useful, as I could check in the 29th Marbella Half MarathonMany times he did not even look at his watch, for looking sideways at the bracelet and seeing the colour in which it blinked he knew whether he could or could not increase the rate.
So, can you replace the chest strap?
In all the tests I have done with Mio LINK, it has proved to be totally reliable. The pulse data it gives is always the same, very similar to that given by a chest strap.
To see it, nothing better than a multi output chart in continuous comparison.
Start 1 - 1h20m continuous race
The first test carried out was a continuous-paced start, with few slopes and maintaining a constant pace. Both exercise cards show an average heart rate of 146 ppm with a maximum of 160 ppm
Image 1: Garmin 410 with chest strap (Garmin premium soft strap)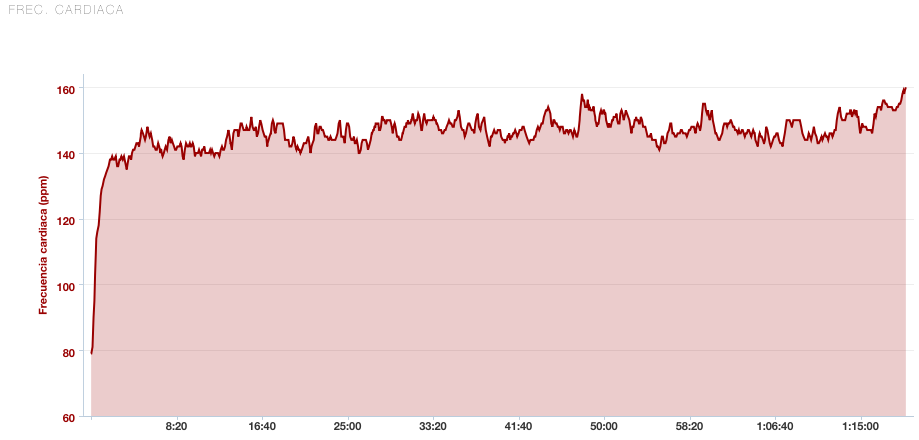 Image 2: Mio LINK connected via Bluetooth to Android phone with Runtastic app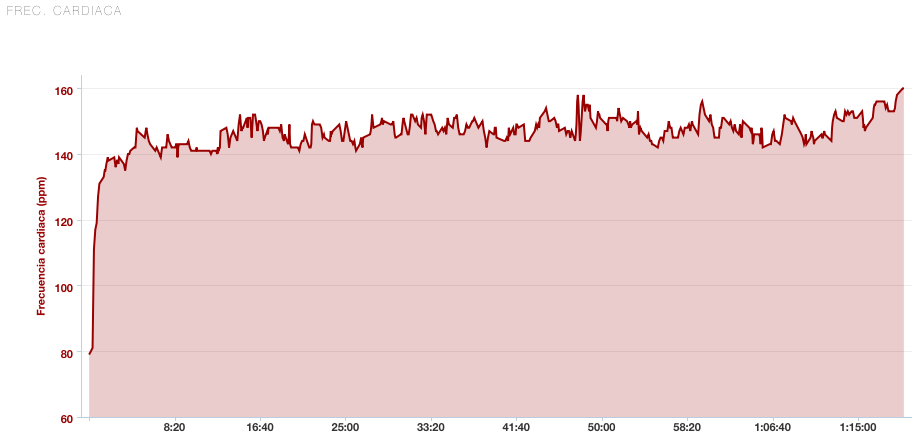 Figure 3: Overlay of the two graphs, in blue MIO graph, in red Garmin graph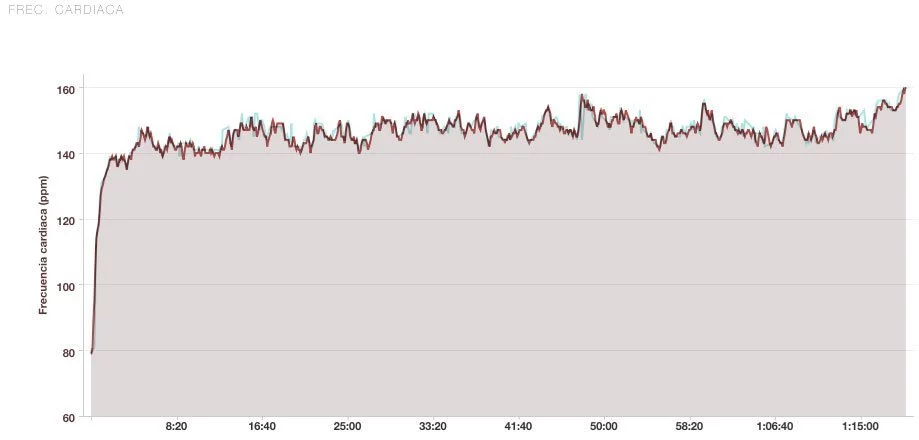 Both graphs are very similar, the only difference is that the Garmin graph has more saw teeth, probably due to the way Runtastic records the data. In both cases and during the same race, the information received would be the same.
Departure 2 -1h30m bicycle ride
A slightly different test, this time changing the sport: bike ride. I looked for changes of pace, ups, downs and jumps to see if Mio LINK moved from its place and stopped giving pulse information. At no time was the transmission cut off. The average pulse in both records was 134 ppm, while the maximum was 162 ppm in the recording made by Garmin and 163 ppm in the combination of Mio LINK with Wahoo fitness.
Image 1: Garmin 410 with chest strap 
Image 2: Mio LINK connected via Bluetooth to iPhone with Wahoo Fitness app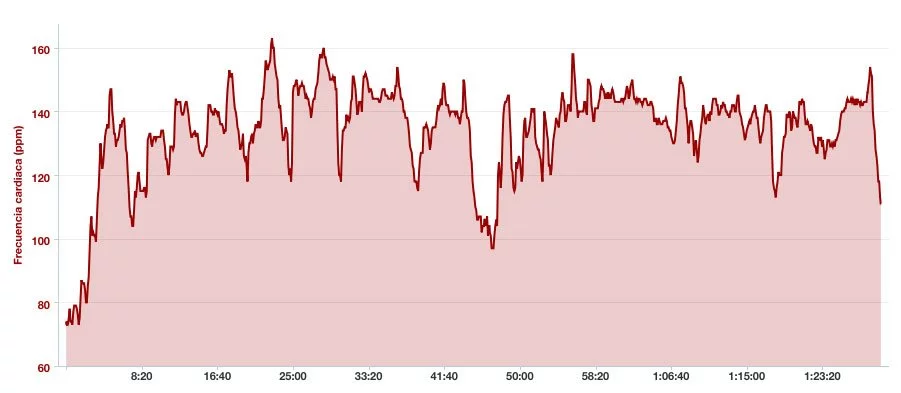 Figure 3: Overlay of the two graphs, in blue MIO graph, in red Garmin graph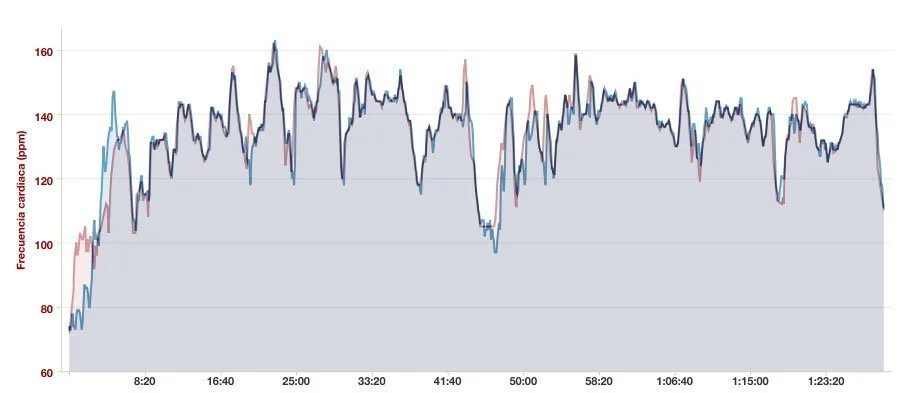 This test was harder for both contestants. The first few minutes of training are not decisive, as I was not wearing my Mio LINK strap properly. As you can see from the overlay chart, the first few minutes were not giving the same readings. But after I stopped to adjust my strap (you can see the drop in heart rate), the chart again developed in a very similar way. This time there are some blips at very specific moments, especially from the reading of the Garmin.
The graph in minute 43 is striking, because after a couple of minutes I stopped the graph. Garmin scores 5 ppm more than Wahoo's app, but nevertheless the Mio LINK and Wahoo are more realistic in the fall of keystrokes, because while Garmin records a full minute at 105 ppm stable, Mio LINK scores more variations and makes the graph descending and then going back up again. A much more realistic behaviour.
Except for very specific moments, we can see that both graphs follow the same movement and are constantly traced.
In this case there is no comparison with any other device. I only had the Mio LINK connected to the Garmin 410 through ANT+. But it does serve to check how, when connected by ANT+ to the Garmin 410, the saw teeth are continuous, unlike when it was connected by Bluetooth with the Runtastic app.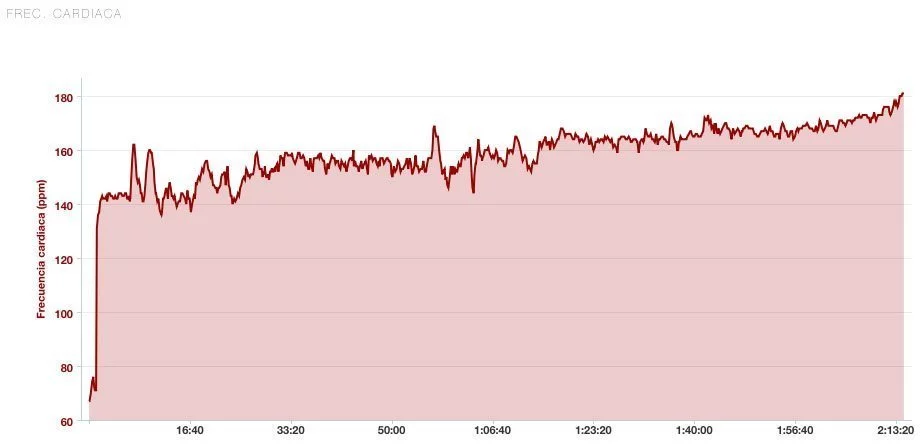 Conclusion
The question initially posed is: Can Mio LINK replace the chest strap? The answer is that it canNot only can I, but I am sure that in a few years, this type of sensor will be the most common in heart rate monitors of all brands, leaving the chest straps to be relegated to very specific uses.
Mobile application. iOS and Android
Mio has apps for both major mobile phone platforms, but the two are quite different. While the Android app is only useful for initial zone setup, the iOS app is somewhat more comprehensive. But since the main purpose of use is to connect your Mio LINK to specific running applications or sports watches, this is not something to worry about. The app is actually meant to be used for initial setup and then completely forgotten about. However, Mio indicates on their website that they are working to provide the same functionality on Android that the iOS app has.
Mio GO for Android
We start with the simplest application, so simple that it is explained in very few images. As soon as the application is opened, it will ask us to connect to the Mio LINK bracelet.
Once connected, it shows the main screen of the application. The on-screen pulse assures us that the connection has been made, and we are presented with three options: Entering personal information, configuring 3 alert zones or 5 training zones.
And this is all the application has to offer. It's enough for the initial configuration, but I'm sure that once you've configured the zones as you wish, the next thing you'll want to do is remove the application, since you won't be using it for much longer. As the wristband doesn't have any activity memory, for the moment the application doesn't offer any other use.
Mio GO for iOS
From the start, the main screen is much more complete than its Android counterpart. Activities, indoor and outdoor training options, connection management... In this image the Mio LINK wristband is already connected, but we would only have to go to the top right to enter the connection menu, which is the one presented on the right. As in the previous case, we have information about current keystrokes and configuration options.
After selecting "SETUP MIO LINK" 1TP10We can configure, as in the Android application, the warning zones or training zones.
So far, except for the main screen, both applications are exactly the same. If we click on the lower left of the main screen, we will be presented with this screen, where we can start recording a workout. It will not save GPS information or show the pace or any other feature we usually see in any other running application.
The most complete part corresponds to "indoor" training. Here we enter a section of the application intended for simulation, through fitness games. We can train on a treadmill or a spinning bike, for example, and from the information presented we can perform our training in a more fun way. When a type of exercise is selected, podremos download the activity (at no cost). As you can see, the downloaded files occupy quite a lot, as the running activity selected for download is 763 MB.
Summary
It is very easy to summarize this entry of more than 2,200 words. Probably your question when you get to this point is: is it worth it? The answer is very easy to give, YESYou could consider the Mio LINK bracelet as a 10 product if you took away 30 euro from the price (its retail price is 99,95 euro). But it's not expensive either. If we analyze the market, we see that the usual price of a good quality chest strap with ANT+ connectivity is around 50 euro. The same can be said for Bluetooth transmitters. Mio LINK offers double connectivity and it's certainly more comfortable to wear than any other chest strap.
Its performance has been outstanding in all tests, it takes up very little space in any runner's backpack and it simply does what it promises. If I have to put my foot down, the truth is that it's hard to find one. The Android app is somewhat more limited than the iOS app, but I find it hard to understand why this is an important point in the purchase decision. The only thing I could criticize is the lack of a Windows Phone app for configuring the zones, although we can use Mio LINK with any application that supports Bluetooth connectivity meters (adidas miCoach, for example).
Did you like the test?
I hope you enjoyed this complete review. It took quite a few hours to put it together. If you liked it and want to help, just comment below what you thought of the test, or ask your questions, as I may have left something along the way. Comment on this post with your friends and share it on your social networks. If you are encouraged by the purchase of the device, you can do it through this link on Amazon, or at this link if you want to buy it from their official website with free shipping. This way it will cost you the same or cheaper than the official price, and I get a small commission that will help with the purchase of new devices for new tests.
Buy Mio Link
You can buy the Mio Link in different colours and I have provided links and different prices below, as the offers often vary from country to country.
https://www.amazon.es/dp/B00IVF04LG&tag=c1mes-21
https://www.amazon.es/dp/B00IVF04OI&tag=c1mes-21