What would become of a guide to the best marathons without including the Athens Marathon? Thanks to this myth, today you can run just over 42 kilometres in countless races. You don't know the myth?
490 BC. First Medical War with the expedition of the Persians against the Greeks. Legend has it that the Persians swore that, once they had defeated the Greeks at the battle of the plain of Marathon, they would sack the city of Athens and sacrifice all its girls. The soldiers made a pact with their women that if they did not hear from them within 24 hours, at the next sunset, they would be the ones to kill their children and commit suicide. Finally the Greeks won, but in a longer time than expected, so it was necessary to warn the women before it was too late and complete the plan they had previously drawn up.
It was then that a soldier, Philipides, ran from Marathon to Athens to give the news of the victory. The two places are approximately 42km apart. According to legend, Pheidippides arrived in Athens completely exhausted and before he died he could only say "victory". But in doing so he managed to save all the Athenian women and children.
There is another version of the legend, given by the historian Herodotus. According to him, Philipides did not go from Marathon to Athens, but was sent to Sparta to ask for reinforcements to help stop the Persian invasion, which were advancing towards Marathon. He ran from Athens to Sparta for two days, covering about 240km.
Whatever the true story, the founders of the C.O.I. kept the first version, and here the Marathon race was born, with a total distance of 42,195 meters.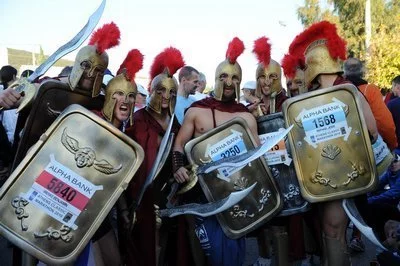 After this classic history lesson, let's move on to the race itself, which is held, as you can imagine, between the battlefield of Marathon and Athens, ending at the Panatenaico Stadium. It's a demanding course, as it begins at the foot of the Aegean Sea and you have to climb up to Athens, but anything goes as long as you follow in the footsteps of Philippi and finish the race in the stadium where the first modern Olympic Games were held in 1896.
This race allows some 30,000 soldiers (in its last edition) to repeat the feat of Philipides, encouraged at all times by a cheerful Greek public proud of its history. During the race, the soldiers pass by the tomb of Marathon where the Athenian soldiers who lost their lives in battle rest.
It is probably one of the toughest marathons, since from kilometer 10 to 31 it is practically uphill, but in this last edition in 2014 the Kenyan Fenix Kandie broke the record, leaving the record at 2:10:37.
The race is held every year at the beginning of November, and it is certainly a very good way to melt into the history of the marathon itself.
Official website of the Classic Athens Marathon
http://www.athensauthenticmarathon.gr/