I registered for the Malaga Marathon more than a year ago, specifically two days after the 2017 edition. I did it even though I had always said I would never run this race, even though it was my home race, but there were several things that made me back down. The route and the lack of atmosphere was what made me back down.
And finally I signed up... the reason was none other than the price ????.
Yes, it's putting a juicy price on me and I can't resist, because the organization of this marathon offers a reduced price of only 25 Euros (safer if you are not federated in athletics) during the week immediately after the celebration of the current year.
So a year later I paid my registration fee, knowing that no matter what happened it wasn't going to be my main career that year, and with the firm conviction that if the date to start training came, there would be no body or desire, because it wouldn't run, period. It was only 25 euros.
Obviously, as you know, having a registration is like having a contract... and you have to fulfill it. And I've gone through "hardships" to get there...
Training for the marathon
If you are a marathon runner, you will know that the general theory is that you should spend about 12 weeks preparing for this race if you already have experience, and if you don't have it or you are not at full capacity, it is better to think about 4 or 5 months of preparation.
When I scheduled my 2018 season, the idea was to do three peaks of form: Half Seville (disastrous), Ironman 70.3 Vichy and Malaga Marathon. I knew that with Vichy Ironman 70.3 At the end of August the deadlines were going to be quite tight, after that race I was going to do a rest period of some weeks to recover and face the marathon at full capacity. 10 weeks of training; something fair but feasible although it cut down a little on the typical preparation.
In the second week of September I had already started to "warm up" to make a small two-week preseason, doing a test on the 23rd of that month to evaluate my condition. A strong training of bike and run to, from there, define the next two months of the calendar.
Well, bad luck -well, my lack of attention- made that when I was about to start the strong part of the bike training, I was eaten by a guardrail. Whole, with its trimming and everything. I was coming out of a roundabout distracted, I miscalculated and when I realized I had the start corner of the guardrail on the front wheel. I couldn't even brake and I crashed into it at about 35km/h.
I was very lucky because there was nothing left but a very strong blow to the thigh, shoulder and left wrist, and a lot of scratches as if I had fought with a tiger (these things cut. A lot).
A month and a half of absolute rest. (Jxxer!)
Well, I thought, one week to recover from the blow and then back on the job. But that week passed and instead of getting better, I got much worse. The shoulder and arm were hardly bothering me, but the leg was much more swollen than the day after the blow and increasingly black. I made another visit to the emergency room and to the orthopedic surgeon and came back with my medical report: heavy intramuscular bruising. The orthopedic surgeon recommended a month and a half of absolute rest. And this told me at the end of September.
I was about to tell him: "Doctor, you should know that I have a contract in the form of a bib and that I have to run a marathon on December 9. If I rest until mid-November, when do I train?
(- ATTENTION. DON'T DO THIS AT HOME -)
Instead I told him not to worry, that in a month and a half I would see him again. What was I going to tell him? Evidently the next day he was in the physio being tormented to reduce the hematoma and start gaining mobility. He was still limping ostensibly.
Under his supervision I started to do some soft cycling to activate the circulation and start to allow the drainage of the bruise, but that was slow. 8 weeks were left for the race, but at least I was moving.
October 11th and I run again for the first time since the accident. Very smooth and still with my leg swollen, I do 5 km. A little longer the next day and I still have some discomfort. I dedicate the next days to gain a little more confidence in a very smooth way.
Last week of October and the preparation begins. There are six weeks to go, the last of them being "tapering", so there are only five weeks of effective training. Little by little...
The first "long" runs of 15 kilometers arrived, and I finished the training needing oxygen. How was I going to run a marathon in a little more than a month? Well, at least I was going to try, but I was very doubtful that I would be able to reduce my time in the Valencia Marathon. From here I can summarize what November was like: weeks of 60 and 70 kilometers of running coming off an injury. So you know, "don't try this at home".
Before the race
When running at home there is not much to prepare, you don't have to travel to the race site, prepare luggage or anything else, just pick up the bib and go to rest (and eat pasta). In my case I did it the other way around, first I ate pasta and then I went to pick up the bib, being one of the first to do so.
Waiting for the collection I saw perfectly the international character of this race, and that is that almost half of the participants were European citizens ... and many others who were directly from outside Europe. Well because they reside on the Costa del Sol, but also because they come expressly to this race. The sun of Malaga in December is a great attraction for many of those who are not used to the temperatures here from time to time we enjoy. And certainly when I was picking up my bib few nationals were there. In front I had two English, on my right a couple of Russian girls, on my left three Moroccans and leaving 4 or 5 Germans.
The runner's fair was at the Martin Carpena Stadium, a place where I've seen many basketball games, but they had made the track disappear for the occasion. Instead, a few varied stands that are always fun to visit, although here you can still see that this marathon is not yet a very well known event. There were no big brands or tremendously eye-catching stands, those expenses are reserved for other big races.
The runner's bag does not stand out either because of its depth, besides the usual T-shirt the thing gave to make a soup with cereals.
Well, now that we're all set... how about some palmettes for the cheering guests?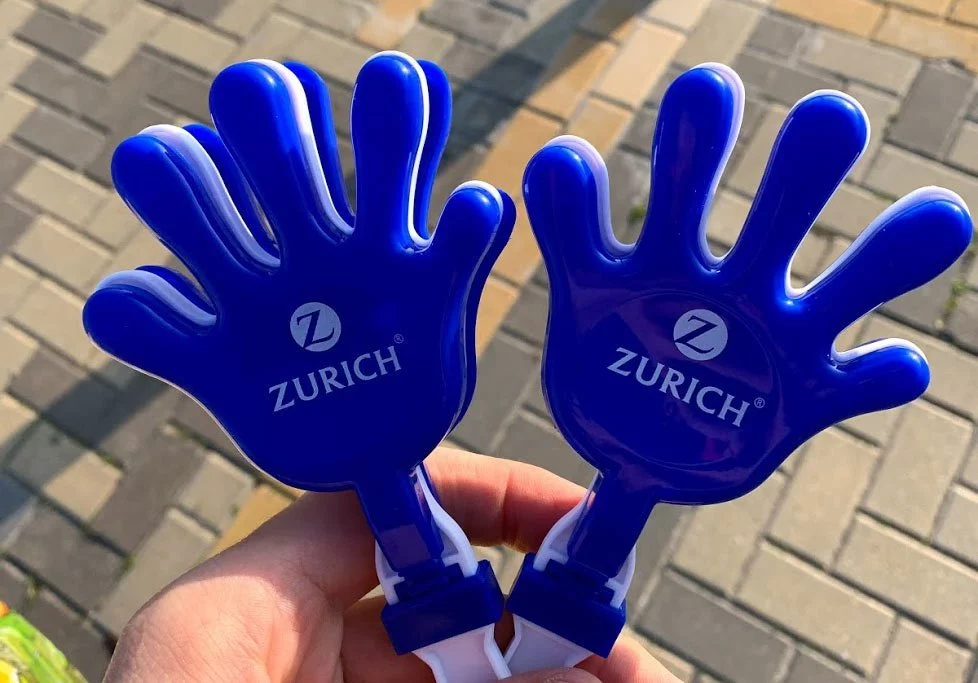 Well, if the little palms to cheer up are already there, it's clear that I have everything.
Career day
The runner's bib and bag collection was on a Friday and the race was on Sunday, so in between there was a Saturday to... post a little bit on social networks. Starting with the chop and continuing with the typical picture of everything I was going to wear in the race.
https://www.facebook.com/correrunamaraton/photos/a.308731979326726/1014975388702378/?type=3&__xts__%5B0%5D=68.ARBQNGE_BrZosfXTOlPULpvtYrUIJvx5SzAPWY5_mJhYj9kvYSMni9M7TFYukyfOCM4KgZtYQMzGdC5eDvxe5PbAbHFBQzmExqOQcq2e4Pd0dHKr4znFKypkmH2Q1PAp6P0pUW85NCWppBhGflD7xoZ0d_i2mSDJBtrsJFDQgO0J1MNeJcgBcTqhQZ2FMrwI5KvSXM7JwmSx5BSXdJFMD1Y21P_y6tZunAyhF_kqxPflQ5n7BhUQpHhreh2Kk3h8e1r017CBVN08yvduSQQKQGe-yoUfO2F2UciOrDm8f8ShObIjqpQRg9CD3zERBSGifxTvkgVyuXhR9YZq42ubzwfq8w&__tn__=-R
Finally I decided to wear a tank top and sleeves, although until the start I was lucky to be accompanied and poder be warmer. It was not that it was cold (about 12º), but next to the port the humidity was high and the "breeze" was not at all pleasant. It was clear that the gloves weren't going to last the whole race, but I didn't need them at all in the first 5 or 6 kilometers. There is nothing more uncomfortable than running with cold hands.
The start was at 8:30, but the entrance to the drawers had to be done before that time. But we had a concert so at least it was lively. This is an aspect in which we must congratulate the organizers of the race.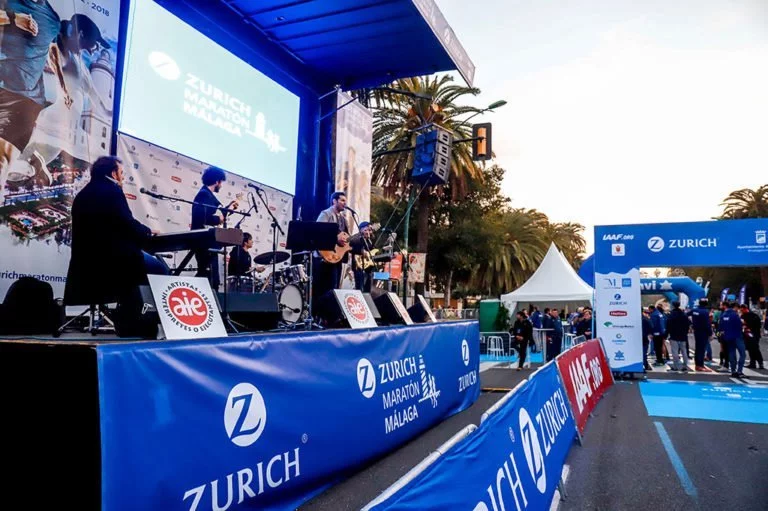 In the meantime I looked for my starting box, which I had selected when I registered, remember, a year earlier. Obviously, too optimistic for how I would get to the race...
The race
Like a Swiss watch, the race started at the appointed time. First those who were playing a game (or because of their pace, had left something in the fire) and then the rest of us. In total, we were about 5,000 people, 1,500 of whom would run the half-marathon that also started at the same time and who would accompany us as good friends until the middle of the race
Within a minute I was passing under the starting arch and my race was starting. I think for the first time I have seen a race where everyone has organised themselves correctly in their correct starting place; there were no fast runners to overtake and no slower runners to get behind the Africans. Perfect situation.
The first kilometer was spent setting the cruise pace... and configuring the data fields of the watch. There were indeed things I had forgotten to configure, such as Stryd's data field and the autolap. At the blacksmith's house...
It's not a particularly hard route, the vast majority of kilometres are totally flat and there are a couple of climbs. The first one is curiously the most pronounced (at least from the altitude graphs) and yet in the race you don't even notice it. It must be because it's at kilometre 3 and we were still getting warm. However, I try to keep a constant effort (for which I was aware of the power in the race) and I slowed down by about 15s/km. I recovered that time shortly after on the descent that was going to take us to the seafront, so I wasn't worried at all.
In these kilometers I had already given myself time to decide the time I wanted to fight for at the end of the race and I would try to go for 3:45, so I was more or less controlling the pace with that final goal. I know I started ahead of the hare in that time so I'm going with my own reference. I really prefer to keep my pace and slow down or accelerate as I please than go in a larger group. It wasn't a windy day so I wouldn't benefit from being protected in case of a storm either.
From kilometre 6 to 16 it would be practically a long straight along the promenade if we didn't enter the cruise terminal until the end of the port. At the end, those turns where you are facing the runners ahead of you (and when you are back, those ahead of you) are really good because this way you can take references of where you are located and you can see your situation in the race.
I'm ahead of the 3:45 group and I'm a little worried, because if I'm ahead and they've already overtaken me it means that my final time is obviously going to be slower than that group.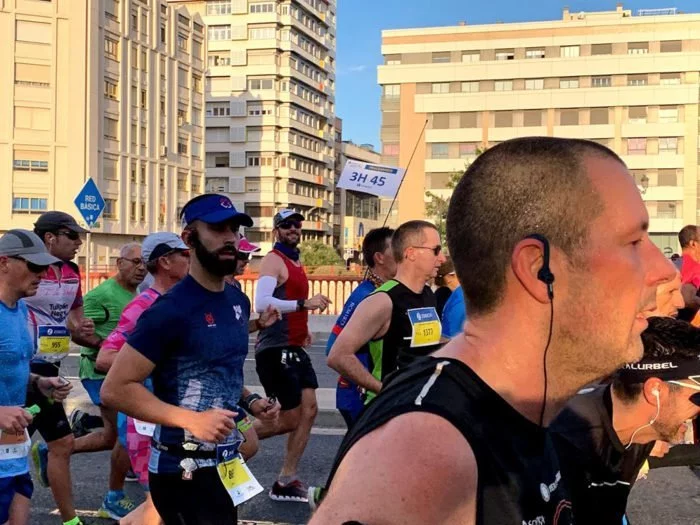 I stay with them for a while and then drop back about 20 meters. There is still a lot left and my race hasn't started, I was aiming for a second average faster than the first one.
I had more or less structured what I was going to take in liquid, apart from the nutrition itself, which was a little more studied and compensated. Luckily I put in one more gel than I had planned to consume during the race because I actually lost one of them.
I return again by the promenade and pass by the half marathon point, turning off to continue on my way and leaving a few lucky ones who had already finished their punishment, and I mark a lap in one of the two watches to mark my approximate passage through the half of the race in 1:51:37. I'm not going bad time, although I'm still behind the 3:45 hare. I go through km22 and I take my first "special refreshment", a chocolate bar to change from so much gel and give a different energy. And of course at that point of the race it comes in much better.
I reach the 26th kilometre within the group of 3:45 and I decide that this is where my race begins, I leave the group and accelerate a little. And with this movement I entertain myself and try to weather the worst part of this race which is the area of western Malaga. The organization is very macabre and gives all the runners a rough seafront where there is almost always a headwind, and also makes us go around between the athletics stadium and the Martin Carpena, seasoned with crossing a commercial area on a Sunday morning.
All this lasts from kilometer 27 to kilometer 31. Did someone say wall? Well yes, this is one of the reasons why I always said that this race was not for me... psychologically it crushes you because you know that is where the one with the gavel comes and you have nothing to lean on. But well, the only thing I can think is that after the 31 comes the 32; then the 33, 34, 35... and comes another new punishment which is the climb by Armengual de la Mota to the football stadium.
The climb is not a "climb" as such, it is a false flat. But at this stage of the race any slope hurts and this is 2 kilometers that itches upwards. To alleviate this I had prepared my second "special refreshment": another chocolate bar and a Redbull, with the idea that it would give me the final push to the finish line.
The rhythm and the sensations up to that point were good. There was no discomfort beyond pain in the feet, but I did not accuse physical or muscular fatigue. Even so, those two kilometers choked me in terms of rhythm and I did them around 5:30 min/km along the climb, which punished me more on a mental level than on a physical one.
I was already in 39 and what was left was the best part of the race: 3 km through the streets of the center, almost always downhill and with much more support from the public. So I decide to go down with everything I had, and the truth is that this last part I enjoy a lot. At a pace about 30 or 40 seconds faster per kilometer I'm overtaking a lot of people, although logically it's already hurting. I arrive to km41 and I see that I'm a little bit below 3:36 ... if I press and do the kilometer in 4 pelaos I still manage to go below 3:40! (of course, and the 200 extra meters to the finish line that I wasn't remembering ...).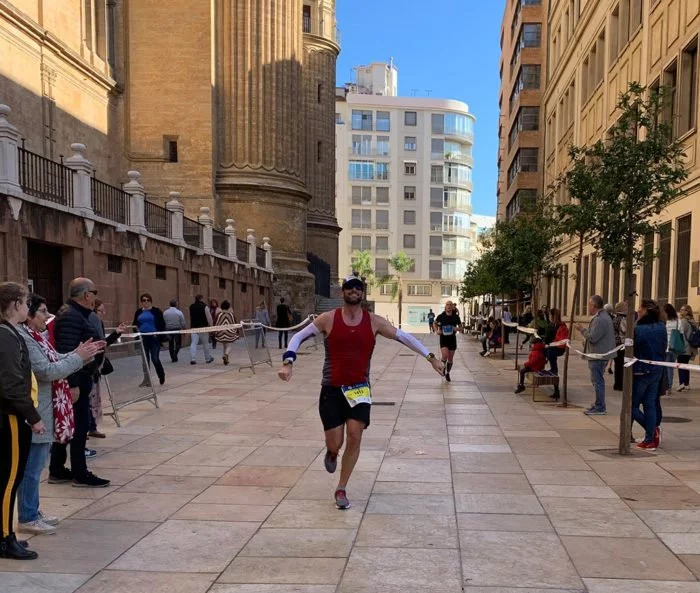 I go to Larios street and I go to Plaza de la Marina to see the finish line, there is only the final sprint, so it's the last meters. But what meters, look how long they were... ????. I ended up doing a final sprint of 600 meters at a pace of 4:00 or with peaks below...
In the end I didn't manage to get below that 3:40, but the thing was 3:41:39 officially, improving in 11 minutes the time achieved in Valencia, and with an enormous satisfaction for the time achieved because, looking back and how it had been the preparation I could do, the result is much better than expected.
So happy for the record achieved... but with one eye already on the 2019 season ????.
And with that... thanks for reading!