The range of a GPS watch is an important aspect for all users, the less times you find your training partner is out of battery the happier your existence will be (first world problems). But for some of you it's not that important, it's crucial.
All of you who participate in ultra distance races will find in this article the information you were looking for, because nowadays there is nothing in the market that is able to withstand the entire event.
Yes, all manufacturers have incorporated different methods to extend battery life with energy saving functions, but if we reduce the recording rate we will always lose information. We will always be interested in recording GPS data per second, and in those conditions even the longest running watches will not go beyond 20-24 hours. And that's considering optimal conditions.
The most common option is to reduce the GPS logging rate, which can give us many more hours of use depending on the model, even reaching 200 hours. But that will affect the reliability of the GPS signal, not only leaving a poor quality track of your race (and it's not a workout you'll repeat tomorrow to be able to record correctly), but while you're doing the test you won't have valid data on pace or distance (unless you use external sensors) and of course it will affect route navigation.
There is a second option to consider, charging the watch battery while you are running. This is something that can work quite well but not all models support it, and in case they do, it may not be comfortable because of the position of the connector or the design of the charging cable.
Clocks that allow charging while in use
Below is a list of models that allow charging while still recording the activity, as well as continuing to display data on the screen. Those with the thumb upwards allow more or less comfortable charging thanks to the format of their charger, while those with the thumb downwards must be charged in another way, without being on the wrist.
Garmin
Epix
Phoenix
Phoenix 2
Phoenix 3
Fenix 3 HR
Forerunner 230
Forerunner 235
Forerunner 630
Forerunner 735XT
Vivoactive
Vivoactive HR
Phoenix 5
Fenix 5S
Fenix 5X
Forerunner 935
Vivoactive 3
Suunto
Ambit
Ambit2
Ambit3
Spartan Sport
Spartan Trainer
Spartan Ultra
Suunto 9
Remember, all those listed allow you to save the activity and Those that are less recommended are because of the shape of its connector. To give an example, the Garmin Fenix 3 is a perfect candidate to be used in this way because its connection, besides being flat, is anchored to the watch very securely by the four grip points.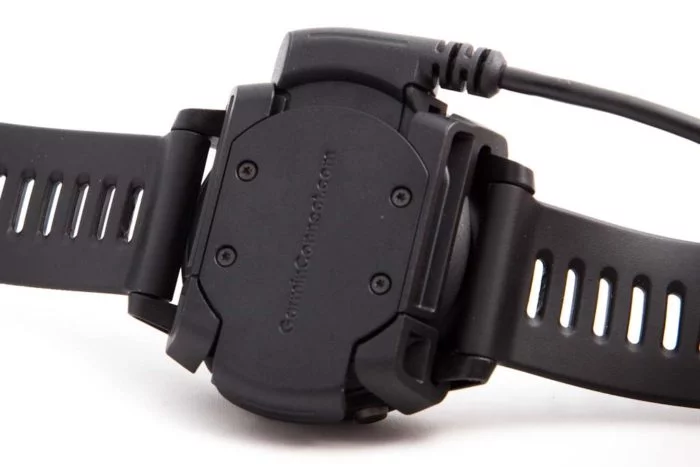 This would not be possible with the Garmin Fenix 5 because it uses a smaller, more convenient, direct-to-rear connector that is not suitable for this use.
The same applies to the other models on the list that are not recommended to do this (Polar M400, Garmin Vivoactive 3, etc.).
There are also some models that allow you to record the activity but do not show the information on screen (only the loading screen), such as Forerunner 310XT and Forerunner 910XT. And finally the 920XT that would allow it, but not directly and it would be necessary to perform a trick in order to do so.
Of course, if you have to charge in this way and you are using the optical pulse sensor of those models that integrate it, you will no longer have a pulse register because it will not be in contact with the skin.
One last note is that for most Garmin models it is necessary to enable the "Garmin" USB mode in the System menu. By default the enabled mode is "Mass Storage".
Which cable to use
You can use the same cable that you use to charge your phone, but you may want to find an extra one to avoid damage to your main cable. If you are in the middle of a race and are moving around stones, branches or trees, you may want to make sure that the damaged cable is not your original cable, but one you have bought for the occasion. There are many manufacturers that have compatible cables for Garmin, Suunto or Polar.
Another problem may be the length of the cable, usually one meter. If you are going to carry the battery in your hand while you are charging the watch, it may be a little uncomfortable. You have the option of winding it around your wrist, but perhaps a cleaner and more practical option is braid the wire to reduce its length while making it more rigid.
Recommended battery
When choosing a battery to accompany you on your long runs, you don't have to go for too complicated solutions or look too far. Keep in mind that watches usually have small batteries between 200 and 400 milliamps. more basic and economical batteries are 2,600mAh with enough energy to fully recharge the watch about 8 times.
I assume that most of you will have such a battery, although perhaps in most cases they will be of considerably greater capacity and, of course, with greater volume and weight.
Whether you have a battery that is too big or not, I recommend that you opt for a compact size battery from a reputable manufacturer. I recommend the products of Anker as they are of good quality at a fairly reasonable price.
And specifically for this particular use, the Anker PowerCore 5,000mAh offers a very compact size and twice the capacity of the most basic models, so you can also recharge your mobile phone in an emergency.
So here it is, a list of the models that you can use in your next ultra trail. I hope you found the information useful. If you think I've forgotten a model or if you have any additional tricks for ultra distance racing, let us all know using the comments below.
And with that... thanks for reading!