- Update July 12
LAST DAY
The SUMMER30 promotion ends today. There are a few things that have sold out, but they have restocked a few items, as well as different sizes of both apparel and sneakers.
I remind you that the operation is through a discount code that allows you to apply a 30% of additional discount to products that were already discounted. In other words, an offer on top of another offer.
However, not all products are promoted, the additional discount is applied on those listed below. Men's and women's shoes, pants, T-shirts, jackets, windbreakers...
How do I apply the discount? Simply add the item(s) you want to purchase to the cart and, where it asks if you have a promotional code, enter SUMMER30.
That is if you enter with your cell phone, if you do it from the computer, you will find it on the right side of the screen.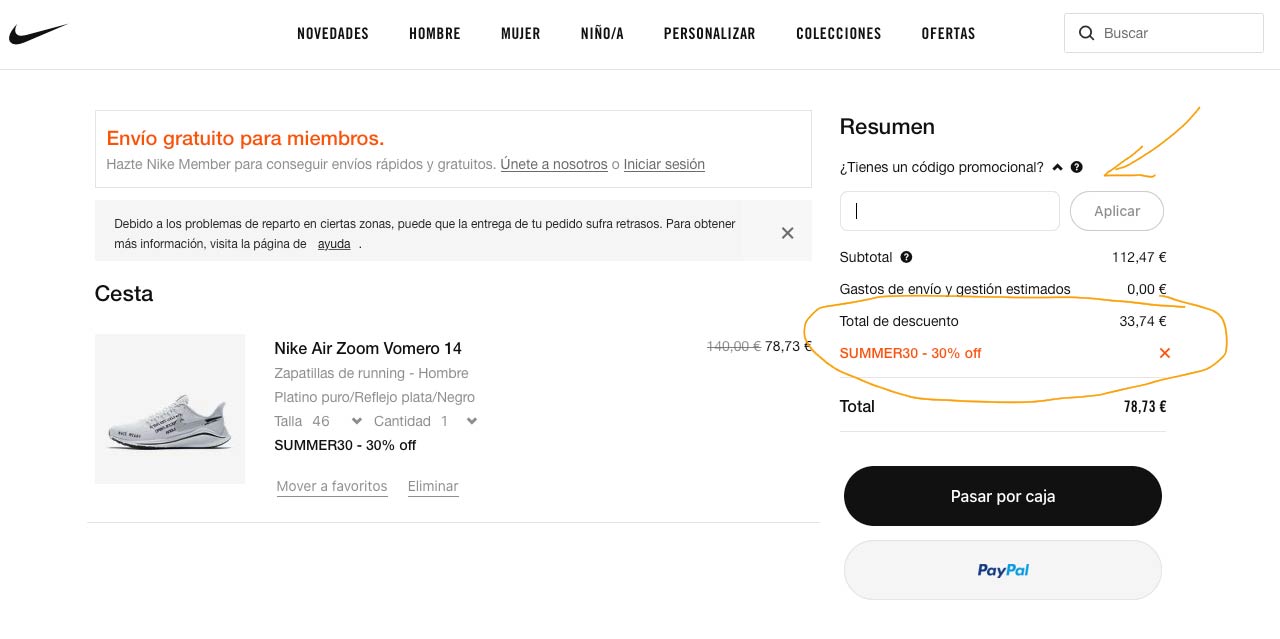 So remember, the prices you see in the offers section do not include the additional discount, it only appears in the cart after you enter the code SUMMER30And shipping costs are free!
Direct link to the items that allow an additional 30% discount
The sales period ends today, July 12.
Do you have a product idea that might be interesting? Here are some examples.
Nike running shoes on sale
These are all Nike shoes on sale.
If I have to tell you my favorites, here's a quick list:
That's my list, but if there isn't one in your size or you want to see if you can find something that better suits your characteristics, you can check out the complete list in this link.
Discounted Nike apparel
But we don't live by sneakers alone. We also need clothes and textiles. Pants, t-shirts, tracksuits, sweatshirts... If there's one good thing about Nike, it's that they make so many things in so many price ranges.
I already have my eye on some windbreaker for the winter season. That in Marbella, I'm sure that more than one of you needs a windbreaker for an afternoon trip to the mountains this summer.
I won't keep you any longer and I'll let you shop in peace. Just remember that you have to add the products to the cart and apply the discount code SUMMER30and that only those products that I have linked to on this page, both specific products and sections, are included in the promotion.
And with that... thanks for reading!