Decathlon has just introduced a new GPS watch under its Kiprun brand. This Kiprun 500 surprising because it is a COROS model introduced just over three years ago, but that allows Decathlon to have a basic watch at a very interesting access price: 119 €.
Decathlon doesn't want to hide what's underneath its Kiprun 500 either. In fact there is no specific application on its part, the configuration and synchronization is done from the same COROS application that is available for the rest of the brand's models. That's certainly a huge advantage.
What does the Kiprun 500 offer? It is a multisport watch that not only podrás use for running, but also for cycling, swimming and even triathlon. So for the price of 119€ it is quite an interesting proposition.
Kiprun 500 Specifications
Obviously the specifications of the Kiprun 500 are the same as those of the original COROS PACE, which are as follows:
1.2″ color display
47mm diameter, weight 48 grams
Connectivity with ANT+ and Bluetooth sensors
Compatible with GPS, GLONASS and BeiDou
Compass
Gyroscope
Autonomy of 25 hours in GPS use and up to 30 days in clock mode
Mobile notifications on the screen
COROS EvoLab in the mobile application with training load information
Sleep and rest analysis
Supports advanced workouts, including downloading them from TrainingPeaks
Strava compatible platform (you can sync workouts directly with Strava)
Customizable watch faces
119€ price
In general these are standard features for GPS watches in 2021, but many of them quite remarkable for a watch when we consider their price.
One thing in which it differs from the original COROS PACE is the absence of a barometric altimeter. This was a pending question, as it is a feature that was present in the PACE but is not in the Kiprun 500, presumably to save costs.
And let's not forget the autonomy, not so much the 25 hours of GPS use (to which we are already accustomed) but above all the battery life in watch mode, much higher than in similar models of the competition.
The COROS application is very intuitive and quite complete, allowing you to analyze your workouts in detail.
As I said before, as the COROS platform is automatically synchronized with Strava and TrainingPeaks 1TP10, you can use either of the two applications to also review the workouts, because they will be available there from the same moment you have synchronized the watch via Bluetooth.
Opinion Kiprun 500
COROS and Decathlon have reached an agreement that benefits both brands, and by the way the user is also benefited. Let me explain...
COROS is becoming known as a brand to a huge target audience. So far it is a very niche brand and few people know it in detail. Anyone who sees the watch and buys it at Decathlon 1TP10 will be able to see which brand has developed it. Not only by the application used to configure and synchronize it, but also by the inscription at the bottom of the screen.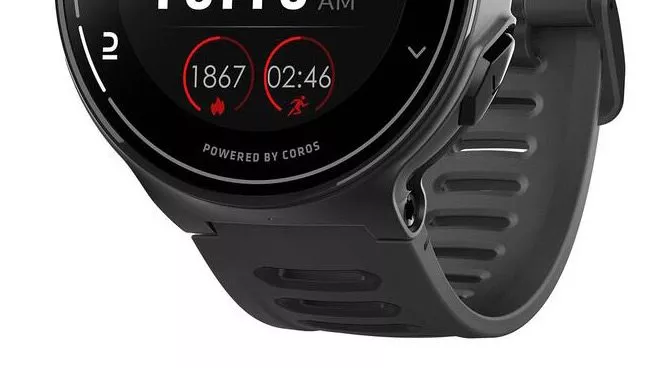 That buyer of an economical watch is now in the orbit of COROS, to whom podran will send news and offers via email and the application, and tomorrow when he will change his model, he will opt for a COROS that he would not have known otherwise.
Decathlon can offer a fairly complete product at a lower price than the competition. And they can do it without having to spend a dime on development or design. At 119€ price sure the margin will not be very high, but they are going to poder make money from day one and they can offer a GPS watch with which they can be sure that their customers will be satisfied (the same cannot be said for other Kiprun watches...).
The user of course also benefits. A watch that, without being a marvel in functions or materials, does have a very high price/performance ratio and a wide distribution in stores and online.
If you are looking for a basic and inexpensive watch, the Kiprun 500 can be as good as an Polar M430 or a Garmin Forerunner 45. It is not the most modern or the most feature rich, but it is an inexpensive and reliable watch.
Already on the Decathlon websitealthough it is not yet in stock. But if it is a model that interests you I do not think it will take long to be available.
And with that... thanks for reading!