Last weekend the IV Benalmádena Triathlon was held in the sprint mode. An event organised by the Benalmádena Triathlon Club and not by an external company. As they say, made by triathletes for triathletes. And you could see it in all aspects of the event. An exemplary organisation, in a fantastic setting and where everything went smoothly.
Well, not everything. There was a glitch: me. Or rather my health, which seems to be becoming a regular tonic. That there's competition? Well, you have to get sick.
As in the final half-marathonThe day before the race, I started to have a bad body. Lack of appetite, stomach swelling and general malaise. A wonder and the best way to face a race. This time it wasn't a problem of a cold, but a virus that was incubating. The same afternoon after the race it was already evident and in fact on Monday it left me in bed.
But we're going to the race itself, which is why you came, not to read my sorrows.
Arrival and organization of the box
Although the race started at 10 a.m., you know that in triathlon it's not enough to arrive 5 minutes before the start line. There are a number of processes that need calm and organization, and showing up there at 9:30 would be a real pain in the ass.
The nerve centre was the port of Benalmádena (Puerto Marina). The organisation had planned a private car park with a special rate for all participants. For one euro and showing the bib at the start, we had parking all day. I told you this was organised by triathletes and it's starting to show, isn't it?
Tras sacar todos los bártulos del coche, sólo necesitaba un paseo en bicicleta hasta llegar a la zona de boxes. A pesar de llegar bastante tarde tranquilizaba ver que no era el único (mal de muchos…) y éramos muchos los que íbamos montados en bicicleta cargando con una mochila «tamaño triatlón». Aún así, la zona de boxes ya estaba bastante llena. Tras enseñar la licencia y revisar que todo el material estuviese correctamente etiquetado con el dorsal (casco, bici, portadorsal), me hacían entrega del chip y me dirijo a mi espacio reservado para comenzar el desembarco.
Putting shoes on the pedals with the rubber bands, the running shoes in the basket, a gel with the cap in the other corner, the helmet with the salt carrier and glasses on the handlebars... the typical boxing preparation where everyone has their tricks and their way of doing things.
Tras dejarlo todo listo, con la mochila y el neopreno debajo del brazo voy trotando a buscar el guarda ropa para dejar las cosas e irme a la playa. Y voy trotando porque como voy tan «sobrado» de tiempo así voy cogiendo sensaciones, que falta me hacía.
I leave the backpack in the clothes check and they ask me if I was going to take the shoes to swim... in a hurry I didn't even remember them, I can see myself in the water with them. Luckily, they were smarter than I was.
I put on my neoprene up to my waist and run to the exit area while rolling up my sleeves. I arrive at the beach already dressed in Burgos black pudding and before I can get in the water to warm up a bit they give me the warning to go to the call room. So while everyone starts to get out of the water, I run in to at least know what temperature it is.
I soak like an IMSERSO pensioner and go back to the shore to listen to the initial briefing, where we are wisely asked to exercise moderation in the cycling sector because there was a point that could be quite dangerous if you arrived with too much impetus. It was no use saving us 5 seconds there and ending up scattered on the ground.
Swimming
Tras el briefing nos dirigimos a la zona de salida. Me busco un sitio en la marabunta, ni primera línea ni última. Lo justo para no llevarme muchos palos en el agua. Y comienza la espera. 5 minutos, 10 minutos… la gente comienza a romper la formación y van a remojarse un poco al agua (es lo que tiene el neopreno «de cuello vuelto», que no se lleva bien con el verano). 15 minutos y seguimos a la espera. La Policía Local aún no había realizado todos los cortes necesarios para el desarrollo del sector ciclista, así que había que mantener un poco la calma.
I join the general soak and return to my position. After waiting another short while, finally the start is given and the race begins.
The first meters are very fast. The beginning of the shore barely covers and allows me to run the first stretch. I pass some who have jumped into the water too soon and I am already thinking that those are the same ones who will give me good clubs when they have to pass me.
When the water is well above my knees, I jump into the water too and start to make progress, looking for the first turning buoy. I take some sticks with me and hand out one or two, but all in an affectionate way. The worst part is when the arms of the one behind me trip over the legs, which prevents you from kicking. But that's what these massive exits have. I'm getting into a rhythm, although there seems to be some current and it's hard to reach the turning point.
La llegada a la boya es un embudo, así que opto por hacer el giro «estilo perrito» y voy buscando la segunda boya a escasos metros de la salida del agua por la zona del puerto.
I finish the swim in about 13 minutes and we start running in a row to the pits, where I take off my neoprene without much problem, leaving it well collected in the basket to avoid penalties. Goggles, helmet and run to the assembly line.
Cycling
When I wear the shoes in the coves, I jump and start pedaling while I put my feet in. There is no large group to join, which allows me to put on my shoes with more peace of mind without having to pedal with my feet in the shoes.
The cycling part consisted of 4 laps of a circuit whose most distinctive feature was a slope of almost one kilometre with a good constant gradient.
That we had to go up and then go down without finishing on the ground, since at the end of the slope we had to make a turn in a roundabout with a water line and preceded by a speed bump. The cycling paradise. But as I said before, race management had asked us for moderation at that point and there were several volunteers indicating the hot spot, so I think we all took the turn calmly and there was no need to regret any fall.
The way up to that climb was not totally flat either, having little bumps that far from being hard the only thing they did was that there was no way to get a constant rhythm.
After the first lap of the circuit I knew that I was not going well and that the discomfort of the previous day was beginning to show. In fact, swimming, which is what I carry the worst, ended up becoming my best sector (and that is clearly I went from more to less).
It was hard to get up and I knew that the power was not even close to what I could give, especially when I thought about the race tactics I had prepared: to swim calmly, try a good sector of the bike and in the race on foot already give what was left. But I was far from my critical power, as you can see in the graph of the day of the race.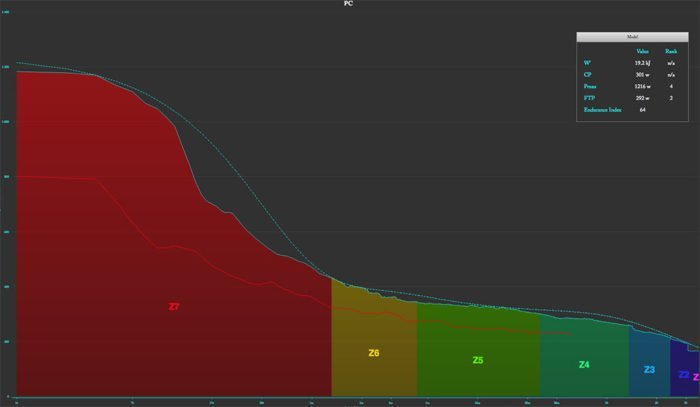 I couldn't find a group to join, either. I tried to group together on the flat, but as soon as the hill came up I lost a lot of distance that I recovered on the way down. But as soon as there was the slightest slope I lost the wheel again. Seeing that it didn't work, I just did my four laps without any major complications.
And 37 minutes later I was back in the transition zone looking for the shoes to start the race on foot.
Running on foot
The route that we had to do was quite nice, as we had to go all over Puerto Marina. A lot of people (who were just walking around) and two laps where the only problem was that there was a stretch with five steps that made me feel like a shot in the foot.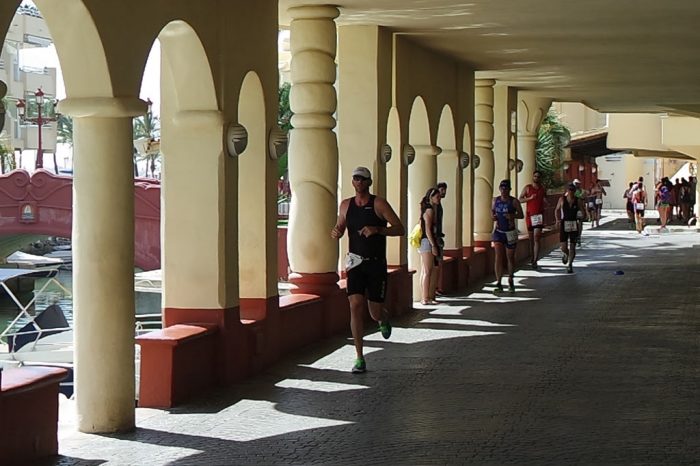 I started the race well. After making the refreshments I started at a comfortable pace of 4:30-4:40. It seemed that running was not going to go as badly as on the bike, but I quickly got the shock of reality and despite the gel, the energy reserve was completely emptied in an instant. I was above 5:00 min/km and after the first stretch of stairs that I tried to climb in pairs, the femoral biceps of the left leg already gave me a warning. That I was not for parties, it said, and tried to ride.
With that view, I simply enjoyed the landscape. I completed the first lap without any sorrow or glory but enjoying the atmosphere and the views.
The rhythm was still very trotting, but between the muscle warning and the fact that there was no gas, you simply had to finish and that was it.
On the second lap, I took it easy on the stairs. This time there was no warning of any kind and I continued with my second run to the port. I was losing more and more time with respect to the goal, although that didn't make me want to increase my pace. I knew that day the body was not accompanying.
A escasos 100 metros de llegar a meta intenté, de forma instintiva, apretar un poco el ritmo (no se si por aquello de parecer rápido en la «photo finish»). Error de novato, porque como ya estaba avisado muscularmente no era el mejor día y se me montaron ambos bíceps femorales, teniendo que parar a estirar. Y es que un tirón es lo que faltaba para completar un gran día.
Finally I finished the race on foot at an average of 5:11 min/km and the total of the race in 1:23:07
Post race
After crossing the finish line, there was the final refreshment area: fruit, drinks, massages, showers... A real pleasure. I took the opportunity to ask for a massage on both femoral biceps to unload, although most probably the muscle problems were not due to overloading but to a mixture of the general discomfort I was carrying and some dehydration from the heat that day.
So I finished the first triathlon of the season with a bad physical feeling, but seen in perspective and taking into account the virus I was incubating it was not such a bad result. Analyzing times it is clear that it did not turn out as I thought, because in the end my best sector was swimming, which I intended to be the quietest part.
The cycling sector, which is where I wanted to build the base of the race, was not good either. Firstly because I was unable to hold the power I am used to in training and secondly because the slopes and the cuts in pace do not favour me. I am more comfortable on long straights where I can dock and maintain good cruising speed as if it were a locomotive, but the circuits that are tacked and with changes in pace cost me more work, especially in acceleration after each turn and braking.
I don't even contemplate the foot race segment; I just let myself go, and when I had the first warning to pull even more, when I wanted to demand a little more in the final meters, that's when both femoral biceps were mounted to give me the final blow.
Anyway, the result is the least of it, this race simply took it as a reference for this Sunday's Olympic triathlon, which is not going to win it, of course, but we all like to qualify the further forward the better, right?
I've already recovered well and I've done some good trainings since this competition (especially on the bike), so I hope that this time everything goes well on the key day and I can give the 100%. Because in the last two tests I have been touched and I already have the desire to make a good race.
The plan for the Olympian will be the same: swim comfortably without forcing, squeeze on the downhills and straights in the cycling segment controlling power on the long 11km climb and 5% medium gradient and arrive at the running with good sensations to start running comfortably at a pace of 4:45, and start building from there according to the sensations. The goal will be to go around 2:30-2:35.
And with that... thanks for reading!